Best energy bars for cycling: seven favourite flavours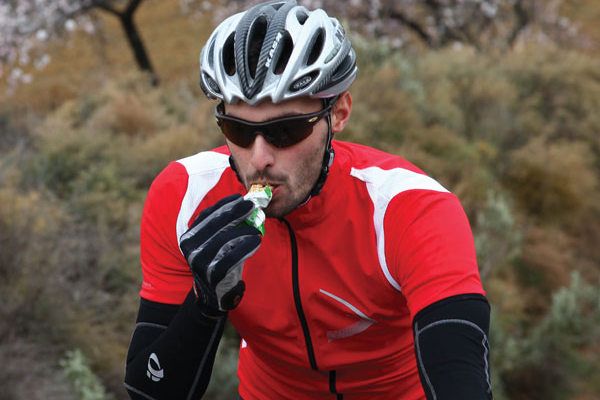 (Image credit: Picasa)
Your stomach is the fuel tank for your body – and letting it run on empty over rides in excess of 90 minutes is almost certain to leave you breaking down in the lanes and hills.
There's a range of theories around the best way to keep your energy levels flourishing, but the overriding belief from experts is thatcarbohydrates are the most efficient top-up tool during exercise, with 1 gram per kilo of body weight the suggested dose per hour.
>>> How to fuel for long distance rides
That means a 75kg rider needs to ingest about 75g of carbohydrate per hour, once the ride duration is over 90 minutes. Requirement will increase if the ride is intense, and decrease if it's not.
Carbohydrate requirement varies between individuals, but given that there is a ceiling as to how much your body can absorb, it is important not to over do it. Finding the balance between avoiding the dreaded bonk and over over-eating is essential.
Popular methods of getting the carbs in include energy drinks, energy gels, energy bars, and good old-fashioned traditional food. They've each got their benefits:
>>> Nutrition for cycling: what you need and where to get it
Energy drinks
The quickest to be absorbed, dosage is spread out over the course of the time it takes to drink a bottle. Best combined with gels or bars and sipped throughout a ride, these include electrolytes to replace those lost in sweat.
Energy gels
Second quickest to be absorbed, a quick hit of high-glucose carb will give you a kick when you need it. Gels are easy to swallow and are best for races and high intensity when chewing is hard work. Some include electrolytes.
>>> Do fasted rides really work?
Energy bars
Slower to release energy, bars are also lower in sugar than gels so are usually better for your gut and teeth. They require breaking up and chewing, and thus are more suited to endurance rides. Conveniently packaged to suit jersey pockets.
Normal food
Usually the best for your bank balance, stomach and teeth – assuming you've chosen something healthy - don't forgo natural, read food. They are usually harder to chew and store in a pocket, but home-made oat, fruit and nut bars are a great option.
Our pick of the best energy bars
Energy bar preference varies, but within the Cycling Weekly HQ there are some clear favourites. We've outlined our top picks below.
With each product is a 'Buy Now' or 'Best Deal' link. If you click on this then we may receive a small amount of money from the retailer when you purchase the item. This doesn't affect the amount you pay.
TORQ Bar
Read more: Torq Bar review
Score: 8/10
A traditional bar with traditional (nutritional) values: each 45g promises around 140-150 calories, 31-32g of carbs and 4g of protein.
Torq's bars use a blend of glucose-derivatives and fructose to get close to the 2:1 glucose/fructose ratio which studies have shown offers a higher delivery of carbohydrate per hour – delivering 40 per cent greater absorption according to the brand.
The bars have a very moist and natural taste that reminds us of the dried fruit squares we ate as kids. Around 13 per cent of the bars come from real fruit and flavours such as Raspberry and Apple, Sundried Banana and Mango provide a wholesome mouthful. The Spiced Mince Pie option will appeal come Christmas.
The bars also contain a dose ofD-Ribose- said to aid recovery - plus vitamins and minerals. Flavours like Banana are fair-trade and the Mango bar is organic.
Buy now: Torq bar box of 15 from Wiggle from £23.50
Trek Protein Energy Bar
Read more: Trek Protein Energy Bar review
Score: 7/10
These 50g bars break easily into bite-sized pieces, and contain between 208 to 234 calories depending upon your choice, with 20g of carbs and 9 to 10g of protein.
The trend towards packing in protein is a healthy one – a lot of athletes don't get enough. However, the jury is out on fuelling rides with it, so this bar lends itself more to the recovery bar side of the nutrition conversation.
On the plus side, these taste great and they're readily available in newsagents around the country, which can be handy when you're out and about.
Buy now: Trek Protein Energy bar x 16 at Wiggle from £9.99
SiS Go Energy Bar
Read more: SiS Go Energy Bar review
Score: 9/10
SIS offers the Go Energy Bar Mini, Go Energy Bar Mini + Caffeine and Go Energy Bar + Protein.
The mini will take up less room in your pocket, though it's a bit counter productive if you just need to carry more of them. Each 40g serving offers 139 calories, 26g of carbohydrate and a moderate 4.5g of protein. They're made from natural fruit ingredients and go down easily.
The Go Energy Mini + Caffeine is all of the above, with an added 75mg of caffeine to ensure you're getting the ideal dose. The Go Energy + Protein is 60g a serving, with 200 calories and 34g of carbohydrate plus 10g of protein, meaning you're still getting plenty of carbohydrate with protein to help speed up recovery when you stop.
Buy now: SIS Go Energy Mini bars x 30 at Science in Sport for £28
High5 Energy Bar
Read more: High5 Energy Bar review
Score: 8/10
High5's energy bar isn't known to be the greatest tasting, but they're moist and go down easily – also providing one of your 5-a-day portions of fruit and veg which is a nice addition.
The 55g bars pack a punch, though nutritional values vary per flavour, so make sure you choose according to your needs as well as your taste buds.
As an example, the banana option provides 180 calories, 36g of carbohydrate and 2.4g of protein with 2.4 g of fat while the peanut flavour offering gives you 255 calories, 25g of carbohydrate and 7.2g of protein with 13g of fat.
Buy now: High5 Energy bar x 25 from Chain Reaction Cycles from £21.97
OTE Duo Bar
Read more: OTE Duo Bar review
Score: 8/10
At 65g, the OTE bar is larger than most - but that's because is each packet is designed to be eaten as two servings.Within each full bar, you'll find 278 calories, 71.1g of carbohydrate and 7.4g of protein. At over £40 for a box of 24, the added content is reflected in the cost, but you are getting more calories for your buck.
The idea is you split them up into doses delivering 20g of carbs a go, but the great tastes means it'd be quite easy to 'forget' and just eat twice as much...
We're also big fans of OTE's 'Anytime' bars - these are designed for snacking but work well on the bike, being gluten and nut free, suitable for vegetarians and very crumbly and easy to swallow. Each 62g bar provides 213 calories, 36.6g of carb and 2.8g of protein.
Buy now: OTE Duo bar x 25 at Wiggle for £21.12
Veloforte Classico
Read more: Veloforte Classico review
Score: 7/10
Veloforte won a 'Great Taste Award' for its Classico in 2017 - and it's easy to understand why. Made from fruit peel (orange, lemon, citron), with almonds, cane sugar, honey, and a host of spices they're pretty special.
Each 62g bar contains more calories than most, counting 260: 39.7g of which are carbs, 5.3g protein and 7.6g of fat. It'd be easy to gobble down more than you need to fuel yourself, so beware. They're not cheap, either.
The packaging can be quite hard to peel from the product – though Veloforte has worked on this with a new and improved. more standard wrapper.
Buy now: Veloforte Classico bar x 12 at Holland & Barrett for £26
Clif Bar
Read more: Clif Bar review
Score: 8/10
Cliff Bar makes a range of excellent tasting flavours, that taste natural and are easy to digest (though some need a little washing down with fluid).The brand uses organic and whole ingredients such as rolled oats, oat fibre and dates to make its bars – so you know you're getting real food.
These are quite large: a 68g White Chocolate Macadamia Nut bar contains 279 calories, 7.4g of fat, 42g of carb and 9g of protein, giving you more than just your basic carb-focused bar.
Clif's Nut Butter Bar provides 227 calories and 7g of protein. The jury is out on its on-bike fuelling capability but they make great snacks.
Buy now: Clif Bar x 12 from Chain Reaction for £14.99
All of these bars will re-stock your carb levels –preference is subjective. We'll keep adding more energy bar options as we taste and test them.