Best energy bars for cycling 2023: seven favourite flavours
The best energy bars for cycling will keep you riding for longer - they even taste great too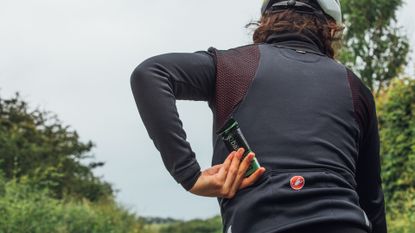 (Image credit: Future)
The best energy bars for cycling will help you to fuel your rides properly. Anyone who's bonked mid-ride can attest to the importance of consuming enough calories to keep your muscles going.
Conventional wisdom says that we need to try and consume 1 gram of carbohydrates per kilo of bodyweight per hour on rides in excess of 90 minutes. This should come with a caveat however. Different individuals will have different requirements. Fueling like a pro may see this number increase although ingesting 120 grams of carbs per hour for us mere mortals may seem a feat of endurance in itself as it takes training.
Likewise the intensity of rides will also impact how we fuel them. For example our nutritional needs during the winter months may see us reduce our hourly carb intake as we embark on base miles at a slower pace.
Regardless of the season, or whether you're training hard or just enjoying a long weekend ride, the best energy bars for cycling are a good way to ensure you're getting the carbs you need. While we'd always encourage you to get your nutritional requirements from varied sources - we're big fans of eating 'real' food on the bike - an energy bar is certainly a handy option for a mid-ride snack or carb top-up.
Later in this guide we'll discuss some of the finer points of energy bars and how to best use them to get the most from your rides. We'll also compare them to other convenient energy sources such as the best gels (opens in new tab) and best drinks (opens in new tab). But before that let's take a look at some of the best energy bars for cycling currently on the market.
Our pick of the best energy bars for cycling
Why you can trust Cycling Weekly Our expert reviewers spend hours testing and comparing products and services so you can choose the best for you. Find out more about how we test.
Of course energy bar preferences will vary, but here at the Cycling Weekly HQ, there are some clear favourites. All of these bars will re-stock your carb levels – taste preference is subjective. We've outlined our top picks below.
TORQ Bar
Specifications
Serving size: 45g
Carbs per bar: 34g
Suitable for vegatarian/vegan: Yes
Reasons to buy
+
Organic ingredients
+
Good choice of flavours
+
Low in fat - less than 1g per bar
+
Preservative free
+
Small size makes it easier to carry
Reasons to avoid
-
Smaller size equates to less carbs than some rival bars
Perhaps the first thing you notice about the Torq bar is its size. At just 45 grams it's smaller than most of its rivals. This means that it fits nicely into your jersey pocket or handlebar bag. But it also means that it packs less of a carb punch than a larger energy bar. By the numbers the Torq bar reads: 45g in weight, which promises around 150 calories, 34g of carbs and 4g of protein.
Torq's bars use a blend of glucose-derivatives and fructose to get close to the 2:1 glucose/fructose ratio which studies have shown offers a higher delivery of carbohydrate per hour – delivering 40 per cent greater absorption according to the brand.
We found that the Torq bars, which are now all-natural and vegetarian, have a very moist and natural taste that reminds us of the dried fruit squares we ate as kids. Around 13 per cent of the bars come from real fruit and flavours such as Apple, Sun Dried Banana and Mango provide a wholesome mouthful.
Since our review Torq's energy bars are now both certified organic (by the Soil Association) and vegan friendly. It's also extended its range to include an 'Explore Flapjack'. At 65g per serving with over 40g of carbs, it could be the answer for cyclists who like the Torq brand but require more carbs per bar than the traditional offering supplies.
Specifications
Serving size: 55g
Carbs per bar: 26g
Suitable for vegetarian/vegan?: Yes
Reasons to buy
+
Delivers 10g of protein per bar
+
Made from 100% plant based ingredients
+
No added sugar
Reasons to avoid
-
Focus on protein means 26g of carbs is less than some rival bars
-
Only two flavours
As the name suggests, the Trek Protein energy bar has a focus on proteins rather than carbs - there's 10 grams packed into each serving. That's not to say it doesn't provide a carb boost too but at 26g per 50g bar, this is less than many other bars on the market.
Other numbers of interest include the 206 Calories and 6 grams of fat. Both are higher than you might normally expect, making these a good choice if you're after a slow-releasing calorific boost during a long day in the saddle. However, it's probably not the bar for a shorter high-intensity effort. Due to the benefits of consuming protein after a ride we'd suggest keeping this bar as part of your post-race recovery.
All of Trek's energy bars are made using 100% plant based ingredients. As well as being vegan-friendly they're also wheat and gluten free and contain no added sugars - they even count as one of your '5 a Day'! The current options are Cocoa Chaos and Peanut Power. Trek does, however, make protein nut bars and flapjacks, which offer up more flavour choices.
SiS Go Energy Bar
Specifications
Serving size: 40g
Carbs per bar: 26g
Suitable for vegetarian/vegan?: Yes
Reasons to buy
+
Small size makes them easy to carry
+
No added sugar
+
Suitable for vegans
Reasons to avoid
-
Packs less carbs and calories than larger bars
Like the Torq bar the SiS GO Energy Mini is small in comparison to many other energy bars. In fact at 40g per serving it's the smallest bar of our top picks.
Its size means that even if your jersey pockets are loaded with kit there should still be room for one of these bars. Naturally it also means that if you're trying to meet your hourly nutritional needs on the bike you'll need to look beyond these bars alone.
So what do you get in each 40g bar? There's 139 Calories, 26g of carbohydrate and a moderate 4.5g of protein. They're made from natural fruit ingredients as well as being nut and wheat free.
The SiS energy bar range also features the Go Energy Mini + Caffeine which adds 75mg of caffeine to ensure you're getting the ideal dose.
Alternatively there's the brand's Go Energy + Protein bar. Here you get a 60g serving that delivers 200 calories and 34g of carbohydrate plus 10g of protein. As with many protein-focussed energy bars they're often best used as part of your post-race recovery. However, if you're a randonneur or audax cyclist, or you're planning a multi-day bikepacking trip, a calorie-dense bar like this is a useful item to have tucked away in your bar bag.
High5 Energy Bar
Specifications
Serving size: 55g
Carbs per bar: 39g
Suitable for vegetarian/vegan?: Yes (except berry yoghurt and caramel)
Reasons to buy
+
Available in six flavours
+
One of your '5-a-Day'
+
Made using real fruit and grains
Reasons to avoid
-
Nutritional values vary depending on flavour
At 55 grams the High5 energy bar is one of the larger on the market. It packs quite the calorific punch, in part due to its size. However it's important to read the ingredients for each flavour as the contrast in nutritional values can be quite marked. For example, the banana option provides 180 calories, 36g of carbohydrate and 2.4g of protein with 2.4 g of fat while the peanut flavour offering gives you 255 calories, 25g of carbohydrate and 7.2g of protein with 13g of fat.
The former would be better used both pre and during exercise while the latter, with its increased protein, is probably best used as a post-ride recovery snack. High5 states that its energy bars are designed for 'before' and 'during' a ride - it offers a specific recovery bar as well as an energy bar with protein.
The bars are designed to be easy to chew. This is often a knock on energy bars; certain brands' bars just aren't that easy to get down during a ride. However, it's somewhat subjective, and much like finding the best cycling saddle (opens in new tab), there's no substitute for trying them out to see what works for you.
OTE Duo Bar
Specifications
Serving size: 65g
Carbs per bar: 20g x 2
Suitable for vegetarian/vegan?: Vegetarian only
Reasons to buy
+
Bar is designed to be used as two servings so good for longer rides
+
No artificial colours or flavours
+
Designed for use before, during and after exercise
At 65g, the OTE Duo bar is larger than most, but that's because is each packet is designed to be eaten as two servings.
Consume the whole bar and you'll have digested 278 calories, 71.1g of carbohydrate and 7.4g of protein. At over £40 for a box of 24, the added content is reflected in the cost, but you are getting more calories for your buck.
The bar is offered in just two flavours: Vanilla Crispy Rice and Chocolate Crispy Rice. As you'll no doubt have guessed, the primary ingredient here is rice crisps. The idea is that the bar resembles, in some way, the rice cakes that are used by pretty much every team in the professional peloton. These cakes are popular for a number of reasons, including the high carb content as well as being pretty palatable and easy to digest mid-race.
OTE has recently reformulated its bars to remove palm oil and it offers an Uno bar that's the same as the Duo but in one lump instead of two.
We're also big fans of OTE's oat-based Anytime bars - these are designed for snacking but work well on the bike, being gluten and nut-free, suitable for vegetarians and very crumbly and easy to swallow. Each 62g bar provides 213 calories, 36.6g of carbs and 2.8g of protein.
Veloforte Classico
Specifications
Serving size: 62g
Carbs per bar: 40g
Suitable for vegetarian/vegan?: Vegetarian only
Reasons to buy
+
100% natural
+
Resemble 'real' food
+
Great taste
+
High carb content
Reasons to avoid
-
Expensive - approx £2.50 a bar
-
High calorie content may not suit all
Veloforte won a 'Great Taste Award' for its Classico in 2017, and it's easy to understand why. On review we were impressed with the taste (opens in new tab) derived from fruit peel (orange, lemon, citron), along with almonds, cane sugar, honey, and a host of spices. Of all the energy bars available these might be the ones that most closely resemble a homemade effort (alongside Clif Bar). Out of the wrapper they look somewhat like a miniature cafe-stop cake. In short, they're pretty special.
However for an on-the-bike snack they're certainly not small. At 62 grams per bar they contain plenty of calories, 260 to be precise. They deliver 40 grams of carbs and sizable doses of protein and fat too. We'd suggest that combined these elements make the Classico bar well suited to long days in the saddle or something you'd divide into, say three pieces, during a shorter high intensity effort.
The packaging can be quite hard to peel from the product – though Veloforte has worked on this with a new and improved wrapper.
Clif Bar
Specifications
Serving size: 68g
Carbs per bar: 42-44g
Suitable for vegetarin/vegan?: Vegetarian only
Reasons to buy
+
Wide choice of flavours
+
All-natural ingredients
+
Delivers a carb/protein balance
Reasons to avoid
-
Higher calorie count might not suit all
-
Heavy if you're carrying a couple in a jersey pocket
Cliff Bar is pretty ubiquitous at amateur road races and gran fondos in the US (as well as being the favourite of climbers, hikers and many more). The California based company's USP is a natural product that tastes, well, natural. The brand uses organic and whole ingredients such as rolled oats, oat fibre and dates to make its bars – so you know you're getting real food.
So it's no surprise that on review the Clif Bar looked as though it were home baked and tasted like it too. If you're a fan of 'real' food on the bike it's probably a good match for you. However this means that it does take some ingesting - we find you need a generous gulp or three of water if you're consuming while still pedalling.
We'd suggest that it's a bar that's great for long rides, touring, bikepacking and similar rather than something you might want to eat during a race or during high-intensity training.
The bars are quite large: a 68g White Chocolate Macadamia Nut bar contains 279 calories, 7.4g of fat, 42g of carb and 9g of protein, giving you more than just your basic carb-focused bar. Its higher protein count makes it a suitable choice as a post-ride recovery snack too.
Best energy bars for cycling: a buyer's guide
What's the difference between energy drinks, gels and bars?
Energy drinks are the quickest to be absorbed and the dosage is spread out over the course of the time it takes to drink a bottle. Best combined with gels or bars and sipped throughout a ride, these include electrolytes to replace those lost in sweat.
Energy gels are the second quickest to be absorbed; a quick hit of high-glucose carb will give you a kick when you need it. Gels are easy to swallow and are best for races and high intensity when chewing is hard work. Some include electrolytes.
Energy bars are slower to release energy; bars are also lower in sugar than gels so are usually better for your gut and teeth. They require breaking up and chewing, and so are more suited to endurance rides, but are also conveniently packaged to suit jersey pockets.
Also don't overlook the value of real food. It's usually the best for your bank balance, stomach and teeth – assuming you've chosen something healthy. Think PB&J sandwiches, bananas and home made rice cakes.
What's the best mix of ingredients?
Some carbohydrates are digested more quickly than others, so a bar that contains a mix of different sugars will fuel you for longer than a product like a gel that may only contain simple sugars and which may give you an energy spike that will typically drop off rapidly.
So you ideally want some simple sugars like glucose, fructose or sucrose paired with some starch. An energy bar works well to provide this, as it usually contains ingredients like starches from rice or oats and slower release sugars from dried fruit.
Are protein bars good for cycling?
Proteins take longer for your body to digest than carbohydrates. Therefore an energy bar with a high level of protein is best suited as a post-ride recovery snack, when that protein can be used to repair your muscles or to be eaten at the very end of a ride - giving your body a headstart on muscle repair.
An energy bar that has a moderate amount of protein, say 5-10 grams, is also a good option for endurance rides such as long bikepacking trips and audax events.
Thank you for reading 10 articles this month* Join now for unlimited access
Enjoy your first month for just £1 / $1 / €1
*Read 5 free articles per month without a subscription
Join now for unlimited access
Try first month for just £1 / $1 / €1