Best cycling shorts for men 2023: bike bib shorts for comfortable riding
A pair of the best cycling shorts will make your riding much more comfortable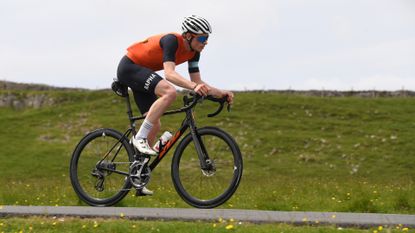 (Image credit: Future)
The best cycling shorts should be the number one piece of kit in any rider's wardrobe. A good pair of padded cycling shorts can ensure you're able to put the time in on the bike. A bad pair can lead to a lot of discomfort, taking the joy out of your ride, even on one the best road bikes.
A top notch pair of cycling shorts should include a quality seat pad (also called a chamois or chammy), quick-drying and high wicking material, a stretchy fabric that provides muscle support and a comfortable fit.
While it's nice to team with the best men's cycling jerseys, it's vital to get the right fit for you and your style of riding.
There are many, many pairs of shorts out there and there are a lot of good options. We've had the opportunity to test many pairs of cycling shorts (opens in new tab)and we can't include every good option in this list - so we've picked our favourite cycling shorts for you here.
While much of the buying guide will ring true for both men and women, the shorts we've included on this page have been tested by men; although there are often female versions of the same shorts, we can't vouch for their comfort.
We've a dedicated page that just includes the best women's cycling shorts detailing exactly what to look for and hand picked our favourite pairs.
If you're specifically looking for more affordable riding attire, check out our round up of the best cheap cycling clothing to help you get kitted out for less.
Best cycling shorts - top three picks
Best cycling shorts for carrying spares
Specifications
Colours: Black
Sizes: XS - XXXL
Additional features : Pockets, reflective details, easy toilet breaks
Reasons to buy
+
Very comfortable chamois
+
Very comfortable short
+
Pockets sit comfortably
+
Take the weight out of jersey pockets
Having spent a fair amount of time in the Rapha Core Cargo bib shorts the practicalities have shone through and they've become one of Cycling Weekly's go-to pairs for all types of riding.
Coming with four pockets, two on the legs and two on the back, there's easily room for a plus-sized phone inside a riding case, wallet, keys or a pump between them, without any sagging issues.
Built around the brilliant Rapha Core bib short, the Core Cargo adds versatility to an already comfortable package, and is ideal for gravel riding - but shouldn't be dismissed for an all day, all use pair of all round excellent cycling bib shorts.
There are sizes XS to XXL to choose from, and as it's Rapha, there's a female option too, but both come in black only.
Read more: Rapha Core Cargo bib shorts full review
Best cycling shorts for performance on a budget
Specifications
Colours: black
Sizes: XS - XXL,
Additional Features: Pad and fit options, leg length options,
Reasons to buy
+
Multi-width pad options
+
Multi-panel fit
+
Bib strap comfort
+
Leg length options
Endura's Pro SL bib shorts achieved top marks, with our tester concluding that 'Endura has really put in the homework when re-vamping the Pro SL short. The fit, aesthetics and comfort really are second to none right now.'
We found these impressive cycling shorts for the money, in fact we loved them so much we gave them a Cycling Weekly Editor's Choice award.
Their forte is the option of three different pad widths, designed to pair with different saddle models from all the main brands, with Endura providing a fit selection tool. There are two leg lengths available too, to fine-tune your shorts to your needs.
Similar to the likes of Assos and Santini, the Endura Pro SL attaches the bib straps much lower into the body of the shorts, spreading the support more evenly, making the uppers really comfortable.
Available in sizes XS to XXL with two leg length options and three pad sizes, but just black only.
Read more: Endura Pro SL Bib Shorts full review
Best cycling bib shorts with minimal seams
Specifications
Colours : Black, black/ red
Size: XS - XLG
Additional features : Crash replacement
Reasons to buy
+
Twin panel design for minimal seams
+
Comfortable chamois pad
+
Well built shorts
Reasons to avoid
-
Leg length shorter than standard
The Assos Equipe RS bib shorts S9 have paid special attention to the construction of the shorts, aiming to keep the pad stable and in one place.
The two panel construction has enabled the Swiss brand to keep seams to a minimum, but its so-called ergoBox structure keeps the shorts body contouring making these one of the best cycling short options for minimising friction rubs.
Taking design cues from race car roll boxes, the internal anti-sway bar on the bib straps helps secure the main body of the shorts in place, although our tester did find the legs did roll up at times.
This rolling is likely to be due to them sitting a few inches above the knee, noticeably short when compared to 'normal' length cycling bib shorts.
The colourway options seem to depend on where you purchase the shorts from, but black is a dead cert, as is an option for a pair with just a hint of the classic Assos red on the leg in sizes from XS to XXL.
Read more: Assos Equipe RS bib shorts S9 full review
Best cycling shorts - best of the rest
Best bibs for all-round practicality and warmth on chilly days
Specifications
Colours: Navy/Saffron, Black/Black
Size: XS – 3XL (M), XS – XL (W)
Additional features: Reflective strips, side mesh pockets
Reasons to buy
+
Thermal qualities really do work in the winter
+
Higher waistline provides more protection at the front and the lower back and kidney area, which is essential for maintaining comfort on long, cold rides
+
Chamois pad and gel insert make the shorts ideal across disciplines
+
Well-designed easy access pockets securely hold all manner of ride essentials
Reasons to avoid
-
Price may be prohibitive to those on a budget
-
Colour choice is limited
Designed with all-round versatility in mind, Le Col's Italian-made bib shorts are perfect for virtually every kind of ride. Whether that's the daily commute, the Sunday club run, nipping out on an errand or shredding gravel trails.
The combination of insulating and wind-resistant properties, complete with a raised waistline gives extra coverage and protection on chillier days. The capacious pockets have been designed and cut in such a way that reaching into them to access items is hassle-free while the elastic mesh holds your essentials firmly in place. From a large smart phone to keys, gels, inner tubes, gas canisters and handy tissues the pockets add extra on-bike capacity for 'stuff'.
The shorts' triple layer chamois and gel insert also adds to their all-purpose useability. The 'give' in the material made them super-comfortable with leg warmers, while the gripper also ensures a snug fit without.
Le Col offer the shorts in Navy/Saffron classic Black colourways, in sizes XS to 3XL (M)/XL (W). Both come with reflectivestrips on the rear of the legs to aid visibility in low light conditions.
Read more: Le Col Sport Thermal Cargo Bib Shorts full review
Best cycling shorts for long days in the saddle
Specifications
Colours : Black, Navy (+ logo colourway options)
Sizes : XS - XXL
Additional features : Sun guard, reflective details,
Reasons to buy
+
Soft materials
+
Race cut fit
+
Well padded chamois
Reasons to avoid
-
Chamois doesn't dry as quickly as thinner pads
These race fit bib shorts from the Sydney, Australia, brand manage to balance a truly all day chamois pad with a lightweight pair of shorts.
The six panel velvet soft shorts provide enough compression to keep your muscles happy and supported, while the mesh straps are stretchy in all directions to prevent any pinching or chafing on the rest of the body.
Tested on a variety of rides, from all day road rides to 60km mountain bike adventures to even stupidly long Zwift events, they delivered time after time.
The only downside is that the thicker chamois pad does retain moisture more than other shorts on test, so can get a bit icky feeling when at the cafe stop, especially if it's a sweaty or wet ride.
Available in sizes XS to XXL and male and female fits in both black and navy colours, it's a considered choice, but delivers performance you'd expect to see in a much pricier pair of cycling shorts.
Read more: Attaquer All Day bib shorts full review
Best cycling shorts for all-out comfort
Specifications
Colours: Black, Navy
Sizes: XS - XXXXL
Additional features : Laser cut ventilation, reflective logos
Reasons to buy
+
Sublime body contouring chamois
+
Highly compressive fabrics
+
Snug fit
+
Heat and moisture management
Velocio's aim with the Concept bib shorts was to make bibs that a pro rider would wear if they weren't contractually obligated to pull on shorts from their team sponsor.
After clocking up the miles in them, our tester confidently confirmed that the New England-based company not just met its objective, but surpassed it, finding quite simply the most comfortable bib cycling shorts he's ever ridden.
They weren't quite as breathable as the brand's Ultralight bib shorts, but were a close second, especially in terms of moisture management.
The stand out feature by far is the 'floating chamois. It's similar to the Assos GoldenGate floating pad, as featured below in the Assos Cento Evo bib shorts, and together with the uber compressing shorts creates an almost perfect pair of cycling bib shorts, which just the eye wincing price tag losing them top marks.
The sizes range from XS to XXXL, and male and female fits in both black and navy colours, and if you do purchase, you won't be disappointed.
Read more: Velocio Concept bib shorts full review
Best shorts for aero on a budget
Specifications
Colours: black
Sizes: S - XXL
Additional Features: Aero dimples
Reasons to buy
+
Great fit
+
Aero claims
+
Comfortable when hot
Reasons to avoid
-
May need to size down for a good fit
With DRS signifying "drag reduction system", Lusso's range topping bib shorts are designed to make you that bit faster, with a dimpled effect to the fabric's surface that Lusso says gives (unquantified) aero benefits.
Aside the aero bit, these are very well designed shorts, make in Manchester, with a comfortable compressive fit that belies their low price compared with other brands' premium offerings and gained them an Editor's Choice award. They stayed comfortable for sweaty Zwift sessions, although you may want to size down for a good fit if you're in between sizes.
Read more: Lusso DRS bib shorts full review
Not recommended
Very pricey and no better than cheaper options
Specifications
Colours: black
Sizes: S - XL
Additional Features: None
Reasons to avoid
-
Lots of silicone
-
Uncomfortable seat pad
-
Much cheaper options offer similar performance
Topping $300 / £250 a pop, the POC Aero VPDS shorts are designed, POC says, for "ultimate performance while racing and on longer rides".
We didn't rate them. Although they're made from compressive fabric and have wide, silicone-free leg grippers, there is silicone on the bib straps, which made them awkward to put on, without any appreciable benefit.
We found the pad - which also includes silicone grippers - bulky at the front compared with the competition and distracting on harder efforts.
And the POC Aero VPDS shorts are expensive even compared to premium priced competition. You can get better performance for a lot less.
Read more: POC Aero VPDS bib shorts full reviews
Best cycling shorts for indoor riding
Why you can trust Cycling Weekly Our expert reviewers spend hours testing and comparing products and services so you can choose the best for you. Find out more about how we test.
Riding indoors has really taken off in the last few years, with the best smart turbo trainers coupled with the best indoor cycling apps making for a much more interactive experience, where you can pit yourself against other riders, test yourself or just experience a simulation of a real or virtual ride.
With the huge rise in the number of riders heading inside, some brands have dedicated ranges, and we've selected our best indoor cycling clothing (opens in new tab) kit for indoor sessions in a separate buyers guide.
Although there's still an ongoing debate as to do you need indoor cycling specific clothing (opens in new tab) many riders are seeing the value of these targeted cycling shorts.
Best no-frills turbo cycling shorts
Specifications
Colours: Black
Sizes: S - XXL
Additional features : 60deg washable
Reasons to buy
+
Simple design
+
Can be washed at high temp
+
Designed for hot and sweaty riding
Stripped of all unnecessary features, Madison says the Turbo bib shorts are fast wicking and contain anti-bacterial properties, and can be washed at 60 degrees to help reduce sweat odours.
The open mesh straps and leg panels provide breathability and a specifically designed TMF chamois should provide comfort. It's quite thin, which we found worked well for indoor riding as it avoided getting too hot while seated and doing intensive sessions.
The lycra used meant that the shorts stayed in place well, although we found the leg grippers weren't quite as effective as on some other shorts. Madison's pricing is reasonable though, so these shorts aren't as large a commitment as many indoor cycling options and they're opaque enough that they could serve double duty for hot road rides.
You can read our full review here.
Best cycling shorts with a bib free design
Specifications
Colours: Black
Sizes : XS - XXL
Additional features : Dense knit for compression and modesty
Reasons to buy
+
No upper to get sweaty
+
Indoor and outdoor use
Reasons to avoid
-
Waist shorts can compress tummy
With no other waist shorts on our buyer's guide, it's fair to say we don't often recommend them, but coming from the same Core range that uses collection-specific materials and technology as the best-selling Core bib shorts (opens in new tab), but without the shoulder straps to help reduce the build-up of heat that occurs when riding indoors.
These are a good compromise for riders who want the flexibility of indoor and outdoor shorts, or even if your indoor bike time is spent with others, meaning that modesty is a must (for them if not you)!
Doing away with shoulder straps means that the shorts are held in place with a tighter waist, which some riders find uncomfortable, although Rapha does promise a soft waist elastic.
Best indoor cycling shorts for top end performance
Specifications
Colours: Black/ white, black/ pink
Sizes : XS - 3XL
Additional features : Laser-cut thighs, Pro Gel Chamios
Reasons to buy
+
Excellent gel pad for long periods of sitting
+
Pro rider fit
+
Heat management and great ventilation
Reasons to avoid
-
Pricey end of market
-
Limited to indoor only
Le Col says compared with regular bib shorts, the indoor training optimized bibs offer increased temperature regulation throughout their construction and a pad that offers extra protection in the areas that you most need it when in an indoor training environment.
On test, it was hard to disagree with any of the brand's claims. The huge perforated panels on the hips and front of legs provide excellent ventilation, and assist these bib shorts in being exceptionally light, despite the straps' heavier construction.
The gel pad may seem bulky when pulling the shorts on for the first time, but these have been specifically designed for indoor use, which generally means more time in the saddle.
Our testing found these high quality shorts achieved this and made indoor training a more attractive proposition for our tester. If you're concerned about the shorts' transparent nature, you might want to go for the Rapha Core pair (above) but if you've signed up for virtual riding and racing, our tester found that these were a fantastic purchase.
Buyer's guide to the best cycling shorts
Why wear padded cycling shorts?
The number one job for a pair of cycling shorts is to protect the rider from saddle sores and chafing by providing a layer of padding which is shaped to suit the riding position.
In preventing saddle sores, it's also really important to ensure you have the right saddle, so highly recommended further reading are our pieces on the best bike saddles (or best women's bike saddles).
Cycling shorts are also constructed from high-wicking, quick-drying fabrics that encourage sweat to leave the surface of the skin thus keeping the rider dry and stink-free on hot days and helping to reduce the discomfort associated with riding in the rain.
How much should I spend on cycling shorts?
You can pick up a pair of cheap cycling shorts for as little as a meal out.
These will meet basic needs, coming with a chamois pad and will be constructed from lycra, which won't flap in the wind, and shouldn't bunch up when riding. These will be a marked improvement over jeans or non-padded sports shorts, but the difference between super cheap and a branded pair is like night and day. It's likely that the pad and fabrics used will be thin, the fit won't be great and durability will be poor.
The middle ground for a pair of quality cycling shorts will likely take you into triple digits, and for that you can expect to buy a high quality pair of bib shorts that will provide several seasons of cycling in comfort.
Spending even more for a high end pair will provide you with more durable fabrics and extras such as compressive materials, better fit thanks to the use of multiple panels and carefully constructed leg grippers. The chamois will often offer more breathability, better comfort and multi density padding that provides more targeted cushioning.
What are the differences between cycling bib shorts and waist shorts?
At Cycling Weekly, we test predominantly bib shorts, as in the main we find this style to offer the best cycling shorts for comfort, fit and performance. These have bib straps attached to the main body of the shorts.
The bib straps mean there's no need for an elastic waistband to hold them up, eliminating any digging in at the stomach. It's also impossible for them to fall down - so there's no need to worry about plumber's crack or an unfortunate sunburn. Finally, the straps mean that the material stays put, and the chamois can't move around.
Shorts or waist shorts are, however, still popular. There is a simplicity in just pulling on a pair of shorts - and pulling them down for nature breaks.
Waist shorts are also generally cheaper, and often a good 'first cycling short' option for those new to the sport, who aren't totally onboard with padded bib shorts — yet.
Regardless of what you choose, it's important to know that you are not meant to wear underwear with padded cycling shorts. The chamois is designed to sit against your skin.
How to dress for hot conditions
What are the best materials for cycling shorts?
The choice of materials by cycling short designers is huge, from thicker, fleece-backed leg material used on thermal bib shorts for chilly spring conditions to well-ventilated back panels to combat the summer heat.
It's a good idea to have a selection of bib shorts in your collection, with varying options depending upon weather conditions.
Breathable fabrics or cut-outs at the back are good additions on a pair of summer cycling bib shorts.
More expensive bib shorts will use fabrics which aid blood circulation through compression. Those aiming for the aero edge may also feature technologies said to slice through the wind faster than skin.
How do I find the best fitting cycling shorts?
Cycling shorts should be constructed from multiple panels of fabric. In general the more panels used, the better the fit, although more advanced cycling shorts will use more technical fabrics which are capable of delivering a second skin fit from fewer panels. Fewer panels mean fewer seams and less risk of chafing.
You need to ensure the shoulder straps are comfortable. Some come up short, feeling a little restrictive, even for a rider of average height. Wherever possible, try on bib shorts (over underwear) and — as silly as you may feel in the dressing room — adopt a riding position to get a clear idea of how they'd really feel on the bike.
Styles vary as well - some riders like cycling shorts that reach almost to their knee joints, whilst others prefer them to finish mid-thigh. Longer shorts can rub against the tendons in the back of the knee while shorter ones may leave your legs rubbing on the sides of the saddle.
Why is the chamois so important in cycling shorts?
The other details are important to consider, but the chamois is the absolute key bib short component. Get it right and your shorts will offer years of comfortable miles. Get it wrong and the pad can be like a mediaeval torture device.
The best cycling short chamois pads are shaped to suit different sorts of riding — often the product description will give you an insight into the pad sewn into a pair you're looking at.
Endurance focused chamois pads will be thicker to cater for longer hours in the saddle and will usually have denser foam at the rear to cater for an upright position.
A chamois that's designed for short, hard, race efforts will often have more padding at the front as riders on the rivet will usually rotate more to sit on the end of the saddle.
Many clothing brands buy in their chamois from an external company, with Elastic Interface being the leading supplier, and can often use the same pad as a competitor.
The chamois often comes with some additional features, such as perforation to provide breathability, and an anti-bacterial treatment to keep the shorts fresh.