Best women's bike saddles 2023 ridden and rated
Finding the best women's bike saddle isn't always easy. What should you look for? And what models are the best? We explain and round up the best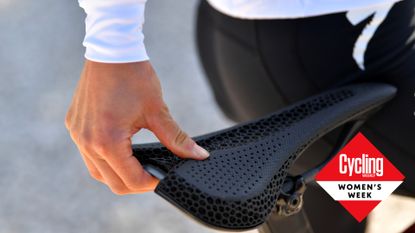 (Image credit: Getty Images - Luc Claessen / Stringer)
The best women's bike saddle will let you ride as long and as far as you like in comfort.
Many women share a tempestuous relationship with their cycling saddle. We love the bike, and we need to sit on the saddle to enjoy it – yet so many of us struggle to find a perch that provides the comfort we need.
Relative to men's saddles, the best women's bike saddles are usually wider to provide a more comfortable perch for women's wider sitbones and the shape and the distribution of the padding might be different.
The good news is that there's a huge range of saddles out there, with designs to suit all shapes and sizes. The bad news is that finding your saddle soulmate can involve a little bit of trial and error. Experts confirm that a woman's anatomy varies more than men's, making it harder to find the ideal perch.
That said, by understanding the key features to look for in a saddle, you will massively narrow down your search for the best women's bike saddle. If you're just here for the advice, then jump straight down to the bottom of the page where we've gone into the details in our buyer's guide.
Otherwise, read on for the top picks of our favorite saddles...
Our pick of the best women's bike saddles
You can trust Cycling Weekly. Our team of experts put in hard miles testing cycling tech and will always share honest, unbiased advice to help you choose. Find out more about how we test.
Bear in mind that each model is usually available at different price points, dictated by the materials used. More expensive versions will be lighter, typically with carbon rails instead of metal ones, which both drop the grams and go some way to reducing road vibration – but most of the comfort comes from the padding and shape, which is often the same in the cheaper models.
Best for aggressive riding positions and available in a wide range of widths
Specifications
Length: 240mm
Width options: 130, 143, 155, 168mm
Weight: 159g (in 143mm width)
Reasons to buy
+
Looks nice
+
Light
+
Comfortable
+
Plenty of options
Reasons to avoid
-
Not a lot of padding
-
Carbon fibre rails won't fit all seatposts
The Specialized Power saddle is a firm favorite here at Cycling Weekly. The short nose makes it perfect for riding in a low, aerodynamic position, while the generous cutaway in the centre helps to relieve pressure on your soft tissue.
It does lock you in the one position, but we've found that position plenty comfortable, so it's been no problem cycling the whole day without shifting around – other than standing up on the climbs.
The design has proved so popular that Specialized has developed a huge range of different models to suit an incredibly broad spectrum of riders. There are widths right down to 130mm for the narrowest of sit bones and all the way up to 168mm for those who are more widely spaced.
There are also options for different levels of padding and many different price points for varying levels of fancy materials and low weights. The design is also available in a futuristic lattice construction and with a soft insert plugging the gap, which we'll get onto next.
As a unisex saddle, our full review happens to be by Nick Busca, but it's still one of our favourite women's saddles.
Read more: Specialized S-Works Power women's bike saddle full review
Best for 'outies' riding in aggressive positions
Specifications
Length: 240mm
Width options: 143, 155, 168mm
Weight: 216g (in 168mm width)
Reasons to buy
+
Mimic foam is soft without the need for a cut-out
+
Looks great
+
Well researched
Reasons to avoid
-
One static riding position
With essentially the same design to the standard Specialized Power saddle, the same points still apply regarding its excellent performance for riding in aggressive aerodynamic positions for long periods of time.
The major difference is the Mimic insert that fills the central cutout. This is very soft, so still provides much of the relief that a full cutout offers – but some women can kind find they 'fall into' the empty space of a cut out.
For women who'd describe their labia as part of the 'outie' camp rather than an 'innie', this can lead to uncomfortable chafing and swelling – issues which the Mimic insert tackles head on.
Read more: Specialized Power Mimic Expert women's saddle full review
Best for 'outies' who like to move about
Specifications
Length: TBC
Width options: 143, 155, 168mm
Weight: 182g (in 143mm width)
Reasons to buy
+
Great shape for changing efforts
+
Plenty of width options
Reasons to avoid
-
Mimic tech won't suit all
This sees that same Mimic technology applied instead to Specialized's Romin saddle shape. The same benefits apply regarding the soft insert providing similar degrees of pressure relief to a full cutout, whilst still filling in the empty space.
For some women who'd describe their labia as more 'outie' than 'innie', an empty cutout can leave a space for them to 'fall into', leading to chafing and swelling. The MIMIC insert still offers that pressure relief but helps to guard against that.
More broadly, the Romin has a wide rear and rounded contouring, ideal for those who like to move around in the saddle, leaning right forward during efforts and backing off when spinning gently. It's basically the antithesis of the Power, which holds the rider in one set position.
It replaced the longstanding Specialized Oura saddle, which you'll still find on this guide as some retailers still stock it.
Read more: Specialized Romin Evo Pro Mimic women's bike saddle full review
Best for engineered flex
Specifications
Length: 281mm
Width options: 145, 155mm
Weight: 255g (in 155mm)
Reasons to buy
+
Clean aesthetic
+
Flex zones at the rear
Reasons to avoid
-
Narrow cutout
-
Limited width options
After extensive research, Fizik launched a new women's saddle in 2016 – enter, the Fizik Luce.
It's a long and flat saddle, with a wide rear and a narrow nose. This should allow for plenty of movement, so riders can rotate into an aerodynamic position when it suits them and roll back onto their sit bones when in a more relaxed stance.
It comes in two widths, 144 and 155mm, and Fizik was particularly proud of the way it made the 'wings' at the rear flexible so that they move as the rider pedals. The cut out is pretty narrow, though, thus not suiting everyone.
Read more: Fizik Luce S-Alloy women's bike saddle full review
Best for maximum pressure relief
Specifications
Length: 275mm
Width options: 131, 145mm
Weight: 186g (in size 131mm)
Reasons to buy
+
Lightweight
+
Good choice for aggressive riding
+
30 day money back guarantee
Reasons to avoid
-
Very large cut-out may be uncomfortable for some
-
Wide nose
If you've yet to find a saddle that offers a high enough degree of pressure relief, the Selle Italia SLR Lady Flow might be the solution you've been looking for. The central cutout is notably large, while the long nose allows for shifting of your position.
It comes in quite a narrow selection of widths, which means that it won't suit everyone – the size of the cutout will divide opinion too. But saddles are an extremely personal choice, and this might just tick all the boxes you're looking for – this is a hugely popular model among the female cycling community, particularly among road racers.
It's lightweight, thanks to the general lack of saddle, and there's a 30 day money back guarantee, so you can always give it a try and see how you go.
Read more: Selle Italia SLR Lady Flow women's bike saddle full review
6. Selle Italia Lady Gel Flow
Best for more upright riding
Specifications
Length: 262mm
Width options: 135, 160mm
Weight: 310g (in 160mm width)
Reasons to buy
+
Large amount of padding
+
Shock absorbing elastomer
Reasons to avoid
-
Heavy
-
Not for aggressive riding
The Lady Gel Flow is a saddle that divides opinion extensively. It is related to the Selle Italia Diva Gel Flow, a very similar saddle but with a slightly narrower rear and longer cut out.
Both options come with a highly padded rear and a curved shape, which means women riding in an upright position tend to find it really comfortable. There's an Elastomer suspension shock absorbing layer too that works well for long days in the saddle.
However, those looking to rotate into an aggressive position typically find the wide nose restrictive.
7. ISM PN 1.1 Saddle
Best for time trialling and complete soft tissue relief
Specifications
Length: 270mm
Width options: 110mm
Weight: 382g
Reasons to buy
+
Split nose helps to relieve pressure
+
Great for low and aggressive riding
Reasons to avoid
-
Heavy
-
The twin nose is quite wide
A second genuinely unisex version like the Power, ISM saddles are often popular among women who have tried almost every option on the quest to find a perch that doesn't rub them up the wrong way.
The shape may look odd, but if you sit in a far forward position and simply cannot get comfortable, ISM is a good call. We've seen this saddle sitting proudly on the bikes of countless female professional track riders, as well as time trialists and road racers.
The noseless shape allows the rider to sit right on the end of the saddle relieving all soft tissue pressure. The PN is a narrow version as many women reported finding the front too wide on standard models.
8. Selle SMP Dynamic
Best for varied riding positions
Specifications
Length: 274mm
Width options: 138mm
Weight: 260g
Reasons to buy
+
Supportive when sitting upright
+
Supportive when tucked up low
Selle SMP may not win beauty contests with their saddles, but they're incredibly well-researched perches.
The kick up at the back provides support for the sit bones, whilst the nose curves to help it get out the way so you can rotate when you need to sit forward.
The Dynamic is a creation suited to road racers with wider sit bones – and a lot of women who ride in an aggressive position will conform to this. It's also a good option for ultra distance riders who might often switch between a very aerodynamic position on a set of aero bars and a more upright position when riding on the hoods
The brand has a saddle selection guide to help you choose the best option for you, based on your riding, sit bone width and age.
Best alternative to Specialized Romin
Specifications
Length: TBC
Width options: 143, 155, 168mm
Weight: 277g (in 168mm width)
Reasons to buy
+
Room to move around
+
Good sized cut out
+
Plenty of width options
Reasons to avoid
-
Downward slope won't suit all
The Oura Expert Gel saddle from Specialized will suit riders who want to slide forwards during hard efforts and still find comfort when backing off.
The Body Geometry cut-out that's ergonomically designed to relieve pressure proved comfortable in testing and the three width options (143mm, 155mm and 168mm) provide a good range for riders.
The Specialized Romin (see near to top of the guide) has since replaced this model, but we've still included it as it can be found on a good deal at some retailers still.
Read more: Specialized Oura Expert Gel women's bike saddle full review
Best value lightweight option
Specifications
Length: 248mm
Width options: 155mm
Weight: 225g
Reasons to buy
+
Comfortable shape
+
Decent weight for the price
+
Well priced
Although you might not think of Liv for a saddle, the Alacra is a good option, which garnered a Cycling Weekly Editor's Choice award in 2021. There are two models, the SL tested here and the SLR with carbon rails for a lighter weight.
At 148mm long it's "semi-short", sitting somewhere in between a short saddle and the more traditional long nosed designs. We liked the extra length and the cut-out width suited our tester well.
At 225g the weight of the Alacra SL is very competitive for its price, but we found its 155mm width a bit narrow - there are no other width options.
Read more: Liv Alacra SL women's bike saddle full review
Buyers guide to women's bike saddles
Do female riders need women's bike saddles?
When it comes to saddles, most (but not all) women will find a female specific design more comfortable.
Statistically, most women have wider sit bones than most men - so the rear of the saddle usually needs to be wider.
Cut outs and relief channels were initially designed to meet men's needs. However, the industry noticed that women tended to prefer them so now the majority of women's saddles come with some sort of gap or groove. The ideal shape is very much down to personal preference.
How do you choose the right saddle?
You have a better chance of getting your saddle right in the first instance if you take some time to look at your riding style and current discomfort before you shop.
We've got a detailed guide to choosing the right saddle for you here - but here are some quick tips to help you make the right choice:
Get your sit bones measured: To offer adequate support, your saddle width should be wider than your sit bones. Most local bike shops offer a sit bone measuring tool (Selle Royal, Selle Italia, Fizik and Specialized all have these tools to be used by their dealers). To be clear, sit bone width has nothing to do with jean size - so don't base your saddle width on your clothing tag.
Consider how you sit on the bike: If you sit in an aggressive position - low and stretched out - then you will probably suffer more with soft tissue discomfort. These riders very often get on well with saddles that have a flat and short design and a large pressure relief area. If you sit further back in a more upright position, you'll likely want a curved saddle with more padding at the rear.
Soft tissue variation: Cobb Saddles did some very interesting research where they found correlations between the self-assessed physical appearance of a women's vulva, and the type of saddle she'd be likely to get on with. In summary, they found that 'innies' tended to like saddles with a narrow nose, whilst 'outies' liked those with a wider nose and relief channel.
Choosing the right saddle for you: extra tips
Measuring sit bones
Using a saddle that is the right width is one of the most important determinants of rider comfort. A saddle which is too wide or too narrow can see your weight being supported by areas and tissues which are really not best for that task. Ideally, you want your weight to be wholly supported by your sit bones. The width of these bones varies from person to person, but as a general rule, women's tend to be a little wider, by nature of having wider hips designed for childbirth.
As your sit bone width reflects your underlying bone structure, it can bear little relation to your clothing size, so don't just assume what yours might be. There's a range of different ways that your sit bone width can be measured: from pressure mapping in a high tech bike fit, to bone measuring tools most local bike shops will be provided by their saddle suppliers.
Or a rather more rudimentary – but still effective – way to do it at home is with a piece of corrugated cardboard. Place it on a step or a chair so that your knees are bent at 90 degrees when sitting and measure the distance between the deepest point of the two indents.
As a general rule, these sit bone measurements equate to the saddle widths below, but each manufacturer will have their own suggestion, so make sure to consult their sizing guide.
Swipe to scroll horizontally
| Sit bone width | Saddle width |
| --- | --- |
| 95mm | 130mm |
| 120mm | 145mm |
| 135mm | 155mm |
| 150mm | 170mm |
On-the-bike position
If you ride in an aggressive position, with your stem set up long and low, you'll probably benefit from a shorter nose saddle. When bent forwards in that position, your hips likewise rotate forward, which can result in an uncomfortable pressure on your nether regions if the nose of the saddle is too long.
Conversely, if you ride in a more upright position, a long nose saddle isn't likely to cause those issues, with your weight centred much more towards the rear of the saddle. Also, if you do like to move around (and not just because your current saddle is uncomfortable) a longer nose saddle provide a greater range of positions to cycle through.
Soft tissue variation
Women's soft tissue varies to a much greater extent than men's, and so is a hugely important factor when it comes to choosing a saddle. In general, 'innies' tend to prefer saddles with a narrower nose, whilst 'outies' tend to get on with wider noses and relief channels.
But when it comes to relief channels, there is again a strong degree of variation. Some women will get on perfectly well with the complete freedom of an empty cutaway, while other will find that their soft tissue can 'fall in', which can lead to swelling on long rides. To solve this, there are saddles with very soft inserts, such as Specialized's Mimic line, which are designed to solve this exact problem - providing extra relief without causing problems with swelling.
Saddle height
Having your saddle height set incorrectly can cause all sorts of problems. Too high and you risk straining your joints and chafing as you lean from side to side to make the pedal strokes. Too low, and you again risk joint problems, putting too much pressure on your knees.
Bear in mind that different saddles have different stack heights, so you may need to adjust the height of your seat post when you make a change.
Good shorts!
If you're still struggling with discomfort, make sure that your shorts aren't the cause. Good cycling shorts should feature a seamless chamois of an adequate width - and they need to fit to be effective.
Returns policy
Cut down the chance of feeling like you've wasted your money on an improper perch by checking out the returns policy. Some companies let you try before you buy, occasionally using a test saddle, whilst others offer a 30 day money back guarantee.
Since saddles come in different prices for the same design, you might want to buy the budget model for a specific saddle and ride with that for a while before splashing out on a new high top-of-range saddle with the same shape and carbon rails.
Michelle Arthurs-Brennan is a traditional journalist by trade, having begun her career working for a local newspaper, where highlights included interviewing a very irate Freddie Star (and an even more irate theatre owner), as well as 'the one about the stolen chickens'.
Previous to joining the Cycling Weekly team, Michelle was Editor at Total Women's Cycling. She joined CW as an 'SEO Analyst', but couldn't keep her nose out of journalism and in the spreadsheets, eventually taking on the role of Tech Editor before her latest appointment as Digital Editor.
Michelle is a road racer who also enjoys track riding and the occasional time trial, though dabbles in off-road riding too (either on a mountain bike, or a 'gravel bike'). She is passionate about supporting grassroots women's racing and founded the women's road race team 1904rt.
Michelle is on maternity leave from July 8 2022, until April 2023.