Best women's cycling saddles reviewed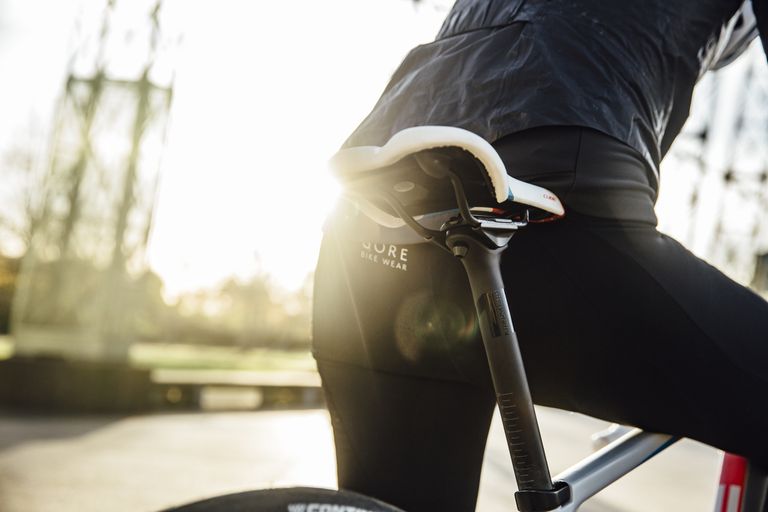 Many women share a tempestuous relationship with the cycling saddle.
We love the bike, and we need to sit on the saddle to enjoy it - yet so many of us struggle to find a perch that provides the comfort we need.
>>> How to choose the right saddle
Finding the right women's bike saddle can take quite a bit of trial and error. Experts confirm that a woman's anatomy varies more than men's, making it harder to find the ideal perch.
>>> How to set your saddle height
Do female riders need women's bike saddles?
There are many areas where the answer to the 'female specific' question is more grey than black and white, such as female specific bikes.
When it comes to saddles, most (but not all) women will find a female specific design more comfortable.
>>> Best mountain bike saddles
Statistically, most women have wider sit bones than most men - so the rear of the saddle usually needs to be wider.
Cut outs and relief channels were initially designed to meet men's needs. However, the industry noticed that women tended to prefer them so now the majority of women's saddles come with some sort of gap or groove. The ideal shape is very much down to personal preference.
>>> Best women's cycling jerseys
How do you choose the right saddle?
You have a better chance of getting your saddle right in the first instance if you take some time to look at your riding style and current discomfort before you shop.
We've got a detailed guide to choosing the right saddle for you here - but here are some quick tips to help you make the right choice:
>>> Comfort breaks for women: best bib shorts for an easier pee stop
How do you sit on the bike?
If you sit in an aggressive position - low and stretched out - then you will probably suffer more with soft tissue discomfort. These riders very often get on well with saddles that have a flat and short design and a large pressure relief area. The Selle Italia SLR Lady flow is an example, and the Speicalized Power also suits this rider well, as do ISM saddles.
If you sit further back in a more upright position, you'll likely want a curved saddle with more padding at the rear. The Sella Italia Lady Gel Flow is a solid choice.
Soft tissue variation
Cobb Saddles did some very interesting research where they found correlations between the self-assessed physical appearance of a women's vulva, and the type of saddle she'd be likely to get on with.
In summary, they found that 'innies' tended to like saddles with a narrow nose, whilst 'outies' liked those with a wider nose and relief channel.
Get your sit bones measured
To offer adequate support, your saddle width should be wider than your sit bones. Most local bike shops offers a sit bone measuring tool (Selle Royal, Selle Italia, Fizik and Specialized all have these tools to be used by their dealers).
To be clear, sit bone width has nothing to do with jean size - so don't base your saddle width on your clothing tag.
Our pick of the best women's saddles
We've listed some of our favourite styles. Bear in mind that each model is usually available at assorted price points, dictated by the materials used. More expensive versions will be lighter, typically with carbon rails which both drop the grams and go some way to reducing road vibration.
Whilst we won't discourage weight-weenie tenancies, we reckon getting a saddle you can sit on comfortably will be a significantly more effective performance boost than a few grams saved here and there.
With each product is a 'Buy Now' or 'Best Deal' link. If you click on this then we may receive a small amount of money from the retailer when you purchase the item. This doesn't affect the amount you pay.
Reasons to buy
+Room to move around+Good sized cut out+Plenty of width options
Reasons to avoid
-Downward slope won't suit all
The Oura Expert Gel saddle from Specialized will suit riders who want to slide forwards during hard efforts and still find comfort when backing off.
The Body Geometry cut-out, that's ergonomically designed to relive pressure, proved comfortable in testing and the three width options (143mm, 155mm and 168mm) provide a good range for riders.
Reasons to buy
+Looks nice+Light+Comfortable
Reasons to avoid
-Not a lot of padding-Carbon fibre rails won't fit all seatposts
This is a perch which suits riders who want to get into a forward rotated position. Anecdotal evidence from bike fitters suggests it is ideal for those who struggle to achieve this on a standard saddle.
The short nose indicates that it is preferred by riders who stay in one place. It's no coincidence that strong time trialist Stevens was crucial in its development, then.
There is a large pressure relief channel which is a cut out in the standard design.
Reasons to buy
+MIMIC foam is soft without the need for a cut-out+Looks great+Well researched
Reasons to avoid
-One static riding position
Alternative to the previously mentioned model, there's also the 'MIMIC' version with memory foam layers (see picture above). This was created after extensive research and was designed to prevent riders from 'falling in' to the cut out.
Reasons to buy
+Great shape for changing efforts+Plenty of width options
Reasons to avoid
-Mimic tech won't suit all
The Romin Evo MIMIC replaces a longstanding favourite: the Specialized Oura.
This saddle has a wide rear and rounded contouring, ideal for those who like to move around in the saddle, leaning right forward during efforts and backing off when spinning gently. It's basically the antithesis of the Power, which holds the rider in one set position.
Specialized offers the Romin Evo with a traditional cut out, or with the MIMIC foam which it suggests women will prefer - though our female reviewer was more partial to the former. This saddle is available in three widths, 143, 155 and 168mm.
Reasons to buy
+Clean aesthetic+Flex zones at the rear
Reasons to avoid
-Narrow cutout-Limited width options
After extensive research, Fizik launched a new women's saddle in 2016 - enter, the Fizik Luce.
It's a long and flat saddle, with a wide rear and a narrow nose. This should allow for plenty of movement, so riders can rotate into an aerodynamic position when it suits them and roll back on to their sit bones when in a more relaxed stance.
It comes in two widths, 144 and 155mm, and Fizik was particularly proud of the way it made the 'wings' at the rear flexible so that they move as the rider pedals. The cut out is pretty narrow, though, thus not suiting everyone.
Selle Italia Lady Gel Flow women's saddle
The Lady Gel Flow is a saddle that divides opinion extensively. It is related to the Selle Italia Diva Gel Flow, a very similar saddle but with a slightly narrower rear and longer cut out.
Both options come with a highly padded rear and a curved shape, which means women riding in an upright position tend to find it really comfortable. There's an Elastomer suspension shock absorbing layer too that works well for long days in the saddle.
However, those looking to rotate into an aggressive position typically find the wide nose restrictive.
Reasons to buy
+Lightweight+Good choice for aggressive riding+30 day money back guarantee
Reasons to avoid
-Very large cut-out may be uncomfortable for some-Wide nose
A second option from Selle Italia, the SLR Lady Flow features a much larger relief cut out.
Whilst our reviewer found this a little wide, it's worth remembering that saddle choice is very personal - and this is a hugely popular model among the female cycling community, particularly among road racers.
It's not generally suited to a rider who sits in a more upright position, because the rear has minimal padding.
A second genuinely unisex version like the Power, ISM saddles are often popular among women who have tried almost every option on the quest to find a perch that doesn't rub them up the wrong way.
The shape may look odd, but if you sit in a far forward position and simply cannot get comfortable, ISM is a good call. We've seen this saddle sitting proudly on the bikes of countless female professional track riders, as well as time trialists and road racers.
The noseless shape allows the rider to sit right on the end of the saddle relieving all soft tissue pressure. The PN is a narrow version as many women reported finding the front too wide on standard models.
Selle SMP may not win beauty contests with their saddles, but they're incredibly well-researched perches.
The kick up at the back provides support for the sit bones, whilst the nose curves to help it get out the way so you can rotate when you need to sit forward.
The Dynamic is a creation suited to road racers with wider sit bones - and a lot of women who ride in an aggressive position will conform to this.
The brand has a 'saddle' selection guide to help you choose the best option for you, based on your riding, sit bone width and age.
Extra tips for saddle shopping
Saddle height
Remember: a new saddle may result in you inadvertently causing a change your saddle height. If you get a new saddle, it is worth reassessing your saddle height.
Good shorts!
If you're still struggling with discomfort, make sure that your shorts aren't the cause. Good cycling shorts should feature a seamless chamois of an adequate width - and they need to fit to be effective.
Returns policy
Cut down the chance of feeling like you've wasted your money on an improper perch by checking out the returns policy. Some companies let you try before you buy, occasionally using a test saddle, whilst others offer a 30 day money back guarantee.
Cycling Weekly's Tech Editor Michelle Arthurs-Brennan is a traditional journalist by trade, having begun her career working for a local newspaper before spending a few years at Evans Cycles, then combining the two with a career in cycling journalism.
When not typing or testing, Michelle is a road racer who also enjoys track riding and the occasional time trial, though dabbles in off-road riding too (either on a mountain bike, or a 'gravel bike'). She is passionate about supporting grassroots women's racing and founded the women's road race team 1904rt.
Favourite bikes include a custom carbon Werking road bike as well as the Specialized Tarmac SL6.
Height: 166cm
Weight: 56kg