Is your bike set-up too aggressive?
We can't all be Geraint Thomas, so should we have a bike like his, asks Simon Smythe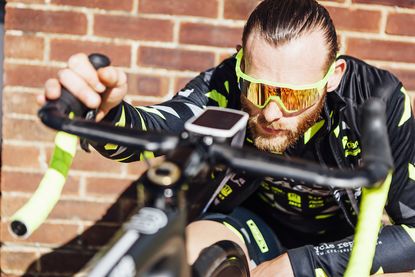 (Image credit: Cycling Studio)
Get The Leadout Newsletter
The latest race content, interviews, features, reviews and expert buying guides, direct to your inbox!
Thank you for signing up to The Pick. You will receive a verification email shortly.
There was a problem. Please refresh the page and try again.
UCI article 1.3.006 states that: "Equipment shall be of a type that is sold for use by anyone practicing cycling as a sport."
One of the aims of this is to ensure that the team with the biggest budget doesn't gain a competitive advantage by using prototypes or one-off specials that are unaffordable to others.
>>> Beginner's bike fit: how to set up your bike
But while it helps level the playing field in pro racing, is it a good idea for the clubman, the weekend warrior, the fourth cat and the sportiviste to ride a bike with geometry designed for Geraint Thomas or Chris Froome? Should we try to bend our bodies into the same extreme positions as the pros when riding replica bikes?
>>> Road bike size guide: how to choose a bike that fits
"Amateurs can if they have the time to spend on the bike that the pros do," says Phil Burt, former head of physiotherapy at British Cycling. "But most of the time amateurs have something else to do like a day job, so I think the biggest mistake people make is to try."
But how is an amateur to know if the position on their new aero bike is too aggressive? "It's normally the amount of drop to the front end," Burt says.
"If you've got too much weight on the front end handling will become twitchy or too fast. Numb hands is a sign you've got too much weight on the front. Penile numbness is a sign that you're rolling too far forward. That could also be the wrong saddle height but these are the general things. Back of the leg pain, hip pain, neck pain as well. If you're that slammed at the front it's like painting the ceiling for a couple of hours.
"But what you're looking for is lasting pain that goes on for more than 24, 48 hours and if you know it comes from your position, you've got to do something about it. [As a physio] I would ask, can we do something about you or can we do something about the bike? The answer is normally a mixture of both. The bike is the quick fix and the person is the longer term project.
"A bike-fit might tell you to drop your front end 40mm and raise your saddle 30mm. That's huge and I would say we're not going to get there now, we're going to go 10mm a week. We're going to ride 50 miles in that position and not feel any aches and pains and feel like it's better."
However, Burt explains that what might be considered too aggressive for one type of cycling might be acceptable, desirable even for another.
"There's a sweetspot for everybody and it's different for everybody. What some people do is they find a really fast position in a wind tunnel or by aero testing and it can be really fast but if you move outside it every three seconds it's not aero. It depends on the length of the events.
"If it's a four-minute pursuit you can be really uncomfortable if you can tolerate it. If it's a 50-mile time trial I would invest a lot in comfort and sustainability."
Expert view
Giuseppe Giannecchini, Velosolutions

My father was a Gimondi fan and wanted to have exactly the same Bianchi that Felice used to ride. Geometries and materials have changed but it's always been the way.
"I always invite people to try to look further than the marketing and ask: 'Is the bike suitable for me and my type of riding?' The answer to the question, 'Is Chris Froome's geometry suitable for my body?' can be, 'Potentially yes, why not?!' Talking about aggressive riding, and pro versus amateur positions really doesn't make sense. We all need to pedal in our own bio-mechanically correct position. Once that is achieved the adjustments between a novice and a pro's needs are minimal. Comfort and performance go hand in hand.
"We need to be very careful when buying a bike because we are all different. I may well have similar proportions to Froome but do we both have the same pelvic flexibility? There are many aspects to consider; I might suit Mikel Landa's geometry instead.
"Determining which frame geometries are suitable for our bodies, with a proper bio-dynamic fitting session before the purchase, is fundamental to avoiding costly, uncomfortable, performance-restricting and even dangerous mistakes."
Thank you for reading 20 articles this month* Join now for unlimited access
Enjoy your first month for just £1 / $1 / €1
*Read 5 free articles per month without a subscription
Join now for unlimited access
Try first month for just £1 / $1 / €1
Get The Leadout Newsletter
The latest race content, interviews, features, reviews and expert buying guides, direct to your inbox!
Simon Smythe is a hugely experienced cycling tech writer, who has been writing for Cycling Weekly since 2003. Until recently he was our senior tech writer. In his cycling career Simon has mostly focused on time trialling with a national medal, a few open wins and his club's 30-mile record in his palmares. These days he spends most of his time testing road bikes, or on a tandem doing the school run with his younger son.