Best gravel bikes 2023: our pick of the top models
We pick out some of the best gravel bikes and adventure road bikes on the market, and explain what defines the genre and what to look for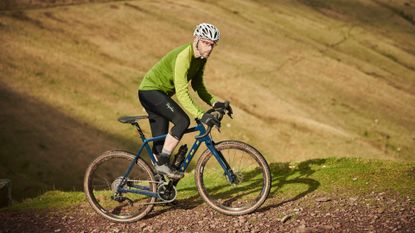 (Image credit: Future)
The best gravel bike for you will depend on the type of riding you want to do.
The best gravel bikes for fast riding now often include aero features, snappier handling geometry, and lighter weight gravel bike wheels. On the other hand, a racy frame may lack the clearance for really wide gravel bike tyres and may not have a comprehensive set of mounting points for gear.
At the other extreme are gravel bikes designed for bikepacking. They'll have plenty of mounting points to carry bikepacking bags along with really wide tyre clearance so that you can fit tires to give you traction and comfort on long off-road rides. They tend to be a little heavier and not quite as responsive in the corners – but if you're laden down by a suite of bags, you're not really going to miss or notice that much.
We'll take you through all the best gravel bikes we've tested and reviewed, explaining exactly what type of riding they're best suited for so you can narrow down your search to those that best meet your needs. If you're interested in digging a bit deeper into gravel bike tires, we've also got a dedicated page discussing the best size and tread pattern for gravel bikes.
With the demand for new bikes still being so high, the availability of certain models is pretty sparse and there aren't as many discounts as we'd normally see.
Best gravel bikes
The BMC URS One impressed us with its brilliant balance between being fun and capable off-road, whilst remaining efficient enough to easily handle long distance epics.
Several cues are taken from BMC's mountain bike range, such as a slacker head angle and stubbier stem. At 70 degrees and 70mm, these numbers are quite far off what you'd get on a modern MTB, but for gravel it's really quite progressive.
This, combined with the short 425mm chainstays, adds up to a bike which we found can be popped around the corners, but still doesn't feel skittish on the descents.
Yet for all that, this isn't a kind of monster-cross, essentially MTB with drop bars. It still retains the efficiency you'd expect from a gravel bike – it successfully helped us complete the South Downs Way, a challenging one-hundred-mile gravel trail in the South East of England.
It's not totally bedecked in mounts – we wouldn't choose it for bikepacking trips measured in weeks rather than days – but for those shorter, local rides which make up the majority of the time spent on our bikes, it's a complete blast and a pleasure to ride.
Read more: BMC URS ONE Apex full review
If your riding leans towards the more adventurous end of the spectrum, exploring new trails, all-day epics and occasional multi-day bikepacking trip, then the Specialized Diverge Comp E5 is well suited to you.
It comes with a relaxed geometry and a high front end for a more comfortable riding position - with the caveat that we found it a little more difficult to weight the front tire sufficiently when really pinning the corners.
There's a full complement of mounts, with pairs under the down tube and on top of the top tube, as well as triple bosses on the fork legs. Full fenders and a pannier rack are also catered for, if you prefer a more traditional luggage carrying and splash defending setup.
But the most significant feature of the Diverge Comp E5 is the Future Shock 1.5, which is usually only found on carbon models. This does a good job at sounding out some of the trail chatter and high frequency bumps, but we found that it's not sufficient to replace front suspension, if you were considering this as an alternative.
Read more: Specialized Diverge Comp Carbon full review
The Ribble Gravel Al Sport has 47mm tires on 650b wheels, although you can also spec 700c wheels. The 650b option makes it a highly capable go-anywhere option that doesn't break the bank.
The alloy frame is long and low, with a slack headtube. longish reach and short stem. There are loads of mounting points, although oddly not those needed for a rack. The 2x10-speed Shimano GRX 400 build is the bottom of the range, but still offers excellent performance and ratios down to 30x34t to tackle the rough stuff.
Although not light, we found that the bike felt quick and it coped well with both degraded tarmac and rough tracks, although grip tended to wane when we ventured on to muddier passages.
Read more: Ribble Gravel Al Sport full review
For many years, the Crux has had its feet firmly planted in the muddy fields of cyclocross. But for 2022, the range has had a refresh and a rebrand – now top level gravel racing has been added to the résumé.
Testing the Crux in its top level spec, we found it to be astonishingly fast with a particular aptitude for the climbs. In a size 52cm and without pedals or bottle cages, our test bike tipped the scales at a feathery 6.9kg – which is frankly absurd. For context, the UCI's weight limit for road bikes in its races is 6.8kg.
Beyond just making hills melt away, that extreme light weight made the Crux unbelievably nimble. We found that sudden switches of line and hopping over obstacles happened almost at the speed of thought, rather than requiring any manhandling to elicit.
With everything about this bike geared towards speed, it's not something we'd be inclined to take bikepacking or on multiday tours. Lugging this up with a handlebar and frame bag feels almost like using a Ferrari to tow a caravan – and with a frame that weighs just 725g in a size 56cm, we'd imagine that the thin carbon walls wouldn't take too happily to any rubbing and chafing.
But for flat-out race performance and flatteringly high speeds, it's a truly great option – if you can afford the eye-watering price.
Read more: Specialized S-Works Crux full review
Similar to the Specialized Crux, the Cervélo Áspero is part of that new breed of gravel bikes geared towards racing and high performance, contrasting with the more do-it-all, go-anywhere attitude of the Canyon Grizl.
Typically Cervélo, the new Áspero comes with claims of improved aerodynamics as well as a lower weight. Coming in as it does at 8.3kg in a size 56cm, it's not quite as feathery as the superlative Specialized Crux, but that is still a weight which would be respectable for a mid tier road bike – and so very impressive for gravel.
Exactly to what extent those aerodynamic tweaks have boosted the Áspero's speed on the flat, that's something we can't really say. But what is for sure is that we felt that the bike does feel truly rapid when tapping along on open, fire-road tracks.
With a relatively steep head angle at 72 degrees and very short 420mm chainstays, it's extremely fast in reacting to rider input and darts around the corners. The consequence of this is that we found it a little less stable on highly technical descents, but with tire clearance limited to 42mm in 700c and 49mm in 650b, that's not exactly the terrain this bike is designed for.
If rough trails and week-long bikepacking trips is the kind of gravel riding you're looking to do, you'd be best off with a different bike. But if you're looking to ride fast on adventures that start and finish on the same day, then Cervélo's performance gravel bike could be the one for you.
Read more: Cervélo Áspero-5 Force eTap AXS 1 full review
Asking a bike to handle confidently and accurately on technical off-road terrain, while also expecting speed and efficiency on tamer gravel and back roads, presents quite a challenge for any bike. But the Ruut took it all in its stride.
With the fork in the high position and rolling on those 37mm Riddler tires with their file centre tread, we were able to motor along at a respectable pace, with ourposition on the bike feeling reasonably low and efficient.
The tires were too narrow for the larger rocks or tree roots of our local woods, but on the smoother hardpack surfaces you get on converted disused railway lines, the Riddlers were a pretty good match – although on that kind of non-technical terrain you don't really get to know the character of a bike.
Once we swapped in the 45mm Schwalbe G-One Bites and flipped the fork for a slacker angle, that became much more apparent. With the right rubber we were able to properly attack the trails – the sort which are a little boring on a mountain bike, but come alive once you ditch the suspension and flat bars.
In terms of value, the Ruut isn't the best. The 2x10 GRX groupset (which is equivalent to Shimano's fourth tier Tiagra road groupset) and a relatively heavy OEM wheelset are all a step below what you'd expect at this price point.
Other bikes on test come with groupsets around the second tier mark, while both the Canyon Grizl and BMC URS are treated to quality DT Swiss wheelsets.
The Ruut is still super fun to ride, with its sorted geometry and the ability to go between fast 700c wheels and huge MTB style 650b wheels. But with the poor value for money, and the lack of bottle bosses on the underside of the downtube, it's harder to recommend it against the competition.
Read more: Rondo Ruut CF2 2x full review
The Cannondale Topstone Carbon Lefty 3 leans much more towards the "fun" end of the gravel spectrum than the "fast" end. If you're a rider likely to attempt the sort of 'gravel' that borders into mountain biking territory, it could be your best friend.
With 650b wheels, 47mm tires, and the very distinctive Lefty Oliver fork, this bike would not look out of place on a cross country trail were it not for the drop bars.
The rear serves up an additional 30mm of travel, making this full-suspension version of the Cannondale Topstone grippy and planted in corners.
There's a great range of models and specs available, with our test version coming with Shimano GRX 1x set up, Formula rear hub (Lefty specific front) and WTB Byway i23 650b tubeless ready rims and WTB Byway TCS Light tyres.
Read more: Cannondale Topstone Lefty 3 review
If you're looking for a steel gravel bike, the Ribble Gravel 725 is made of Reynolds 725 tubing and is arguably the brand's most capable gravel bike. It features a threaded bottom bracket, carbon seatpost, 650b wheels with 47mm tyres and the usual array of mounting points, also including bolts on the fork legs.
The steel tubing adds extra compliance over an alloy frame, although it does up the bike's weight. The robust frame makes the bike a good option for multiday load lugging.
In Pro spec, the Ribble Gravel 725 has a SRAM Force XPLR groupset, which is great for the price. We didn't rate the tires' grip in icy conditions and the paintwork showed signs of wear, but otherwise this is a great fun ride on rough terrain.
Read more: Ribble Gravel 725 Pro full review
Tifosi's Cavazzo platform is very much a jack of all trades. Put on some fat tires and, together with its reasonably slack head angle and simple 1x drivetrain, it's a blast around the local trails and bridleways.
Going in quite the other direction, the Cavazzo is also well suited for long distance bikepacking jaunts, with those 13 gears and wide variety of mounting options. This isn't a bike that railroads you into one small, particular niche - many doors have been left wide open.
We were left impressed with the feel of the Cavazzo. Whether or not the open-mould frame damped vibrations less adroitly than other frames designed in-house, we couldn't really tell – the tires of gravel bikes are so much larger and more cushioned than road bikes that that level of refinement isn't really noticeable.
As expected, the rear end did get a little more hung up on roots and wasn't quite as snappy as gravel bikes with shorter chainstays. But if that kind of riding isn't so much your bag, preferring longer distance jaunts on mellower trails, then this won't really present itself as so much of an issue.
The Miche Graff DX wheels felt pretty respectable, feeling reasonably lightweight and being quick to accelerate. Part of that is likely down to the narrow 19mm internal rim width not requiring so much material for its construction.
On the flip side, this does mean that there's a little less sidewall support when running wider tires at low pressures (around 24psi). We would rather have the lighter and narrower rims of the Miche wheels than the heavier and wider rims of the Rondo wheels, but that doesn't stop this rolling stock from still being a bit of a step down from the DT Swiss G1800 Spline wheels of the Canyon Grizl, which manage to be both reasonably lightweight and have a wide 24mm internal width.
Of course, the main selling point of this bike is Campagnolo's Ekar groupset, which was excellent. On road sections, there were no awkward occurrences of being stuck between two gears, one too hard and the other too easy, as you do get a little bit on most gravel bikes. There's also the shifting simplicity of 1x, which really does make a difference to lowering cognitive load.
Read more: Tifosi Cavazzo Ekar full review
The Liv Devote Advanced Pro is a very capable bike, it's got all the mounts you'd need for bikepacking, rides like a super endurance bike on the road and - with spec changes - could be a trail slayer.
Keen to really push the Devote through its paces, we spent an afternoon circling the manmade trails of Swinley Forest. Now, Swinley's Blue and Red trails are fairly tame, but the bike handled the berms and rollers well considering it's not exactly the intended use. That said, a set of 45mm tires and a more strongly flared handlebar would have instilled a bit of extra confidence.
For many riders, the pull towards the gravel trend is the ability to stitch together sections of road, gravel, trail, fire road and cycle path, so we also took the Devote out for several mixed bag jaunts and it was these where the Devote felt most at home. It might not be the absolute perfect tool for tarmacked roads, unpaved doubletrack and forest trails – but unlike bikes with a greater specificity, it still is a blast to ride on each of them.
Although this build of the Devote is quite expensive, it still represents reasonably good value for money. You get SRAM's second tier Force groupset, with its powerful hydraulic disc brakes and 2x12 gearing – providing both an excellent range and small jumps between the gears.
There are also carbon wheels – which match the frame and fork – and these are shod with a pair of speed oriented Velocita tires. If you're planning on spending time riding in looser conditions, be it on mud or small shingely rocks, you'd likely want to swap these out for something with a bit more tread.
Read more: Liv Devote Advanced Pro full review
Coming specced with the same Schwalbe G-One Bite tires in 45mm as we've used as a control tyre, the Grizl was pretty well suited to our local riding from the off. There was a good balance between being fast enough rolling on the road and tame trails, while still providing enough traction and cushion on more technical terrain.
Extra comfort was provided courtesy of Canyon's catchily named S15 VCLS 2.0 CF suspension seatpost. The minimalist design doesn't add much weight over a standard seatpost, but the 20mm of travel does serve to take the edge off some of the bumps.
However, for all its capability off-road, we did feel that there was a bit of a tension between certain elements of the design.
Yes, those burly tires offer a lot of promise for hitting the trails hard, but the long chainstays at 435mm do hold it back a bit on tight and chattery singletrack. It's not really an ideal pairing – if you're primarily going to be razzing about the trails, you'd likely have a better time on a bike with chainstays around the 425mm mark, or even shorter.
On the other hand the range of mounts gives great potential for bikepacking adventures, but in this 1x configuration, there just isn't the range you really need for carting luggage about off-road. You'd be much better off with the 2x versions for that – or going up a price bracket or two for the new build featuring SRAM's XPLR 10-44t cassette paired with a 40t chainring.
But at least the gearing is something you can change – unlike the length of the chainstays. So that's what I'd have to say this bike is really best suited for off-road cycle touring and bumpy but open trails.
Of course, you can take it down tight and twisty trails - we certainly did. It's more that if that is the type of riding you're planning on doing most of, then there are other bikes better suited.
Read more: Canyon Grizl CF SL 8 1by full review
The Ribble Gravel SL is designed for more rugged gravel riding, as against the brand's more all-rounder CGR. Both are available in carbon, steel, titanium or aluminium, with the SL tested the carbon framed version.
It's specced with a single ring Shimano GRX RX815 Di2 electronic groupset, although we found that this gave quite large jumps and limited top and bottom range. Wheels were Enve Foundation AG28 Gravel 650b with WTB Sendero tyres on our test bike.
It's a curious mix of a gravel race bike and a bikepacking gravel bike, with a fast geometry but all the mounting points you'd want to carry bikepacking bags and we found the 1:1 lowest gear on offer a bit steep for laden bikepacking.
Read more: Ribble Gravel SL Pro full review
The Vitus Venon Evo combines a fast gravel bike and an endurance road bike in one all-road package, with Vitus selling GR specs geared towards gravel and RS specs for road use. We found the riding position is a good compromise between the upright and the aggressive.
This Force AXS XPLR 1x build is gravelly, with 40mm wide Michelin Power Gravel tyres mounted on Prime Primavera 44 carbon wheels and clearance for 45s if wanted. Even so, the bike weighed just 7.9kg, making for lively progress even on trickier off-road. Swap in 28mm tires and you're good for endurance road rides.
Read more: Vitus Venon Evo-GR Force AXS full review
Gravel bikes: all you need to know
What are gravel bikes?
Gravel bikes are drop-bar bikes that allow you to veer off paved roads and onto more exciting terrain.
From racing to bikepacking, there'll be a best gravel bike for you, built ready to cope with the demands of tricky terrain and longer, multi-day off-road rides. As with all bikes, it's vital that you get the best bike to fit you, and it doesn't need to be gender specified. But if you are after a women's specific model, which often include smaller sizes, you might want to check out best women's gravel bikes for off-road adventures page.
If you're juggling a tighter budget, but still want the best, our page dedicated to the best budget gravel bikes: gravel bikes under £1,000/$1500 is ideal for getting the best value for money adventures on two wheels.
Born with the spirit of adventure, the best gravel bikes sit somewhere between the best endurance and sportive bikes and the best cyclocross bikes, with a blend of the best hardtail mountain bikes. They're nimble on paved sections of road compared to fat-tyred MTB steeds, but confidence inspiring when it comes to tackling rough surfaces over their slick tyred road going siblings.
These bikes are ideal for mixed-terrain adventures; gravel paths, broken tarmac, fire roads, and of course unpaved dirt tracks. Taking cues from their cyclocross cousins and MTB siblings, don't let the drop bars fool you, these bikes can tackle some pretty technical terrain too including flowy mountain bike trails.
This crossover discipline can add a slight confusion in the cycling gear department too, e.g to Lycra or not to Lycra. Thankfully our guide on the best gravel bike clothing: cycling kit for your gravel ride should sort out any kit woes.
The best gravel bikes will come with wide tyres, with room for extra mud clearance, and disc brakes as standard. Expect anything up to 47c or more on either 700c or 650b wheels.
Mounts for pannier racks and extra storage will also feature on the best gravel bikes, as will the option for fitting mudguards. In fact, that's probably the biggest difference between gravel and cyclocross bikes, along with bottle cage mounts.
Are gravel bikes any good on the road?
Compared to road bikes, you'll also find wider and lower gear ratios on the best gravel bikes, which will help you ride over loose or hilly terrain especially when carrying luggage for bikepacking.
Best bikepacking bags: A buyers guide for multi-day adventures
In general, the best gravel bikes will also have a lower bottom bracket than a cyclocross bike, helping to provide enhanced stability on rocky, rooty and rough terrain. For more details on exactly what the differences are, you might find our gravel vs cyclocross bikes: what is the difference page really helpful.
For those wanting to head off the beaten track, but worried about keeping up, you might want to consider an electric version. Electric gravel bikes: dirt loving drop bar e-bikes with added oomph give you the all-terrain capability and confidence-inspiring stability, but with some additional assistance.
Why are gravel and adventure bikes so popular?
If you've ever gone out on a ride on your best road bike and noticed unpaved roads, fire trails or alluring single track as you passed, wondering where they lead but hesitating to head off the tarmac, then a gravel bike or adventure road bike may be for you.
These bikes aim to meld on-road efficiency with off-road capability, so you'll find overlaps in design features with both road and cyclocross bikes, as well as incorporating elements from mountain bike technology. When you're shopping for your first gravel bike, as standard you should expect disc braking and clearance for wider tyres.
Whereas cyclocross bikes are designed with short, muddy races in mind, gravel and adventure bikes take longer unpaved rides into account. You'll still find race-orientated builds in the gravel category for long-distance or enduro-style events, alongside adventure bikes that feature additional clearance and mounts to accommodate luggage and often wider tyres for more remote journeys.
How does gravel bike geometry differ from road bikes?
Stability and handling are key when it comes to riding off-road. Expect to see a lengthened wheelbase, slack headtube angle and lower bottom bracket compared to road bikes, which aid with technical terrain and steeper descents.
The rider position is typically more upright than on road bikes, both for comfort over long rides and to allow the rider to move their weight around more easily when negotiating off-road obstacles.
Do gravel bikes have other specialised features?
While thru-axles have quickly become standard, a technology borrowed from mountain biking along with disc brakes, front suspension, and even rear isn't as commonplace yet.
The norm is 12mm thru-axles, which make for easier disc brake alignment. Rear-axle spacing for disc brake wheels is typically 142mm (thru-axle), or occasionally 148mm boost spacing for stronger wheelsets.
More adventure or utility centric frames will come with mounts for racks and fenders, so that the bike can be used as a sturdy commuter or year-round road bike. At the most extreme end of the adventure bike market, fork leg mounts are becoming increasingly common for even more storage options.
Gravel bike and adventure bike tires
What are the best tires for gravel and adventure bikes?
You can find adventure road and gravel bikes shod with tyres of pretty much any width between a narrow 28c and 47c, plus tyres measured in inches on 650b wheel builds!
There's a real range in tread patterns available off the peg or fitted to gravel and adventure builds dependent on their intended use. You can always consider changing these to suit the kind of terrain you'd like to ride. In fact, we think it's one of the best gravel bike upgrades you can make.
There's not really a consensus on the best pattern, with some bikes coming with fat, slick tyres, whilst others have file treads or low profile knobs. It all depends on where you find yourself riding, and what the conditions are like.
In the UK, you're more likely to come across patches of wet mud year-round, so a more aggressive tread can be useful in those situations to help you maintain grip, although at the expense of road speed. But in the US, gravel roads can range from well-graded packed dirt that almost resembles tarmac, to the crushed and graded limestone you find in the Flint Hills of Kansas.
Finding the right tires for your riding terrain may take some experimentation, and don't be afraid to try something with more or less tread than you're used to. You might also want to change your tires between summer and winter to get the best width and tread pattern for the conditions.
Most gravel and adventure bikes are specced with tubeless or tubeless-ready tires and rims, ready for conversion to a tubeless set-up. Rather than having to replace an inner tube every time you flat, the sealant in the system will (in theory) plug any punctures from sharp objects like thorns, which is a real advantage when it comes to riding off-road. You may need to re-inflate the tire a little if you have a puncture. Make sure you're equipped with a spare tube and full tubeless repair kit for more serious tire damage.
To find out which will suit you best you can read our extensive guide to gravel tires.
What are the best gearing options for gravel and adventure bikes?
Adventure road bikes and gravel bikes are designed to be ridden on the road as well as off, so you'll typically find a wide gear range to allow both efficiency and speed on the road, as well as enough gears to cope with loose and steep terrain off-road.
The choice between a double or single chainring up front is usually down to rider preference. A 1X (one-by) set up gives ultimate simplicity and can allow for greater tyre clearance, often at the cost of top-end road gears for quick descending or sprinting. Double chainrings offer more options for riders that prefer to spend more time on smoother terrain or on the road and may give you greater overall range with smaller jumps between ratios.
Gravel bikes often feature a drivetrain that goes below 1:1 for off-road climbing. That might be via a 1x set-up like SRAM XPLR with a cassette that goes to 42 teeth or greater or a two ring supercompact chainset with 48/32 or 46/30 chainrings paired with an 11-32 or 11-34 cassette. You'll even find "mullet builds" that mix a road chainset with an MTB cassette and rear derailleur for ultra-low gearing.
Read our guide to gravel bike gearing for more.
What pedals are best suited to gravel and adventure bikes?
Pedal choice is a matter of personal taste and will be dependent on your riding style, but check out our guide to the best gravel bike pedals for advice. If you ride predominantly on roads and well-maintained paths where you rarely need to put a foot down, then road shoes and cleats may be a good choice.
On the other hand, more demanding off-road riding may mean that you need to dismount and walk with the bike or put a foot down for stability. In this case, mountain bike pedals and shoes may be a better choice for their ease of walking and easier foot engagement with the pedal, with grippy treaded soles and recessed cleats. There's a wide range of gravel bike shoes available too.
What components should I expect to find on the best gravel bikes?
Adventure and gravel bikes almost exclusively use disc brakes for their better modulation and more consistent stopping in dry, wet and muddy conditions. This also has a really positive impact on wheel longevity compared to rim brakes for off-road riding.
On higher value models the brakes will be hydraulic, while budget bikes typically have mechanical callipers. With Shimano's GRX and SRAM's gravel-specific groupsets available in hydraulic disc only, this tends to be the preference. You'll occasionally find mechanical disc brakes on adventure bike builds, where long-distance riders find them easier to maintain and repair in more remote situations.
Different types of handlebars are also worth considering on adventure bikes. Again, we've got a guide to the best gravel bike handlebars for more info.
Flared bars are generally accepted as a good upgrade to give greater stability in the wider drops for rough terrain and descending off-road. The wider the flare, the easier it is to fit a handlebar bag on the front of the bike and still be able to fit your hands on the drops and brakes at the same time. Raised bars such as the Specialized Hover Bar also help to give more clearance over the front wheel for smaller riders, as well as providing a more upright riding position.
With a lack of innovation-quashing UCI rules in the gravel sector, more ambitious designs are being tested, like Canyon's radical double-decker bar, designed to add additional compliance to the ride.
Short travel suspension forks like the RockShox Rudy Ultimate XPLR and the Cannondale Lefty Oliver are also an option that is sneaking into gravel bike design.
How we test
We have a dedicated team of testers here at Cycling Weekly, whose job is to review a whole range of cycling products and to write objective reviews of their experience of using them day in day out in a whole range of conditions.
With huge experience, they're really well placed to compare products, identify their strengths and weaknesses and bring you an honest, unbiased assessment of how they perform.
Testing gravel bikes calls for the logging of plenty of miles - and our testers did just that. Depending on the bike, routes ranged from technical mountain bike-style trails to multi-day bikepacking adventures and plenty in between. We also made sure that we tested the bikes on paved roads too, given that many riders will use gravel bikes for commuting and winter riding. too.
While out riding we asses the bikes across a range of factors, including comfort and handling, suitability for a variety of gravel terrain as well as bikepacking as well as the quality and durability of components and the bike's overall value for money.
.