Best gravel bikes 2023: our pick of the top models
Our pick of the best gravel bikes includes value options as well as outstanding bikes from our gravel bike of the year face-off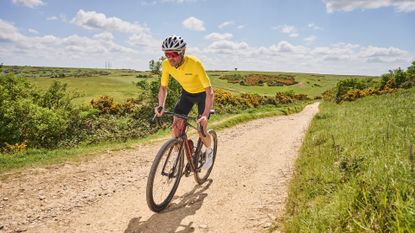 (Image credit: Future)
Best Gravel Bikes 2023: Jump Menu
This year Black Friday falls on Friday 24th of November, and will close out after Cyber Monday on the 27th of November. Ahead of the annual sale, we're searching high and low for the best bike deals available, which you can find on our main hub page.
The Giant Revolt Advanced Pro won our Gravel Bike of the Year award 2023, but in reality, there's not one best gravel bike for all as it is such a broad category - what works best for you will depend on the type of riding you want to do, as well as how much you want to spend.
Here, we've covered some great all-rounder gravel bikes as well as some more specialist picks that will serve for gravel racing and bikes that are good for multi-day bikepacking trips. We've also got options from among the best budget gravel bikes.
Our picks come from our extensive testing and reviews of the best gravel bikes available, from the sub-$1,000 / £1,000 category up to premium gravel bikes with price tags above $10,000 / £10,000. We've also taken our top picks from our gravel bike of the year face-off between nine gravel bikes, all ridden and rated by multiple reviewers before we picked the winners.
We've more on how to pick the best gravel bike for your needs lower down on this page, but first here are six quick picks, then our selection of the best value gravel bikes, followed by the best high-performance machines, with links out to our comprehensive full reviews for each.
The Quick List
Best value
You can trust Cycling Weekly. Our team of experts put in hard miles testing cycling tech and will always share honest, unbiased advice to help you choose. Find out more about how we test.
Best for adventure
1. Specialized Diverge E5
Best for adventure
The Diverge E5 Comp is a quality gravel ride. The Future Shock 1.5 front suspension system and big tire clearance add comfort, with room for 47mm 700c or 2.1 inch 650b rubber.
Most versatile
Most versatile
The Vitus Venon Evo does double-duty, with both road and gravel specs offered. The GR gravel spec comes fitted with 40mm tires, but you can fit up to 45mm, for a fast ride on gravel.
Most for your money
3. Ribble Gravel AL Sport
Most for your money
Ribble gives you good gravel tech with its alloy Gravel AL, including both 650b and 700c wheel options and plenty of gear mounts. You can choose your own spec, but this Shimano GRX400 provides plenty of gear range.
High-performance
Best overall
1. Giant Revolt Advanced Pro
Best overall
Our Gravel Bike of the Year 2023, the Revolt has clever features like a flexing D-shaped seatpost that doesn't stop you swapping in a dropper and adjustable rear dropouts to fine-tune your ride.
Best for bikepacking
Best for bikepacking
We think that the Checkpoint is a great option for gravel expeditions. It has plentiful mounts and storage and its IsoSpeed decoupler helps to add comfort to long ride days.
Best for racing
Best for racing
If fast gravel riding/racing is your thing, the Kaius ticks all the boxes. It's fast, with aero features and an aggressive ride position, but with the agility to tackle more twisty trails.
Best value gravel bikes 2023: Our picks
Best for adventure
Best gravel bike for big rides
Specifications
Frame : E5 alloy
Fork: Specialized Future Shock 1.5
Groupset: SRAM Apex 1x11
Wheels: AXIS Elite Disc
Tires: Specialized Pathfinder Sport 38c (Max clearance: 700x47c or 650b x 53 (2.1"))
Weight: 10.1kg
Reasons to buy
+
Adaptability across gravel genres
+
Future Shock for front end comfort and compliance
Reasons to avoid
-
Tires compromise off-road capability
-
Geometry might not be aggressive enough for some
If your riding leans towards the more adventurous end of the spectrum, exploring new trails, all-day epics and occasional multi-day bikepacking trips, then the Specialized Diverge Comp E5 is well suited to you.
It comes with a relaxed geometry and a high front end for a more comfortable riding position - with the caveat that we found it a little more difficult to weight the front tire sufficiently when really pinning the corners.
There's a full complement of mounts, with pairs under the down tube and on top of the top tube, as well as triple bosses on the fork legs. Full fenders and a pannier rack are also catered for if you prefer a more traditional luggage carrying and splash defending setup.
However, the most significant feature of the Diverge Comp E5 is the Future Shock 1.5, which is usually only found on carbon models. This does a good job of damping out some of the trail chatter and high-frequency bumps, but we found that it's not sufficient to replace front suspension, if you were considering this as an alternative.
Read more: Specialized Diverge Comp Carbon full review
Most versatile
Best gravel bike for versatility
Specifications
Frame : Venon Evo carbon
Fork: Venon Evo carbon
Groupset: SRAM Force AXS XPLR 1x
Wheels: Prime Primavera 44 carbon
Tires : Michelin Power Gravel 40mm
Weight: 7.9kg
Reasons to buy
+
Good looks
+
Low weight
+
Plenty of clearance
+
Gravel and road specs available
Reasons to avoid
-
Limited mounting area on the aero bars
The Vitus Venon Evo combines a fast gravel bike and an endurance road bike in one all-road package, with Vitus selling GR specs geared towards gravel and RS specs for road use. We found the riding position is a good compromise between the upright and the aggressive.
This Force AXS XPLR 1x build is gravelly, with 40mm wide Michelin Power Gravel tires mounted on Prime Primavera 44 carbon wheels and clearance for 45s if wanted. Even so, the bike weighed just 7.9kg, making for lively progress even on trickier off-road. Swap in 28mm tires and you're good for endurance road rides too.
You do miss out on some mounting points typically found on the best gravel bikes, although no more so than many gravel race bikes, and the aero front end and fast ride make the Vitus Venon Evo a good option for gravel racing.
Read more: Vitus Venon Evo-GR Force AXS full review
Best Value
Best value gravel bike
Specifications
Frame : Ribble Gravel AL
Fork: Gravel AL carbon
Groupset: Shimano GRX RX400 2x
Wheels: Mavic Allroad
Tires : WTB Sendero 650b x 47mm
Weight: 10.9kg
Reasons to buy
+
Comfortable ride on wide tires
+
Plenty of grip except in the muddiest conditions
+
Excellent value
Reasons to avoid
-
No rack mounts
-
Quite long reach
The Ribble Gravel AL Sport has 47mm tires on 650b wheels, although you can also spec 700c wheels. The 650b option makes it a highly capable go-anywhere option that doesn't break the bank.
The alloy frame is long and low, with a slack headtube. longish reach and short stem. There are loads of mounting points, although oddly not those needed for a rack. The 2x10-speed Shimano GRX 400 build is the bottom of the range, but still offers excellent performance and ratios down to 30x34t to tackle the rough stuff.
Although not light, we found that the bike still felt quick and it coped well with both degraded tarmac and rough tracks, although the grip tended to wane when we ventured on to muddier passages.
Read more: Ribble Gravel AL Sport full review
Best performance gravel bikes 2023: Our picks
Best overall gravel bike
Overall winner of our Gravel Bike of the Year award 2023
Specifications
Frame : Advanced SL-Grade Composite carbon frame
Fork: Advanced-Grade Composite carbon
Groupset: Shimano GRX RX815 Di2 2x
Wheels: Giant CXR 1 Carbon
Tires: Maxxis Receptor, 700x40c
Weight: 8.3kg
Reasons to buy
+
Superb front and rear comfort
+
Flippable geometry
+
53mm max tire clearance
Reasons to avoid
-
High front end limits ride position adjustability
-
Tires are best suited to dry use
The Giant Revolt won our Gravel Bike of the Year title in 2023. It's a gravel bike that covers the broad spectrum of gravel riding really well. Its saddle comfort is augmented by a D-shaped seatpost with a claimed 12mm of flex, but it fits in a standard 30.9mm round seat tube, so you can fit a dropper if you ride more technical terrain.
The rear dropouts feature two-position adjustable geometry, which lets you choose between a more agile ride for racing or wider clearance with increased stability. You also have mounting points for bikepacking, including on the fork legs.
The frame soaks up bumps really well too both front and rear, although we'd have preferred a shorter head tube for more versatility in the bike's set-up.
We were impressed with the value offered as well, with the spec tested including Shimano GRX RX815 Di2 electronic shifting and Giant carbon wheels.
Read more: Giant Revolt Advanced Pro 0 gravel bike full review
Best for bikepacking
Best expedition gravel bike
Specifications
Frame : 500 Series OCLV Carbon
Fork: Checkpoint Carbon
Groupset: Shimano GRX 2x
Wheels: WTB ST i23 TCS
Tires: Vittoria Terreno Dry 700x38c
Weight: 9.2kg
Reasons to buy
+
Large number of mounts and carrying capacity
+
Wide clearance and long wheelbase
+
IsoSpeed seatpost decoupler for comfort
Reasons to avoid
-
More expensive range than other gravel bikes reviewed
The Checkpoint majors on mounts, including on the fork legs, as well as storage in Trek's down tube cubbyhole for tools and a tube. The frame allows you to fit 2.1 inch 650bs and the IsoSpeed seat tube decoupler provides added comfort when in the saddle.
We thought that the Checkpoint's long wheelbase and high fork trail provided great stability for longer rides, without going overboard. It's still quick enough though, despite its carrying capacity and remained good to ride whether fully laden for bikepacking or stripped down for a short blast.
Our long-term test concluded that the Checkpoint is best suited for crushing long-distance rides with its reassuring handling, comfy ride characteristics and considered componentry.
Read more: Trek Checkpoint SL 7 gravel bike full review
Best for gravel racing
3. BMC Kaius
Best gravel bike for speed
Specifications
Frame : Kaius 01 Premium Carbon
Fork: Kaius 01 Premium Carbon
Groupset: SRAM Rival AXS Wide 2x
Wheels: BMC CRD-400 carbon
Tires: Pirelli Cinturato Gravel H - 40mm
Weight: 8.9kg
Reasons to buy
+
Very fast handling
+
Road bike-like ride
Reasons to avoid
-
Not as comfortable as rivals
-
No fender / mudguard mounts
At the other end of the gravel spectrum from the Trek Checkpoint, the BMC Kaius is an out-and-out gravel race bike, with a low ride position and aero frame that borrows from the BMC Teammachine road race bike.
The ride feels similar to BMC's road bikes as well and you get a pared-down road bike-style set of mounting points that doesn't even include fender / mudguard bosses. There is room for 44mm tires though, which might help mitigate the lack of comfort in the stiff, race-tuned frame.
When we tested it we enjoyed the novel combination of a short wheelbase and low bottom bracket, which gave the bike snappy, precise handling and prodigious speed.
This lower spec model is more affordable than the top level of the BMC Kaius, but is still more expensive than the highest spec available for the Giant Revolt though.
Read our review of the BMC Kaius in our Gravel Bike of the Year coverage.
4. Scott Addict Gravel 10
Best value performance gravel bike
Specifications
Frame : Addict Gravel Disc HMF Carbon
Fork: Addict Gravel HMF Carbon
Groupset: SRAM Force AXS 2x
Wheels: DT Swiss GRC1400 Disc
Tires: Schwalbe G-One Bite Performance 45mm
Weight: 8.7kg
Reasons to buy
+
Middle-of-the-road ride position
+
Good value for the spec offered
+
Superb paint job
The Addict Gravel is designed for speed rather than off-road load lugging, but still with a longer wheelbase and higher stack than other gravel race bikes like the BMC Kaius. This results in a well-balanced ride that's as good for fast, technical riding as for multi-day bikepacking, despite the absence of fork leg mounts.
We loved Scott's paint job on the Addict Gravel and the bike is good value, with the lower spec SRAM Rival AXS-equipped bike as reasonably priced as bikes from brands that are normally more value-oriented than Scott.
Read our review of the Scott Addict Gravel 10 in our Gravel Bike of the Year coverage.
Best gravel bike for rear end grip
Specifications
Frame : BallisTec Carbon Frame
Fork: BallisTec Carbon
Groupset: Shimano GRX 2x
Wheels: WTB ST i23 TCS 650
Tires: Vittoria Terreno Dry 38mm
Weight: 9.2kg
Reasons to buy
+
Excellent frame with 30mm of travel
+
Good traction on rough, loose terrain
+
Option to add or spec Smart Sense lights/radar
Reasons to avoid