Best handlebars for gravel bikes 2023: flared bars for off-road riding
Choosing the best handlebars for gravel bikes just got more exciting, with many new models entering the market. Here's a few of our favourites from modest designs to some really exciting new concepts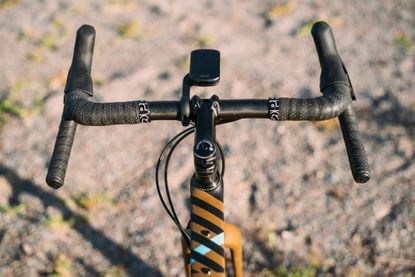 (Image credit: Kevin Fickling)
Are there really any differences between the best handlebars for gravel bikes and for road cycling?
It's usual for gravel bikes to be fitted with flared bars, for reasons that are explained more in our buyer's guide to gravel bike handlebars lower down this page.
Flared handlebars have become the norm on new gravel bikes recently, where the drops give a wider position than on the hoods. This provides more stability and steering precision when negotiating tricky off-road descents. It also makes it easier to fit bikepacking handlebar bags, some of which can be quite wide and might interfere with use of the drops and the brake levers without a flare to the bar.
If you're looking to upgrade to flared bars for your off-road endeavours or something a little different, we've got a few suggestions for you.
Our pick of the best handlebars for gravel bikes
You can trust Cycling Weekly. Our team of experts put in hard miles testing cycling tech and will always share honest, unbiased advice to help you choose. Find out more about how we test.
Here's our pick of the best handlebars for gravel bikes that are on the market right now. Read on to the end for more tips on what to look for when choosing the best handlebars for you, including notes on flared bars and why you might want to consider them.
Best gravel bars for all-day comfort
Specifications
Weight: 260g (42cm)
Sizes: 40, 42, 44, 46cm
Clamp diam: 31.8mm
Drop: 115mm
Reach: 70mm
Flare: 11 degrees
Reasons to buy
+
Supremely comfortable across a range of hand positions
+
Degree of flare well-suited to on and off-road riding
+
Lightweight at 260g
Reasons to avoid
-
Fairly expensive compared to rival alloy bars - RRP £115.00 / US$112.00
Zipp's SL-70 XPLR bars are ideally suited for both gravel and all-road riding. They feature the classic combination of 'short and shallow' to create a bar that's comfortable and stable across varying terrain. The ergo tops with their subtle backsweep really add to the comfort too.
The 11 degree outsweep also increases their versatility - we found it's just enough to provide extra control when riding off-road yet not so severe to promote an extreme hood position. If you're used to riding regular road drops the transition to the Zipp SL-70 XPLR bars is an easy one. On test we found them to be some of the very best gravel and all-road bars we've ridden.
Read more: Zipp Service Course SL-70 XPLR handlebar review
Best gravel bars for mixed terrain riding
Specifications
Weight: 275g (42cm)
Sizes: 40,42,44,46cm
Clamp diam: 31.8mm
Drop: 118mm
Reach: 73mm
Flare: 12 degrees
Reasons to buy
+
Ideal for both on and off-road use
+
Neutral lever position
+
Pretty lightweight at 275g
Reasons to avoid
-
No recessed area to hide cables
Ritchey offers a range of gravel and all-road handlebars, with the WCS Butano sitting at the more conservative end when it comes to degree of flare. The 12 degrees of outsweep provides a good amount of additional control over more technical terrain without creating an aggressive angle for the hoods.
We found that the ergo tops make for a stable and comfy platform, while the short drop and reach allow you to switch hand positions with ease. The result is a bar that excels over varied surfaces. On test we found them to be a great choice for mixed routes as well as long road rides where comfort is key.
Read more: Ritchey WCS Butano handlebar full review
Best gravel bars for range of fit
Specifications
Weight: 341g
Sizes: 38, 40, 42, 44, 46mm
Clamp diam:: 31.8mm
Drop: 103mm
Reach: 70mm
Flare: 12° flare and 15mm rise
Reasons to buy
+
Very comfortable, easy to reach the drops
+
Great value
+
Extended fit options
Their looks might divide opinion, but these hover bars from Specialized certainly impressed on long term review. Besides their excellent value, thanks to the 15mm rise we found that they offer a great range of fit, among other benefits.
The rise gives you more space on the bars for your hands when running a handlebar bag, and for smaller riders this extra 15mm above the tyre can make a big difference to handlebar bag compatibility. There's a subtle 12 degree flare on the drops too, so you'll find yourself in a sturdier position for descending and techy riding than traditional road bars.
Read more: Specialized Hover Alloy 15mm rise plus flare handlebar full review
Best gravel bars for those used to traditional shaped drops
Specifications
Weight: 290g (42cm)
Sizes: 40, 42, 44, 46cm
Clamp diam: 31.8mm
Drop: 120mm
Reach: 80mm
Flare: 16°
Reasons to buy
+
Enables hoods to sit neutrally
+
Traditional round tubing provides classic look and feel
+
Degree of flare is well-balanced and provides plenty of control
+
Easy to set up thanks to clear alignment marks
Reasons to avoid
-
Lack of ergo top might not suit all
-
Not the lightest at 290g
The EA70 AX bars from American brand Easton are one of two flared options in our list, with the EC70 AX referring to the carbon fibre equivalent.
These feature a moderate flare of 16 degrees, meaning you'll benefit from a sturdier descending position, while retaining the same position for your shifters up top. In the drops, this level of flare adds an extra 68mm. These bars also feature some handy measurement marks which help you to fit the shifters equally and get the bars central on the stem clamp. On test we found them to be well-balanced bars that should suit riders used to traditional road drops.
Read more: Easton EA70 AX handlebar full review
Best gravel bars for bikepacking adventures
Specifications
Weight: 270g (42cm)
Sizes: 40, 42, 44, 46cm
Clamp diam: 31.8mm
Drop: 80mm
Reach: 65mm
Flare: 36 degrees
Reasons to buy
+
Wide flare provides bags of stability and control
+
Multiple hand positions well-suited to bikepacking and touring
+
Lightweight at 270g
Reasons to avoid
-
Extreme flare creates an extreme hood position that might not suit everyone
Ritchey's Beacon bars combine an extremely short reach and shallow drop with a super-wide 36 degree flare to create a bar that is designed with comfort and stability in mind. On test we found that the numbers added up.
The flare adds plenty of additional width at the drops, which in turn provides bags of control. It's just what's needed on technical trails or when weighed down with bikepacking bags. The multiple hand positions allow for greater comfort over longer distances, again making them well-suited to multi-day, multi-surface touring. In short, a practical flared handlebar geared up for bikepacking and gravel adventures.
Read more: Ritchey WCS Beacon gravel bar full review
6. Salsa Cowchipper Flared Bars
Best gravel bars for range of sizes
Specifications
Weight: 322g
Sizes: 38, 40, 42, 44, 46, 48, 50, 52mm
Clamp diam: 31.8mm
Drop: 116mm
Reach: 68mm
Flare: 24°
Reasons to buy
+
Wide range of sizes - up to 52cm
+
Degree of flare aids off-road control
Reasons to avoid
-
Heavy at 322g (42cm)
-
Hood angle may not suit all
One of the first players in the flared bars game, the Salsa Cowchipper bars are somewhat of an icon in gravel riding circles. These feature a 'radical' 24 degree flare that alters not only the drop width, but also the angle of the shifters up top.
Salsa sells the Cowchipper bars in no less than eight widths, starting at just 38cm. For a really extreme position, or range of hand positions, opt for the mega 52cm width option. They're also a good width to accommodate larger handlebar bags for bikepacking. They're an expensive upgrade too.
7. FSA Adventure Compact Road Bar
Best gravel bars for outstanding value
Specifications
Weight: 320g
Sizes: 38, 40, 42,44, 46cm
Clamp diam: 31.8mm
Drop: 125mm
Reach: 80mm
Flare: 12°
Reasons to buy
+
Great value at £40 / $38
+
Moderate flare well-suited to those new to gravel bars
Reasons to avoid
-
Not the lightest at over 300g
Retailing at a really reasonable $38 / £40 and often available for even less, the Adventure Compact Road Bar is a great budget choice from FSA. This alloy bar is available in a wide range of sizes from 38-46cm and with a moderate flare of 12 degrees.
The bar surface is shot peened and the alloy is tapered and butted. It's a great starting point for anyone who's curious to try flared drop bars, without having to commit too much cash.
Best Handlebars for Gravel Bikes Buyers Guide
Why flared bars for gravel riding?
There's no denying that flared bars are all the rage for off-road drop bar biking, aka gravel riding. But why are they so popular? If you're anything like us, and are a bit cynical about this quite subtle change, let us tell you: seeing really is believing when it comes to trying out some flared handlebars for yourself.
Ranging from mild flares in the low teens to 25 degrees and more, these bars all alter your position when you're in the drops. This position tends to be more stable for descending off-road, widening your stance and giving you more control. As an added bonus, with more space between the drops, there's also a bit more room for handlebar bags if you're going bikepacking or endurance racing.
Most of the mild flares up to around 15 degrees won't alter the position of your hands when you're on the hoods, but beyond this you'll find that the shifters also change position. This can be supremely comfortable for some and simply uncomfortable for others. We'd recommend starting with a mild flare at first, and then if you're still curious, moving up to these more extreme bar shapes.
If you're buying your first gravel bike, then it's likely that it's not just the handlebars you're curious about - we cover plenty more in our 'everything you need to know' guide.
What about flat bars for gravel riding?
Flat bar gravel bikes could be the next big thing. Specialized's 2021 Diverge launch featured two straight bar models, Ribble offers some of its CGR models with flat bars too, and there's an increasing number of custom gravel built up with straight bars too.
When it comes to putting straight bars on gravel bikes, there might be a bit more to it than simply fitting some old MTB flat bars. As the type of riding is often a bit different to modern mountain biking, you'll need to consider how you can make these comfortable, for example, for longer rides where you spend more time in the same position.
You can use two different things to alter how comfortable this is for your hands and wrists: the sweep of the bar (Jones bars being the extreme example) or the grips that you use. Try a set of grips with more wrist support, for example the Ergon GA3 grips.
If you're into bikepacking, you might find that flat bars work better for you, as there's less of a limit when it comes to handlebar bag size.
What's the best handlebar material for gravel riding?
Although most gravel-specific handlebars are aluminium alloy, you'll also find some carbon fibre models aimed towards the racier end of the spectrum.
Alloy makes for a great handlebar material as it's strong and robust, which is especially useful when it comes to gravel bikes and the kind of treatment they go through over rough terrain or on multi-day bikepacking trips.
Carbon fibre handlebars tend to be lighter, which might be of use if you're a more competitive gravel racer, or want help to reduce rough road feedback a little. They'll certainly be more expensive though, and bear in mind that although carbon fibre bars are strong, they can break more catastrophically on impact, such as if you end up tumbling over the bars.