Should you buy carbon handlebars over aluminium?
We weigh up the relative merits of carbon and metal handlebars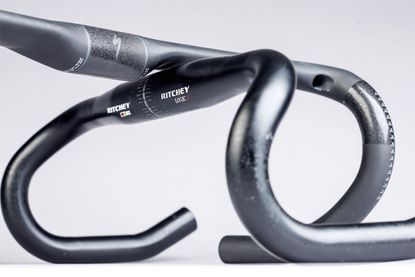 One of the most commonly asked questions when looking to upgrade a bike is: 'should I get carbon handlebars?' Often when researching new components we look to emulate the pros, after all, they use the best kit.
>>> The best handlebars: a buyer's guide
Interestingly, when it comes to handlebars it seems like carbon isn't the always the preferred material, with a significant numbers of riders opting for relatively 'cheap' aluminium offerings picked from the catalogue of their sponsors. So why is this the case, and should we all be following their lead?
Carbon-fibre has for years been the material of choice for most higher-end products, handlebars included. As Geraldine Bergaron, Zipp's road components manager, told us: "Carbon can be shaped almost infinitely, creating more aerodynamic or ergonomic profiles than a comparable aluminium handlebar."
>>> Carbon beware: are aluminium frames making a comeback?
Looking at the new wave of handlebars such as Zipp's SL-70 Aero or ENVE's SES Aero, it certainly is hard to see how they could easily be created from metal.
The main reason for using carbon-fibre, however, is weight. In general the material will produce a lighter handlebar than an aluminium one of equivalent shape, strength and stiffness.
FSA — the component brand that supply the likes of Astana and Cannondale-Drapac — say their K-Force compact handlebars, as used by VincenzoNibali, weigh just 200g for the 400mm version, while the aluminium equivalent weighs 272g.
While that may not sound like a large saving on its own, who doesn't like shaving grams where they can? Most brands show a weight saving of around 20-40 per cent for carbon over aluminium.
The third major benefit that carbon has over aluminium is its ability to be 'tuned' — differing carbon lay-ups can change the characteristics to factor in more compliance and/or stiffness to create a handlebar suited for certain types of riding.
Finally, since all bars have to pass manufacturing standards equivalent to those of an aluminium version, safety isn't an issue.
Get your handlebar height and reach right
Material benefits
Aluminium still has its place, however, and shouldn't be dismissed. It is more durable and far more likely to survive the occasional crash or accidental drop, plus even the most ham-fisted mechanic would be be unlikely to over-tighten and damage an aluminium bar.
Aluminium bars are much cheaper to produce, meaning the retail price is often less than the equivalent carbon version; they are also stiffer — stiff enough for even the best sprinters in the world.
Between 60-70 per cent of the pro peloton reportedly use traditional aluminium bars.
Trek-Segafredo's technical director Matt Shriver elaborates: "Traditionally, most of our team riders have been choosing an aluminium handlebar through perceived safety concerns within racing situations. Not that there is anything wrong with carbon's safety record, it's just that with an aluminium bar it can be more obvious when it has failed."
>>> Should the UCI weight limit be scrapped?
He goes on to explain how equipping all 150 bikes with carbon bars would also boost costs. Using a heavier aluminium handlebar is also an easy way of helping bring a bike's weight above the UCI limit without impacting on performance.
How to change your handlebar height
Our take
The reduction in weight, range of shapes, safety levels, comfort and performance merits of a carbon bar are all appealing.
However, for most of us the durability, quality and low cost of aluminium will count for more. If you want to build the leanest and lightest bike possible and aren't on a budget — go carbon. For everyone else, aluminium offers the best choice.
Carbon rather than aluminium handlebars: yes or no?
Yes: Matt Shriver, Technical Director at Trek-Segafredo
Trek have been at the forefront of carbon innovation for decades and the combination of good design and improved safety standards has seen almost all of our team riders accepting carbon handlebars as being strong enough, and safe enough to race on regularly. The fact we have only had three sets of our latest Trek Madone race bikes damaged by crashes or transportation in two seasons' use is testament to their strength and durability. Even Fabian Cancellara was sold!
No: Alex Paton, Elite rider with Pedal Heaven UCI Pro Continental Team
Aluminium bars all day long. My race bike came with carbon and I changed straight to aluminium. As a stronger rider I feel carbon bars flex a little too much and I don't like that feeling.
Aluminium also has less risk of damage from crashes or other incidents. I feel I have more trust with an aluminium bar as carbon feels a bit susceptible to damage that I might not be aware of.
Thank you for reading 10 articles this month* Join now for unlimited access
Enjoy your first month for just £1 / $1 / €1
*Read 5 free articles per month without a subscription
Join now for unlimited access
Try first month for just £1 / $1 / €1
James Bracey's career has seen him move from geography teacher, to MBR writer, to Cycling Weekly's senior tech writer and video presenter. He possesses an in-depth knowledge of bicycle mechanics, as well as bike fit and coaching qualifications. Bracey enjoys all manner of cycling, from road to gravel and mountain biking.