The best handlebar tape 2023, and how to wrap it
We round up some of the best handlebar tape as well as help you choose and wrap your new purchase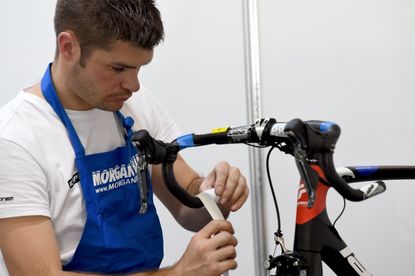 (Image credit: Watson)
Get The Leadout Newsletter
The latest race content, interviews, features, reviews and expert buying guides, direct to your inbox!
Thank you for signing up to The Pick. You will receive a verification email shortly.
There was a problem. Please refresh the page and try again.
Installing new bar tape is like giving your road bike a manicure. Looking down at freshly wrapped tape is pleasing to the eye as well as providing a boost in confidence. But its beauty is more than skin deep.
As one of a rider's few touch points it's vital that your handlebar tape is comfortable as well as offering grip in wet weather conditions. It's no exaggeration that good tape can help make a ride, while old, worn or poor quality tape can seriously hinder it, especially during a long day in the saddle.
Bar tape can offer some much needed cushioning when the going gets rough; double wrapped tape has been a staple for years at cobbled races like Paris-Roubaix, where any respite from the pavé is appreciated. But comfort isn't only measured in the tape's thickness. There are numerous finishes and patterns available too, taking care of most rider's preferences.
Choosing the right tape for you requires a little thought and we've covered the key points to consider later in this guide. Likewise wrapping your bars isn't to be taken lightly and we offer those new to the 'art' a few helpful pointers too. But first here's our picks of some of the best handlebar tape on the market.
Our picks of the best handlebar tape
You can trust Cycling Weekly. Our team of experts put in hard miles testing cycling tech and will always share honest, unbiased advice to help you choose. Find out more about how we test.
Grippy, comfortable but doesn't come cheap
Reasons to buy
+
Feels amazing
+
Lightweight
+
Can be rewrapped
+
Durable
+
Can be wiped clean
+
Large range of colours
Reasons to avoid
-
High price but justified by the quality of the product.
The choice of a large number of pros in the WorldTour peloton, the Lizard Skins DSP is one of the most luxurious feeling handlebar tapes on the market. As well as this 2.5mm option, there are three other thicknesses available (1.8, 3.2 and 4.6mm), and despite the good level of padding it can easily be rewrapped too.
Comfort and grip are most people's primary concerns when choosing bar tape and Lizard Skins provides both in spades. The choice of thicknesses really allows you to tailor the tape to your needs but whether you prefer thick tape or thin, the grip and comfort isn't compromised. If you like to count every gram however it's worth noting that the the additional comfort of the 4.6mm thick tape will cost you 50 grams when compared to the 1.8mm tape.
The tacky feel of the Lizard Skins material translates to an exceptional grippy tape and one that can be used in the wet without gloves, an issue for some tapes. This also has benefits in warm weather when sweaty palms can compromise your hold on the bars.
The only real downside to Lizard Skins DSP tape is the price. It's one of the more expensive out there but like many cycling accessories you get what you pay for.
Supacaz Super Sticky Kush bar tape
Sticky by name, sticky by nature
Reasons to buy
+
Huge range of colours and patterns
+
Plenty of cushioning
+
High level of grip
+
Good quality adjustable bar plugs
Reasons to avoid
-
May be too thick for some
-
Expensive at RRP
If you choose to call a bar tape 'super sticky' it needs to deliver plenty of grip, and fortunately for Supercaz, its product does just that.
We've ridden it across a number of bikes and have always found it to deliver a nice blend of comfort and grip. We recently rode the tape during persistent showers and without gloves and the super sticky tape kept up its part of the bargain, with the geometric pattern providing surprising grip considering the conditions.
As for the 'kush' element, the tape is 3mm thick, which is on the thicker end of things, and really comfortable; it's tacky and provides a decent level of cushioning even when the going gets rough. It's certainly a tape that would be well suited to riders who enjoy long days in the saddle or regularly ride on less-than-smooth terrain. However, this does come at the cost of bar feel. If you ride with gloves, you may find it just a little thick, although this is certainly down to rider preference.
A thicker tape can prove trickier to wrap but the Supercush hasn't presented us with too many issues in the past. While it's not as easy to install as those thinner, stretchier tapes, there's enough give here so as not to prove problematic.
The Supercush tape also gets bonus points for the wide choice of colours offered. Even if your bike or kit is 'coffee brown' (Ag2R fans take note!) you'll find a Super Stick Kush tape to match. Finally it comes with adjustable bar plugs, which given the higher price tag should be expected but isn't always the case.
Bontrager Grippytack bar tape
Grippy, comfortable but not overly thick
Reasons to buy
+
Not overly thick, blends comfort and feel
+
Grips well even with sweaty palms
+
Reasons to avoid
-
Not the easiest tape to wrap
Bontrager's Grippytack is another tape that's keen to promote its supposed benefits in its name. Having used it for almost a year that included a long, sweaty New York summer, we can safely say there's no hint of any trade description infringement here. Even when our hands were covered in sweat on rides in temperatures north of 35 C (95 F) the tape offered up some much needed grip.
The tape is relatively thin, which means it delivers plenty of bar feel. However it does feature some shock absorbing foam to help cushion your hands during long or bumpy rides. Bar tape thickness is certainly a matter of taste, but we found that the Grippytack tape struck a good balance between comfort and feel. As for the texture, it features a series of micro-dots not unlike the Kinesis 4 seasons tape. In fact, we first tried Bontrager's offering while living in the US, where the Kinesis tape wasn't readily available and we were hunting for something similar.
Unlike the Kinesis tape Bontrager Grippytack isn't the easiest to wrap, even if it claims '"ideal stretch for quick-and-easy installation." We didn't enjoy a great deal of stretch and while it's far from the trickiest we've wrapped with, this lack of flexibility did make it a little more taxing to install.
The bar bungs are pretty basic, the kind you just knock in with your palm, but they do have a reflective Bontrager logo on, which is a nice touch and an additional bit of safety.
SRAM Supercork bar tape
Grip and comfort for those on a budget
Reasons to buy
+
Great tape for those on a budget
+
Classic cork feel delivers plenty of comfort
Reasons to avoid
-
Not as grippy as some tape
-
Not as durable as some tape
No bar tape guide is complete without a traditional cork offering. If you're of a certain age there's a good chance that cork tape is all you knew for many years, after it superseded cotton and vinyl in both performance and comfort after its invention in 1983. In this instance we've gone for SRAM's Supercork.
Cork tape is essentially a polyurethane tape that's embedded with pieces of natural cork, combining to create a spongy soft feel that's also both lightweight and grippy. SRAM's version is 3mm thick and doesn't stray from the traditional path to deliver a tape that's very comfortable with bags of cushioning.
The downside to cork tape can be a lack of grip in the wet or when your hands get a little sweaty. In our experience the SRAM tape does a pretty good job of mitigating this, although if you're used to the super tacky modern tapes such as Lizard Skins then you're likely to feel a little underwhelmed by the grip offered here.
Perhaps the biggest asset of SRAM's, or for that matter most cork tapes, is their affordability. They can be half the price or more compared to higher-end tapes like Supercaz, meaning your can can re-wrap your bars more often, giving your bike a fresh, new feel for as little as £10.
SRAM Supercork tape is pretty easy to wrap, as are most cork tapes. However, proceed with caution. Cork tapes do have a habit of snapping if you attempt to add a little too much tension during your wrap.
Ritchey WCS Race gel bar tape
Classic looking tape blending comfort with cushioning
Reasons to buy
+
Gel delivers plenty of comfort on long rides
+
Classic look suits many road bikes
Ritchey's WCS Race gel tape is made from lightweight polyurethane with a gel backing that makes it very comfortable indeed. We've used it on a number of bikes and have always found the 2.4mm thick tape to offer plenty of cushioning, especially when worn without gloves.
As for the grip, the surface is pretty tacky but not to the degree of a Supacaz or a LizardSkins. This is a tape that sits somewhere between these ultra grippy tapes and a more traditional cork tape design. Across a range of weather conditions the tape delivers a solid performance, whether in the cold and the wet or in warmer climes when your hands can start to get a little sweaty. It's also pretty easy to wrap, with just about enough stretch to enable you to keep tension in the tape throughout installation for clean, tight wrap.
The tape's pretty traditional looking, with a repeating embossed Ritchey logo for good measure. It's available in a few colours including black and white, meaning it's a good match for most road bikes. The bar ends are of the straightforward 'push in' variety. All in all Ritchey's WCS Race tape is a well-made offering that's a good bet for those who favour a comfortable tape in a business-like package.
Kinesis 4 Seasons bar tape
Grippy, all-weather tape that's keenly priced
Reasons to buy
+
Grippy even in wet conditions
+
Comfortable without being overly thick
+
Durable
+
Plenty of stretch makes it easy to wrap
+
Quality adjustable bar ends
+
Affordable - under £20
Reasons to avoid
-
Small diamond pattern isn't the easiest to clean
Kinesis's 4 Seasons tape may look pretty ordinary but there's plenty of detail here that make it worthy of this best handlebar tape guide.
It's made from what Kinesis describe as an 'anti-slip' rubber. The small micro-diamond pattern is designed to offer grip in all conditions, hence the '4 Seasons' name. Having ridden this tape in fair weather and foul we can attest to its grippy properties; even during serious downpours we found that it still offered up a decent level of grip, certainly when compared to cork tapes. It's also plenty durable too; we've used this tape for well over a year in the past without it showing much sign of wear.
Vitally, the tape's also comfortable. While Kinesis doesn't list its width it's not overly thick. However, the shockproof layer and Vex Gel backing seemingly does the trick and we found that both the pattern, the slightly tacky feel and the level of cushioning combined to deliver a comfy ride even over long distances and uneven road surfaces. We actually used this tape while riding a few sectors of pavé in and around Roubaix and while it couldn't mute the vibrations (what tape could?!) it coped well over a few bone jarring kilometres.
The Kinesis tape is a firm favourite for another reason, too. It's easy to wrap. It offers a decent amount of stretch and doesn't have an overly sticky backing, so even if you need to re-wrap sections you can do so without making a mess.
Are there any downsides to the tape? Not really, although the gaps between the small diamonds can be a little tricky to get clean.
Finally the Kinesis bar tap also comes with adjustable plugs; the kind you'd normally expect to buy separately as an upgrade and a far cry from the basic push-in plugs you normally get with bar tape at this price point.
Best handlebar tape: How to choose your bar tape
Grip
You might think that your handlebar tape is mainly there to make your bike look good, but this is probably the most important contact point between yourself and your bike, so it's important that it gives you secure grip so you can control your machine in all conditions. Look for a handlebar tape with a nice tacky finish that you help you maintain grip when riding in wet conditions - something that is particularly important if you're riding without gloves.
Padding
Another very important aspect of handlebar tape, especially for those riding without gloves, is its padding. Especially on long rides over rough roads, your hands and wrists can take a real pounding, so look for some handlebar tape with plenty of padding to reduce the vibrations being transmitted to your body. If you're riding on particularly rough roads (or even cobbles) then consider wrapping your bars with two layers of tape for even more protection.
Wrap-ability
If you're planning to fit your own handlebar tape, then it's worth reading on below for a few pointers. In general thinner tapes will be easier to wrap as they will be more flexible, but might be prone to bunching at the bends in the bars.
Finish
Most handlebar tapes are made from one of three different materials: cork, leather, ora synthetic material. If you're after a really luxurious feel, then leather or cork are hard to beat, however they are often more expensive than synthetic options. If you're a sucker for white bar tape, then its also worth finding an option (usually synthetic) that will be easy to clean, as the last thing you want is your sharp white tape turning brown from mud or sweat after only a couple of rides.
Colour
Certain members of the cycling community will tell you that your handlebar tape must either match the colour of your saddle, or match the colour of the head tube, or be black, but we say just go for whatever colour catches your eye. There are some very bright options to choose from if you shop around, with companies like Supacaz and Lizard Skins offering some pretty funky patterns too. It's your bike, so do what you want to it.
How do you wrap handlebar tape?
If you're new to wrapping drop bars we'd suggest watching this how to wrap handlebar tape video , which gives plenty of visual help and advice.
However, here are a few useful pointers to make the job go smoothly.
Clean and prep your bars: Unless you're wrapping a new pair of bars you'll want to make sure you've cleaned off any sticky residue left from the old tape. You'll also want to make sure that your cables and hoses are securely and neatly taped, especially if you're not using bars with internal routing.
Be prepared: Don't start wrapping the tape until you're properly set-up for the task ahead. You'll need some sharp scissors at hand, along with some electrical tape. The latter is to replace the finishing strips that came in the box with the tape. Discard these because they aren't very good at securing the bar tape in place.
Always start from the bottom: It might seem obvious but you always wrap tape from the bottom of the drops, finishing on the tops.
Keep up the tension: Once you've started your wrap you'll need to keep an even tension on the tape to ensure a clean and secure wrap. This is when tape choice can help, with some tapes offering more stretch than others.
Watch the gap: As you wrap, always stay alert for any gaps in the tape. Not only is this unsightly and unprofessional it could also lead to a less than secure finish.
Score first, cut second: Before you cut your tape at the finish it's wise to score it first, using the scissors. This way you can check that you're going to cut it in the right direction to give you a clean edge, ready for the electrical tape, which you'll want to wrap tightly to help keep your wrapped bar tape in place. Three wraps of electrical tape should do the trick.
Get The Leadout Newsletter
The latest race content, interviews, features, reviews and expert buying guides, direct to your inbox!