The best handlebar tape, and how to wrap it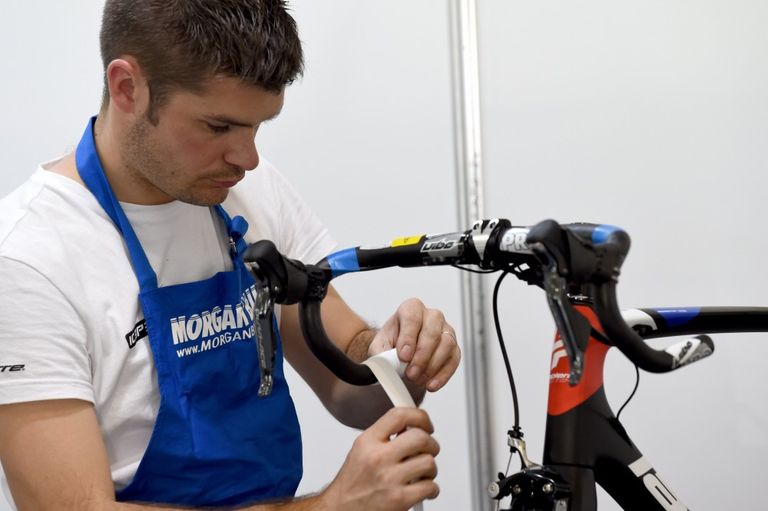 (Image credit: Watson)
This buyer's guide to the best handlebar tape will help you find what you're looking for, and our handy video will talk you through how best to wrap it.
Mechanic Al Vines runs through how to change your bar tape in the video above. It's not the simplest of jobs, but sooner or later your grip is going to wear out and you'll need to refresh your bar wrapping.
Watch the video to find out what you'll need for the job and how best to approach it. Al uses a figure of eight approach that works best with drop bars and modern shifters. Follow his advice carefully and you'll have a fresh looking set of bars in no time.
What you'll need
Electrical tape
Decent sharp scissors
A roll of new bar tape
A clean pair of hands
Fresh from the box
When you buy new handlebar tape you should find a few other things in the box. There'll be the two rolls of tape with bar plugs, cheat strips - but you won't need those with this method, unless you've got Campag levers, and finally some sticky strips for finishing the job - but that's where the electrical tape comes in.
Our picks of the best handlebar tape
With each choice is a 'Best Deal' link. If you click on this then we may receive a small amount of money from the retailer when you purchase the item. This doesn't affect the amount you pay.
Reasons to buy
+Feels amazing+Lightweight+Can be rewrapped+Durable+Can be wiped clean+Large range of colours
Reasons to avoid
-High price, but not really a con, as it is justified by the quality of the product.
The choice of a large number of pros in the WorldTour peloton, this Lizard Skins is one of the most luxurious feeling handlebar tapes on the market. As well as this 2.5mm option, there are two other thicknesses available, and despite the good level of padding it can easily be rewrapped too.
Reasons to buy
+Ticks all the boxes!
Reasons to avoid
-Non self-adhesive, but we didn't really find this was a problem in use
Pro might not be best known for its handlebar tape, but it's done a great job with this Smart tape. It's made form silicon, meaning that it is strong enough not to tear, while also being thin enough to make for easy application. Having a silicone strip rather than glue on the back means that it can be refitted too.
Reasons to buy
+Easy to fit+Decent grip
Reasons to avoid
-Harsh to hands
If you want a handlebar tape that can be easily matched to your bike and kit, then the 27 different colour options that this Fizik tape is available in should offer just about enough choice. It's very thin, meaning that there are more comfortable tapes out there, but that also makes it very easy to fit, and it can also be wiped down easily, so white tape can be kept looking good for longer.
Reasons to buy
+Great look and feel+Easy to clean
Reasons to avoid
-Hard to fit
For a classic finish for a bike, the Specialized S-Wrap Classic handlebar tape is hard to beat. The synthetic leather finish looks great and is dead easy to clean. Available in four different colours, the only problem we found was the lighter colours were a bit harder to keep clean.
What to look for when choosing handlebar tape
Grip
You might think that your handlebar tape is mainly there to make your bike look good, but this is probably the most important contact point between yourself and your bike, so it's important that it gives you secure grip so you can control your machine in all conditions. Look for a handlebar tape with a nice tacky finish that you help you maintain grip when riding in wet conditions - something that is particularly important if you're riding without gloves.
Padding
Another very important aspect of handlebar tape, especially for those riding without gloves, is its padding. Especially on long rides over rough roads, your hands and wrists can take a real pounding, so look for some handlebar tape with plenty of padding to reduce the vibrations being transmitted to your body. If you're riding on particularly rough roads (or even cobbles) then consider wrapping your bars with two layers of tape for even more protection.
Wrap-ability
Assuming you've watched the video above and are planning to fit your own handlebar tape, then it's worth looking around for a few reviews to see how easy it is to wrap. In general thinner tapes will be easier to wrap as they will be more flexible, but might be prone to bunching at the bends in the bars.
Finish
Most handlebar tapes are made from one of three different materials: cork, leather, ora synthetic materials. If you're after a really luxurious feel, then leather or cork are hard to beat, however they are often more expensive than synthetic options. If you're a sucker for white bar tape, then its also worth finding an option (usually synthetic) that will be easy to clean, as the last thing you want is your sharp white tape turning brown from mud or sweat after only a couple of rides.
Colour
Certain members of the cycling community will tell you that your handlebar tape must either match the colour of your saddle, or match the colour of the head tube, or be black, but we say just go for whatever colour catches your eye. There are some very bright options to choose from if you shop around, with companies like Supacaz and Lizard Skins offering some pretty funky patterns too. It's your bike, so do what you want to it.