The Enve MOG: a first ride review of the American brand's debut foray into gravel
A 'modern' gravel bike, built to ride, race and adventure capably and swiftly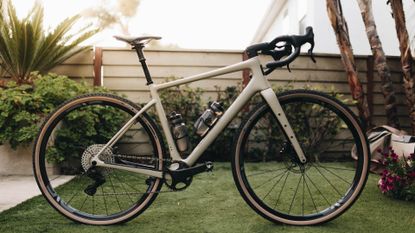 (Image credit: Avery Stumm)
With their first purpose-built gravel machine, Enve strikes a good balance of comfort and stability, speed and liveliness. It's no road bike-replacing, do-it-all bike but if you're setting out for a fast mixed-terrain ride, a gravel race or a bikepacking adventure, this bike will be a capable and swift companion.
Reasons to buy
+

Lightweight yet durable carbon composite frame

+

Plenty of accessory mounts

+

Tire clearance for 700 x 50mm

+

Downtube storage

+

1x or 2x drivetrain compatibility

+

Threaded T47 bottom bracket

+

27.2 rounded seat tube with dropper or rigid seatpost options

+
Reasons to avoid
-

Engineered around 700C wheels only, which isn't for everyone

-

Available in chassis — the frame, fork, headset, handlebar, stem and seatpost— only
You can trust Cycling Weekly. Our team of experts put in hard miles testing cycling tech and will always share honest, unbiased advice to help you choose. Find out more about how we test.
Read our full launch story on the Enve MOG, here.
---
American manufacturer, Enve Composites, today unveiled "The MOG," a purpose-built gravel steed that's meant to satisfy gravel riders, gravel adventurers and gravel racers all-in-one.
To Mog around, Master of Gravel, moggy...a verb, an acronym or a noun. Like the cycling term of 'gravel' in itself, MOG is a term that's still very much up for definition or perhaps, it's simply whatever you want it to be.
Impressively, the MOG is Enve's third bike model in just three years and with it, the Ogden, Utah-based company hopes to continue its brand evolution from aftermarket carbon wheel and component specialists to a full-service bicycle brand.
After launching the Utah-made Custom Road bike in 2021 and the Melee road racing bike —manufactured at their factory in China— the following year, the MOG, also made overseas, is the brand's first official foray in gravel.
While the Melee, with its 35mm tire clearance, was perfectly capable of being raced on unpaved roads, the MOG is a purpose-built off road machine, complete with a beefy 50mm tire clearance, a slacker and more stable geometry and gravel-specific features like fork and frame mounts and in-frame storage.
"The MOG is very much a performance bike without being pigeon-holed as a race bike," says Jake Pantone, Enve's VP of Product and Brand.
It's Enve's "definition of the modern gravel bike. As avid gravel riders and racers ourselves, our aim was to create a platform that delivers the versatility, simplicity, and performance that we, along with today's gravel riders, demand."
The Enve MOG at a Glance
Enve's definition of a modern gravel bike is one that is fast and lightweight yet also capable and suited to off-grid adventures.
What the MOG has:
Lightweight yet durable carbon composite frame.
Plenty of accessory mounts
Tire clearance for 700 x 50mm
Engineered around 700C wheels only.
Downtube storage
1x or 2x drivetrain compatibility
Threaded T47 bottom bracket
27.2 rounded seat tube with dropper or rigid seatpost options
Downtube bashguard with a topographic design
What it doesn't have:
Suspension
650b* compatibility
A geometry altering flip chip
*650b wheels and tires will surely fit but the geometry was tuned around the 700c wheel diameter.
Pantone explains that the smaller 650b wheel diameter was removed from the scope of the MOG after determining that "the one set up that was more confidence inspiring and more fun than high-volume tires on a 650b rim, was high-volume tires in 700c," Pantone states.
"We committed to designing the MOG so that one could run large 700c tires, while eliminating the need for flip-chips or other solutions to accommodate two different wheel sizes."
Other key details:
Weight: 950 grams for the frameset only, no hardware. A 54cm chassis with Enve's G23 wheels and a Campagnolo drivetrain weighed in around 16.5lbs.
Price: the chassis retails for US $5,500/ €5,995/ £5,300/ AUD $9,999 and includes the frame, fork, headset, stem, handlebar and seatpost.
The MOG is offered in six stock frame sizes ranging from 49cm to 60cm with three unique fork rakes among them.
The MOG is available now via the Enve website, Enve ride centers and Enve retailers.
The Enve MOG - First Ride Impressions
My first ride on the MOG was a 45-mile, mixed-terrain jaunt with a healthy dose of climbing in Southern California amid a rare winter storm. In the wind, we tackled a loop just south of San Diego that consisted of paved roads, gravel and singletrack — many of them familiar to those who've raced the Belgian Waffle Race in the past.
The 49cm steed picked out for me came built with Enve's G23 wheels wrapped in Pirelli Cinturato H tires, a Campagnolo Ekar groupset and an Enve G Series dropper post with 40mm travel.
The beige/champagne color may not be for everyone but personally, I like the subdued earth tone and understated branding. The hidden cables and thin, aerodynamic bars, while certainly not easy to set up, do look beautifully tidy and leave unobstructed space for a bar bag, should you want one.
I'm the kind of gravel rider who likes to get shreddy on singletrack, to go on an all-day outings and if time allows it, go bikepacking. As such, the on-the-frame rack, fender and cargo mounts are a welcomed sight. The in-the-frame storage is another noteworthy feature.
Not unlike Specialized's SWAT system or Bontrager's downtube storage, the MOG is equipped with a downtube cargo space, which Enve calls the Cargo Bay, and is made to carry necessities like a repair kit, survival items, a spare jacket or whatever else you can fit in 0.6 liters of storage.
To access the compartment, you simply slide the latch below the water bottle holder and pull out the cover —painted to match the frame color— to which the water bottle cage is attached. Each bike comes with two neoprene cargo bags made to carry your stuff without rattling. I found the Cargo Bay easy to use and it felt a tad more substantial that the SWAT system covers I've used in the past.
Thanks to some pre-ride data gathering , the bike fit like my own. Customers can have a similar experience using Enve's Best-Fit Calculator on the website.
The calculator pairs a rider's stack, reach and saddle position measurements with a suggested frame geometry, stem length, stem rise, spacer stack and even, saddle offset. The calculator's output also provides the rider with several frame and component configuration options that the rider and/or their bike fitter can analyze to determine the rider's best fit.
While performance-oriented, the MOG geometry, and particularly the stack height, reach and rake numbers, sits somewhere between the Melee with 35mm tires and something super capable and slack like the Evil Chamois Hagar.
As I said, the bike fit me well. It was only the Ekar groupset I needed to adjust too. Perhaps I've gotten too accustomed to SRAM's eTap shifting that the Campy shifting and the distinct angle and bump on hoods always take me a little while to get acquainted with.
But even that was soon forgotten under the crunching of gravel, the navigating of narrow trails and short rock gardens, and the heavy breathing up the climbs.
The MOG shone on anything off-road. The frame is light and stiff enough to spring into action when called upon to get out of the saddle to close a gap or climb, yet not so stiff that every bump or rock can be felt in your lower back. It may not win a road sprint but it will keep pace, keep you riding comfortably all day and nimbly manoeuvre through twisty, narrow trails.
The somewhat slackened geometry keeps you safely planted on loose terrain and allows you to descend with confidence. I'd imagine that if loaded with bikepacking gear, the MOG would be a very stable and trusty ride.
This was also my first ride with the Enve G-series dropper post. And while I forgot to use it on the initial descents I soon grew to like it very, very much. I've long been a dropper post user on my mountain bike and discovered that even the mere 40mm drop was enough to get the saddle out of the way on steep or technical descents, allowing me to shift my weight, lower my center of gravity or let the bike move more freely underneath me. The extra capability and confidence also comes at the small weight penalty of around 400 grams.
This one ride didn't leave me with time to test the bike with a variety of tire widths. I would have liked to compare the ride feel of the bike equipped with something closer to its 50mm tire width max with the ride feel of the suggested minimum width of 36mm.
On the road, the MOG is by no means a slog but it's certainly not as quick and responsive as a road bike either. When asked about the bike's n-1 capabilities for those who want one frame with two wheelsets —one for gravel, one for road— engineer Clint Child smiled and said, "for that, you'll have to wait till the next bike."
So an All-Road may be next for Enve, but in the meantime this All-Gravel certainly positions itself as a capable contender for anyone looking to ride hard, adventure with confidence or, like Alexey Vermeulen, vie for the podium at Unbound.
The Enve MOG - Value & Comparison
Enve is a premium brand so be prepared to pay a premium price.
In terms of its construction, weight class, geometry and even the build, the MOG reminded me of the Argonaut GR3 we rode in the fall. Perhaps not quite as lively but the MOG is better suited for a range of gravel needs and sports a host of features the GR3 does not, such as ample fender and accessory mounts and an internal storage compartment. Of course, the GR3 is a fully Made in the USA custom bike, made for the individual customer. The MOG is a mass-produced frame that comes in six stock sizes. Yet it's a grand cheaper than the GR3 and comes with a frame, fork, headset, stem, handlebar and seatpost while the GR3 includes just the frame, fork and stem.
The S-Works Diverge, similarly mass-produced and stocked with features, retails for a comparable $5,000, frame, fork and seatpost included. Comparatively, $5,500 for a top-end frame, fork, stem, handlebars and seatpost —while still quite a sum of money— does seem in line with its competitors.
And what you get is a purpose-built gravel machine, no matter what your interpretation of 'gravel' is. With the MOG, Enve strikes a good balance of comfort and stability, speed and liveliness. It's no road-bike-replacing, n-1 bike by any means, but if you're setting out for a fast mixed-terrain ride, a gravel race or a bikepacking adventure, this bike will be a capable and swift companion.
Image 1 of 9
Thank you for reading 20 articles this month* Join now for unlimited access
Enjoy your first month for just £1 / $1 / €1
*Read 5 free articles per month without a subscription
Join now for unlimited access
Try first month for just £1 / $1 / €1