What is Unbound Gravel and who's racing the 'World's premier gravel event'
Thousands of amateurs join WorldTour roadies, track world champions and MTB Olympians at marquee gravel race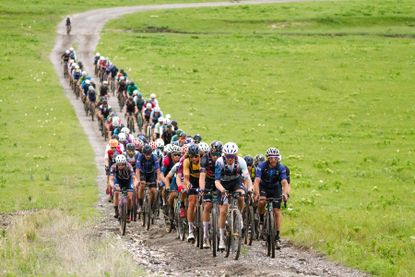 (Image credit: Life Time)
Swipe to scroll horizontally
The Unbound courses

| | | |
| --- | --- | --- |
| Course | Distance | Elevation |
| Unbound XL | 352 miles/566km | 13,545ft/4129m |
| Unbound 200 | 205.4 miles/331km | 9125ft/2781m |
| Unbound 100 | 103 miles/166km | 4400ft/1341m |
Coming up on the weekend of June 3, 2023, Unbound Gravel, formerly known as the Dirty Kanza, is a mass-start event that takes place in the Tallgrass Prairie and Flint Hills around Emporia, Kansas, in the middle of the United States. With five race distances on offer and 4,000 attendees, Unbound has become the world's marquee gravel event.
The famous 200-mile course is a true test of endurance, self-sufficiency and equipment. In addition to needing to fuel oneself for 11+ hours of riding, the sharp flint rocks are notorious for slicing tires and dashing podium aspirations. Along the way, riders also need to contend with the undulating terrain, exposed sun-baked roads, headwinds and, if at all wet, tire-sucking mud.
For those seeking the ultimate challenge, organizers added a 350-mile option in 2018. This epic, named the Unbound XL has been won in the past by riders such a Rebecca "the Queen of Pain" Rusch and ultra-endurance star Lael Wilcox and sees riders suffering for 23 or more hours.
Now in 17th year, the Garmin Unbound Gravel presented by Craft Sportswear has 4,000 riders registered across five distances — its largest field size yet and a far cry from its humble beginnings of just 34 riders in 2006.
Previous winner of the now, world-famous 200-mile event include former World Tour road pros like Peter Stetina, Ted King and Ian Boswell. Other former roadies returning to Unbound for gravel glory in 2023 include Laurens ten Dam, Alexey Vermeulen, Nathan Haas, Alex Howes and Lachlan Morton.
Last year's Life Time Grand Prix winner Keegan Swenson, challenge-seeker Lachlan Morton and many, many more, are also included. This year's field may be its most competitive yet so it's truly anyone's race.
On the women's side, previous winners include familiar names such as Amity Rockwell, Alison Tetrick, Lauren de Crescenzo, and retired cyclocrosser Kaitlin Keough. This year's cast include the likes of cyclocrosser Rebecca Fahringer; retired World Tour roadies like Ruth Winder and Emma Grant as well as off-road experts like Amity Rockwell, Kae Takeshita and a host of world-class mountain bikers.
See the 2023 start lists below.
Contributing to the stacked fields of the 200-mile event is the fact that it is the second stop of the Life Time Grand Prix series, in which a cast of 70 handpicked WorldTour roadies, track world champions and MTB Olympians are competing for a $250,000 prize purse across seven gravel and mountain bike races.
And while the 200-mile course through the Flint Hills is the perhaps the most famous, the 100-miler has grown increasingly competitive over the past few years. It's also seen some star appearances with the likes of three-time former UCI road world champion Peter Sagan and his teammate Daniel Oss participating. This year, Australian Tiffany Cromwell (Canyon-SRAM) will make her Unbound debut.
Racing and riding aside, the week of Unbound is filled with parties, tech launches and an industry expo, all bringing some $5 million USD to the small college town.
Unbound Gravel: The Courses
Race director Ben Sachs has updated the courses of the 17th edition of the event, which will again head south but with some notable changes.
Unbound 200 will feature 205.4 miles with 9125ft of elevation, 2 checkpoints, and 2 water refilling opportunities. It's 94% unpaved. Highlights include the return of the so-called "D Hill," a three-mile climb that hasn't been used since 2015 due to the potential of it becoming a muddy mess in case of rain. But after last year's mudfest, Unbound racers have proven themselves plenty capable of dealing with mud. Riders will also be introduced to a new four-mile ascent affectionally named "Bee-Yotch hill," meander through cattle pens and ascend Texaco Hill twice.
Unbound 100 will feature 103 miles with 4,400 feet of elevation gain. Most of this course overlaps the 200-miles course, including some private properties that is made available to the race for that day only, and a final kicker in the pants as you approach the finish called Highland Hill.
Unbound XL will feature 352 miles with 13,545 feet of elevation gain. This adventure is fully self-supported but there are a total of 5 gas stations or convenience stores along the course where riders can opt to buy resupplies. A new hill has been added to the course that riders have never ridden before. This is the largest hill on course, with a total elevation gain of about 350 feet, this climb comes at mile 200. There is also a promised "new fun section," and a mandatory dismount section before the riders join the 200-mile course, some 225 miles into their epic ride.
How to follow Unbound Gravel live
Sadly, following access problems, the Life Time Grand Prix Series and FloSports ceased the broadcasting of the Life Time Grand Prix series mid-season last year. And they're not coming back for 2023 either. But while there's no live broadcasting of the Unbound race action, you can follow updates via social media.
Instagram: @unboundgravel
Twitter: @unboundgravel
And we'll of course have the race reports and some galleries post-event.
Unbound Gravel: 2023 Start lists
Swipe to scroll horizontally
Unbound 200 - Elite
B
C
D
E
Q
R
S
T
V
X
BIB
FIRST NAME
LAST NAME
GENDER
Row 0 - Cell 4
Row 0 - Cell 5
Row 0 - Cell 6
Row 0 - Cell 7
Row 0 - Cell 8
Row 0 - Cell 9
Row 1 - Cell 0
Row 1 - Cell 1
Row 1 - Cell 2
Row 1 - Cell 3
Row 1 - Cell 4
Row 1 - Cell 5
Row 1 - Cell 6
Row 1 - Cell 7
Row 1 - Cell 8
Row 1 - Cell 9
195
Rach
McBride
NB
Row 2 - Cell 4
Row 2 - Cell 5
Row 2 - Cell 6
Row 2 - Cell 7
Row 2 - Cell 8
Row 2 - Cell 9
1
Ivar
Slik
M
Row 3 - Cell 4
Row 3 - Cell 5
Row 3 - Cell 6
Row 3 - Cell 7
Row 3 - Cell 8
Row 3 - Cell 9
40
Matthew
Beers
M
Row 4 - Cell 4
Row 4 - Cell 5
Row 4 - Cell 6
Row 4 - Cell 7
Row 4 - Cell 8
Row 4 - Cell 9
41
John
Borstelmann
M
Row 5 - Cell 4
Row 5 - Cell 5
Row 5 - Cell 6
Row 5 - Cell 7
Row 5 - Cell 8
Row 5 - Cell 9
42
Robert
Britton
M
Row 6 - Cell 4
Row 6 - Cell 5
Row 6 - Cell 6
Row 6 - Cell 7
Row 6 - Cell 8
Row 6 - Cell 9
43
Eric
Brunner
M
Row 7 - Cell 4
Row 7 - Cell 5
Row 7 - Cell 6
Row 7 - Cell 7
Row 7 - Cell 8
Row 7 - Cell 9
44
Zach
Calton
M
Row 8 - Cell 4
Row 8 - Cell 5
Row 8 - Cell 6
Row 8 - Cell 7
Row 8 - Cell 8
Row 8 - Cell 9
45
Griffin
Easter
M
Row 9 - Cell 4
Row 9 - Cell 5
Row 9 - Cell 6
Row 9 - Cell 7
Row 9 - Cell 8
Row 9 - Cell 9
46
Russell
Finsterwald
M
Row 10 - Cell 4
Row 10 - Cell 5
Row 10 - Cell 6
Row 10 - Cell 7
Row 10 - Cell 8
Row 10 - Cell 9
47
Howard
Grotts
M
Row 11 - Cell 4
Row 11 - Cell 5
Row 11 - Cell 6
Row 11 - Cell 7
Row 11 - Cell 8
Row 11 - Cell 9
48
Lance
Haidet
M
Row 12 - Cell 4
Row 12 - Cell 5
Row 12 - Cell 6
Row 12 - Cell 7
Row 12 - Cell 8
Row 12 - Cell 9
49
Alex
Howes
M
Row 13 - Cell 4
Row 13 - Cell 5
Row 13 - Cell 6
Row 13 - Cell 7
Row 13 - Cell 8
Row 13 - Cell 9
50
Dylan
Johnson
M
Row 14 - Cell 4
Row 14 - Cell 5
Row 14 - Cell 6
Row 14 - Cell 7
Row 14 - Cell 8
Row 14 - Cell 9
51
Brendan
Johnston
M
Row 15 - Cell 4
Row 15 - Cell 5
Row 15 - Cell 6
Row 15 - Cell 7
Row 15 - Cell 8
Row 15 - Cell 9
52
Andrew
L'Esperance
M
Row 16 - Cell 4
Row 16 - Cell 5
Row 16 - Cell 6
Row 16 - Cell 7
Row 16 - Cell 8
Row 16 - Cell 9
55
Konny
Looser
M
Row 17 - Cell 4
Row 17 - Cell 5
Row 17 - Cell 6
Row 17 - Cell 7
Row 17 - Cell 8
Row 17 - Cell 9
56
Ian
Lopez De San Roman
M
Row 18 - Cell 4
Row 18 - Cell 5
Row 18 - Cell 6
Row 18 - Cell 7
Row 18 - Cell 8
Row 18 - Cell 9
57
Payson
McElveen
M
Row 19 - Cell 4
Row 19 - Cell 5
Row 19 - Cell 6
Row 19 - Cell 7
Row 19 - Cell 8
Row 19 - Cell 9
58
Lachlan
Morton
M
Row 20 - Cell 4
Row 20 - Cell 5
Row 20 - Cell 6
Row 20 - Cell 7
Row 20 - Cell 8
Row 20 - Cell 9
59
Tasman
Nankervis
M
Row 21 - Cell 4
Row 21 - Cell 5
Row 21 - Cell 6
Row 21 - Cell 7
Row 21 - Cell 8
Row 21 - Cell 9
60
Jack
Odron
M
Row 22 - Cell 4
Row 22 - Cell 5
Row 22 - Cell 6
Row 22 - Cell 7
Row 22 - Cell 8
Row 22 - Cell 9
61
Tobin
Ortenblad
M
Row 23 - Cell 4
Row 23 - Cell 5
Row 23 - Cell 6
Row 23 - Cell 7
Row 23 - Cell 8
Row 23 - Cell 9
62
Logan
Owen
M
Row 24 - Cell 4
Row 24 - Cell 5
Row 24 - Cell 6
Row 24 - Cell 7
Row 24 - Cell 8
Row 24 - Cell 9
63
Cole
Paton
M
Row 25 - Cell 4
Row 25 - Cell 5
Row 25 - Cell 6
Row 25 - Cell 7
Row 25 - Cell 8
Row 25 - Cell 9
64
Kiel
Reijnen
M
Row 26 - Cell 4
Row 26 - Cell 5
Row 26 - Cell 6
Row 26 - Cell 7
Row 26 - Cell 8
Row 26 - Cell 9
65
Adam
Roberge
M
Row 27 - Cell 4
Row 27 - Cell 5
Row 27 - Cell 6
Row 27 - Cell 7
Row 27 - Cell 8
Row 27 - Cell 9
66
Nathan
Spratt
M
Row 28 - Cell 4
Row 28 - Cell 5
Row 28 - Cell 6
Row 28 - Cell 7
Row 28 - Cell 8
Row 28 - Cell 9
67
Ryan
Standish
M
Row 29 - Cell 4
Row 29 - Cell 5
Row 29 - Cell 6
Row 29 - Cell 7
Row 29 - Cell 8
Row 29 - Cell 9
68
Peter
Stetina
M
Row 30 - Cell 4
Row 30 - Cell 5
Row 30 - Cell 6
Row 30 - Cell 7
Row 30 - Cell 8
Row 30 - Cell 9
69
Keegan
Swenson
M
Row 31 - Cell 4
Row 31 - Cell 5
Row 31 - Cell 6
Row 31 - Cell 7
Row 31 - Cell 8
Row 31 - Cell 9
70
Kyle
Trudeau
M
Row 32 - Cell 4
Row 32 - Cell 5
Row 32 - Cell 6
Row 32 - Cell 7
Row 32 - Cell 8
Row 32 - Cell 9
71
Alexey
Vermeulen
M
Row 33 - Cell 4
Row 33 - Cell 5
Row 33 - Cell 6
Row 33 - Cell 7
Row 33 - Cell 8
Row 33 - Cell 9
72
Kerry
Werner
M
Row 34 - Cell 4
Row 34 - Cell 5
Row 34 - Cell 6
Row 34 - Cell 7
Row 34 - Cell 8
Row 34 - Cell 9
73
Brennan
Wertz
M
Row 35 - Cell 4
Row 35 - Cell 5
Row 35 - Cell 6
Row 35 - Cell 7
Row 35 - Cell 8
Row 35 - Cell 9
74
Innokenty
Zavyalov
M
Row 36 - Cell 4
Row 36 - Cell 5
Row 36 - Cell 6
Row 36 - Cell 7
Row 36 - Cell 8
Row 36 - Cell 9
100
Julien
Absalon
M
Row 37 - Cell 4
Row 37 - Cell 5
Row 37 - Cell 6
Row 37 - Cell 7
Row 37 - Cell 8
Row 37 - Cell 9
101
matt
acker
M
Row 38 - Cell 4
Row 38 - Cell 5
Row 38 - Cell 6
Row 38 - Cell 7
Row 38 - Cell 8
Row 38 - Cell 9
102
Zachary
Allison
M
Row 39 - Cell 4
Row 39 - Cell 5
Row 39 - Cell 6
Row 39 - Cell 7
Row 39 - Cell 8
Row 39 - Cell 9
105
Carter
Anderson
M
Row 40 - Cell 4
Row 40 - Cell 5
Row 40 - Cell 6
Row 40 - Cell 7
Row 40 - Cell 8
Row 40 - Cell 9
108
Jan
Bakelants
M
Row 41 - Cell 4
Row 41 - Cell 5
Row 41 - Cell 6
Row 41 - Cell 7
Row 41 - Cell 8
Row 41 - Cell 9
109
STEFANO
BARBERI
M
Row 42 - Cell 4
Row 42 - Cell 5
Row 42 - Cell 6
Row 42 - Cell 7
Row 42 - Cell 8
Row 42 - Cell 9
111
Mike
Barton
M
Row 43 - Cell 4
Row 43 - Cell 5
Row 43 - Cell 6
Row 43 - Cell 7
Row 43 - Cell 8
Row 43 - Cell 9
112
Adrian
Beer
M
Row 44 - Cell 4
Row 44 - Cell 5
Row 44 - Cell 6
Row 44 - Cell 7
Row 44 - Cell 8
Row 44 - Cell 9
115
Ryan
Bennett
M
Row 45 - Cell 4
Row 45 - Cell 5
Row 45 - Cell 6
Row 45 - Cell 7
Row 45 - Cell 8
Row 45 - Cell 9
116
Francesco
Bettini
M
Row 46 - Cell 4
Row 46 - Cell 5
Row 46 - Cell 6
Row 46 - Cell 7
Row 46 - Cell 8
Row 46 - Cell 9
119
Matthew
Bird
M
Row 47 - Cell 4
Row 47 - Cell 5
Row 47 - Cell 6
Row 47 - Cell 7
Row 47 - Cell 8
Row 47 - Cell 9
120
Adam
Blazevic
M
Row 48 - Cell 4
Row 48 - Cell 5
Row 48 - Cell 6
Row 48 - Cell 7
Row 48 - Cell 8
Row 48 - Cell 9
122
Metheven
Bond
M
Row 49 - Cell 4
Row 49 - Cell 5
Row 49 - Cell 6
Row 49 - Cell 7
Row 49 - Cell 8
Row 49 - Cell 9
123
Brent
Bookwalter
M
Row 50 - Cell 4
Row 50 - Cell 5
Row 50 - Cell 6
Row 50 - Cell 7
Row 50 - Cell 8
Row 50 - Cell 9
124
Ian
Boswell
M
Row 51 - Cell 4
Row 51 - Cell 5
Row 51 - Cell 6
Row 51 - Cell 7
Row 51 - Cell 8
Row 51 - Cell 9
125
Travis
Bramley
M
Row 52 - Cell 4
Row 52 - Cell 5
Row 52 - Cell 6
Row 52 - Cell 7
Row 52 - Cell 8
Row 52 - Cell 9
126
Barrett
Brandon
M
Row 53 - Cell 4
Row 53 - Cell 5
Row 53 - Cell 6
Row 53 - Cell 7
Row 53 - Cell 8
Row 53 - Cell 9
127
Charlie
Bratt
M
Row 54 - Cell 4
Row 54 - Cell 5
Row 54 - Cell 6
Row 54 - Cell 7
Row 54 - Cell 8
Row 54 - Cell 9
128
Joshua
Bromley
M
Row 55 - Cell 4
Row 55 - Cell 5
Row 55 - Cell 6
Row 55 - Cell 7
Row 55 - Cell 8
Row 55 - Cell 9
134
Tom
Chester
M
Row 56 - Cell 4
Row 56 - Cell 5
Row 56 - Cell 6
Row 56 - Cell 7
Row 56 - Cell 8
Row 56 - Cell 9
137
Mattia
De Marchi
M
Row 57 - Cell 4
Row 57 - Cell 5
Row 57 - Cell 6
Row 57 - Cell 7
Row 57 - Cell 8
Row 57 - Cell 9
139
Thomas
Dekker
M
Row 58 - Cell 4
Row 58 - Cell 5
Row 58 - Cell 6
Row 58 - Cell 7
Row 58 - Cell 8
Row 58 - Cell 9
141
Justin
Dillon
M
Row 59 - Cell 4
Row 59 - Cell 5
Row 59 - Cell 6
Row 59 - Cell 7
Row 59 - Cell 8
Row 59 - Cell 9
144
Conor
Dunne
M
Row 60 - Cell 4
Row 60 - Cell 5
Row 60 - Cell 6
Row 60 - Cell 7
Row 60 - Cell 8
Row 60 - Cell 9
145
Matthew
E Jablonski
M
Row 61 - Cell 4
Row 61 - Cell 5
Row 61 - Cell 6
Row 61 - Cell 7
Row 61 - Cell 8
Row 61 - Cell 9
148
Adam
Farabaugh
M
Row 62 - Cell 4
Row 62 - Cell 5
Row 62 - Cell 6
Row 62 - Cell 7
Row 62 - Cell 8
Row 62 - Cell 9
150
Reid
Foster
M
Row 63 - Cell 4
Row 63 - Cell 5
Row 63 - Cell 6
Row 63 - Cell 7
Row 63 - Cell 8
Row 63 - Cell 9
151
Michael
Garrison
M
Row 64 - Cell 4
Row 64 - Cell 5
Row 64 - Cell 6
Row 64 - Cell 7
Row 64 - Cell 8
Row 64 - Cell 9
152
Lorenz
Gohlke
M
Row 65 - Cell 4
Row 65 - Cell 5
Row 65 - Cell 6
Row 65 - Cell 7
Row 65 - Cell 8
Row 65 - Cell 9
154
Nick
Gould
M
Row 66 - Cell 4
Row 66 - Cell 5
Row 66 - Cell 6
Row 66 - Cell 7
Row 66 - Cell 8
Row 66 - Cell 9
155
Matthew
Govero
M
Row 67 - Cell 4
Row 67 - Cell 5
Row 67 - Cell 6
Row 67 - Cell 7
Row 67 - Cell 8
Row 67 - Cell 9
156
COLBY
GREINER
M
Row 68 - Cell 4
Row 68 - Cell 5
Row 68 - Cell 6
Row 68 - Cell 7
Row 68 - Cell 8
Row 68 - Cell 9
159
Nathan
Haas
M
Row 69 - Cell 4
Row 69 - Cell 5
Row 69 - Cell 6
Row 69 - Cell 7
Row 69 - Cell 8
Row 69 - Cell 9
161
John
Haddock
M
Row 70 - Cell 4
Row 70 - Cell 5
Row 70 - Cell 6
Row 70 - Cell 7
Row 70 - Cell 8
Row 70 - Cell 9
162
Colton
Hall
M
Row 71 - Cell 4
Row 71 - Cell 5
Row 71 - Cell 6
Row 71 - Cell 7
Row 71 - Cell 8
Row 71 - Cell 9
163
Lars
Hallstrom
M
Row 72 - Cell 4
Row 72 - Cell 5
Row 72 - Cell 6
Row 72 - Cell 7
Row 72 - Cell 8
Row 72 - Cell 9
164
Coulton
Hartrich
M
Row 73 - Cell 4
Row 73 - Cell 5
Row 73 - Cell 6
Row 73 - Cell 7
Row 73 - Cell 8
Row 73 - Cell 9
165
Piotr
Havik
M
Row 74 - Cell 4
Row 74 - Cell 5
Row 74 - Cell 6
Row 74 - Cell 7
Row 74 - Cell 8
Row 74 - Cell 9
166
Kelly
Hoffman
M
Row 75 - Cell 4
Row 75 - Cell 5
Row 75 - Cell 6
Row 75 - Cell 7
Row 75 - Cell 8
Row 75 - Cell 9
167
Reed
Horton
M
Row 76 - Cell 4
Row 76 - Cell 5
Row 76 - Cell 6
Row 76 - Cell 7
Row 76 - Cell 8
Row 76 - Cell 9
168
Jacob
Huber
M
Row 77 - Cell 4
Row 77 - Cell 5
Row 77 - Cell 6
Row 77 - Cell 7
Row 77 - Cell 8
Row 77 - Cell 9
169
garrett
jenema
M
Row 78 - Cell 4
Row 78 - Cell 5
Row 78 - Cell 6
Row 78 - Cell 7
Row 78 - Cell 8
Row 78 - Cell 9
170
Logan
Jones-Wilkins
M
Row 79 - Cell 4
Row 79 - Cell 5
Row 79 - Cell 6
Row 79 - Cell 7
Row 79 - Cell 8
Row 79 - Cell 9
171
Charles
Kagimu
M
Row 80 - Cell 4
Row 80 - Cell 5
Row 80 - Cell 6
Row 80 - Cell 7
Row 80 - Cell 8
Row 80 - Cell 9
172
Kyle
Kalish
M
Row 81 - Cell 4
Row 81 - Cell 5
Row 81 - Cell 6
Row 81 - Cell 7
Row 81 - Cell 8
Row 81 - Cell 9
173
Connor
Kamm
M
Row 82 - Cell 4
Row 82 - Cell 5
Row 82 - Cell 6
Row 82 - Cell 7
Row 82 - Cell 8
Row 82 - Cell 9
175
John
Kariuki
M
Row 83 - Cell 4
Row 83 - Cell 5
Row 83 - Cell 6
Row 83 - Cell 7
Row 83 - Cell 8
Row 83 - Cell 9
179
Ryohei
Komori
M
Row 84 - Cell 4
Row 84 - Cell 5
Row 84 - Cell 6
Row 84 - Cell 7
Row 84 - Cell 8
Row 84 - Cell 9
180
Alban
Lakata
M
Row 85 - Cell 4
Row 85 - Cell 5
Row 85 - Cell 6
Row 85 - Cell 7
Row 85 - Cell 8
Row 85 - Cell 9
182
Bruno
Langlois
M
Row 86 - Cell 4
Row 86 - Cell 5
Row 86 - Cell 6
Row 86 - Cell 7
Row 86 - Cell 8
Row 86 - Cell 9
185
Bjorn
Larson
M
Row 87 - Cell 4
Row 87 - Cell 5
Row 87 - Cell 6
Row 87 - Cell 7
Row 87 - Cell 8
Row 87 - Cell 9
187
Joe
Laverick
M
Row 88 - Cell 4
Row 88 - Cell 5
Row 88 - Cell 6
Row 88 - Cell 7
Row 88 - Cell 8
Row 88 - Cell 9
188
Nick
Leeper
M
Row 89 - Cell 4
Row 89 - Cell 5
Row 89 - Cell 6
Row 89 - Cell 7
Row 89 - Cell 8
Row 89 - Cell 9
190
Nick
Locandro
M
Row 90 - Cell 4
Row 90 - Cell 5
Row 90 - Cell 6
Row 90 - Cell 7
Row 90 - Cell 8
Row 90 - Cell 9
196
Travis
McCabe
M
Row 91 - Cell 4
Row 91 - Cell 5
Row 91 - Cell 6
Row 91 - Cell 7
Row 91 - Cell 8
Row 91 - Cell 9
200
Matt
Moosa
M
Row 92 - Cell 4
Row 92 - Cell 5
Row 92 - Cell 6
Row 92 - Cell 7
Row 92 - Cell 8
Row 92 - Cell 9
201
AJ
Moran
M
Row 93 - Cell 4
Row 93 - Cell 5
Row 93 - Cell 6
Row 93 - Cell 7
Row 93 - Cell 8
Row 93 - Cell 9
202
Justin
Morris
M
Row 94 - Cell 4
Row 94 - Cell 5
Row 94 - Cell 6
Row 94 - Cell 7
Row 94 - Cell 8
Row 94 - Cell 9
203
Mark
Myles
M
Row 95 - Cell 4
Row 95 - Cell 5
Row 95 - Cell 6
Row 95 - Cell 7
Row 95 - Cell 8
Row 95 - Cell 9
205
Simen
Nordahl Svendsen
M
Row 96 - Cell 4
Row 96 - Cell 5
Row 96 - Cell 6
Row 96 - Cell 7
Row 96 - Cell 8
Row 96 - Cell 9
208
Jasper
Ockeloen
M
Row 97 - Cell 4
Row 97 - Cell 5
Row 97 - Cell 6
Row 97 - Cell 7
Row 97 - Cell 8
Row 97 - Cell 9
209
Jonas
Orset
M
Row 98 - Cell 4
Row 98 - Cell 5
Row 98 - Cell 6
Row 98 - Cell 7
Row 98 - Cell 8
Row 98 - Cell 9
210
Jake
Oswald
M
Row 99 - Cell 4
Row 99 - Cell 5
Row 99 - Cell 6
Row 99 - Cell 7
Row 99 - Cell 8
Row 99 - Cell 9
211
Ethan
Overson