I rode the 352-mile Unbound XL gravel race so you don't have to
Destructive mud, thunderstorms, hallucinations and a Big Friendly Giant: Unbound XL is the ultimate Type 2 challenge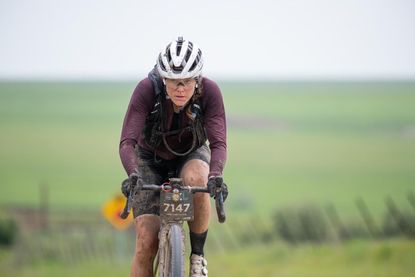 (Image credit: Will Tracy)
Get The Leadout Newsletter
The latest race content, interviews, features, reviews and expert buying guides, direct to your inbox!
Thank you for signing up to The Pick. You will receive a verification email shortly.
There was a problem. Please refresh the page and try again.
It was 4 o'clock in the morning when I saw it. A white mask floating in the blackness ahead of me; two black holes where eyes should be, a white ghost catching the glow of my dynamo light. Is this the spirit of gravel? It was coming closer and closer until…holy cow! Cow! Cow!
Two cows were headed straight toward me and my newfound riding buddy on a narrow gravel farm road somewhere in the middle of Kansas. I'd been on my bike for 13 hours straight at that point. I had slogged through concrete-like mud for hours and was in a serious sleep- and calorie-deficit. By now, I had fully accepted that I'd started hallucinating, but that wouldn't come for another few hours yet. We were simply encountering our first wildlife, some 170 miles into the Unbound XL.
Unbound XL: The Ultimate Test of Tenacity
The Unbound XL is a self-supported, 350-ish mile gravel race part of the world-renowned Unbound Gravel weekend in Emporia, Kansas. You start the afternoon before the marquee 200-mile event and ride through the night until you reach the finish line some 22 to 36 hours later. Rather than an overnight bikepacking race, this is a sleep-depriving adventure that tests your endurance, tenacity and equipment. There's no support; you're in charge of your own fueling and mechanicals, and you're required to bring or hire someone willing to drive out to the middle of nowhere to come get you should you need to bail or "scratch," as it's called in endurance events. It was first added to the weekend's programming in 2018, and it has steadily been growing in popularity. This year's cast of 191 crazies included the likes of WorldTour-roadie-turned-gravel-racer Ted King, ultra cyclist Jack Thompson, 2022 Life Time Grand Prix contestant Kristen Legan and last year's course record-setter Cynthia Frazier.
The sheer distance would have been enough of a challenge in itself, but Mother Nature had a little something extra in store for us. Thunder was rumbling in the distance as we lined up in downtown Emporia waiting to be unleashed at 3 p.m. sharp. It had been raining sporadically in the days leading up to the event, and the potential for tire-sucking mud was on everyone's mind. The thing you should know about Kansas mud is that it's unlike the wet, sloppy muck you see in most places. It's gritty, thick, and resembles concrete. It clogs up your drivetrain and fork in mere seconds, rendering the course unrideable and your bike immovable. When you're preparing yourself to be in the saddle for 24+ hours already, any time spent standing still is just demoralizing. Like many at the start, I came armed with a paint stick to help clear any mud off my bike.
We left Emporia accompanied by a police escort and plenty of fanfare. The pack was tense, jockeying for position, elbows out, like one does in a criterium. A left, a right, and another left, and we were zooming through the farm roads at race pace. Despite the long days ahead of us, the front pack meant business, and after riding for nearly an hour at an average heart rate of 182 BPM, the rubber band snapped. There was no way I was going to be able to maintain such a pace when we still had so very long to go.
I should probably mention that this was my first time pinning on a race number in five years. I never meant to race it; I saw this challenge as something I hadn't done before and also as a story opportunity. In between my work travel, I'd been making sure to ride consistently this spring, but even so, anything past 147 miles would make this ride my longest one yet. Thus, I merely set out to survive it. And what a survival journey it would become.
A Race of Five Segments
There were five convenience stores along the course, which we could use for filling up water and supplies. Thus, the event was organically broken up into five segments, each around 70 miles in length.
Segment 1: Time to find a posse
The first segment went fairly smoothly. Once I got popped from the front group, I found some new guys to ride and chat with. We took turns taking pulls, and when the initial rains came, we welcomed it. After the stifling humidity, the rain actually felt pleasant.
We reached the first convenience store at mile 75 in decent time, but it was clear that the fast start had burned a few too many matches for some. They plumped down on the concrete parking lot. Their belongings and gas station haul strewn about around them. I didn't have much of a strategy to get through the race, but I certainly wasn't going to waste too much time lollygagging at the stops. When one guy started prepping a full meal, and another pulled out a toothbrush and toothpaste, I knew it was time for me to go in search of a new posse.
Segment 2: The Mud and My Big Friendly Giant
Only one of the guys, his mouth still full of chips and the half-finished bag stuffed hurriedly in his frame bag, hopped on his bike to join me. This was Timo, a city mechanic from New Brunswick, Canada. Riding a Salsa Voyager frame with a stack height that came up to my boobs, Timo would become my Big Friendly Giant. When I asked him how tall he was, he answered, "About 6'4" — good to keep around in case of lightning." I admit that had indeed been my very first thought upon spotting him.
We would end up riding together for 150 miles. He was my companion through the darkness, the mud, the mechanicals, the sunrise, and the first cracks in fitness and sanity. Timo and I were well matched pace-wise, and when we rolled away from that first stop, we were gobbling up the miles hoping to catch Paige Redman. At the first gas station, someone had informed me that I was sitting in the top five of the women's category and a podium would be in reach if I could catch Redman, who had chosen to forego the resupply stop and was somewhere up ahead.
But then the mud came.
We were 100 miles in and it had gotten dark at that point. The sticky clay mixture clogged up your bike and wheels so quickly that folks were going over their handlebars, and derailleurs were getting sheared off. The bikes became immovable, forcing you to drag them along any which way you could, as they were too heavy to carry. I took to the tall, wet grasses on the roadsides, hoping for a car-wash effect.
Grit was making its way in between every chain link and cog. The chain fell off the pulley wheels and chainring every few feet. Half the time, I was using my bike like an adult-sized balance bike.
But trying to ride the grass was not without its own perils either. The ground was uneven and could suddenly disappear on you, making way for a ditch. Large rocks hid in between the grasses, slicing open tires or causing riders —myself included— to crash.
And then, there was the endless barbed wire that lined the paths and tore at people's jerseys and skin. This continued, on and off, for 30 slow and frustrating miles. Timo and I saw each other through. He helped me get my drivetrain moving again, and I helped him fix his flat. We high-fived whenever we could pedal again, knowing full well that there was more to come.
Somewhere along the way, I had caught Redman as well as last year's women's race winner, Cynthia Frazier. She told me this 352-miler was a "little too short" for her. I told her 352 was plenty enough for me. I was now sitting in second place. The podium was mine to lose, but in all honesty, this was a race of attrition. We hadn't even reached the halfway mark yet, and it was taking everyone much, much longer than anticipated. When we reached the second stop at mile 151, we learned that many riders had dropped out already. Some due to mechanicals, others simply said, "F$!* this!" and opted for a shower and bed rather than an additional 14 hours of "adventuring."
Despite everything, my energy was high. My legs felt good, and the clouds had made way for a bright and nearly full moon.
Segment 3: Cracks are forming
Cracks started to show on our way to the third resupply stop. We encountered more mud, and I was forced to sacrifice my valuable calorie-containing liquids in an effort to clear my drivetrain. I had gotten very behind on my fueling and my pace was dropping. I like riding at night, but I was looking forward to the sunrise and the boost of energy that light usually provides.
But with the sunrise came the heat and humidity. By now, I was hallucinating. Utilities poles and trees became humans, I saw orange shapes everywhere, and when I asked Timo if he, too, was seeing the lightning bugs I had been so excited to encounter, he informed me that there weren't any. He, too, was cracked, even more so than I was, so at the third resupply stop, some 225 miles in, we went our separate ways. I gave him a first bump and said "I'll see you soon" before pedaling ahead.
Knowing what I know now, going on without him is a decision I sorely regret. The results would have been the same, we each could have used the company, and it would have made the final third of the race far more pleasant.
Segment 4: All by myyseeeelf
I would not find anyone to ride with for the remaining 125 miles to the finish, and the solo riding got pretty dark at times. I wasn't having fun anymore, and I just wanted to be done. I was severely in the hole calorie-wise but also too nauseous to eat. The sun-baked plains were doing me in completely. I was already writing the headlines and ledes to the stories I'd write in my head. "Coming undone at Unbound," "I should have trained for this," "ultra cyclists are masochists,"...
The XL course had now merged with the 200-mile route where the pros were duking it out. The lead groups of the men's pro race sped by me as though I was standing still. Ian Boswell and Alexey Vermeulen were kind and gave me words of encouragement.
"Go get them, Alexey," I managed to shout back. "How are you even talking right now?" he responded.
Fake it till you make it. By now, there were many photographers along the course capturing the 200-mile races. I smiled and waved. But honestly, I would have cried. I just didn't have the energy.
Segment 5: One last gut punch
My lowest point was the last resupply stop with less than 40 miles to go. I grabbed much-needed water, coke and Gatorade. I went to the counter to pay but couldn't locate my money. The mud had taken my paint stick, most of my gearing, and now, my money too?
I plopped down on the ground in the middle of the store, utterly defeated. I must have looked a complete mess sitting there, covered from head to toe in mud, helmet and glasses askew, and slurring my speech from sleep deprivation. I emptied out every pocket, my vest and all my belongings until I found it. Tucked in safely in my vest pocket where it had been all along, was my credit card.
But my little victory was short-lived. When I stepped outside with my newly acquired bounty, the sky rumbled and a monsoon-like downpour fell from the heavens. Nope!
I stepped back inside but knew I'd have to brave the rain sooner rather than later. I had been moving so slowly for so long that I figured Frazier and Redman had long passed me. I no longer cared about the podium. I just wanted it over with. And so, I pedaled on.
But the day wasn't over yet. There was one last mud section ahead of me. It was carnage when I approached with pros and amateurs alike standing on the sides and uttering some choice words for Mother Nature and the course designers. I plowed through the mud determinately, only to suffer a flat the moment I got riding again. Oh, for f***'s sake.
The sealant wouldn't hold, and the Dynaplug struggled, but eventually, I was riding again, praying for the tire to hold. My wife was waiting for me at the finish. Watching the tracker, she was sending me countdown text messages that would flash on my Garmin screen. "Almost home!". "One last hill!" "You crushed it!"
Did I, though? Coming across that finish line, I was the one who felt crushed. Unbound's co-director, Kristi Mohn, awaited me at the finish. I told her those had probably been the least enjoyable two days I've ever spent in the saddle.
I somehow still pulled off a second-place finish —12th overall—, but it had cost me every ounce of perseverance I could muster. I do think that if conditions hadn't been so rough, I would have quite enjoyed myself. The conditions also accounted for the high scratch rate. King, Thompson, Frazier — many of the race favorites exited early. But I am happy to report that my BFG, Timo, finished not long after me in 14th place overall.
Now, days after the event, my carbon frame is off to the repair shop, and the blisters on my hands and feet are healing. And, because I have the memory of a goldfish, I find myself already analyzing fueling strategy, equipment, and things I'd do differently next time. Wait, next time? And this is how you get sucked into ultra-endurance racing…
My Unbound XL by the numbers:
- 352 miles (every mile after mile 147 made this my longest ride in some 6 years)
- 17,257 ft of elevation gain
- Elapsed time: 28 hours
- Moving time: 24 hours
- Time spent clearing my bike and plowing through mud fields: 4 hours
- Mud sections: At least 4, including one 2-hour section
- 125 miles ridden solo
- Gas station resupply stops: 4 (I accidentally and regrettably missed one)
- 1 broken paint stick
- 1 set of gloves that went into the trash afterward
- Half a dozen hallucinations
- 0 tears shed
- a hundred profanities uttered
- 0 desire to do this again
Fuel:
- Calories burned: 9,492
- Calories consumed: not nearly enough.
What I did consume was:
- 4 Skratch Labs High-Carb Drink Mix packets
- 5 x 1.5L hydrovest bladders of water
- 6 bottles
- 3 Gu gels
- 2 Maurtens 225 bars
- ½ a Honey Stinger Nut + Seed bar
- 1 Skratch Energy Chews
- 1 Sport Beans packet
- 6 Salt Stick tablets
- Caffeine gum
- 3 IbuProfen
Gas Station Food:
- Half an egg sandwich
- 2 Snickers
- 1 RedBull
- 1 Gatorade
- Half a coke
Interested in the bike I rode and the gear I used? See my Unbound XL gear check here.
Thank you for reading 20 articles this month* Join now for unlimited access
Enjoy your first month for just £1 / $1 / €1
*Read 5 free articles per month without a subscription
Join now for unlimited access
Try first month for just £1 / $1 / €1
Get The Leadout Newsletter
The latest race content, interviews, features, reviews and expert buying guides, direct to your inbox!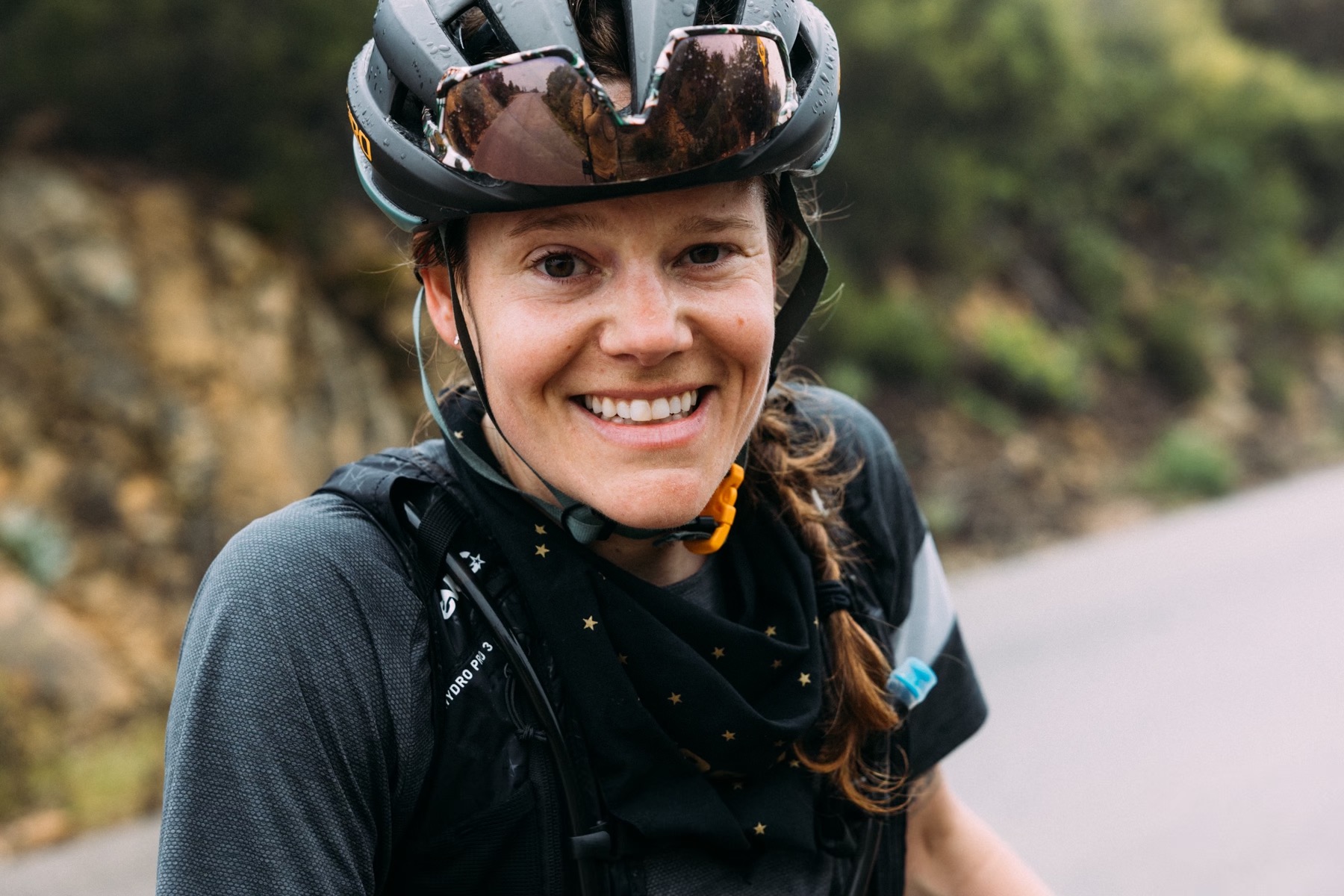 Cycling Weekly's North American Editor, Anne-Marije Rook is old school. She holds a degree in journalism and started out as a newspaper reporter — in print! She can even be seen bringing a pen and notepad to the press conference.
Originally from The Netherlands, she grew up a bike commuter and didn't find bike racing until her early twenties when living in Seattle, Washington. Strengthened by the many miles spent darting around Seattle's hilly streets on a steel single speed, Rook's progression in the sport was a quick one. As she competed at the elite level, her journalism career followed, and soon she became a full-time cycling journalist. She's now been a cycling journalist for 11 years.