A waist-high water crossing and hike-a-bike potential: the Unbound 2023 courses unveiled
The world's marquee gravel race heads south again but with some notable changes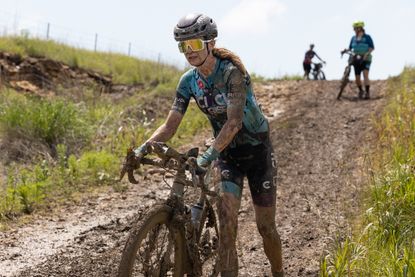 (Image credit: Snowy Mountain Photography)
Unbound Gravel, widely known as the world's marque gravel race, today announced its courses for the June event.
Taking place the weekend of June 3rd, the race through the Flint Hills of Kansas offers five race distances and attracts thousands of attendees to the small town of Emporia, in the middle of the United States.
The famous 200-mile course is a true test of endurance, self-sufficiency and equipment. In addition to needing to fuel oneself for 11+ hours of riding, the sharp flint rocks are notorious for slicing tires and dashing podium aspirations. Along the way, riders also need to contend with the undulating terrain, exposed sun-baked roads, headwinds and, if at all wet, soul-sucking mud. For those seeking the ultimate challenge, there's a 350-mile option, known as Unbound XL, which sees riders suffering for 24 or more hours.
Race director Ben Sachs has updated the courses of the ever-growing event, which will again head south but with some notable changes.
Unbound 200
The course details:
- 205.5 miles with 9100' of elevation
- 2 checkpoints
- 2 water refilling opportunities
- Second round of the Life Time Grand Prix race series
Highlights:
- Starting at mile 10, the so-called "D Hill" is a three-mile climb that hasn't been used since 2015 due to the potential of it becoming a muddy mess in case of rain. But after last year's mudfest, Unbound racers have proven themselves plenty capable of dealing with mud.
- 59 miles in, racers will be introduced to a new four-mile ascent affectionally named "Bee-Yotch hill," consisting of a little punchy climb followed by a curving doubletrack descent before the bigger climb.
- Starting at mile 96, riders will traverse the "Horse & Buggy Highway," a secluded road with curvy roller hills, finishing with a crossing over the Verdigris River, which was last used in 2016 when it was waist high.
- Returning for 2023 are the cattle pens early on in the course. These are private roads that can only be ridden on race days but mind the cattle!
- There will again be two separate ascents of Texaco Hill with valley views.
- Unbound wouldn't be complete without tackling Judge's Hill, a loose and rocky climb before heading into the town of Madison.
- And right before the finish, riders will again make their way into Emporia via an off-camber, curving descent onto an old repurposed railroad bridge.
Unbound XL
The course details:
- 352 miles with 3,539′ of elevation
- Fully unsupported, dot-watchers can follow the riders' GPS tracking devices
- 5 convenience stores along the course
Highlights:
- For 2023, race organizers reduced the number of resupply locations —in the form of public gas stations— to five. The first three resupply locations are some 75 miles apart, which will require riders to be capable of carrying their supplies a little bit further.
- A new hill has been added to the course that riders have never ridden before. This is the largest hill on course, with a total elevation gain of about 350 feet. Once riders crest the top of this hill right around mile 200 they have finished their hardest climb of the ride.
- Riders will experience new Chase County roads in the afternoon daylight on the first day with open range views along a creek.
- Between miles 124 and 225, the course looks very similar to its previous iterations with the exception of a promised "new fun section" between miles 196 and 214.
- Soon after mile 200 there is a bridge that is impassable by car. All riders will have to dismount and carry their bikes across the bridge
- At mile 225 the XL riders will join the 200 mile course in Eureka and the remainder of the course overlaps with the 200.
Thank you for reading 20 articles this month* Join now for unlimited access
Enjoy your first month for just £1 / $1 / €1
*Read 5 free articles per month without a subscription
Join now for unlimited access
Try first month for just £1 / $1 / €1