Dutchman Ivar Slik becomes first non-American Unbound 200 winner
New Southern route produces record times despite tricky conditions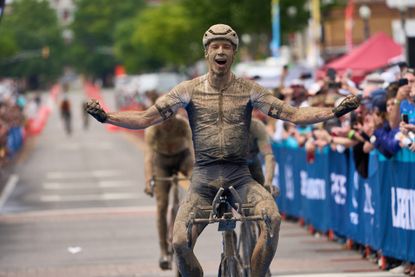 (Image credit: Life Time)
Ivar Slik won the Garmin UNBOUND Gravel 200-mile race Saturday after outkicking his breakaway companions in Emporia, Kansas, in a four-up sprint to the line. This feat makes him the first non-American to do so.
The Dutch rider had enough left in the tank to claim the win ahead of Life Time Grand Prix series leader, Keegan Swenson and last year's Unbound Gravel champion, Ian Boswell.
"This is the biggest gravel race in the world. That I could win it right away at only my second appearance, I never would have imagined," Slik told Cycling Weekly. "I am so very happy with this win. It's very special for me."
Also part of the winning breakaway, Laurens ten Dam finished fourth, rolling across the line a few seconds behind. Alexey Vermeulen was fifth after losing contact with the front group on the last climb.
Slik won with an unofficial time of 9:22:04, the fastest time yet at Unbound Gravel by nearly an hour. A new Southern route and low winds contributed to the record times.
The unsettled, wet and cloudy weather made the road conditions a slick and soupy challenge. Nonetheless, the winning breakaway began to form with 36 miles left when Slik, Keegan Swenson and Ian Boswell accelerated away from a select group of favourites. Vermeulen eventually caught the three, while Peter Stetina, who had been present in the early front group, lost contact and spent the rest of the race on the back foot.
The final rider to join the break was Laurens ten Dam, who spent some 120 miles riding by himself today. First on a daring solo attack and then again in a 40 mile chasing effort to catch the four leader. With just 12 miles to go, Ten Dam returned to the front once more, vying for the win.
And so a group of five headed to Gravel City while Stetina and Rob Britton continued to chase a few minutes behind.
The leaders started to attack each other as they approached the town, but nothing stuck until they came to Highland Hill, where Boswell, who went into the race as defending champion, was the first to attack after having crashed once and flatted three times that day.
"Laurens attacked through the campus, and then I launched it. Perhaps I could have waited but I figured I would maybe catch them by surprise. You never know," Boswell said.
However, he could not shake Swenson and the others but successfully dropped fading Vermeulen.
Ten Dam winded up for another attack once they reached the university, but Swenson neutralised the effort, and had enough left to come around Boswell for second.
"I thought I would try it once, otherwise it was going to be a sprint. And when my attempt failed, I knew Ivar would do it," Ten Dam told Cycling Weekly. Ten Dam knows Slik well, having trained with him 2-3 times per week over the past winter.
"I think it's a beautiful win for him."
If asked if he was disappointed to lose his crown, Boswell said he actually felt more proud about his race this year than he did last year.
"Last year I didn't know what I was getting myself into. This year I know more and [Top 5] was more than I had expected," he said.
"My wish for this race was that a super-strong rider with the panache of Unbound wins and Ivar did. He's always racing his bike you know, he rides hard, he pulls through and he was second at Locos as well so I'm super happy to see him win. I mean it was a stacked field," said Boswell.
"Him being the first non-American to win this race is a sign of the times."
Thank you for reading 10 articles this month* Join now for unlimited access
Enjoy your first month for just £1 / $1 / €1
*Read 5 free articles per month without a subscription
Join now for unlimited access
Try first month for just £1 / $1 / €1
A former pro, Clara Beard has been rooted in the cycling scene for more than 20 years. After working as a newspaper reporter for several years, her love of the sport prompted a full-time return as a journalist in 2011. Since then, Clara has reported on more bike races than she can count, both domestic and international.