Unbound Gravel destroyed my bike; a carbon repair shop gave it a second life
Frame damage isn't necessarily the end of the road for your carbon bike; carbon bike repair is possible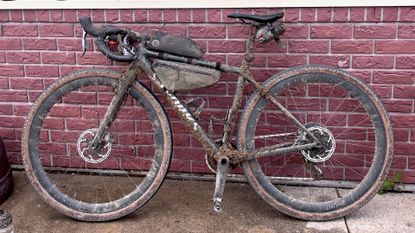 (Image credit: Anne-Marije Rook)
Unbound Gravel is known for its demanding nature. Challenging weather conditions, undulating terrain, a remote location and the infamous flint rocks — it's a true test of strength and endurance for rider and bike alike.
These epic conditions have been building the legend of Unbound for years, and the 2023 edition was no exception. Thunderstorms and downpours led to some horrendously muddy sections. But this wasn't regular mud. It was a sticky clay mixture that clogged bikes almost immediately, ripped off derailleurs, cracked frames and caused all-around carnage. This meant that a significant number of riders never reached the finish line.
I did somehow manage to plow my way through the 350-mile epic known as the Unbound XL, often carrying my immobile bike as I trudged through the mud for hours on end, and eventually crossed the finish line after 28 hours of 'racing'. While my bike, a barely five-month-old Specialized S-Works Crux, carried me through the arduous conditions, a quick hose down indicated it would not do so again without some repair and part replacements.
A quick tally of the damage done and items that needed fixing or replacing:
On the chainstays, seat stays and seat tube, the grime and grit had worn through the paint as well as most of the carbon. Certain areas were worn down to less than half a millimeter thickness of material.
Rusted headset bearings
Rusted bottom bracket bearing
Rusted chain
Rear derailleur had been pushed to its limits and was no longer properly engaging
Crunchy pulley wheels
Filthy and torn bar tape
While the rusted parts were easily replaced —and promptly upgraded to corrosion-resisting Endura bearings—the frame needed an expert's touch.
Luckily, I live in Portland, home to one of the best carbon repair companies in the country: Ruckus Composites. Founded by Shawn Small in 2008, the Ruckus team isn't just an expert in the field of carbon bicycles; it's also highly regarded for its work and scientific study in the aerospace industry.
Ruckus offers the most scientifically and structurally advanced inspection and repair process in the bike industry and backs it up with a lifetime guarantee on any repairs. Over the years, I've had a number of frames repaired and painted by these carbon wizards and knew my Crux —despite its superlight construction and intricate paint job— would be in good hands.
Damaging a carbon bike frame does not necessarily mean the end of its lifespan
There is a big misconception around carbon and its fragility. When designed and manufactured correctly, carbon fiber frames have a better strength-to-weight ratio than its aluminum siblings. However, carbon frames are indeed likely to fail in case of severe and direct impact. If you take a hammer to a carbon frame, you're likely to crack it, whereas a steel or aluminum frame would dent.
Still, a damaged carbon frame doesn't have to mean the end of its lifecycle. Should you develop cracks, scrapes or cuts in your carbon frame, it's quite possible to get them repaired — easier in fact than repairing a broken aluminum frame. In most cases, repairing your carbon frame is not only safe, it's also far more affordable and sustainable than replacing an entire fork or frame.
The Repair Process - What to Expect
The process starts with an expert inspection. Quite often, the extent of the frame damage is not visible to the naked eye. Delamination or fractures can occur below the painted surface, and most repair companies rely on ultrasound or X-ray technology to identify the damage. Inspection can be done either as a full-frame inspection or localized to a specific area.
At Ruckus, I got to play with one of the company's newest toys: the Olympus Omniscan X3. A spot checker, this small but mighty ultrasound machine can identify even the smallest flaws in the composite material. I knew the Unbound damage was worth an inspection but I hadn't known the extent of the damage or just how close the frame had been to failure — less than a millimeter!
Small inspected all the worn areas on my frame, and while some were merely cosmetic, the seat stay damage warranted repairs. Off to the repair shop it went.
There are some DIY kits and How-To videos out there that promote the use of carbon tape — basically a carbon fiber bandage that one epoxies to the frame. While this may be more cost-effective, for safety's sake, I'd highly encourage you to take your frame to an expert instead.
A good repair shop will first remove the damaged or compromised material, often by sanding, to ensure there is a clean, smooth surface for the repair. The technician will then create carbon fiber layups that match the fiber direction of the frame, using prepreg carbon fiber sheets or patches. The orientation and layering of the carbon patches are crucial to restoring the frame's strength and rigidity. The patches are bonded to the frame using heat curing and vacuum pressure. After curing, the repaired area is sanded for a smooth, even finish.
The frame is now structurally sound and in many cases, the repaired area, reinforced with fresh layers of carbon, may actually be stronger than before.
At this stage, one can choose to use the frame as is — with its battle scars proudly on display — or send the frame off to a paint shop.
Every repair job is unique and shops will have their own pricing for inspection, repair and paint. But it's bound to be a mere fraction of the cost of a new frame.
The end result
My 2022 S-Works Crux has an intricate, multilayer paint job Specialized calls "Gloss Carbon/Chameleon Silver/Green Granite/Limestone Speckle." I called it the 'Jungle Crux'. The paint features a leaf pattern and a top color that appears green in full sun yet purplish-black in the dark. It's one of those paint jobs you have to see up close and in real life to appreciate properly. It's also not one that's easily replicated. I fully expected my repaired frame to come back with black seat stays. Instead, Ruckus' in-house painter, Nick, a true magician, managed to match the paint almost imperceptibly.
Structurally sound and equipped with some fresh new bearings, the bike handles like new. A little battle-scarred in places, perhaps, but bonded to me now more than before the 352-mile epic and ready for its next adventure.
Thank you for reading 20 articles this month* Join now for unlimited access
Enjoy your first month for just £1 / $1 / €1
*Read 5 free articles per month without a subscription
Join now for unlimited access
Try first month for just £1 / $1 / €1