Campagnolo Ekar 1x13 groupset review
A deep dive into the "world's lightest" gravel groupset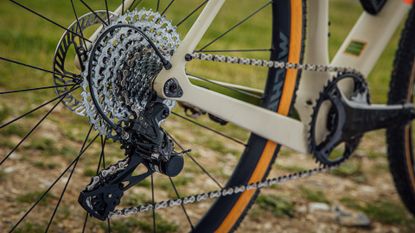 (Image credit: Future)
Campagnolo's Ekar is designed as a performance gravel groupset and for that it really excels. The braking is excellent and the simplicity of 1x is provided without any sacrifice to either the range or the jumps. It's what I'd turn to for fast gravel blasts and bikepacking races – but it's certainly not a low maintenance workhorse
Reasons to buy
+

Wide gearing range with tightly spaced jumps

+

Excellent braking

+

Great ergonomics
Reasons to avoid
-

Derailleur is very sensitive to set up
You can trust Cycling Weekly. Our team of experts put in hard miles testing cycling tech and will always share honest, unbiased advice to help you choose. Find out more about how we test.
Not only has Campagnolo brought the world its first 13-speed mechanical groupset, the Italian component manufacturer is claiming the crown of producing the lightest gravel specific groupset on the market.
If you are surprised by the brand jumping all in on gravel, perhaps you shouldn't be. Although founded in 1933 and steeped in tradition, Campagnolo has always been pushing innovation – the number of engineering firsts it's racked up over the years is deserving of an article in itself.
But back to the present. We've put this groupset through the wringer, racking up miles in the dry and the wet, in the mud and out on the road – there are some caveats, but on the whole Ekar has really impressed, so let's jump straight in.
The shifters
The only direct point of contact you have with a groupset is at the shifters – everything else is mediated, to a greater or lesser degree, by other components and accessories – so this is where we'll start.
In keeping with the quintessential Campagnolo experience, the thumb shifter has, of course, retained its presence. There has been an update to the design, though, with the new 'Lever 3' featuring a C-shaped swoop allowing access from both the hoods and the drops.
On technical terrain, my favoured position is to be locked into the drops – and from there the lever was always super easy to reach. Up on the hoods, the lever's position ended up being a little further back from where my thumb would naturally rest, but it was never a struggle to reach it.
To shift back up the cassette, there's a single lever behind the brake paddle. I felt its surface area could benefit from being a little larger, it was sometimes a bit of a faff to actuate it – particularly when wearing gloves. But the sensation of the shift itself was nice and tactile, perhaps the best way to describe it is as being halfway between a plunger and a ratchet – very satisfying.
Keeping the two shifters and brake lever completely separate in this way meant that I never mixed up the shifts or accidentally pulled on the brakes. Perhaps quite a basic point, but those have been perennial issues of SRAM's DoubleTap and Shimano's mechanical STI levers, respectively.
Braking
With their curved contours, the levers make it very easy to grab a handful in a hurry. Bulging out initially, they're quick to access from the hoods, while the swoop inwards makes them easy to reach from the drops.
To some extent, levers from other groupsets do this too – and in all cases, reach adjustment does help as well – but Ekar's elegant lever shape is particularly good.
Beyond just the levers, the whole braking system is a real highlight of the groupset. Naturally, personal preferences differ, but for me, I found the balance between power and modulation absolutely spot on.
To make a comparison, Shimano has revamped the braking of its new Dura-Ace and Ultegra groupsets to give super fine control at the very initial bite point, before ramping up and delivering oodles of power. The transition between those two extremes is really quite fast, resulting in the brakes feeling quite binary, either on or off.
Ekar, on the other hand, feels much more linear. You don't have the same feather-like touch at the start or quite that raw power at the end, but it's much, much easier to control. Ultimately, braking power is limited by your tyres' traction, and I can hoover much closer to that limit with Ekar than the new Dura-Ace.
The brake lines use mineral oil, similar to Shimano, rather than DOT fluid as SRAM uses. The pros and cons of each are numerous, but with the super-long shelf life and in being non-corrosive, I've got a soft spot for mineral oil.
Gearing
This really is the party piece of the Ekar groupset. There are four sizes of chainring on offer (38, 40, 42 and 44t) and three cassette options (9–36, 9–42 and 10–44t).
I'll be focusing here on the 9–42t cassette, as that's what I've been riding and it seems to be the one that's most commonly specced by bike brands.
With a total of five single-tooth jumps, the jumps between the gears you'll generally be spending most of your time on are nice and tight, allowing you to really fine tune your cadence on the flat.
With that diminutive 9t smallest sprocket, you can use a much smaller chainring without sacrificing any top end speed – and, as a result, the bottom gear is made that much easier, dispatching climbs with ease.
To put that all in perspective, let's take a Shimano GRX 2x11 setup with 46/30t chainrings and an 11–32t cassette and compare it with a 38t chainring and 9-42t cassette Ekar build.
Of these two setups, it's Ekar which has the greatest range – with both a larger top gear and a lower bottom gear than with Shimano GRX. Ekar also has more single tooth jumps – five compared to just three – which makes cadence changes across those sprockets smoother and less jarring.
The old criticism of 1x that the range is too narrow and the jumps too big has been completely and utterly turned on its head.
But Ekar's gearing does have its limitations. Although the first five shifts are nice and tight, the final five feature some pretty meaty jumps. Generally, this isn't so much of an issue – when reaching for a gear change on a super steep hill, you're typically after a significant shift, rather than a slight fine tuning to your cadence.
To split hairs, I did find the jump from the 21 tooth sprocket to 25 could cause an irritation on just the right sort of hill – substantial, but not quite steep enough to warrant getting out the saddle, I would find myself stuck between the two gears, not quite happy with either.
Application
With that great gearing, it's hard to escape thoughts about porting it over onto the road, but there are a few aspects it is worth bearing in mind.
For racing, I would worry about the efficiency losses from the chain wrapping so tightly around those tiny sprockets and while I never had the chain slip, I'd still be nervous for those more powerful than me sprinting on a 9t sprocket.
Right at the other end, the system also isn't quite right for a bells-and-whistles winter hack.
It's not that the cassette or chain wear particularly quickly – the sprockets still look good as new and the chain has hardly lengthened – but the shifting is very sensitive to setup.
Knocks to the rear mech hanger really make themselves known and I find myself making small adjustments to the cable tension much more than I do with 11-speed mechanical groupsets.
Although there is one fewer cable to worry about, you would end up making many more adjustments riding it through winter.
Verdict
As a performance gravel groupset, Campagnolo's Ekar really excels. It provides the shifting simplicity of 1x – but without the sacrifices to either range or jump between the gears. The braking performance really is excellent too.
For fast gravel blasts and bikepacking races, it is a compelling proposition. However, its sensitivity to setup and need for fine adjustment means it's certainly not a low-maintenance workhorse.
Thank you for reading 20 articles this month* Join now for unlimited access
Enjoy your first month for just £1 / $1 / €1
*Read 5 free articles per month without a subscription
Join now for unlimited access
Try first month for just £1 / $1 / €1