From Budapest to the mountains of Slovakia: our urban and gravel bikepacking adventure
The mountains, rivers, forests – both the gravel and tarmacked roads – it was all as stunning as it was unforgiving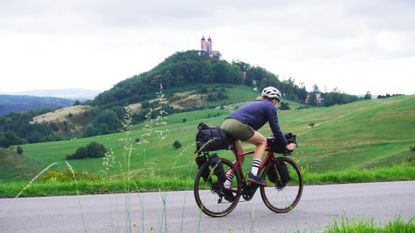 (Image credit: Stefan Abram)
Why Hungary and Slovakia? To be honest, at the point when we were planning our bikepacking trip, we couldn't fully tell you. But it's precisely that lack of awareness which ultimately convinced us to go.
Other than the capitals of Budapest and Bratislava, we weren't able to name any other cities of either country. Other than the 46 years they both spent behind the iron curtain – and being party to the Austro-Hungarian Empire – we knew essentially nothing of neither Hungary's nor Slovakia's history.
All it took then was a quick look at some topographic maps to confirm that we'd have some mountain ranges to look forward to – with that we were sold, only now to book the flights!
As it turned out, this bikepacking adventure proved to be the most amazing we've yet done. The mountains, rivers, forests – both the gravel and tarmacked roads – it was all as stunning as it was unforgiving.
We're never going to forget the kilometre of near vertical hike-a-bike, as a wrong turn saw us down on the valley floor nearly 250 meters below the road we were actually supposed to be on. Likewise the evening we were forced to stop riding by a downpour so heavy visibility dropped to just 20 meters ahead.
But it was incredible. If it wasn't for the pictures, we'd have lost count of the number of castles and cathedrals we visited. So many of which, we learnt, had been raised to the ground in the 13th century by the 'Golden Horde' commanded by Genghis Khan – the Mongolian Emperor who swept across Eurasia, destroying all but the strongest and most monumental fortifications.
There were natural phenomena such as one of Europe's largest ice caves (a chilly -2°C / 28°F degrees even in late summer) and more thermal springs and baths than we probably should admit to visiting. Time and again our understanding of the region – and its history – was expanded through the many (and excellent!) museums and national monuments.
Best of all, it wasn't expensive! The flights were quite cheap and camping most nights kept the accommodation costs down. Bringing bikes is always going to be fairly costly – but for the roads, views, towns and all the rest that you get to see as a result, it's by far the best way to really experience a country (in our opinion!)
So what's the point of this article? Potentially, not much. But if it gives anyone the inspiration they need to plan a similar trip, then that's an achievement we'll be happy with. And if it gives anyone the inclination to visit Hungary or Slovakia, well, we'd be even happier for having shared that!
Day 0: Flying to Budapest
It probably makes most sense to start at 'Day 0', the Friday we left for the trip. Not wanting to waste any time of our actual holiday, why wait with travelling until the Saturday?
Our flight was at 20:25 from London Luton, which easily gave us enough time to get our working hours done before checking in for the flight. On the other hand, it did mean that we were only going to be landing at 23:55 in Budapest.
True, Hungary is an hour ahead so it wouldn't feel quite as late, and we did have some accommodation booked very near the airport. But still, moving about a city at around 02:00 in the morning (the time we actually left the airport) is never a totally straightforward experience. Fortunately for us, the taxi driver we happened to meet was very accommodating!
Day 1: Budapest to Eger | 114.7km
In all, we grabbed about five hour's sleep that Friday night / Saturday morning, leaving the flat at around 08:00 to catch a train to the centre of town. We'd say that trains are the best option if you can possibly manage it. Bringing bike boxes onto buses can have a very mixed reception and we have been left stranded before – so not something we like to chance!
Once outside Budapest-Nyugati station (which confusingly means 'west', although the station itself is on the east bank of the Danube...) we opened up our bike bags and set about building up the bikes in the large and open public square.
Next was a short walk to the Brave Bike bike shop, which very kindly agreed to hold onto our bags for the duration of the trip – really great guys and we're eternally thankful!
That all took us to about 10:30, so the whole process was pretty full on. If we were to do it again, perhaps we would fly on the Saturday for a calmer start.
Then again, this way we were able to pack a lot more in! Our brief ride through Budapest took us past the Hungarian parliament building (modelled on London's Westminster and built not too long after – Budapest's is looking the much smarter one today).
Then, we cycled only halfway across one of the bridges over the Danube, so as to turn off and ride the 2.6km length of Margaret Island, which is slap bang in the middle of the river.
After that, it was about 25km of easy river cruising before climbing on gravel roads deep into the Duna-Ipoly National Park – an area of dense hills skirted by the Danube.
It was very tough going, but the tracks and trails were good – much better than many of Britain's bridleways, at the very least. Without the weight we were lugging, it would have even been quite fast and flowy in certain sections.
Ultimately, we were aiming for Visegrád Citadel, an imposing 13th century fortification (with subsequent iterations of defensive development) which was actually used as the finish in the first stage of this year's Giro d'Italia. It was almost surreal seeing it up close.
Just as a note, the Visegrád Citadel fell victim to the pillaging Mongols in the 13th century – and that's a story we're going to be hearing a lot more of over the course of this trip.
After looking around the castle, it was a fast descent down to the river to catch a ferry to the other side. The next nearest bridge was just to far to reasonably ride to, and our timing was pretty impeccable!
Once on the other side of the Danube the riding was mostly quite flat. But everything we'd already packed into the last 24 hours, the ride to Aszód was really quite a slog. We made it in the end, grabbed some food from the nearest supermarket and hopped on a train to take us across the flat lands and on to the next National Park, near the city of Eger – which we'd later discover is quite famous for its wine.
Now, a question you might have already pondered is whether or not you trains can be a part of a bikepacking trip.
Our position on the matter is: yes, absolutely. There's only so much holiday you can take per year, so it fully makes sense to cram as much as you possibly can into the days you have.
There was so much in both these countries that we wanted to see, and it just wouldn't have been possible to loop it all together in one unbroken ride over the course of two weeks – that is, if we were to actually spend enough time at each location to get a handle on its history.
Day 2: Eger to Hidasnémeti | 71.9km
After a night's camping outside Eger, we were ready to set off at 09:00 to ride through the Bükk national park, Hungary's largest.
Although the park is very hilly (rising and falling between 900 and 280-ish meters), it's also quite forested, so there aren't as many clear views as we were really hoping to see. That's not to say we didn't find any, though!
There was one outcrop which rose high enough above the trees. A vibrant green vista took up the horizon in one direction, whilst a strip-mined quarry juxtaposed itself on the other. Our ability with the camera really didn't do justice to the scale of it all.
After the gravel tracks all the way up, it was a tarmac descent down to the thermal baths on the edge of the national park, just before the town of Miskolc.
From the outside, the baths looked almost like a swimming pool or water park you might see anywhere else. But once you get inside, you see that this edifice has literally been built around the rock face and caves of the natural thermal springs – which make up a subterranean network large enough for us to get lost in.
Admittedly, not the highest bar for size and complexity, but you get the idea.
After that, we continued descending and cruising until we reached the old-town of Miskolc and stopped at literally the first restaurant we saw. For a land-locked country, you might not think of fish being so likely to be a part of the national cuisine. But fresh water sorts such as carp and catfish turned out to be a common (and delicious) staple.
Then all that was left for us was to catch a train to Hidasnémeti, the last Hungarian stop before the Slovak border. After our experience on the line between Aszód and Eger, where a live map showed the GPS location of the train along with the current speed and a host of other stats, the train this time was an utter contrast.
It was the sort where, when you open the door, steps fold out to take you down to the level of the tracks – a necessity, as it didn't take too long on our journey before station platforms gave way to dusty forecourts in front of tiny railway houses.
Inside the carriage, the lighting was dim and warm – polar opposite to the bright white LEDs we had travelled with before.
It culminated in an 'interesting' occurrence as we pulled into Hidasnémeti station. The sun had set a few hours ago, so the only lights we had to see by were faint and dimly glowing. The train pulled up, came to a stop and we got up to leave the carriage.
We had opened the door and were about to take the first step down the stairs when the train abrupted started rolling forwards again – which was a shock to say to least. Thankfully, we managed to quickly shut the door again and it was only a couple of hundred meters until the train came to a full and final stop.
We've never given too much of a thought to train door systems which will only allow you to open them once the train has actually stopped at its destination. But from now on we'll always be thankful!
Next was just a short ride to set up camp for the night and the next morning we'd make it into Slovakia.
Day 3: Hidasnémeti to Košice | 25.0km
After those heavy first two days, it was time to knock things back a little bit. To draw a pretty direct analogy with structured training: an optimal plan will intersperse some rest days amongst the hard ones, giving the body a chance to recover and come back stronger.
So it was 'just' 25km from the Hungarian side of the border into the Slovakian city of Košice. Back home, that'd be pretty much ideal as a recovery ride. But with the loads we were carrying and a cruel block headwind, it wasn't quite the easy spin we were hoping for.
Although cycling A to B is much more motivating than doing a loop (we'd recommend it wherever possible!), at least with a loop you do get the tailwinds and descents balancing out the headwinds and climbs...
Košice, the regional capital, has a long history, at the very least going back to the first half of the 13th century. Unfortunately, that means the city was also there for the mid 13th century and was another victim for the Mongol hordes.
Afterwards, like so many places across this region, the city was rebuilt and fortified, although sadly there's barely any trace of the city walls today.
Perhaps the best part is the St Elizabeth cathedral, which has a tiled roof that we'd happily argue is an aesthetic equal to that of St Stephen's cathedral in Vienna – if not quite on the same scale of size.
The St Elizabeth cathedral also turned out to be the eastern most medieval cathedral in Europe (the northern most is in Trondheim, Norway – you can definitely tell this is a set that must be completed...)
It also had the only double helix staircase that we've ever seen – didn't even know it was a possibility! Ascending that staircase is the culmination of a traditional pilgrimage route, but unfortunately we can't remember exactly where from.
We rounded out the evening with a trip to the Slavia restaurant, an establishment located in a former luxury hotel that was built in 1900, and is now serving haute cuisine traditional Slovak dishes. A very lovely evening by all accounts – and one which underlines our decision to go with more causal clothes than simply just bib shorts and skin-tight jerseys.
Image 1 of 3
Although there were people dressed much smarter, in a plaid shirt and airy top, we didn't feel as though we stuck out at all – at least significantly less than we would have in a standard cycling jersey!
Day 4: Košice to Margecany | 38.8km
If you can't have one full rest day, does two moderate days do the trick? We certainly felt better for it – and there was so much to see in Košice which couldn't be crammed into just one afternoon.
So we had a second day for sightseeing and hit out in the early evening to (hopefully) arrive at our campsite before it got too dark.
It goes without saying that riding heavily laden bikes slows you down and you should assume a much slower riding pace than on your weekend rides. We've got a pretty good idea of the pace we tend to average when riding as such.
What we didn't factor in was quite how much cumulative time stopping for so many photos really takes! As such, it was fully dark by the time we arrived. At least after the sunset there was much less reason to take out the camera…
Day 5: Margecany to Spišské Tomášovce | 70.8km
We hadn't heard of Spiš Castle before, but now it feels incredible that it wasn't on our radar. Although it is a ruin now, much of the outer walls are still intact and the scale of the complex is utterly massive – at about 41,000m², it's a fair chunk larger than even Edinburgh Castle which is a 'mere' 36,000m².
Originally built in the 12th century – so a good hundred years before the Mongols would come calling – it was constructed so robustly from the local limestone that this was one of the only fortifications which would actually successfully repel the Mongol invaders.
Something that in the current cost-of-living crisis we can all perhaps (somewhat) relate to, is that the cost of running and maintaining such as large castle represents a significant financial burden.
To lighten the load, the ruling family decided to no longer try and defend the outermost area of the walls – and to ensure that those fortifications couldn't be used against the defenders, the inner walls of the bastions were demolished so as to give a clear line of sight for the castle's defenders.
After (a very long) walk around the grounds, we were off on the next leg of our journey, towards the Slovak Paradise National Park, or Národný park Slovenský raj.
Stopping off at Smižany, a small village outside of Spišská Nová Ves, we had a lovely dinner on the veranda of a restaurant in the sun – and finished with a cautionary tale of the perils of Google Translate!
An old man passing by stopped and chatted to us, asking where we'd been and where we were going to (top tip: if you think that you may end up massacring the pronunciation of local place names no matter how hard you try, a map with your route does really help). As he left, we tried to say goodbye in Slovakian: "Zbohom!" – to which he promptly burst out laughing.
Turns out that Zbohom literally means something along the lines of "go with god". It's what you might say as a (very) final farewell to someone, or sometimes to children before they go to sleep for the night. The sound of the local church bells beginning to chime just as we said it capped the whole thing off perfectly for him!
Turns out that you should say "Dovidenia", similar to other Slavic languages, such as Polish: "Do widzenia" and Bulgarian: "Dovizhdane" – although in Cyrllic that's written: 'Довиждане'.
So, it is worth finding someone to chat to once you do arrive, just to run things by. At the very least, using online phrasebooks rather than Google Translate will mean that you don't end up using obscure turns of phrase that work as a literal translation, but not in practise.
Day 6: Spišské Tomášovce to Slovenská Ľupča | 36.2km
This day was going to be a big one. We had a 16km gorge walking loop along a ridge line of the Slovak Paradise national park, an ice cave to visit and after that a 90km ride to the place we were going to camp.
As you can probably surmise from the actual distance cycled this day, this didn't go 100% to plan…
Let's wind back to the beginning. We were staying at an inn the night before to charge up all our devices fully and get ourselves and our get properly cleaned up. Plus, for an early start, it's much quicker leaving a room than it is packing a tent.
To make full use of the day, we wanted to be walking at very first light, even making the most of the twilight before dawn itself. So that meant waking up at 04:30 to leave at 05:00, with the sun peaking above the horizon at 06:04.
Although bikes are great, they can't go everywhere and we got to see much more of the forests and rivers than we could have if we had kept just to the bikes – part of the reason we opted for flat soles shoes rather than SPD compatible models was to better facilitate this hybrid approach.
We managed to finish up with the hike by 11:45 – nicely on track – and next was just to get to the Dobšinská Ice Cave before 14:30 for the final tour of the day. At just 25km away, it shouldn't have been too difficult to make in the time we had – even with the nearly 600m of elevation gain we had to make up.
Everything was going quite smoothly and over some lovely gravel tracks – until we realised that we must have taken a wrong turn at some point and were now about 250m below where the road was.
By this point, it was far too late to turn back – if we were to have any chance of getting to the ice cave on time, the only way was up. So we made a turn, aimed for a poorly trodden track up to the road, and gave it a punt.
If you've ridden around mountain roads, you'll know what we mean about an incredibly steep bank from the road going down to the valley floor. Going straight up the side would have been impossible: we had to push the bikes obliquely to the road to try and smooth out the gradient as best we could.
GPS units can sometimes struggle with large changes in elevation and zooming in to quite small distances, but looking back at the data, we did 100m of climbing over a distance of 400m, which would put the gradient at 25%.
We pushed on as hard as we could and eventually managed to lug the bikes up to road level. After stepping on the pace for the descent, we even succeeded in getting to the ice cave just before the 14:30 cut-off.
We've both dug deeper in the past than we did on that climb, whether it's sprinting for the finish of a road race or chasing a particularly contested KOM. But what we can say is that we've never dug that deep for that duration before. We were totally drained and it was pure adrenaline and bloody mindedness that took us around the ice caves.
But we were so glad to have made it, the ice cave was like nothing we had ever seen. The largest in Slovakia, this one is also among the largest in Europe, despite only being discovered as late as 1870.
Stats about the volume of ice are bandied about, but to be honest it's hard to really visualise things like a volume of 110,100m³. The number that really stuck with us was that the thickness of the ice in the Great Hall goes down to 26.5m – incredible.
Less of a stat, more just trivia, apparently Karol Divín, a Czechoslovak figure skater, used to use the cave for training back in the middle of the 20th century.
With the adrenaline having passed from our system by the time we left, we were too shattered to face the 90km ride we had planned. A massive shame because it was literally all downhill and out have been the easiest cruise for racking up the distance. But as it was, even three hours of easy riding was beyond us at that point.
So we rocked up at the local train station – another without a platform – and slept through until our stop at Slovenská Ľupča.
What we assumed would be quite a straightforward evening going to a restaurant and then pitching camp for the night really did not turn out that way. Of the eight or so we knew of in the town, none of them were open that Thursday evening for some reason.
As we worked our way up the high street, the day was topped off by the most torrential downpour we had ever experienced. We literally had to stop because we couldn't see more than 20 meters up the road. Despite there being a building with a canopy quite close by, we were completely soaked through in just the minute or so of being out in the storm.
Fortunately we had a good supply of snacks, so we didn't go hungry that evening. Although getting all your calories from chocolate, biscuits and Jaffa-style cakes really isn't as fun as it sounds.
Day 7: Slovenská Ľupča to Martin | 15.0km
Waking up to a light drizzle again, we had gotten pretty quick at taking down the tent whilst keeping the inner portion mostly dry. The rainfly, on the other hand, was now in an almost perpetual state of dampness. It was at least getting aired – if wet – through the nights, but during the day it was sadly rolled up and kept in its water-trapping bag.
Which was actually doubly frustrating, as it only took a few hours each morning for the sun to burn off all the clouds and reveal the bright blue sky. At least we ourselves dried out quite nicely, if not the tent! A slower pace of travelling would give more opportunities to dry out our kit, but then we wouldn't have seen as much of the countries as we did.
Dare we mention it, but perhaps the solution would be a few more nights in some form of accommodation? Either that or try and travel at a less precipitous time of year!
Either way, we rolled into Banska Bystrica, an old mining town that was hugely important for its wealth and as a religious centre – which was also pillaged by the Mongols in the 13th century. More recently, Banska Bystrica was the centre of the Slovak anti-Nazi resistance when the national uprising began in August 1944.
That movement was defeated by the end of October the same year, but the resistance could count among their supplies at least two armoured trains – which is some pretty serious hardware for what was nominally an insurgency!
After spending the morning at the Museum of the Slovak National Uprising, we caught a train to the town of Martin. Turns out that despite boasting a 13th century church, the first mention of the town was in 1264 – so nothing concrete on whether or not the Mongols came raiding.