Best men's gravel bike clothing 2023: baggy and form-fitting kit for cycling off road
The gravel kit division is continuing to deepen - here's our top picks for men of the best on both sides of the aisle: both baggies and lycra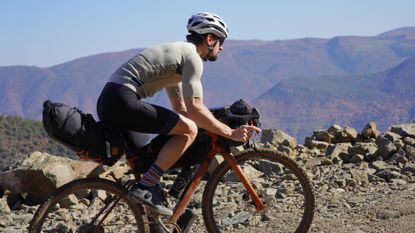 (Image credit: Anna Abram)
As a style of riding, it's true that 'Gravel' encompasses a truly massive variety of terrains, intensities, distances and approaches. From wide open dirt roads to technical descents, racing at the highest level to sociable and conversational rides - as well as the choice to ride short or long or break it up with overnighters.
Best men's gravel clothing 2023: Jump Menu
As you might expect, then, there is quite a range of gravel clothing out there, to best match those endeavours. Happily, though, the choice of kit is rather more straightforward: the first decision to make is whether you want to go baggy or form-fitting in your style of clothing.
If you're coming from road cycling, you'll probably feel most at home in the more figure-hugging kit. The best gravel jerseys and best cargo bib shorts are all very familiar to the best short sleeve jerseys and best bib shorts for use on the tarmac. The main differences being a greater use of natural fibers and additional pockets - sometimes in places which might surprise you!
The main benefits of this more 'roadie-influenced' gravel clothing include top-notch breathability, reduced chance of chafing on longer rides, lighter weight and better aerodynamics. Essentially, if speed and distance are important aspects of your gravel riding, this style of kit is best for you.
On the other hand, if you're coming from mountain biking or if you're new to cycling in general, baggies will be the closest match to what you'd typically wear. These tend to be harder wearing garments that will better put up with errant foliage on the trails. They also look more like 'normal clothes' - so if you don't want to attract too much attention in a pub or when sightseeing away from your bike, baggies are generally the better option.
I'll go into further detail at the bottom of the page. For now, let's jump straight into our round up of the best gravel kit for men.
The quick list
In a hurry? Here's a brief overview of the men's gravel clothing on this list, along with quick links that let you jump down the page directly to a review of whichever item of gravel clothing catches your eye.
Lightweight jerseys
Best lightweight jersey
1. Sportful Cliff Supergiara Jersey
The best lightweight gravel cycling jersey
This jersey is excellent for fast-paced rides in the heat. It's super lightweight, very fast wicking and has a low cut collar for comfort. I found the extra mesh pockets on the rear a bit of a gimmick and didn't use them much, but there's not really a downside having them and the overall jersey is excellent regardless.
Best for performance and practicality
The best gravel cycling jersey for performance and practicality
MAAP's Alt_Road Jersey has a similarly figure-hugging, race-oriented fit to Sportful's Supergiara, but incorporates a 47% merino wool blend into its construction. The jersey still uses some synthetic fibers (which help the stretch and strength), but its merino percentage is high enough for the antibacterial benefits - plus it's nice and warm!
Best for comfort
3. 7mesh Ashlu Merino Jersey
The best gravel cycling jersey for comfort
Another merino option - and with good reason: the natural fibers are naturally antimicrobial and anti-odour (helpful for bikepacking) plus the hydrophilic and thermal regulating properties are a boon when the weather takes a turn. On the other hand, merino jerseys are heavier than ones with synthetic fibers - although this one from 7mesh is particularly light.
Relaxed tops
Best for value
1. Endura Hummvee S/S Jersey II
The best relaxed gravel cycling jersey for value
Endura's Hummvee range actually predates the advent of Gravel - but the Scottish brand has since expanded it to cater for that segment too. Its loose fit means it doesn't look out of place away from the bike, but the half length zip means there's plenty of cooling. It has three pockets at the rear, but I find these flap about too much for use while riding.
Best for durability
2. Assos Mille GTC Jersey C2
The best relaxed gravel cycling jersey for durability
Very similar in function and form to the Endura Hummvee, but the Mille GTC benefits from Assos' Swiss precision when it comes to the fabrics and build quality. There's a proportional increase in price, but we find the longevity is often worth it. It's quick wicking, slim fitted, though still baggy, and it eschews rear pockets (aside from a zipper) - minimizing flapage.
Best long-sleeve gravel shirt
3. Scott Trail Flow Check Long Sleeve Men's Shirt
The best long sleeve shirt for gravel cycling
A departure from the style of the other two jerseys - if you really want a shirt you can both ride and socialize in, this is it. Although it might look like any old plaid shirt, it uses quick drying and highly durable synthetic fibers rather than heavy and easily waterlogged cotton. The use of sturdy poppers, rather than buttons, makes ventilation adjustments on the move easy.
Bib shorts
Best bibs for protection
1. Castelli Free Unlimited Bib Shorts
The best cargo bib shorts for gravel cycling protection
What really sets these cargo bib shorts apart is the Dyneema side panels, which is a highly abrasion resistant material and should help in the case of a crash - a much appreciated touch. The chamois is used in many of Castelli's shorts and leg material is great as ever. The straps could do with more stretch and the pockets don't have a top flap for security.
Best all-rounder
2. 7mesh MK3 Cargo Bib Shorts
The best all-rounder cargo bib shorts
The best products are the ones you just don't think about when riding, and the MK3 cargo bib shorts are exactly that. The Elastic Interface chamois is excellent, the fabrics are quick wicking and have plenty of stretch - plus the pockets have an extra loop of folded over mesh for complete security when storing your phone. Simply excellent.
Best for comfort
3. Assos Mille GTC Kiespanzer C2 Bib Shorts
The best cargo bib shorts for comfort
Aside from Assos' usual build quality and bombproof durability, these shorts are exceptionally comfortable with a markedly plush chamois and excellent all round fit. Like the 7mesh bib shorts, the cargo pockets have that extra fold for security. I also find they come up a little shorter than some other shorts, which I prefer and works better with over shorts.
Baggy shorts
Best for value
1. Endura Hummvee Short with Liner
The best gravel cycling shorts for value
These shorts are tech packed, with an integrated liner to make hours in the saddle more comfortable and integrated zip vents for ventilation. They've got plenty of pockets and the material is though and highly robust to content with everything out on the trails. The shorts are quite heavy, though, and pretty thick - so not ideal for the hottest days.
Best for performance
2. Assos Mille GTC Zeppelin Cargo Shorts C2
The best gravel cycling shorts for performance
Almost the polar opposite, Assos' shorts are super lightweight and paired down. They lack the variety of pockets, but they are highly comfortable even in hot spells - plus their feathery weight means that you hardly notice them while riding. On the other hand, they look more 'cycling specific' than Endura's shorts, so the versatility in that aspect isn't as great.
Our pick of the best gravel clothing
You can trust Cycling Weekly. Our team of experts put in hard miles testing cycling tech and will always share honest, unbiased advice to help you choose. Find out more about how we test.
LIGHTWEIGHT JERSEYS
The best lightweight gravel cycling jersey
1. Sportful Cliff Supergiara Jersey
Best lightweight gravel cycling jersey
Specifications
Sizes: S - 3XL
Colors: 8
Pockets: 6 (3 standard + 3 mesh)
Reasons to buy
+
Super light
+
Very breathable
+
Supportive pockets
+
Quick drying
If you're a seasoned roadie, you'll feel right at home in this jersey. It has a figure-hugging fit with plenty of stretch - just as you'd expect from the best short-sleeved jerseys designed for the tarmac. No part of the jersey flapped in the wind - and the low cut collar further minimized issues there - nor was the jersey too tight in any area, with the hems fitting perfectly.
The fabric is more towards the 'mesh' end of the spectrum, contrasting with the tighter weaves you see in aero jerseys designed for the road. I really appreciated the greater cooling of this fabric choice, as the slower speeds of gravel means that you don't get the same airflow compared to road riding, so your heat tends to hang around a little more.
The one criticism I would make is that the double row of jersey pockets is a bit of a gimmick. Sure, the extra layer of three mesh pockets attached to the usual three pockets of the jersey does allow for greater organization - you can better separate your wallet from your phone and your pump from your tools etc.
But it doesn't greatly change the actual volume of things you can carry in your jersey pockets, and it's hard to get the best out of the organizational gains given that you can't easily tell which pocket you're putting your stuff into. Still, it doesn't really detract from an otherwise excellent jersey.
The best gravel cycling jersey for performance and practicality
2. MAAP Alt_Road Jersey
Best gravel cycling jersey for performance and practicality
Specifications
Sizes: XS - XXL
Colors: 5
Pockets: 4 (3 standard + 1 zipped)
Reasons to buy
+
Warm and great in the rain
+
Excellent skin-tight fit
+
Supportive pockets
Reasons to avoid
-
Greater use of synthetic fibres than merino
First off, I'm going to have to disagree with MAAP's temperature rating for this jersey. True, the thermoregulative properties of merino wool do extend to both ends of the spectrum, with the hydrophobic fibers helping with the wicking of sweat and, in being naturally antimicrobial, it helps with any smells, too.
But that doesn't change the fact that those hot weather properties are best exemplified when the fabric employed itself quite lightweight and thin. A thick merino jersey is, first and foremost, best suited to colder conditions - and I would put MAAP's Alt_Road jersey in that end of the spectrum.
That's not to say it doesn't perform in the heat - on the contrary, I've been comfortable riding in conditions up to 28°C / 82.4°F in this jersey. But where I've found this jersey to be at its very best is when the temperature is around 16°C / 60°F and it's persistently drizzling.
The moderately thick fabric does a good job at holding in heat, plus - one of the best features of merino wool - it retains its warmth when wet, meaning you can just ride through the rain (in mild to cool weather) without the need to pull on a rain jacket.
The best gravel cycling jersey for comfort
3. 7mesh Ashlu Merino Jersey
Best gravel cycling jersey for comfort
Specifications
Sizes: XS - XXL
Colors: 4
Pockets: 4 (3 standard + 1 zipped)
Reasons to buy
+
Lightweight
+
Wicking
+
Great in hot conditions
Reasons to avoid
-
High merino content means it's not as form fitting as more synthetic jerseys
This jersey has a particularly rich blend of merino wool in its construction (89%). Not all merino jerseys use quite so much - in fact, most don't. For context, the MAAP Alt_Road Jersey is only actually 47% wool. To some extent more does equal better. The antimicrobial properties are greater with a higher blend of wool - and there is something about the particular soft comfort you get as well.
On the other hand, merino wool simply doesn't have the same elasticity as synthetic fibers. 7mesh mitigates this by adding 11% nylon into the mix, but still makes for a looser fit than the skin-tight MAAP Alt_Road jersey.
Still, the thinner material and that less figure-hugging fit means that the 7mesh Aslu Merino Jersey performs better in hot weather compared to the Alt_Road Merino jersey - although it also means that cold breezes cut through it a little more easily on colder days.
The great innovation of the Ashlu Merino Jersey is the pockets being made from a separate material. As mentioned, merino wool doesn't have the best elasticity, and so traditional merino jerseys tend to suffer from sagging pockets. The polyester and elastane blend used for the pockets of this jersey are much more supportive and can be stuffed with a hefty amount of kit.
RELAXED JERSEYS
The best relaxed gravel cycling jersey for value
1. Endura Hummvee S/S Jersey II
Best relaxed gravel cycling jersey for value
Specifications
Sizes: XS - XXXL
Colors: 4
Pockets: 4 (3 standard + 1 zipped)
Reasons to buy
+
Excellent value
+
Cool and wicking
+
Relaxed cut
Reasons to avoid
-
Easy to overweight the rear jersey pockets
If you're in the market for a relaxed top, you're probably more interested in the ride itself rather than your elapsed time or power numbers. If that's the case, marginal gains probably also don't mean as much as durability and good value.
Happily, Endura's Hummvee Jersey II represents an excellent option for that style of riding. It's around half the price of those tighter fitting tops, but still offers excellent sweat wicking for comfort in the heat - plus the half length zip and general flowing feeling of the jersey helps to boost airflow too. Quite simply, it's an excellent summer jersey which you won't feel self-conscious wearing when stopping by a pub for lunch or evening meal.
Similar to the Sportful Cliff Supergiara Jersey, it does have a downside. But, again similar to the Supergiara, it's not one which necessarily represents much of a real world problem. The issue is the rear jersey pockets - with the jersey being so loose, if you store anything with some weight to it (such as a phone), then it flaps about and pulls on the jersey.
It's handy being able to store things in the pockets when hanging around a cafe, but they're not so useful when riding. At least there's a simple solution: don't use them. Sure enough, many relaxed gravel jerseys don't have triple jersey pockets at all because of this reason.
The best relaxed gravel cycling jersey for durability
2. Assos Mille GTC Jersey C2
Best relaxed gravel cycling jersey for durability
Specifications
Sizes: XS - XLG
Colors: 4
Pockets: 1 (zipped side)