Best short sleeve jerseys 2023 for summer and indoor riding
The classic short sleeve jersey is the staple item of any good cycling wardrobe and here are some of the best with our favourite designs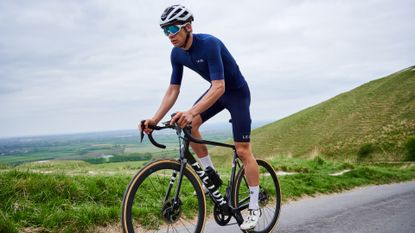 (Image credit: Future)
The best short sleeve jerseys can dramatically improve your comfort and confidence on the bike. A short sleeve cycling jersey is an essential if you're taking your riding indoors, too, as it can serve double duty if you don't want to buy specific indoor cycling clothing.
There is a plethora of choices of short sleeve jerseys out there - with something to suit most preferences and bank balances while maintaining the best quality.
Many of the best short sleeve jerseys featured in this guide will have male and female versions, but head over to our guide on the best women's cycling jerseys for specific fit options.
A fabric that offers a great deal of stretch will be ideal and you'd expect it to be quick wicking and fast drying. More premium jerseys will feature laser-cut sleeves or silicone grippers at the cuffs and waist. If it's full arms you're after, then our page on the best long sleeved cycling jerseys is the one for you. If you're actually after something much warmer, you might find your perfect piece in our guide to the best winter cycling jackets.
Here's a look at some of the best jerseys we've tested, and there's a little more insight into what to look for further down. Looking for cheaper cycling clothing? Check out our round-up of the best affordable options
Our pick of the best summer cycling jerseys
You can trust Cycling Weekly. Our team of experts put in hard miles testing cycling tech and will always share honest, unbiased advice to help you choose. Find out more about how we test.
Best cycling jersey for premium fit and feel
Specifications
Sizes: XS - XXL
Colors: Three
Pockets: Three rear pockets
Reasons to buy
+
Breathable
+
Durable
+
Good fit
Reasons to avoid
-
You can get jerseys with similar features for a lower price
With a bit more of a relaxed fit than some Assos jerseys, the Mille GT is a good bet for training rides and longer outings. It's made of a range of technical fabrics and comes with a UPF50+ rating, so sunburn shouldn't be an issue, while the raw cut sleeves are made of the same fabric as Assos's racier jerseys.
Like the Le Col Hors Categorie jersey, the fabric is a bit thicker than some summer jerseys, which means the Mille GT doesn't breathe quite as well, but it does up durability and usefulness in cooler conditions.
Read more: Assos Mille GT jersey full review
Best aero cycling jersey for versatility
Specifications
Sizes: XS - 3XL
Colors: Four
Pockets: Three rear
Reasons to buy
+
Deep, secure pockets perfect for storing food and tools
+
A snug, sleek fit, shaping perfectly to the rider made it comfortable and lightweight to wear
+
Breathable panels ensure great moisture wicking capabilities
Reasons to avoid
-
Fit may be tight for some people's liking
-
No choice of block colors, only a selection of fades.
-
Sleeves are a little long
This is an aero jersey at heart, yet thanks to some thoughtful design points, the Aero Race 6.0 is much more than something you just save for race days. As a matter of fact, this is one of the most versatile and comfortable jerseys our tester has had the pleasure of testing.
Deep pockets make it a practical option for group rides, whilst large breathable panels make this an excellent jersey for a long day in the saddle under the summer sun.
The sleeves have a seamless, raw cut finish that provides a silky, secure fit. Though you will find that these sleeves are longer than your traditional jersey, this is to provide an aero advantage but also a better fit.
Read more: Castelli Aero Race 6.0 jersey full review
Best lightweight summer cycling jersey
Specifications
Sizes: XS - XXL
Colors: Five
Pockets: Three plus zipped rear pockets
Reasons to buy
+
Recycled content and Bluesign approved
+
Soft sleeves
Reasons to avoid
-
Limited reflectives
-
Pockets quite hard to reach
Boasting its Pro Fit, Aussie brand MAAP's summer weight jersey is snug and aero. It's made from 70 per cent recycled fabrics and is Bluesign approved. MAAP has also upgraded the pockets to avoid sag even when we loaded them up with the full range of tools, food and phone - although we did find their high position on the back a bit awkward to reach.
We really rated the comfort, particularly of the raw edge sleeves and airflow is impressive, although in the light 'gargoyle' color we had on test we did collect sweat marks from the wicking fabric.
Read more: MAAP Evade Pro Base Jersey 2.0 full review
Best close-fitting cycling jersey with zipped valuables pocket
Specifications
Sizes: XS – 3XL
Colors: Four
Pockets: Three rear pockets and one zipped side pocket
Reasons to buy
+
Great fit
+
Comfortable fabric
+
Well supported pockets
Reasons to avoid
-
Silicone arm grippers are a bit uncomfortable
-
High price
The Le Col Hors Categorie summer jersey is Le Col's most expensive summer option, designed for all day riding comfort. We tested the first generation of the jersey and found that its fabric has a silky feel and is a bit more substantial in feel than many summer numbers . The cut is close without being too tight, it's quick wicking and breathable (if slightly less so than the Castelli Climber's jersey).
The silicone arm grippers keep the sleeves from riding up, but they extend all the way up the inside of the sleeve to the shoulder, which we found detracted a bit from the otherwise excellent comfort on offer.
Read more: Le Col Hors Categorie jersey (first gen) full review
5. Santini Redux Speed
Best lightweight aero cycling jersey
Specifications
Sizes: XS - 6XL
Colors: Four
Pockets: Three rear
Reasons to buy
+
Snug, comfy fit
+
Huge size range
+
Mid-length sleeves
Reasons to avoid
-
No zipped valuables pocket for training rides
-
Very high pockets
This is an extremely tech-packed jersey utilising some particularly fancy materials. The fabric feels exceptionally thin, holding it in your hands it feels almost like rice paper - until you press or stretch it, and get a sense of the generous degree of elasticity. The result is that when wearing the jersey, it hardly feels like it's there, conforming itself completely to your body, with no excess material and no flapping.
Running your fingers over the arms and upper shoulders, you can feel the ridges of those evenly spaced lines, which are supposed to 'trip' the airflow and reduce the size of the low-pressure wake behind the rider. It's a marginal gain employed by many at the very top level of the sport - which can make a nice psychological boost for you in your own riding.
But in terms of the perceptible difference it makes to your riding speed, this isn't something that's noticeable - although the same is true for all aero-optimised jerseys. The Santini Redux Speed is an exceptionally expensive jersey - but if you want all the bells and whistles, then you can be safe in the knowledge that this jersey has them. And if you want to make a saving, you can be equally safe in the knowledge that whatever alternative you go for, you won't be noticeably slower. But the Redux Speed sure does feel good.
Best summer cycling jersey for style
Specifications
Sizes: XS – XL
Colors: Four distinct jerseys, each reversible
Pockets: Three pockets (per side)
Reasons to buy
+
Two top half colors from one jersey
+
Quality materials and finish
+
Comfortable fit
The Invani reversible jersey works well to give you two color options for the price of a single-sided jersey, without the inside color being evident. It's very well made with quality fabrics and detailing, with a fast, stylish look that makes you feel racy.
The Italian fabric with a mix of high elastane content with polyester, along with mesh side panels, makes for a close fit that we found works even when the temperature hits 35 degrees C.
Overall, we found Invani's offering to be a brilliant summer jersey that keeps you looking fashionable whatever the temperature. And it's a great option for all-day rides and multi-day tours too.
Read more: Invani reversible short sleeved jersey full review
Best race cut cycling jersey for comfort
Specifications
Sizes: S – XL
Colors: Three
Pockets: Three rear
Reasons to buy
+
Super soft fabric
+
Classy design
+
Comfortable yet race-cut fit
Reasons to avoid
-
Sleeves are a little loose
-
Price
At a featherlight 103 grams and made from a super soft and silky feeling fabric, Pearl Izumi's Interval jersey barely feels like it's there and is a great option for warmer days.
It features coldblack technology which is designed to reflect infrared rays for cooler summer running - we found that it lives up the this claim and performs well in hot conditions.
The collar is low cut, causing zero restrictions even when the jersey is done up completely. The only drawback is that Pearl Izumi has chosen to only add three basic rear pockets to keep the weight down.
Read more: Pearl Izumi Interval jersey full review
Best relaxed cycling jersey for versatility
Specifications
Sizes: XS - 3XL
Pockets: Three rear plus one zipped
Colors: Six
Reasons to buy
+
Comfortable
+
Strong seams
+
Multi-season
+
Multi-surface
+
Welcome relaxed feeling and aesthetic
Reasons to avoid
-
Sizing choice needs special attention
The Castelli Unlimited jersey is a premium cycling jersey aimed at the 'all-road' market: riders who like to continue riding beyond the tarmac, finding new routes in familiar locations.
We found this jersey to be one that will suit most riders across many months of the year. It's just as at home on a road ride as it is on adventures further afield, and it doesn't ever look out of place regardless of what bike you're on.
After some initial sizing debate, we found this jersey to fit well and be comfortable to wear – across a range of temperatures, too.
Warm when it needed to be yet breathable enough when we'd worked up a sweat, if you're looking to invest a bit of money in a jersey that should last you for many years to come, then give this a look.
Read more: Castelli Unlimited jersey full review
Best relaxed cycling jersey on a budget
Specifications
Sizes: S - XXL
Colors: Four
Pockets: Three rear plus one zipped
Reasons to buy
+
Zipped key pocket
+
Versatile layer
+
Full length zip
+
Hard wearing
Reasons to avoid
-
Baggier sleeve design catches air
The Altura Endurance is a short sleeved, single color, semi-fitted jersey. The main body zones feature a high wicking merino mix fabric, while the arm and underarm areas are made from a knitted mesh fabric.
The looser cut is comfortable and we found that it allows a base layer to be worn underneath on cooler spring or fall days without the combination becoming overly tight. In the heat of summer it can worn as a single layer and the semi-fitted nature suits more relaxed rides. The wider sleeves allow a little air up them, while the looser cut in the front panel flutters in the wind a little, luckily it does this silently.
It has been washed about 30 times now, at 30 degrees C. using a gentle detergent, and there has been no discernible wear or bobbling of the fabric. Overall, Altura's offering has proved to be a hard wearing, good looking and versatile garment.
Read more: Altura Endurance Short Sleeve Jersey full review
What to look for in a cycling jersey
Looking for other kit to pair with your jersey, check out our guides to the best cycling shorts, best gilets, best arm warmers and best leg warmers and knee warmers.
Pockets
We always advise you to take a mobile phone out on your rides for emergencies, but you don't want to be constantly worried that it may fly out of your rear pocket if you hit a bump or move around on the bike. Shallow pockets or ones that are too loose are no good for one of the best bike pumps, while a zipped compartment and deeper pockets add peace of mind for valuables.
Fit
The fit of a jersey is important in terms of comfort and appearance. If it's cutting into your waist with an overly tight silicone gripper, you may look like you have a spare tyre even if you don't! Alternatively, one that leaves too much room will bunch, wrinkle, and flap in the wind. A good cut can flatter and make you feel like you own the road.
Material
We've seen one or two of the Tour de France riders with nasty sunburn due to mesh jerseys and a lack of sunscreen. Have a think about the conditions in which you'll be riding and consider the thickness of the material you may need to stay cool — especially if you live at altitude.
A wicking material is key to ensuring you don't end up soaked in sweat for the whole ride.