Best bike pumps 2022
With the best bike pump you'll never be left short of air in your tyres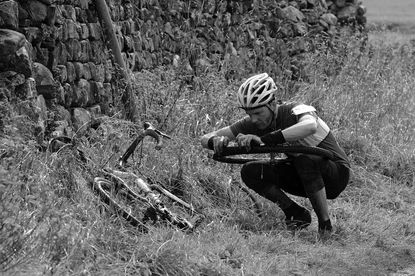 The best bike pump is an indispensable piece of any bike tool kit. Whether it's getting your tyre pressures right at home, critical to having a good ride, or the ability to inflate a flat tyre mid-ride, owning a top quality bike pump will be one of the best investments you make as a cyclist.
Achieving just the right level of air pressure pre-ride will be easy to achieve with a good, quality floor pump (also known as a track pump) while getting you home safely post puncture will be the responsibility of a mini pump you can take with you on your ride.
Both have important roles to play in a cyclist's life, with the best bike pump forming the very foundation of every safe and enjoyable bike ride. If you are getting lots of punctures, you might find it's also time to invest in a pair of the best road bike tyres, or if you're more of an adventure cyclist, a pair of the best gravel tyres and to think about going tubeless.
An ideal floor pump will enable you to get tyre pressure just right for each ride, adjusting for conditions. In winter, you should run lower pressures to improve grip on wet roads, whereas in summer slightly higher pressure means less rolling resistance and helps you cover longer distances more easily.
A mini pump is hopefully more of an insurance purchase, and one of those items that you won't use often. When you do require its use, it'll be worth its weight in gold. There's not much worse than getting a puncture mid-ride and discovering that your pump is woefully inadequate, resulting in a ruined ride on squishy tyres, after a half-hour long arm workout as you desperately try to reach an acceptable pressure level to get home on.
Jump to tips, including what to look for when making a purchase
Best bike pumps: Mini pumps
The Lezyne Carbon Drive Lite Mini pump is the perfect cycling accessory for anyone wanting to balance the need of carrying an effective pump without a weight penalty.
Capable of both Presta and Schrader valves, this lightweight carbon bike mini pump comes with a hose extension stored in the barrel to give a slight distance between the wheel and pump for ease of use.
At 17cm long, it's shorter than others, such as the LifeLine Performance Road mini pump, but on test we found that it took 200 strokes to go from flat to 100psi, which is far better than most of a similar size.
The down side is that in order to reach such a high psi, the pump does become uncomfortable to hold, and it is pretty awkward to attach to the valve in the first place.
Should you over-pump, there's a pressure relief button that allows you to let some air out. This tiny pump is small enough to slot into a pocket, but also comes with a mount that can be attached to a bottle cage.
It's not the cheapest bike pump by any stretch, but if you're wanting functions and performance as well, this is one of the best mini bike pumps out there.
Read our full review of the Lezyne Carbon Drive Lite to learn more.
A light aluminium construction, this pump is connected directly to the valve, without the need for any assembly or an extra hose.
At just 160mm long and weighing only 65g, it is one of the smallest bike pumps on the market, and easy to fit in a jersey pocket or even a saddle bag. If you are already packed to the rafters, the mini pump even comes with a frame mounting kit for either side of the bottle cage, or an optional extra centreline mount (although check the brackets fit on your tubing shape before investing).
The claimed 160psi seems slightly keen, as on test 200 strokes only got us to just above 60psi on a 23mm tyre. It's more than enough to get you home or back to race HQ, but not as impressive as the Lezyne Carbon Drive Lite Mini pump, although to be fair it was comfortable in the hands when using.
Read our full Topeak Microrocket AL review to learn more.

Technically we wouldn't really include a product that hadn't hit high scores on test, but the iPump Twist mini pump will appeal to a lot of riders, so it's good to know what you're getting in the claimed 'world's lightest bike air pump' and where you'll have to decide if the performance compromises are worth it.
Tipping the scales at just 25g, it really will be hard to beat the barely-there mini bike pump on weight. Even the best CO2 inflators will struggle to beat this flyweight, and of course, it's arguably more environmentally friendly in that it's reusable.
A thin, Presta-only hose is pulled out of the handle when it comes time to put it to use, which does increase the usability of the full carbon fibre pump, and helps to keep that weight to the same as most energy gels.
On test however, we found 200 strokes only got us to 60psi, but this alone took quite a lot of effort, and the body of the pump became quite hot.
It's a mixed review, but if you're just looking for an emergency option and saving weight and space are your priorities (and truth be told you're just showing willing that you do carry a pump, but know that you'll borrow the bigger and heavier option that your cycling mate always carries) then it might suit you just fine.
Read our iPump Twist mini pump review.
A digital gauge on this mini pump from Lezyne will give you accurate tyre pressure measurements to a realistic and achievable maximum inflation capacity of 90psi, out in the middle of nowhere.
On test we found that the hard-wearing aluminium pump was swift and efficient at reaching desired PSI's, more than just get you home levels and, cross checked with a regular gauge, actually really accurate.
Its length and weight are heavier than some of the other bike pumps, especially when compared to the likes of the iPump Twist mini pump or Topeak Micro Rocket AL mini pump but it can still easily fit in a jersey pocket. Just watch for losing sight of the dust cap.
It's a great bike pump for several reasons, but if the price is putting you off, it's worth bearing in mind that it can potentially save you the additional outlay of having to purchase a pressure gauge, assuming of course that you are not wanting to seek psi's over the maximum volume.
THere's more in our Lezyne Digital Alloy Drive minipump review.

Crankbrothers' pump has lots of hidden features that collapse into a tidy and small design. It has a T-handle, similar to that of the Blackburn Airstik Anyvalve mini pump, which along with the flexible magnetic hose, helps to make connecting with the tyre valve and inflating tyres easier.
At the head of this great mini bike pump is a concealed pressure gauge and CO2 inflator, if it's more than a get you home pressure you're after. We found using when air pump only that getting a reasonable 'ride home' pressure took some effort, and think the 130psi claimed is more realistic using the CO2 aspect (just remember to replace the canister if you do use it).
With all these extra parts it weighs in at a heavier 170g, around 30g more than the above mentioned Blackburn.
It's one of the longest mini pumps on the market, although on test we found the extra length actually made the pump a bit wobbly at full extension, even though the actual barrel length at 12.5cm is quite short.
Read here for a full review of the Crankbrothers klic hp gauge+co2 pump.

Straddling both the portable mini bike pump and floor bike pump camps, the Topeak Mini Morph G transforms roadside flats back to your ideal tyre pressure thanks to its long barrel, fold-out footplate and handle for great leverage.
Obviously this does incur a slight weight penalty, but not much more than the Lezyne Digital Road Drive mini pump, or Crank Brothers Klic Hp gauge and CO2 mini pump, which are the best bike mini pumps which also provide gauge meter readings.
On test we found that the wide and long barrel together gave great air per stroke rate, but at 35cm in total length, it wasn't exactly pocketable, so relied on its frame mounting brackets. This does mean you'll probably lose one of your bottle cages (unless you can secure it safely and have space on the underside of the top tube, which depending on your frame size, might mean fitting side opening bottle cages).
All the compromises you might have to make in fitting and carrying will be worth it however when you do use it, with the ease with which it inflates tyres from totally flat to perfect PSI, even if it does require a bit of back bending in order to do so.
A brilliant bike pump for anyone touring or long distance riding where you need more than get you home air pressure and flagging the broom wagon for rescue isn't an option.
Follow this link for our Topeak Mini Morph G pump review.
Best bike pumps: Floor pumps
This does feel a little like a Topeak buyer's guide, but it does show how much we rate the brand's bike pumps, as arguably what Garmin GPSs are to the best cycling computers.
The Topeak JoeBlow Ace DX towers over many other pumps not only in height but in capability too. We found that in its '60' setting the Ace DX inflated our test 700x25c tubeless tyre to 100psi in 11 monster strokes making it the best bike floor pump for swiftly inflating your tyre.
While the lower pressures are easily reached, it's worth noting that on test it took a lot of leaning on to get much more air in per stroke once it got beyond 60psi.
It is an excellent performer and features a bleed valve that lets air out the tyre rather than just the hose - which is useful for getting pressure spot on.
The only downsides are that for the price it doesn't offer tubeless tyre inflation capabilities and with the benefits that a huge visual gauge brings, it also means a large footprint, making stowing away neatly at home a challenge.
Read more in our Topeak JoeBlow Ace DX review.
The follow up to the successful Zefal Profil Max FP50 (opens in new tab), the semi-classic looking FP60 now features a sophisticated wooden handle to go with its high pressure efficiency, which according to the brand should be around 174psi/ 12Bar.
With its Z-switch system, the French brand says it's easy to change from Presta to Schrader valves. In a break from its traditional looking upper, the bottom half is more functional, featuring a gauge with a magnifying lens, to help make gauge readings significantly easier, although we're unsure what the bright red ring to highlight the gauge in general brings to form or function.
The wide base and sensible chamber height will make this one of the best bike floor pumps for stability, especially when compared to the smaller, single footed Lezyne Steel Travel Drive Track Pump, but will require a lot of storage space when not in use and is far from ideal for travel.
We've more detail in our full review of the Zefal Profil Max Fp50.
Similar to the Topeak Mini Morph G mini pump, this mini pump from LifeLine falls in the middle ground between mini and floor pump.
Too long (295mm) to fit in your jersey, the frame mounted bike pump comes with a fold out foot peg and handle allowing for a vertical stroke, which should make it easier, like with the Topeak, to reach higher tyre pressures.
With no gauge, an exact PSI will be tricky to reach, but if you are in tune with your own tyre squish readings then it's a great option for anyone on a budget.
The frame mounted aspect will mean possible bottle cage loss, or replacement with a side opening version, but it's potentially another great bike pump option for riders who need to ensure they are able to reach high volumes while out on the road or trails.
The Tubi 2Stage pump incorporates a knurled knob to remove a presta valve core, so that you can get more air into a tubeless tyre more quickly, promoting seating. That's Stage 1. You can then refit the core and flip a switch to get things up to operating pressure using Stage 2. There's an adapter if you want to pump schrader valved tubes.
The system works well, but we did find that the overall number of strokes needed to inflate a tyre was a bit longer than with a standard pump.
Read our full review of the Topeak JoeBlow Tubi 2Stage track pump.
With a stable steel base and alloy barrel, the Specialized Air Tool HP is built to last. Its chuck works with both presta and schrader valves, without you needing to change anything and it's easy to remove without air loss from the tyre.
Specialized claims that the Air Tool inflates with less effort than other pumps. We couldn't verify this, but it did inflate rapidly to our desired pressure and the pump is rebuildable if parts wear out. The only thing we were less enamoured of is the flimsy-feeling plastic handle.
You can read our full review of the Specialized Air Tool HP pump here.
If you're looking for one do it all floor pump, this is it. The Blackburn Chamber will, according to the brand, easily seat tubeless tyres as well as give them just an air top up with the flip of a switch changing from chamber to regular floor pump.
This is also the perfect bike floor pump for anyone who is finickity about tyre pressure, coming with a handy air bleed button on the pump head for micro adjusting pressure to get it just right.
We love the idea of being able to switch out the standard handle for a pair of your favourite bike handlebars thanks to the 31.8mm stem clamp. It might not provide any extra pump performance, but does give it excellent individuality for your home workshop.
The extra long 4ft of hose should give you enough floor space to effectively pressurise and use (as well as a decent safety distance for tubeless tyre conversion incidents), although this could mean a slight loss of pressure in the hose.
It isn't the smallest footprint, and it's also not the cheapest on the market, but if you are running a tubeless set-up, it provides both space and money saving with only one bike pump required.
With two valve options (Presta/ Schrader) there's plenty of versatility and a lifetime warranty for performance reassurance.
We found the Topeak JoeBlow Booster to be as close to a professional floor pump as you can get.
This does make it one of the more expensive options from Topeak, and a fair bit more than the Blackburn Chamber Tubeless floor pump above, both of which come with a reservoir tube that holds air in, so it's the perfect option for seating tubeless tyres.
Its ease of use and easy to read gauge make tubeless conversions or tyre changes a doddle, and well worth investing if you're intending on riding without inner tubes for the foreseeable future, but it might be a bit too much if you're not totally sold on a tubeless set up, or just want to use as a standard pump.
It stands 30in/ 75cm tall and weighs 7.3lbs/ 3.3kg, so it's not something you're likely to want to lug around with you, but perfect for leaving in the garage. This is certainly a good, reliable option if you're serious about going tubeless.
If you want a blast, here's our JoeBlow Booster reservoir pump review.
The Lezyne Steel Travel Drive Track Pump is a more robust version of the above 'on bike' mini LifeLine Motion Floor Mount and Topeak Mini Morph G mini pumps and a great compact and lay-flat floor pump. A great choice if home space is at a premium or you want to travel with one of the best bike floor pumps.
It has a steel barrel and piston, an aluminium base and is finished off with a varnished wood handle - making this a stylish option.
Also included is a Speed Chuck which means the pump is compatible with disc wheels, as well as Presta and Schrader. There's even a handy inbuilt air bleed for getting the pressure exactly right.
However, this compact design, standing 20cm or so shorter than the above Joe Blow floor pump does mean the smaller chamber length will require more pumping action than others and the readability of the small gauge might be tricky for some.
Capable of reaching a claimed 160psi/ 11Bar, the one sided foot might make this hard stability wise, especially at the higher pressures where you have to really put some effort in.
If you're looking for something a little less pricy than the dual compatible pro-home Topeak Joeblow Booster floor pump, then this is the one. Finished with a steel barrel and a quality gauge, the JoeBlow Max II track pump is a great bike floor pump that meets all your basic needs, but by limiting its extra functionality keeps the cost down.
On test we found that it took just 19 strokes to get a 23mm tyre up to 100psi, which makes it a very efficient pump.
The pump comes with a plastic twin-sided head that works with both Presta and Schrader valves and has a lever to lock it onto the valve securely.
There are even replacement parts available should anything stop working, making it a good long term choice too.
There's more in our Topeak JoeBlow Max II track pump review.
The Rennkompressor is a beautiful and timeless bike floor pump with a steel barrel and tactile wooden handle. Although there are more practical modern pumps out there with larger pressure gauges, this icon pump still delivers and is capable of pressures up to 230psi.
Here at Cycling Weekly we've had one of these live for over 25 years, having a very hard life travelling the world as part of a semi-pro bike mechanic's set up for race teams and home use, only meeting its demise once caught in a garage flood.
There are four valve head connectors on offer with this pump: Multi-valve, Thumb lock, EVA Head, and Brass Nipple Connector. In terms of performance, it took 40 pumps of the SKS Rennkompressor track pump to inflate the tyre from near flat to 100psi, which is respectable but not class-leading.
More modern pumps with plastic composite feet, such as the Topeak JoeBlow Max II Track Pump, are more stable, and there are pumps with bigger gauges, such as the Blackburn Chamber floor pump, but for life long dedication, you can't get better.
The full SKS Rennkompressor track pump review has more detail.
The Cycling Weekly Editor's Choice winning Maha Push and Twist from Birzman is a great value floor pump that we found to be easy to use, accurate, and above all reliable.
Its push and twist head makes an easy, fast connection to the valve and the large gauge allows for accurate pressure reading. Birzman doesn't skimp on hose length. Twice as long as the barrel and secured via a hook in the base, there's plenty of length to reach a bike in a stand.
It's seen almost constant use in the two plus years since it arrived in the office and still continues to perform.
The base is pretty big, but our tester didn't seem to find issue with stowing away, although with its height it will probably need a specific home anyway.
Read more: Birzman Maha Push and Twist V track pump review.
An Editor's Choice pick, Lezyne's gravel tyre pump adds more air per stroke than a more road-oriented pump, so it's good for higher volume tyres and may help achieve easier seating of tubeless tyres as well. It's made of aluminium and there's even an integrated valve core tool.
The digital pressure gauge means that you can get precisely the pressure you need for off-road riding, where getting it just right, even down to the nearest 0.5psi, is more important than with road bike tyres. Although designed for gravel tyres, the 100psi maximum rating means that it's more than adequate for road bike tyres as well.
Read more: Lezyne Gravel Digital Drive Pro pump review.
Buyer's guide to the best bike pumps
How do I choose a bike pump?
Fundamentally there are three different ways to inflate your bike tyres. We have lots of detailed information below, but as a quick summary:
Mini pump - The best portable bike pump will balance the ability to inflate your rubber and being small enough to carry in your rear pocket or stow on the frame. Your riding priorities will help you focus your decision here as, like all bike pumps, each one will lean towards a specific talent, eg micro size and weight, but not great at achieving much more than getting you home tyre pressure, or great PSI capabilities but heavier and frame mounted.
Floor pump (aka track pump) - In the main, this is a stay home pump and the best way to achieve higher pressures, especially when going from totally flat. Most will include a pressure gauge so you can make sure your tyres are properly inflated before heading out for your ride. Some floor pumps include an 'air chamber' which can be pumped to high pressures in order to seat tubeless tyres. You may see them called reservoir pumps.
CO2 Inflator - Technically this isn't a pump as it contains compressed gas, which can reach up to 120psi in seconds. There are pros and cons to this system, more of which is explained in detail on our page dedicated to the best CO2 inflators.
What is a mini bike pump?
A mini pump is a bicycle pump that is small enough to fit in your back pocket so you can always take it with you on a ride. As a minimum, it needs to pack enough punch that when you get a flat you can get home comfortably without bottoming out your rim on the road if the going gets bumpy – around 40psi minimum.
Ideally, it should allow you to get enough air into your tyre that you can continue your ride in comfort and so your tyre doesn't feel overly squishy – which for a 23mm clincher means reaching near 80psi, or 70psi on a 25mm tyre.
Ideally pumping up a tyre with a mini pump won't leave you so exhausted you need to go lie down before you hit the road again.
Some mini pumps are like shorter traditional pumps with a hose which is screwed into the barrel and onto the valve before use. Others have an integrated adaptor that pushes directly onto the valve and is secured by a locking lever.
Many now have a hose integrated into the pump itself, typically stored in the barrel. This design means that the hose extends from the handle, which is held steady in use, while the pump is operated by pushing and pulling on the barrel. In practice, this arrangement has no real disadvantages.
With any mini pump there is a compromise between compact dimensions and usability, with a longer pump being easier to stroke than a shorter one, as it takes less effort to reach higher pressures and you can pump more air volume for each stroke.
If you have invested in one of the best road bikes already, the price of a decent mini pump will seem like a small outlay in order to ensure you enjoy every