Best commuter bike pedals 2023 - our picks rated and reviewed
From flats to clipless SPDs, we've sorted through the best commuter bike pedals for your daily commute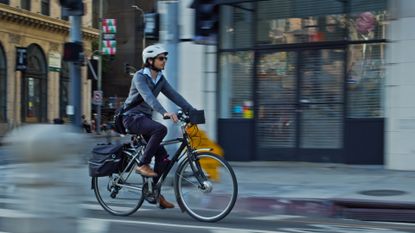 (Image credit: halbergman)
Get The Leadout Newsletter
The latest race content, interviews, features, reviews and expert buying guides, direct to your inbox!
Thank you for signing up to The Pick. You will receive a verification email shortly.
There was a problem. Please refresh the page and try again.
The best commuter bike pedals can really make a difference to your ride to work. As a 'touch point', pedals are an important choice for any cyclist, but for the commuter they need to deliver during the ride as well as being compatible with the best commuter cycling shoes that enable you to walk safely when you're off the bike. Navigating busy streets, office steps or slippery hallways wearing road cycling shoes with cleats can be a recipe for disaster, particularly when it's wet.
Your choice is therefore likely to be between flat pedals that allow you to ride with 'regular' shoes or off-road gravel bike pedals (confusingly, although your shoes clip in to these pedals they're referred to as 'clipless pedals') that work with recessed SPD style cleats and cycling shoes that have a walkable grip on the sole.
Which of those you decide upon will largely come down to preference. However there are a couple of points to consider. If your commute is over many miles, with long stretches of road outside of a city or town centre, then you might benefit from riding clipped in; you'll enjoy greater foot retention as well as improved pedalling efficiency and overall speed.
But if your ride to work is shorter, or takes place entirely within the city limits, then flat pedals could be the way forward. It means you don't need to wear cycling specific shoes and you can put your feet down with ease, no matter the density of traffic.
Here's our pick of the best pedals for commuting to work, which we've arranged into clipless and flat pedal options. Lower down, we've also got a couple of pointers to help you choose between the two.
Our pick of the best commuter bike pedals
You can trust Cycling Weekly. Our team of experts put in hard miles testing cycling tech and will always share honest, unbiased advice to help you choose. Find out more about how we test.
The best flat pedals for commuting
Best flat pedal for design and performance
Specifications
Construction: Magnesium Alloy with chromoly axle
Weight: 351g
Colours: Black, Grey
Reasons to buy
+
Very grippy
+
Lightweight - 350 grams per pair
+
Low profile
+
Fully serviceable
Reasons to avoid
-
The stock grub screws aren't doubled-sided – if you mash one it'll need drilling out
The Stamp 3 Small pedals blend build quality with style. There are cheaper flats of course - they retail at $139.99 / £139.99 - but if you're after something a little more premium, but still without totally breaking the bank, these are a great option.
For commuters the smaller size, which measures 100x100mm, means it won't catch on stairs or other obstacles you're likely to encounter on your way to the office. However, if you have larger feet, or want to use the pedals for off-road use as well you may want to opt for the larger size.
The rather elegant and slim pedal body - just 16mm in depth - also means that it won't look out of place on one of the best commuter bikes, whether it's a flat bar hybrid or a drop bar all-road machine.
As for the grip, there are 10 adjustable pins on each side that can be screwed in or out - for the daily commute we'd suggest winding them in a little. Your shoes and your shins will thank you!
The bearings are fully serviceable, with Crankbrothers providing a pedal refresh kit. Coupled with the magnesium alloy body this should mean that the Stamp 3s have a long shelf life and stand up well to the rigours of year-round commuting.
Read more: Crankbrothers Stamp 3 Small full review
Best value flats
Specifications
Construction: Composite with chromoly axle
Weight: 338g
Colours: Black
Reasons to buy
+
Affordable - $40/£32
+
Well-made with smooth running bearings
+
Easy maintenance
+
Integrated reflectors
Reasons to avoid
-
Not very grippy despite textured surface
Look's Geo City is an affordable option for commuters requiring a no-nonsense flat pedal. The composite body features a stud and molded rubber grip system, with the material and the design aimed at providing a dependable platform regardless of the weather.
The pedals are aided by high performance bearings and steel axles. The bearing end cap is removable, which should make them serviceable, while the bearings ran smoothly throughout the review period. Essentially, the Geo City is a good looking pedal that's well made and displays all the hallmarks of being both reliable and durable.
However, on test we did find that the level of grip offered was dependent on the shoes we wore. In trainers, or sneakers, it was fine, although not as secure as you'd perhaps like. In office shoes, which typically have little tread on the sole, we had to pedal carefully to avoid our foot slipping. That said, the large platform did make foot placement easy
Read more: Look Geo City pedals full review
Best flat pedal for grip and durability
Specifications
Construction: Body: 6061 aluminium , Axle: Chromoly steel
Weight: 375g
Colours: Black, red, blue
Reasons to buy
+
Grippy
+
Serviceable
+
Replaceable pins
+
Robust
Designed for trail use, the Aeffect pedal also makes sense for commuters looking for a robust flat pedal that'll work in all weathers.
Made from aluminium, with a serviceable steel axle, the smaller platform is well-suited to off-trail pursuits, hitting a sweet spot between support and size. However, for your ride to work you'll probably want to wind the pins in somewhat to help save the soles of your shoes! Each pedal has 10 pins with an Allen socket on the reverse side. The hexagonal pins can also be removed using a small spanner. The axle is equally serviceable, and only requires an Allen key for its removal.
On test, we found them to be as robust as they look. There are other slimmer options out there, and depending on your bike, you might wish to match it with something a little less chunky than the Aeffect. However, if you're looking for a pair of reasonably priced, serviceable flat pedals that can take the punishment of a year-round commute then these are worthy of consideration.
Read more: Race Face Aeffect commuter bike pedals full review
Best flat pedals for grip in the wet
Specifications
Construction:
Weight: 265g per pedal
Colours: Black, Red, Lime, Camo
Reasons to buy
+
Grippy but not aggressive
+
Replaceable pads
+
Integrated reflectors
+
Serviceable
Reasons to avoid
-
Pricey for plastic - $75.00 / £64.90
While they may have 'trail' in their name, these flat pedals from Look are well-suited to the daily commute.
They feature Vibram Active Grip inserts - Vibram make footwear soles for outdoor pursuits - which use a vulcanized rubber with composite studs to deliver grip. During the review period, we can attest to this; we used the pedals in some horrible weather conditions and the Vibram Trail Grip pad provided a secure platform for urban riding at all times. We didn't suffer a single slip while riding around in both trainers (sneakers) and hard soled boots, while the decent sized platform meant that we didn't miss the pedal ever, either
The Vibram pads are replaceable and swapping them out was a cinch. The necessary T20 hex key and 8 spare screws are included. The replacement pads aren't cheap but it does mean you can extend the life of the pedals rather than buy a new pair. The rest of the pedal isn't serviceable however, with bushings used rather than bearings.
Read more: Look Trail Grip commuter bike pedal full review
Best budget flats with plenty of grip
Specifications
Construction: Polypropylene
Weight: 327g
Colours: Black
Reasons to buy
+
Value for money - around $20/£20
+
Non-slip finish
+
Built-in reflectors
Reasons to avoid
-
No pins if you're looking for extra grip
A regular commute can be hard on your bike and its various components. Some choose to combat this by buying expensive bits that are built to last or can be easily serviced. The other approach is to opt for cheaper parts, which are robust enough for the job, but aren't too nice to get dirty, and can then be replaced without breaking the bank.
Upgrade's Crosstown pedals fit into the latter category, thanks to their $21.34 / £20.00 price tag. But they deliver a level of performance that you might expect from a more expensive offering.
On review, we found them to be grippy with good foot retention, even when wearing traditional soled shoes in the wet. To help achieve this the pedals have a slight concave profile as well as a surface that looks like sandpaper. However, despite appearances, it stayed firmly glued to the plastic pedal body during review.
Other notable features include built-in reflectors - something of a must-have for flat commuter pedals - and bearings (or perhaps bushings) that ran smoothly for the length of the review period.
Read more: Upgrade Crosstown commuter bike pedals full review
Best flats with a wide choice of colours
Specifications
Construction: Composite nylon with chromoly axles
Weight: 320g
Colours: Nine including Black, Red and Orange
Reasons to buy
+
Keenly priced - $39.99/£34.95
+
Wide choice of colours
+
Serviceable
Reasons to avoid
-
Not as grippy as some rival pedals
The Raceface Ride pedals are a solid option for commuters who require a flat pedal that's not overly aggressive in its design.
Made from a robust composite nylon, the Ride features a slim, concave design, with built-in traction treads and molded traction pins for extra sure footing. The lack of any metal here is a bonus for those who want to protect their shins, while the chromoly axles and bearings should be durable and can be serviced when needed.
During our test, the pedals performed well, although the level of grip did differ depending on the shoes we wore. The pedals were at their best when combined with a dedicated flat soled trail shoe but did slip a little when we were wearing regular tennis shoes.
Read more: Raceface Race commuter bike pedals full review
Grippy, affordable with wide colour range
Specifications
Construction: Nylon body with chromoly axle
Weight: 327g
Colours: 10 including black, blue and pink
Reasons to buy
+
Affordable - just $32/£20
+
Grippy
+
Shin-friendly
+
Reflectors
Reasons to avoid
-
Pins aren't that durable
-
Non-serviceable
While the V6 is aimed at off-road riders looking for a budget pedal, it perhaps works better as a reliable commuter option.
Made from nylon it's lightweight - about 320g for the pair - and won't shred your shins if you have to stop abruptly in traffic or find yourself carrying your bike up and down stairs. On review we found that the 10 pins provided ample grip without being too harsh on the soles of our shoes. The V6s wide, concave shape also aided foot retention.
At this price point something has to give however, and in the case of the V6s it's the use of non-serviceable bushings. It means they don't spin as smoothly as pedals that use bearings. In fact, we'd go as far as to say they are stiff, with no let up over the test period. However, if you can live with this then they're a solid option.
Read more: DMR V6 commuter bike pedals full review
The best clipless pedals for commuting
Best clipless option for pain-free knees and muck-free mechanism
Specifications
Construction: "glass filled" plastic body
Weight: 297g (pedals), 44g (cleats and bolts)
Adjustability: 10° with ATAC Easy cleats (included), 13 or 17° with ATAC cleats
Reasons to buy
+
Inbuilt float allows movement on the bike and is friendly to knees
+
Mud clearing mechanism
+
Durability of pedal
+
Easy to service
Reasons to avoid
-
Cleats can wear quickly
-
No tension adjustment on this model
While Time's ATAC XC's pedals are designed for off-road use they have plenty of attributes that make them a good choice for commuters who prefer to clip in.
The ATAC (Auto Tension Adjustment Concept) system means that the cleats engage by pushing in a forward motion. We found this both felt natural when clipping in as well ensuring that any muck is pushed through and out of the pedal keeping the mechanisms keeps clear. Both are helpful when commuting, providing confidence in traffic and bad weather.
Another distinct advantage of the pedals is the knee-friendly float. The XC 2s have 5mm lateral (side to side) float and come with cleats for 10 degrees. Not only does it make clipping in easy it's also comfortable too, something to consider if you're commuting to work on a daily basis.
Read more: Time ATAC XC 2 commuter bike pedal full review
Best clipless pedals on a budget
Specifications
Pedal type: double-sided, clipless
Weight: 302g (pedals), 42g (cleats)
Colours: black, red, blue, pink
Reasons to buy
+
Mud clearing
+
Colour options
Reasons to avoid
-
No tension adjuster
-
Expensive cleats to try out different float and release options
Many of the Candy 1s features that make it a good pedal for the trails also means it performs on the commute to work, too.
It features a generously sized platform that on test gave us reassuring foot support alongside the excellent mud sharing abilities of the pedal. Both attributes mean it's well-suited to longer commutes as well as being weatherproof.
The Candy 1s are easy to clip in and out of, ideal when navigating the stop-start flow of your commute. They're also kind on the knees, with the cleats having a release angle of 10 degrees and a float of 6 degrees.
Last, but not least, is the price. As the entry level Candy model, they're competitively priced and a great choice for commuters who want to try clipping in without spending a fortune.
Read more: Crankbrothers Candy 1 commuter bike pedal full review
How to choose the best commuter bike pedals
Is it ok to use flat pedals on a road bike?
Of course.
While aesthetically flat pedals might not quite look the part there's no technical reason why you can't fit them to your road bike for commuting purposes. As long as the pedal thread, typically 9/16", matches the thread of the crank arm, you'll be ok.
From a practical standpoint you may wish to equip your road bike with flats for the commute, allowing you to ride with streets shoes and avoid having to tackle any stairs in cleats.
Flat pedals can also be a safer option for newer cyclists, especially when navigating busy city streets where you may find yourself having to put your foot down with regularity.
Read the buyer's guide in our guide to the best flat pedals for cycling for more information on how to choose flat pedals.
Are clipless pedals suitable for commuting?
Clipless pedals are a great choice for some commuters.
If you typically ride clipless, on your road bike or gravel bike, then it makes sense to do so on your commute. You'll benefit from the same pedalling efficiency and stable platform you're used to as well as not having to invest in any new gear.
However, if you ride road-style three-bolt clipless pedals it may be worth considering a switch to SPD style pedals and cleats. Designed for off-road use they are generally more robust in their construction as well as allowing you to walk safely when you've arrived at your workplace.
Read the buyer's guides in our guide to the best clipless pedals and best gravel bike pedals for more information on pedal systems and how to choose the best clipless commuter bike pedals.