DMR V6 flat pedal review
A shin-friendly, affordable pedal with plenty of platform and grip – but not great option for the keen MTB'er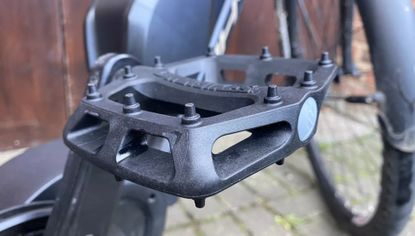 (Image credit: Emma Silversides)
The V6 is a lightweight, affordable pedal that won't shred your shins. Despite being ostensibly targeted at MTB'ers, it's best suited to commuters wanting a comfy, grippy pedal rather than super keen off-roaders; the nylon pins are unlikely to survive pedal strikes and regular impacts associated with mountain biking. If you are dabbling in off-road adventures for the first time, they could be a good option, the fact that they are non-serviceable takes the shine off them somewhat though.
Reasons to buy
+

Affordable

+

Grippy

+

Shin-friendly

+

Pop-out reflectors
Reasons to avoid
-

Pins not durable

-

Non-serviceable
Why you can trust Cycling Weekly Our expert reviewers spend hours testing and comparing products and services so you can choose the best for you. Find out more about how we test.
DMR are well-known for their flat pedals and MTB orientated gear. The V6 is at the bottom of their range – a range which goes all the way up to the stunning $280 / £215 Vault Mag Superlights (opens in new tab).
At around a tenth of the price, could the V6s be an incredible bargain and one of the best flat pedals for gravel and commuter riding? Or have they dipped below a minimum threshold of quality, leaving you better off training your sights slightly higher? We put them to the test to find out.
DMR V6: construction
The V6 is simply a nylon version of DMR's long-standing V12 (opens in new tab), an aluminium bodied pedal that was launched back in 1997 and is still going strong.
The 97mm x 102mm platform is relatively narrow and comes with full-length, off-road nylon pins. The pair tip the scales at 327g.
The pedals spin on Cro-Mo axles combined with a dual DU bush system. It's a sealed, non-serviceable unit.
The V6 is available in 8 different colours, some of which are below, plus a recent special edition (opens in new tab) which takes on a military camouflage theme
DMR V6: the ride
I started out with the pedals on my e-bike, a bike I use for commuting and general errands. They are easily fitted with a 6mm allen key, or a 15mm spanner.
The V6s come with two pop-out reflectors per pedal, making them compliant with regulations in many countries, it's a handy feature if you intend to use the pedals on a town/commuting bike. I certainly wouldn't recommend leaving the reflectors in for anything other than 100% tarmac rides; a minor impact is likely to dislodge the unit, this happened a few times to me when I caught the pedal on a low wall and a kerb.
Image 1 of 2
For the purpose of casual riding, I've loved the V6's. With 10 pins on both sides, they are super grippy without being aggressive towards shoes' soles. The wide, concave footprint helps here too and it feels really comfy. Both are attributes that make them a solid choice for one of the best commuter bike pedals.
The bushes are, in my opinion, a give away to the price of the V6's. If you like your pedals to spin freely, it's best to avoid the V6's; they are super stiff and haven't freed-up at all during testing.
After a few weeks of commuting, I moved the pedals to my mountain bike (admittedly wishing I'd been sent the orange version to test). The grip remains impressive, but this will potentially be short lived. The nylon pins aren't durable enough for real rough trail riding; strike the pedal and tip of a pin could well be off. If you are out on the trails and tracks regularly, the pins will be compromised in no time, rendering the pedal pretty unless for its titled purpose.
I've returned the pedals to my e-bike and love having them there, they will last longer for the switch too. Ultimately, the nylon creates a lightweight, kinder pedal/pin for your shins (and wallet) but if you opt to dabble in gnarly, rocky off-road, they are unlikely to remain fit-for-purpose in the long run.
DMR V6: value and conclusion
NS Bikes have a comparable pedal for $17.99 / £14.99. Going by the specifications it's got a marginally thicker profile and larger platform, with square pins that look much smaller than the $32.40 / £20 V6's.
The V6's nylon creates a light pedal that won't inflict pain on your shins or wallet. They perform superbly on a commuting bike with the added bonus that you can probably find a colour to suit your tastes. Sadly, despite their MTB title, I'd say that they are not up to much in terms of off-road performance. Unless you simply dabble in the occasional tame off-road foray spending a little more will get you a longer lasting, serviceable pedal that can handle the rough stuff.
DMR V6: specs
Axles: CroMo.
Weight: 327g per pair.
Platform: 97mm x 102mm.

Thank you for reading 10 articles this month* Join now for unlimited access
Enjoy your first month for just £1 / $1 / €1
*Read 5 free articles per month without a subscription
Join now for unlimited access
Try first month for just £1 / $1 / €1