The best flat pedals for cycling in 2023: great for gravel and urban use
Looking for the best flat pedals for your bike? We've gathered together the best models currently on the market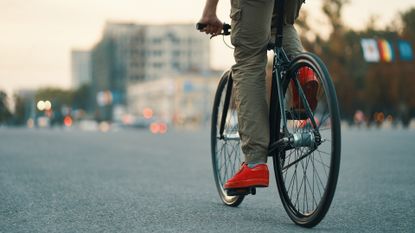 (Image credit: Getty Images - ArthurHidden)
Although sometimes overlooked, the best flat pedals can be a great choice in a range of circumstances.
Flat pedals or platform pedals make shorter rides in ordinary shoes far easier and more comfortable than trying to get by using sneakers on clipless pedals. They're a good option to use with the best commuter cycling shoes for urban use, which will give you a better pedalling platform than a standard shoe or trainer.
For a causal town bike, commuter, or even a touring bike, the versatility of flat pedals presents a compelling draw.
The best flat pedals are also a good option for anyone with a knee or ankle injury, which can make it difficult to perform the sideways twisting motion necessary to disengage from a set of clipless pedals. The wide platform of flat pedals can also offer more lateral support than a set of clipless pedals.
However, for the ultimate in efficiency, clipless pedals do rule the roost. So if performance is paramount, then flat pedals may not be the best choice for you. That said, you can still get on pretty well with a set of flats - as we discovered when using a set of flat pedals on a two-week bikepacking trip around Hungary and Slovakia.
The best gravel pedals which use a two-bolt clipless system, are also a good option; the shoes can be walked in more easily than shoes for three bolt cleats, as the cleat is smaller and recessed and some SPD-style pedals have large platforms which can be used without clipping in and in normal shoes.
Best flat pedals
You can trust Cycling Weekly. Our team of experts put in hard miles testing cycling tech and will always share honest, unbiased advice to help you choose. Find out more about how we test.
Best flat pedals for commuting and casual gravel use
Here's our run-down of our favourite flat pedals available for commuting use and relaxed gravel outings.
Further down the page you'll find more expensive options for heavier gravel use.
Best grip for traditional flat-soled office shoes
Specifications
Weight: 327g
Platform size: 95x84mm
Fitting: 15mm spanner or 6mm Allen key
Reasons to buy
+
Price
+
Non-slip finish
+
Reflectors
The Upgrade Crosstown Poly pedals feature a polypropylene body with a steel axle which has dual bushing sealed bearings. This should ensure a long life as the sealing keeps out the worst of the weather. The pedal has a non-slip surface to grip flat soled shoes and the weight of 327g per pair is about par for this type of pedal.
The non-slip surface is nicely grippy with a variety of shoe types, especially a smooth soled leather office shoe. It feels like 60 grit sandpaper to touch but is well bonded in place and doesn't easily rub off. The concave shape increases the contact patch when more pressure is applied and there is also integrated safety reflectors.
Our tester enjoyed riding with them, with his feet feeling securely placed even over rougher sections of road. At $21.34 / £20.00, they are also very reasonably priced and well recommended for commuter or utility bikes.
Read more: Upgrade Crosstown Poly flat pedal full review
Best for durability
Specifications
Weight: 338g
Platform size: 110x107mm
Fitting: 8mm Allen key
Reasons to buy
+
Well made
+
Smooth bearings
+
Easy maintenance of bearings via a well sealed end cap
+
Integrated reflectors
Reasons to avoid
-
Not very grippy despite surface texture
The Look Geo City are primarily an urban commuter and utility bike pedal. They made from a composite material to form the body and use a cro-moly steel spindle (axle). They also incorporate quality and well sealed bearings to ensure the longevity of the pedal. The pedals turn very smoothly and the addition of a threaded weather sealed end cap will allow, in the future, easy re-greasing of the bearings when maintenance time calls.
Look says that the Geo City pedals use a composite stud and moulded rubber multi grip system to provide a secure platform for you feet. However, our tester found it is not quite as grippy as it looks, with the composite material being a little hard to the touch. With riding it works fine with rubber soled trainers but is a bit less sure footed with flat-soled office shoes. Riding with that style of shoe can leave you feeling as if your foot is about to slip off when putting the power down.
These pedals only use an 8mm Allen/Hex key to attach to the cranks. Just make sure that the 'Look' logo is readable from the rider's position when you're putting them on, as, unusually, there are no other clues as to which pedal is left and which is right.
In all, these are nicely made pedals which feel as if they will last a decent amount of time, just choose which shoes you ride in with them carefully.
Read more: Look Geo City flat pedal full review
Best flat pedal for an adventurous commuter
Specifications
Weight: 530g
Platform size: 107 x 103mm
Reasons to buy
+
Integrated reflectors
+
Grippy
+
Well-made
+
Serviceable
Reasons to avoid
-
Pricey
-
Lugs not as good as pins
Despite the 'trail' title, our tester found that these are better suited to a utility/commuter bike than an off-roading bike. The lugs don't offer the traction of conventional pins when riding technical trails (on the flip side, they won't shred your shoe soles).
They are perfectly good enough for towpaths and gravel roads, so they'd be ideal for anyone who likes to occasionally wander off-piste, rather than a full-blown off-roader. Integrated reflectors add to the pedal's urban appeal.
The Vibram inserts are interchangeable, meaning you can customise your pedals as well as replace the pad if it's getting exceptionally worn. The Vibram is robust enough to handle regular road riding, though, so they should last a long time. On top of this, the pedal is fully serviceable.
Read more: Look Trail Grip flat pedal full review
Budget option for commuters and those dabbling in 'tame' off-road riding
Specifications
Weight: 327g
Platform size: 97mm x 102mm
Reasons to buy
+
Affordable
+
Light
+
Grippy
+
Plenty of colour choices
+
Pop-out reflectors
Reasons to avoid
-
Non-serviceable
-
Stiff
-
Pins not very robust
If you have a hybrid or gravel bike to get you around, the DMR V6 pedals are a great option for upgrading from a basic flat pedal.
The nylon pedal has a wide platform with 10 full length MTB pins. Our tester rated the V6 pedals highly for comfort and grip on a commuting bike. They also come with four pop-out reflectors, which add to its urban-use credentials.
While nylon has its advantages - it won't shred your shins and makes for a light pedal for a start - it isn't the most durable material. If you put the V6s through their paces in heavy off-road use, the pins will wear down quickly. These pedals are also non-serviceable, so once the pins are worn - or the dual DU bush system gives up - they are destined for the tip.
With this in mind, we'd say these pedals are best kept to a knock-about-town or commuting bike to avoid becoming part of a disposable society.
Read more: DMR V6 flat pedal full review
Best for coloured options to match your bike
Specifications
Weight: 320g
Platform Size: 110x100mm
Fitting: 15mm pedal spanner/6mm Allen/hex key
Reasons to buy
+
Good price
+
Excellent selection of colours
+
Fairly light
+
Good looking
+
Maintainable
Reasons to avoid
-
Not as grippy as some
-
Choose your shoe wisely
The Raceface Ride pedals are aimed at novice riders who are seeking a 'gentler' experience for their shins, should there be any foot slippage. Stainless steel pins can be painful if you get it wrong...
The Ride pedals feature a nylon composite body with 9 moulded 'pins' ('lugs' might be a better term) per side to grip the sole. It has a chromoly steel axle which is well sealed to keep out the muck from the bearings. They are easily serviceable as the end cap uses a 6mm Allen key fixing to access the internals when a regrease is required.
The pedals are clearly marked 'L' & 'R' to help fitting correctly and the bearings turn smoothly once fitted to the cranks. They looked good fitted to the test bike and, being available in nine different colours, you should be able to match your style easily.
Our tester found that the pedals could be quite finicky with different shoe soles. Tacky trail shoes, such as a pair of Five Tens, work best, but trainers and more general purpose shoes don't fare as well.
As an upgrade from a stock set of pedals, they are a marked improvement and a reasonable price. But if your riding is more performance oriented, you would be better served by one of the other sets of pedals we've tested.
Read more: Raceface Ride flat pedals full review
Best flat pedals for gravel
Best for grip
Specifications
Weight: 351g (S), 386g (L)
Platform size: 100x100mm (S), 111x114mm (L)
Reasons to buy
+
Very grippy
+
Lightweight
+
Low profile
+
Excellent looks
+
Fully serviceable
Reasons to avoid
-
The stock grub screws aren't doubled-sided – if you mash one it'll need drilling out
You can spend less on a set of pedals; you can also spend a lot more. But for our reviewer, the Crankbrothers Stamp 3 Small hit the exact sweet spot of performance against price. From the elegantly thin platform with its excellent grip, to the low weight and full serviceability of the pedal body, the Stamp 3 is a high quality pedal that doesn't look out of place on a similarly well-specced bike.
Our reviewer used the Crankbrothers Stamp 3 on a two-week bikepacking trip around Hungary and Slovakia, finding them perfectly up to the task on the gravel trails and big mile days. Although the platform size is listed as 'small', they were perfectly proportioned for size EU 43 feet, offering complete support and not feeling too cumbersome.
The only criticism to make is that, although you can access the pins from both sides of the pedal, the stock pins only have a socket for allen keys on one side – so if you mash the pins on a rock, you'll be needing to drill them out. Swapping these out for a set of grub screws which fit allen keys on both sides might be a bit of a fiddly upgrade in the first instance, but could save you a big headache down the line.
Read more: Crankbrothers Stamp 3 Small flat pedal full review
Best for robustness
Specifications
Weight: 375g
Platform size: 101x100mm
Reasons to buy
+
Grippy
+
Serviceable
+
Robust
The Raceface Aeffect Pedal is a durable and robust option that's more than up to the task of heavy use on the trails or on the city streets. They've fended off plenty of rock strikes and the odd clang into a piece of street furniture without skipping a beat.
They are a fairly chunky set of pedals, though, so they might not suit the aesthetics of all bikes. But then again, they are quite reasonably priced for a flat pedal with a full metal construction and fully serviceable bearings and pins - if you want something prettier, you are going to have to pay more for the pleasure.
The other point to note is that the stock pins are quite aggressive. This is fine for gravel riding and trail use, you can get straight to riding without a moment's thought. But for city and urban use, you will probably want to add some of the supplied shims to the pins to reduce their height a bit and save your boots and brogues from unnecessary wear.
Read more: Raceface Aeffect Pedal full review
Key features of the best flat pedals to look out for
What should I look for in a flat pedal platform?
First, you should consider the platform size. Wider platforms will offer greater support, as well as being more grippy. However, too large and it can make a pedal cumbersome and awkward. Finding the right balance for you will ultimately be a personal choice depending on your needs.
Second, there's the platform matieral to think about. Plastic composite pedals will be cheaper and are often lighter. For those young at heart, composite pedals also tend to have a greater range of colours. However, plastic-bodied pedals tend to look scruffy sooner and are not as hard-wearing as metal-bodied pedals.
But with most models being very cheap, they're not going to break the bank to replace, although you may baulk at producing yet more plastic waste when a serviceable metal pedal will last much longer.
Do I need pins on my flat pedals?
The best flat pedals with pins give a number of performance enhancements over models that have a crenulated or notched cage.
Pins make pedals more grippy, meaning you won't slide off in the wet, but pose a risk to your shins if you slip a pedal.
Keep in mind that the pins on platform mountain bike pedals are designed to interface with the tread on mountain bike shoes designed for flat pedals — usually with a waffled pattern. If you're planning on riding in shoes that have a totally flat bottom, like the dress shoes you may wear to work, aggressive pins may damage the soles and not add all that much grip. Many models are offered with adjustable pin height, giving you the flexibility to choose the balance that best suits you.
Another benefit is that it is a lot cheaper to replace pins when they become worn down than having to buy a whole new flat or platform pedal. It can be worth going for a model where the pins see the Allen head on the back because these will be easier to extract when worn.
What bearings are best for flat pedals?
The simple serviceability of Shimano pedals requires just a couple of spanners (and sometimes also the TL-PD40, an inexpensive plastic tool) which makes them easy to keep running for a long time. Many other brands opt instead for replaceable sealed cartridge bearings and bushings. With a bit of periodic maintenance, a set of the best flat pedals can be kept going for a surprising number of years.
However, if you know that you are not one to be delving into the guts of your pedals, then you might find more value in a set that does not have serviceable bearings, as these tend to be cheaper.
What are 'hybrid' pedals?
These are pedals that you can clip in to but can also be ridden as flat pedals without a problem. These pedals have a large cage around the clipless mechanism, which provides grip and support. Also, in being symmetrical, there is no need to flip the pedal over before you set off. Most pedal brands, including Shimano, Look and Crankbrothers, have options.