The best folding bikes reviewed and rated
One of the most versatile types of bike around, the folder has a multitude of uses and comes in many shapes, sizes and prices - we guide you through what's on offer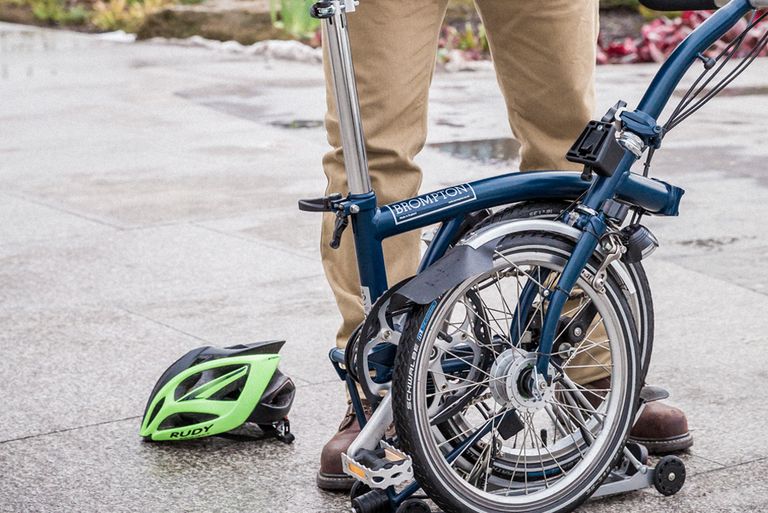 (Image credit: Picasa)
Folding bikes are different from other bikes for one obvious reason. The clue is in the name: they fold. The ability of these machines to become suitcase-sized makes them perfect for taking on the train. It means you don't need to leave a bike locked at the station, and it's there to hop on at the other end of the train journey, too.
Yes, you can take regular non-folding bikes on trains but often not during rush hour and never on the Tube. A folding bike gets around those problems for commuters.
Folders are not only popular with city commuters but, they're also super convenient for people who have limited living space - if you live in a studio apartment or shared house, for example. And they're also much easier to take with you on RV trips or even canal boat holidays.
The best folding bikes
The best folding bikes
Commuting, space saving, multi-modal transport - the best folding bikes are a great investment to any cycling family.
We've included lots of information on how to find your perfect folder below, but first here's our pick of the best folding bikes you can buy right now.
Brompton M6L folding bike
The market leading folding bike
Specifications
Weight: from 23.54lb/10.68kg
Wheel size: 16in
Folded dimensions : 645mm (H) x 585mm (W) x 270mm (D) (25.3'' x 23'' x 10.6'')
Colours : Multiple
Reasons to buy
+Customisable to your needs+Six gears to make hills easier+Luggage platform+Comes with front and rear lights+Mudguards for all weather rider protection
Reasons to avoid
-Expensive option-Stock in the US ebbs and flows
World-renowned, London-based brand Brompton is the market leader in and makes some of the best folding bikes. There's one frame size, with a whole range of customization options. Customers can choose everything from the handlebar shape, frame material (which obviously affects the weight), number of gears (in the ML6 it's six), finishing kit and, of course, colour. Bromptons feature a traditional 16in wheel size and are famously quick and easy to fold.
The handlebar shape greatly influences the geometry of the bike. Available options are:
Brompton M handlebar style: classic Brompton style
Brompton H handlebar style: offers a more upright position
Brompton S handlebar style: the more sporty option that offers quick handling
Brompton P handlebar style: provides multiple hand positions, ideal for touring or longer rides
The bikes take their names from the buyer's customization. For example, a bike with 'M' shaped handlebars, six gears and fenders but no rack mount will be called a Brompton M6L - which weighs 25.97lb/11.78kg.
With six gears on this model, it's a perfect folding bike for anyone with hills to tackle and coming with mudguards means that your clothing have instant protection from mucky road spray.
There is a front luggage platform, with Brompton specific bags available at an additional cost. Front and rear lights come as standard, on the Brompton M6L bike, but you can choose between standard or lightweight Cateye Volt ones at the front.
Best folding bike for performance
Specifications
Weight: from 23.83lb/10.81kg
Wheel size: 22in
Folded dimensions: 380 × 800 × 740 mm (15 × 31.5 × 29.1 in)
Colours: Chrome
Reasons to buy
+Top end spec+Hydraulic Shimano Deore disc brakes+SRAM Force gears 1x11speed to concur all terrain.+20" Wheels for near standard road bike riding experience.
Reasons to avoid
-Pricey option-Larger folded dimension
If you're after the best folding bike that's a bit faster and money is no object, the Tern Verge X11 is a superb option. With 22in wheels, it's more like a standard road bike and comes with a SRAM Force 1x drivetrain and wide-ratio cassette, making mole hills out of mountains.
The 10-42 cassette gearing won't feel much different from that of a full-sized machine, nor will the braking with the much respected Shimano Deore, hydraulic disc power, borrowed from the brands mountain bike range, on board.
With an aluminium frame, SRAM Force carbon cranks the total way is an impressively low 22.5 lb/ 10.2 kg (claimed) and swift to fold, which Tern say takes around 10 seconds.
It's rare to see such high-end spec, which also includes hydraulic disc brakes, Kinetix Pro X wheels with Schwalbe Durano tires and a uniquely designed adjustable stem making it a very impressive folding bike, but the price does reflect all this!
B'Twin Tilt 500 folding bike
Best folding bike on a budget
Specifications
Weight: from 28.43lb/12.9kg
Wheel size: 20in
Folding dimensions : 78 x 66 x 44 cm
Colour: 5 colours
Reasons to buy
+Excellent value for money+Aluminium frame helps keep weight down+Seven gears to help tackle hills
Reasons to avoid
-Lower-end components
Folding neatly in half and at the stem, this B'Twin is a very competitively priced folding bike from sports giant Decathlon's house brand.
As with anyone who has had the pleasure of riding a B'Twin bike, it's another impressive option at a really competitive price point, and pretty much every rider unable to find any fault.
The Tilt 500 features seven gears, comes with fenders pre-installed and the highly adjustable saddle height allows for sharing across riders of different sizes.
Obviously at this price point there are some compromises to be made of the finish spec of the bike, and it's likely that you will need to replace brake pads more often than other models. But coming with a lifetime warranty on the frame, stem, fork and handle bars, means it has life long value.
It's one of the best folding bikes on the market especially if you are on a tighter bike budget that won't stretch to a Brompton M6L or Tern Verge X11.
Origami Hawk
Best folding bike to rival B'Twin Tilt
Specifications
Weight: from 30lb/13kg
Wheel size: 16in
Folding dimensions : 14″x 33″ x 24″
Colours: Four
Reasons to buy
+Very competitively priced+Reasonably spec'ed+Disc brakes+7-speed to make hills easier+Fenders and Luggage rack as standard
Reasons to avoid
-Heavier option
Origami Bicycle Company, from Richmond, Virginia, wins the 'best name for a folding bike brand' competition. But there's much more to it than just a name.
The steel frame and fork will give some riders strength reassurance, especially has it has a higher max rider weight of 240lbs (108kgs).
Equipped with Shimano Tourney/Revoshift drivetrain, with seven gears the bike should deal with undulating terrain well, and as the wheels are 20inch, it's one of the best folding bikes for stability and smoothness.
Having disc brakes at this price point is really impressive, although these are cable pull over hydraulic, which are featured on the significantly pricier Tern Verge X11. So don't assume that their stopping power will automatically out perform standard rim braking options.
Over all it's a great package. Folding dimensions a bit larger than smaller sized wheel bikes, such as the Brompton Brompton M6L and it is one of the heaver folding bike on the market, but a great value for money option.
Best folding bike travelling cyclists
Specifications
Weight: from 29.7 lb/13.5kg
Wheel size: 24" - 26"
Folded dimensions : TBC
Colours : Black, blue
Reasons to buy
+Multiple versions, including dropped race bar+Multiple wheel sizes+Two frame sizes+Compatible with clipless pedals +Travel cases available+Multiple accessories available
Reasons to avoid
-Larger than other folders to carry around
It's tricky to know where to start with the Airnimal Joey as it's one of the best folding bikes for features and versatility.
If you're new to the brand Airnimal, then it's probably best described as the ideal folding bike for people who don't actually want a folding bike.
The hard thing is deciding what sort of bike you do want and then making the selections from the Airnimal pick'n'mix in order to build it.
The Joey is the brands most versatile model, and the best folding bike for riders who want a do all wheels. You can select from several versions, from Joey Sport, which comes with 7 gears, a choice of wheels and rack and mudguards through to Joey Endurance plus, which comes with a Sram Rival groupset (including a triple chainring, 11 speed cassette, dropped bars, carbon forks and a lightweight Hope thru axle wheelset.
Depending on your build package will depend on price and specification of components, which include a mix of Sram and Shimano, and all with disc brakes, with the Adventure Plus coming with hydraulic Shimano Deore disc brakes.
The additional add ons seem to be endless, with everything from specific suitcases to even a case that convers in to a towable trailer - ideal for large scale adventures.
The larger wheel size means that it obviously doesn't fold down as small as a 16in-wheeled one, but if you want a bike that rides like a full-size road bike and takes up minimal space and can happily be rapidly be packed down for stowing away on a bus or plain or even at home this is the best folding bike for the job.
Hummingbird folding bike
Best folding bike for low weight
Specifications
Weight: from 14.33lb/6.5kg
Wheel size: 16in
Folding dimensions: 585mm high x 1160mm long x 190mm wide / 23" x 45.8" x 7.4"
Colours : Multiple (depending on model)
Reasons to buy
+Exceptionally light carbon complete frameset and finishing kit+Singlespeed is simple for flat locations (geared options available for hillier terrain)+Electric version available
Reasons to avoid
-Very expensive
Originally launched via Kickstarter, the Hummingbird folding bike features a carbon frame, custom color options and is claimed to be the lightest folding bike in the world.
There are several versions available, which will vary the weight, the singlespeed version weighs just 16lb/6.9kg, while the electric version adds a little weight to the overall package, coming in at 22.7lbs/ 10.3kg.
The geared versions fall in-between the weight spectrum, and you can opt for either 4-speed Sturmey Archer internal hub gear with chain or belt drive.
With the weight, or lack of it, being the unique selling point of the Hummingbird, you'll not be surprised to learn that bike is mostly made of carbon with titanium hardware.
It's an a beautiful package, but one that many folding bike users might feel is over spec'ed. If you're using it daily, and struggle lugging round the weightier options and have the means with which to make a purchase, this truly is one of the best folding bikes out there.
Dahon Mariner D8
Best folding bike for balancing spec, weight and price
Specifications
Weight: from 27.69lb/12.56kg
Wheel size: 20in
Folded dimensions: 65 x 32 x 79cm (25" x 12" x 31")
Colours : Silver, white
Reasons to buy
+Shimano drivetrain+Adjustable handle bar and saddle height +Rack and bungie as standard+Competitive price point
Reasons to avoid
-Some assembly required at start-Not the 'best' at one feature - so might be a compromise too far for some riders
The Mariner D8 is on of US brand Dahon's most popular folding bikes, and with it's all round performance, it's clear to see why.
The frame is made from the brand's Dalloy (an aluminium alloy) Sonus tubeset and it folds via Dahon's Lattice forged hinge with what it calls ViseGrip technology, which the brand say makes it a fast folder. It also helps keep the over all weight reasonably low. It's far from the lightest folding bike, that award goes to the Hummingbird folding bike, but at 27.69lb/12.56kg, it's far from portly.
The 20in wheels and V-brakes may be of no particular brand, but the Mariner D8 gets an eight-speed Shimano Altus drivetrain, a great reliable and durable brand, and a great find at this price point.
Coming complete with a rear rack and full-coverage fenders/ mudguards, it's ready to commute or go shopping straight out the box, once you've undertaken the tricky task of assembling this website only purchase.
It's one of the best folding bikes on the market as it does tick all the boxes of what to look for in a folder, but they're just rather small ticks. In order to reach this competitive price point, you are making compromises all round, with non if the Dahon Mariner D8 features really excelling. It's not particularly exciting, thrilling or stand out from the crowd beautiful. It just does what it says, and sometimes that's all we really want.
Best electric folding bikes
Still capable of folding in to a handy transportable package, electric folding bikes will provide a power assistance for any cyclists looking for a little help on their ride.
These are the best folding bikes for saving the legs, wanting to arrive at your destination without working up a sweat, or even as a car swop for a trip to the shops.
As with all electric bikes, there is a huge difference between the models of batteries and motors, which in general is reflected in the price tag. If you are considering a folding e-bike, then check out our page on the best electric bikes as it provides all you need to know about ebikes.
If you're interested to know how an electric bike works, you'll love our page on the anatomy of an e-bike motor.
Raleigh Evo Electric Folding Bike
Best folding e-bike on a budget
Specifications
Weight: from 44.09lb/20kg
Wheel size: 20''
Folded dimensions: 880mm x 800mm x 440mm.
Colours : Blue only
Reasons to buy
+Competitively priced +Fitted with rack and mudguards+Front and rear lights+Larger wheels and wider tires for comfort
Reasons to avoid
-A heavy folding bike
The really competitively priced Raleigh Evo Electric bike is one of the best folding bikes for riders looking for a little powered assistance and an alternative option over the car or public transport.
The aluminum frame and a steel fork combo comes with an eight-speed Shimano Altus gear system, a 250Wh battery and a New TranzX F15 motor, which Raleigh say provides a range of around 31miles (terrain, speed and rider weight depending).
The larger 20" wheels are fitted with Kenda 1.95 tyres, which should provide a comfortable and stable ride. While it's unclear what brand v-brakes are fitted, the rest of the finishing kit features many Raleigh own branded parts, which from experience is good quality, reliable and durable.
We're really impressed to see the inclusion of front and rear lights, and integrated racks and fenders/ mudguards as standard in this little machine. The down side, as with all electric folding bikes is the weight that a battery and motor add to the bike. At 44.09lb/20kg (claimed), it's about 20lbs. 10kg heaver than a standard folder such as the Tern Verge X11. So it's hardly a fold and hop on a train/ pop in the boot of a car bike, but it's worth noting that even with all the as standard extras it's still comes in a little lighter than the much higher end Tern Vektron S10 electric folding bike.
Raleigh Evo Electric Folding Bike is a great option for anyone wanting to a cycling commute without working up a sweat, perhaps wanting to replace the car for trips to the shops, or even undertake a little touring (as long as to take the battery charger).
Tern Vektron S10 electric folding bike
The best folding e-bike with a super spec
Specifications
Weight: from 48.72lb/22.1kg
Wheel size: 20in
Folded dimensions : 410 × 860 × 680 mm (16.1 × 33.9 × 26.8 in)
Colours : Black only
Reasons to buy
+Reliable Bosch power system has long-range and cuts effort of commute+Lots of adjustability points for a perfect fit and sharing capabilities+Magura MT4 Hydraulic disc brakes+Part Shimano drivechain+Child bike seat compatible+Rack and fenders/ mudguards as standard
Reasons to avoid
-A heavy folding bike - making carrying harder
We really rated the no electric Tern Verge X11, so have complete confidence that the powered Tern Vektron will also be one of the best folding bikes on the market.
This time the Vektron has slightly smaller 20-inch wheels, although these are larger than some folding bike models, like the Brompton, which are teamed with Schwalbe Big Apple tyres, and should provide a really stable and comfortable ride feel.
The biggest deal with this electric folding bike is that it features a high-quality gold standard Bosch electric drivetrain, with a full charge can lasting between 30 and 60 miles depending on the level of electric assist. It's well worth reading our page on electric bikes, highlighted above, to understand why the battery and motor choice really make a difference on ride quality of e-bikes, but in summary: you get what you pay for.
The rest of this impressive folding bike is, as expected with Tern, spec'ed highly with Magura MT4 hydraulic disc brakes making speed modulation and controlled stopping a breeze, and highly respected Shimano 10speed Deore drivetrain also making an appearance.
The alumium frameset of the Vektron comes with a could of adjustable points in the way of the stem, which also acts and handle bar height, and saddle, making it a great option when there's possibly more than one cyclist riding the bike, which Tern say will suit riders between 4ft 10in to 6ft 5in.
The as standard Atlas rack can haul 27kg, and is also compatible with a child bike seat, a great option for anyone combining their commute with dropping off the little ones.
With the battery, motor rack, fenders/mudguards and integrated lights however does come a weight compromise. Weighing in at 48.72lb/22.1kg it's probably one of the heaviest folding bikes on the market, which can make off bike manoeuvrability tricky, especially if there are stairs involved.
Weight penalty aside, this is one of the best folding bikes money can buy, you'll just require rather a lot.
How to pick
Folding bikes: what benefits can they offer you?
There are many benefits a folding bike offers. Here's a quick list of just a few of them:
Ease of switching between cycling and public transport
Stores easily in your home
Peace of mind of not having to lock up the bike outside (it can sit under your desk!)
Convenient to take on vacation - collapsible bikes are popular with RV road trippers and some can even be packed into airline luggage
Most are built with durability and simple maintenance as the top priority
What sort of folding bike is best for you?
There are many different brands offering folding bikes, and what might be the perfect option for one person may be the wrong one another. Key differences can be found in wheel size, folding mechanism, weight and price.
Folding mechanism: A collapsible bike can be folded in a few different ways. Some styles are more user friendly than others, so it's worth seeing a bike in the flesh and practicing folding and unfolding before you buy, particularly if you expect to be unfurling the bike in a hurry on a train platform.
Folding bike wheel size: Models with smaller wheels will be lighter and more compact when folded, but won't gather as much momentum on the road. A folding bike with larger wheels will be much faster-rolling once the wheels are up to speed - but will likely weigh more and will be little more cumbersome to load onto public transport or haul up a few flights of stairs.
Lightweight folding bikes: If you intend to be hoisting the bike on and off trains, then it's understandable that you want it to be light. This can be achieved through using a lighter frame material. Brompton has introduced titanium to its range and there are brands, such as Hummingbird, making carbon folders. Higher quality components will also reduce the weight, as will opting for fewer gears - such as a singlespeed version - but this will only really suit someone who doesn't intend to come across many hills in their use of the bike.
Folding bike adjustability: Most folding bikes will be 'one size fits all', with a great deal of adjustability – meaning that it's easy to share the bike across members of your household. However, if you know this is an important consideration, it's worth ensuring that the model you buy offers a wide range of adjustment that's easy to use. Brompton bikes, for example, have a long seatpost that is adjusted via a simple quick-release lever, making it easy to swap between riders.
Electric folding bikes: In the past few years, electric folding bikes have become a genre of their own. The addition of a motor usually makes for a greater overall mass, but weights are ever decreasing and the additional power will make ascents significantly easier.
Are cheap folding bikes worth it?
While the saying 'you get what you pay for' mostly applies here. You can pick up a cheap folding bike, such as the B'Twin Tilt 500 and be pleasantly surprised. A cheap folding bike will do the job for you - but you can expect it to be heavier than more premium offerings thanks to lower-end components and a heftier frame.
Finding the right option for you comes down to choosing which side of compromise to sit on.
Folding bike frame materials
As with any type of bike, there are multiple options when it comes to frame material.
Collapsible bike market leader Brompton specializes in steel – using its renowned high-quality brazing techniques to ensure that the frame welding provides the lightest yet strongest bond possible. Steel is resilient and comfortable – but it's not lightest and that's why Brompton started offering some titanium-tubed folders.
Aluminum is a very popular choice for its balance between weight and resilience - and also low price.
For those who really want to splash out, there are carbon-framed folding bikes such as Hummingbird's singlespeed, which comes in at 8kg. Although using carbon will make for a super-light folding bike, it's easier to damage than steel or aluminum, which is worth bearing in mind as many folders pick up a few knocks being hauled on and off trains.
Folding bike components: what to look out for
Because of what they do, folding bikes are popular among commuters who will opt for components that are easy to maintain and reliable.
Tough tires with good puncture protection are often high on the agenda. Fixing a flat is the last thing you want to do on your way to work. Schwalbe and Kenda are popular manufacturers of small diameter tires for folding bikes, and most will be 1.75-2 inches wide – offering a good level of grip thanks to a high volume and thus increased contact patch with the tarmac compared to traditional road tires.
Think carefully about the number of gears, too. For flat city streets, a singlespeed (just a single gear) will cut down on maintenance and overall weight. However, for riding hilly terrain there are folding bikes that come with triple cranksets and 11-32 wide-ratio cassettes. This will allow you spin up gradients, but will increase weight.
Many folding bikes feature hub gears – this means the shifting system is entirely sealed, cutting down on maintenance dramatically. Shiftingon hub gears is often easier then using derailleurs for beginners, as there is no chain tension to worry about - you don't have to be pedalling to change gear. In addition, there's no derailleur to get bent or damaged, always a risk for a hard-working folding bike.
If you want a wide spread of gears, a derailleur system is better, but less practical in the folding bike world.
Disc brakes are also beginning to appear on folding bikes, offering greater stopping power and control – especially in wet weather. They'll add more to the weight than rim brakes, however.
If you expect to be cycling in your office clothes, and want to stay as clean as possible, chainguards and fenders are essential.
Pannier racks, a frame-mounted pump and integrated lights are all accessories that you can feel justified in expecting on higher-end models.
Electric folding bikes: the future?
The huge rise in popularity of e-bikes hasn't passed the folding family by. There's an increasing number of folding e-bikes and in the next few years we can expect to see that number increasing.
Having an electric motor assisting your folding bike journey means you can commute without having to worry getting sweaty in your work clothes.
Electric assist is also a perfect way of overcoming one of the drawbacks of e-bikes: their weight. They are relatively heavy for their size due to the extra rigidity that has to be built into their hinged parts. So although a folding electric bike will weigh more than a standard folding bike, you'll get a bit of help with your pedalling.
The lightest folding e-bike we've seen actually available to buy is the A-bike at 12kg, but most models are over 15kg and over 20kg isn't an unreasonable mass.
As with any e-bike, have a good look at battery run times – most folding electric bikes can power you for about 50 miles. So if you're planning a mega commute remember to take a charger, or have one at both ends of your journey.
Cycling Weekly's Tech Editor Michelle Arthurs-Brennan is a traditional journalist by trade, having begun her career working for a local newspaper before spending a few years at Evans Cycles, then combining the two with a career in cycling journalism.
When not typing or testing, Michelle is a road racer who also enjoys track riding and the occasional time trial, though dabbles in off-road riding too (either on a mountain bike, or a 'gravel bike'). She is passionate about supporting grassroots women's racing and founded the women's road race team 1904rt.
Favourite bikes include a custom carbon Werking road bike as well as the Specialized Tarmac SL6.
Height: 166cm
Weight: 56kg