Best bike racks for cars and trucks 2023: tow bar and roof rack models reviewed
Load 'em up and roll 'em out. We test the best bike racks for cars to see which you can rely on and those that will drive you crazy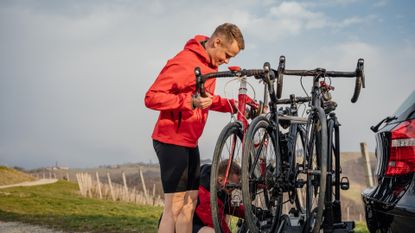 (Image credit: Getty Images - SimonSkafar)
Get The Leadout Newsletter
The latest race content, interviews, features, reviews and expert buying guides, direct to your inbox!
Thank you for signing up to The Pick. You will receive a verification email shortly.
There was a problem. Please refresh the page and try again.
Among the many joys of owning a bicycle is its ability to help you explore new places - and one of the best bike racks for cars will help you to get further afield for your cycling.
We've tested models from all the most popular types of bike racks, seeing how easy they are to set up and use. There are a range of different places where they mount and different methods to fix your bike to them and different models can carry differing numbers of bikes as well.
Rear racks are popular as they don't require additional equipment. Essentially you just clip them on the boot or trunk of your car and off you go. However, as you'll see from our reviews it's not always quite as straightforward as that.
Roof racks attach to roof bars (unless you opt for the Seasucker brand). This means some added cost if your car doesn't currently have them fitted. Likewise towpoint mounted racks connect to a towbar or towball. Unlike roof bars these will need to be fitted by a garage, which again means additional expenditure.
We reckon that the Seasucker is the best rack system, unless you have a lot of bikes to carry or find lifting your bike onto your car's roof difficult. It's simple to put on and off your vehicle, low profile and easy to store when not in use. There are models to fit up to three bikes, although you'll need to pay extra to lock your bikes to your car.
We'll get into how to choose the best car bike rack for your needs and some of the benefits and potential pitfalls of all three types of racks at the end of this guide. Bur first here are our picks of the bunch. Let's rack 'em up.
Our pick of the best bike racks for cars
You can trust Cycling Weekly. Our team of experts put in hard miles testing cycling tech and will always share honest, unbiased advice to help you choose. Find out more about how we test.
Tow bar bike racks
Best bike rack for sturdiness
Specifications
Number of bikes:: 2
Maximum bike weight:: 70lb per bike
Reasons to buy
+
Sturdy
+
Intuitive and functional use
+
Non-marring design
Reasons to avoid
-
Heavy
-
Difficult to store
The Yakima StageTwo takes a classic rack design and elevates it. Not only is it very robust, but everything about it works quickly and easily. The rack is very sturdy when mounted on a vehicle and the hitch on and off procedure is straightforward and tool-free.
The handle to raise and lower the rack between vertical (empty) and horizontal (full of bikes) is both well-located and easy to operate. Locks are included, and a variety of other accessories are available separately. At nearly 70 lbs, it may be too large and heavy for some people to store though, and the design takes up a lot of space on the vehicle as well.
Read more: Yakima StageTwo bike rack full review
Best bike rack for extras
Specifications
Number of bikes:: 2
Maximum bike weight:: 66lb per bike
Reasons to buy
+
Folds up for storage
+
Lightweight
+
Holds bikes securely
Reasons to avoid
-
Expensive
-
Does not fold out of the way while on vehicle
Thule's attention to detail comes through in many ways while utilizing this hitch mounted rack. It works with a wide range of bicycle types and sizes, and, even more impressively, folds up into a very compact footprint for storage.
This design works with a wide variety of bike sizes and shapes including those with fenders—a rarity for hitch mounted racks. The rack also tips down with bikes installed for trunk access via an easily accessed tilt pedal.
Also worth noting: there are lots of accessories available from Thule to customize the rack to your needs, such as a ramp for loading heavy bikes.
The price is high, but locks and lights are included, as is a license plate holder. Its only significant shortcoming, other than expense, is the fact that it doesn't pivot out of the way vertically while mounted on a vehicle.
Read more: Thule Epos 2 with Lights bike rack full review
Best bike rack for budget pricing
Specifications
Number of bikes:: 2
Maximum bike weight:: 60lb per bike
Reasons to buy
+
Inexpensive
+
Holds bikes securely
+
Fits on multiple receivers
Reasons to avoid
-
Not very robust
-
Tedious ratchet straps
The Saris Freedom 2-Bike rack is an entry-level rack that works reasonably well for its intended purpose. Its simple design and lightweight frame make it easy to load on and off a vehicle as well as store when not being used.
The combination of dual wheel hold down straps with a central fixture point means that the bike has no room to wiggle around. And because the wheels are attached from below, this design works well with bikes with fenders attached.
I do have concerns about its long term robustness, however, and the straps are frustrating to use. That said, it's relatively inexpensive and is manufactured in the USA.
Read more: Saris Freedom 2-Bike bike rack full review
The best bike rack for e-bikes
Specifications
Number of bikes: 2
Maximum bike weight: 60kg
Reasons to buy
+
Very quick to fit
+
Good build quality
+
Easy to lock bikes to the rack
Reasons to avoid
-
Expensive for a two-bike rack
-
Rear ratchet position is awkward to reach
The Thule Easyfold XT2 is easy by name and easy by nature. It comes ready to fit out of the box. That means no pre-assembly, which means not having to faff about with bolt, straps and allen keys!
The rack weighs 17.9kgs but we found that the built-in carrying handle is well-placed resulting in a perfectly balanced product that's easy to carry to the car and lift onto the tow hitch. It means that fitting the Thule Easyfold is a genuine one-person job in our experience.
The XT2 only carries two bikes. However the combined maximum carrying weight is 60kg, which means that it's a rack that can comfortably handle the extra weight of an e-bike. There's an optional bike ramp available to make the loading and unloading of heavy bikes easier as well as a carry bag that's useful when storing the rack. However, both come at additional cost.
Even without the added extras, the Thule Easyfold XT2 is an expensive option, especially when you consider its two-bike capacity. But you get what you pay for, and the XT2 is a well-made with a considered design. The result is a robust rack that we found easy to fit. Once removed it packs away neatly too.
Read more: Thule Easyfold XT2 tow bar bike rack
The best for four-bike affordability
Specifications
Number of bikes: 4
Maximum bike weight: 60kg
Reasons to buy
+
Affordable in comparison to similar racks from rival brands
+
Sturdy construction
Reasons to avoid
-
Heavy if you're fitting it on your own
-
Not suitable for many MTBs
The Advanced 4 bike tow bar rack is a heavy duty item. Weighing in at almost 20kgs it's certainly robust but it does mean that it's not the easiest to fit. We tried it on our own and concluded that it's a two-person job! Halfords does offer an installation service - however it's likely that you'll have to remove and refit the rack again at some point.
We also found the fitting to be a tad fiddly. The mechanism that secures the rack to the tow bar requires several stages and it's hard going if you're attempting this alone. The lightboard also needs fitting as it's not integrated into the rack. This is done using cable ties but the fact they'll need to be cut and replaced each time you use the rack is a mark against the Advanced.
When set-up the rack will hold four bikes, with a maximum weight of 15kg per bike. This is somewhat limiting if you're hoping to carry an e-bike. Equally the maximum wheelbase length of 109cm rules out many contemporary mountain bikes - however the majority of road and gravel bikes will be fine as should all children's bikes.
The rack does come with a cable lock although we were left unconvinced that it would be sufficiently strong to do the job if you were planning on leaving the bikes unattended.
Removal is pretty straightforward, although you still have the weight factor involved here. However, once removed it folds up nicely and can be stored away in the garage or hallway without taking up too much space.
Read more: Halfords Advanced 4 bike tow bar bike rack full review
Roof bike racks
Best bike rack for simplicity
Specifications
Number of bikes:: 1
Maximum bike weight:: 20kg
Reasons to buy
+
Suitable for roof top and hatchback
+
Simple to install
+
Lightweight and easy to store
+
Can be adapted for thru-axles
Reasons to avoid
-
Concern over whether your bike really will stay put
SeaSucker shocked the cycling world when it arrived with its suction operated bike racks - doing away with nuts, bolts and fixtures. We were sceptical, too - until we had one in to review, to great success.
The large suction cups use the same system as used to carry glass panes around and to scale office blocks to clean the windows. In neither case do you want them to fail, so you can be pretty confident that your bike will stay put on your car roof.
Fitting was as easy as a simple pump action, and even with exuberant driving there was no sign of any undue movement. The cups are easy to remove too, making the Seasucker rack much faster than a system using nuts and bolts to install and take off your bike.
The rack weighs just 2.12kg in total, making it a highly convenient, easy to store option and it habdles both quick releases and thru-axle bikes.
Read more: SeaSucker Talon QR-1 roof rack full review
7. Peruzzo Lucky Two roof rack
Another solid bike rack for those on a budget
Specifications
Number of bikes: 1
Maximum bike weight:: 15kg
Reasons to buy
+
Low-cost
+
Compatible with disc-brakes
+
Locking knob available as add-on
Reasons to avoid
-
Only one bike
-
Not lockable
The Peruzzo Lucky 2 bike rack is an affordable roof mounted carrier designed to hold one bike.
As you'd expect at this lower price point there's no capacity to lock the bike and it requires you to have roof bars installed on your car. However a locking knob is available as an additional accessory.
All Peruzzo bike racks are made in Italy.
Boot / trunk bike racks
8. Hollywood F9 Express E3 bike rack
Best pre-assembled bike rack on a budget
Specifications
Number of bikes:: 3
Maximum bike weight:: 16kg (per bike)
Reasons to buy
+
Designed to fold neatly into boot
+
Pre-assembled
+
Affordable
Reasons to avoid
-
Wobbles unless all straps are used
Arriving fully assembled, this option offers a construction free solution - but it is essential that the six supporting straps are well applied to prevent the rack from wobbling. On test, we found that as long as we could give the rack a good grip on a solid bit of the car, the rack and its load stayed movement free and up to three bikes can be transported.
The car's paintwork is protected by rubber tabs and the rack is designed to fold neatly into the boot when not in use.
9. Saris Bones 2-Bike rack
Best bike rack for adaptability
Specifications
Number of bikes:: 2
Maximum bike weight:: 15kg (per bike)
Reasons to buy
+
Very adaptable
+
Made from 100% recyclable materials
+
Lightweight
Reasons to avoid
-
Takes a bit of preparation
Saris makes cool bike racks, and this is no exception. It takes a bit of preparation to get the 'bones' shaped right to fit your car — the rack's legs and arms have to be completely removed and then refitted at the correct angle — but that means it is adaptable to a great range of rear ends.
The Bones comes with everything you need — such as bike-retaining straps. As denoted by the name, Saris also makes similar racks for one and three bikes.
Bike racks for cars summary table
Swipe to scroll horizontally
| | | | |
| --- | --- | --- | --- |
| Model | Mounting | Bikes | Max bike weight |
| Thule Easyfold XT2 | Tow bar | 2 | 60kg |
| Halfords Advanced 4 | Tow bar | 4 | 60kg |
| Yakima StageTwo | Tow bar | 2 | 70lb per bike |
| Thule Epos 2 with lights | Tow bar | 2 | 66lb per bike |
| Saris Freedom 2-bike | Tow bar | 2 | 60lb per bike |
| Seasucker Talon QR1 | Roof | 1 | 20kg |
| Peruzzo Lucky Two | Roof | 1 | 15kg |
| Hollywood F9 Express E3 | Boot / trunk | 3 | 16kg per bike |
| Saris Bones | Boot / trunk | 2 | 15kg per bike |
Buyer's guide to how to choose the best bike rack for cars
What is the best way to carry a bike on a car?
In effect there are three main types of carrier: the rear rack which clips around your boot lid and rests on the rear of your car; the roof rack which attaches to roof bars; and the towpoint mounted rack which can either fit on the towbar or towball.
If you don't already have roof bars, they are easy to fit and can be bought for around £100 / $150. A towpoint, on the other hand, is a garage-fitted option and will cost significantly more.
You'll also need to consider how many bikes you are planning to transport. Roof racks are great for quickly loading one or two bikes or, if you put a little care into arranging them, even a full complement of four cycles. If you're a little challenged in the height department, however, they can be a difficult to reach.
Rear racks can be loaded more easily but face other pitfalls: often the bikes have to be packed together so tightly that rub damage is a common occurrence unless you're very careful to wrap and isolate the tubes, and fully-loaded rear racks have a tendency to obscure your number plate and lights, making your car illegal.
How do bikes attach to different racks?
There are a few different ways in which your bike may be supported on your vehicle.
For most roof racks, your front axle mounts to the rack, which means removing your front wheel and carrying it separately. Your rear wheel usually stays on your bike. Some roof racks have a support that grips your bike's frame though, so both wheels can stay in place.
If your wheel needs to be taken off, many systems will work with both quick release axles and thru-axles. The former are often found on the best cheap road bikes and best hybrid bikes, whereas the best road bikes now usually use thru-axles and the best gravel bikes almost invariably have thru-axles too.
Rear mounted racks usually suspend the bike by its top tube from supports at the top of the rack. The wheels and the base of the bike then needs to be lashed to the rack's frame, to keep your bike safely in position.
Towbar mounted racks may have a similar system, but they usually provide a tray that your bike sits on, making mounting and dismounting your bike easier, particularly if you have a heavier bike or an electric bike to carry.
Do all bike racks fit all cars?
While most bike racks are adjustable they don't offer a universal fit. They are just simply too many different shaped vehicles for that to be possible.
If you're planning on buying a rear rack you'll need to be aware of the shape of your car's rear end. Different rear racks are designed to work best with saloons/sedans, hatchbacks or people carriers. If you are in any doubt, log on to the rack manufacturer's website where you should find a vehicle checker, showing which products fit your motor.
Likewise a specific roof rack may not be compatible with your current roof bars. These come in two shapes: traditional square-profile and more modern oval, aero bars. The oval bars are designed to cut through the air, reduce drag, and in the process cause less wind noise. Just make sure when you pick your roof rack it will work with whichever shape roof bars you have fitted.
How do I secure my bike so it can't be stolen?
Most racks don't include any form of locking device as standard, so you'll need to buy this as an accessory. You may get some security to stop the rack itself from being removed from your vehicle - of itself most racks are fairly expensive before you add the bikes on top.
There is then usually a system available to buy that's custom-made to lock your bikes to the rack. Look out for its security rating; most will deter opportunist theft but not the professional. It's still sensible to remove your bike and lock it somewhere secure if you're leaving your bike for a longer period or overnight.
A lightweight option like the Hiplok Z Lok may be worth considering to make removing your bike a little harder, although again it won't be as secure as the best bike locks.
How we test
Cycling Weekly's team of specialist testers understand the bike market inside out and has tested and rated a huge number of bikes, components, clothing and accessory options.
We've cyclists like you first and foremost, so we know what works and what doesn't work so well. Travelling to events, races and to produce our exclusive written and video content is part of the job, so the best bike racks for cars are an essential item to get us and our bikes where we need to be.
Get The Leadout Newsletter
The latest race content, interviews, features, reviews and expert buying guides, direct to your inbox!
Luke Friend has worked as a writer, editor and copywriter for twenty five years. Across books, magazines and websites, he's covered a broad range of topics for a range of clients including Major League Baseball, the National Trust and the NHS. He has an MA in Professional Writing from Falmouth University and is a qualified bicycle mechanic. He has been a cycling enthusiast from an early age, partly due to watching the Tour de France on TV. He's a keen follower of bike racing to this day as well as a regular road and gravel rider.