Best bike locks 2023: heavy duty and portable locks for keeping your bike safe
You'll want one of the best bike locks if you plan to leave your bike unattended at any time - here's what to look for and an overview of some of the best locks on the market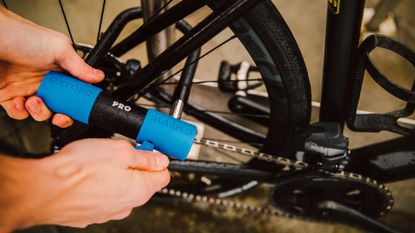 (Image credit: Future)
The best bike locks might not be the most exciting item to splash out on, but sadly bike theft is very common; a good quality lock is an effective deterrent.
We've tested a wide variety of bike locks, ranging from ultimate security heavy-duty U-locks, to portable lightweight options offering a little more peace of mind at the café stop—with many others in between.
We haven't actually tried to saw through the locks, but in the UK Sold Secure does that and rates the locks - you'll notice in each review we list its security rating, often gold, silver or diamond, and we explain in more detail about these ratings at the bottom of this page. But we do carry and use the locks we test in a variety of conditions and so can comment on their usability and portability.
Just like buying one of the best road bikes, there are a number of considerations it's worth reflecting on before you commit to a bike lock purchase. For instance, where are you planning on locking up your bike and for how long? What's the value of your bike? Does your insurance specify a particular lock security rating? How is a bike lock's security determined? Do you even have insurance?
For answers to these questions and much else besides, skip directly to the bottom of the page and get all that juicy information. We also have our own comprehensive guide to the best bicycle insurance, which will tell you everything you need to know.
However, if you know what you're looking for and want to get straight on to our pick of the best bike locks, read on.
Best bike locks: quick list
Our pick of the best bike locks
You can trust Cycling Weekly. Our team of experts put in hard miles testing cycling tech and will always share honest, unbiased advice to help you choose. Find out more about how we test.
We've put the locks in order of security, starting with the most secure. For locks with the same security rating, we've ordered by price, starting with the most expensive.
Ultimate security
Best value for Diamond rated protection
Specifications
Security rating: Diamond
Weight: 929g
Lockable area: 8.3cm x 15.2cm | 126cm²
Reasons to buy
+
High security rating
+
Small size leads to light weight and good portability
Reasons to avoid
-
No frame mount provided
-
Cannot get replacement keys
The Master Lock Mini U-Lock is something of a hidden gem. You'd have thought that with the top Sold Secure Diamond rating and its impressively light sub-kilo weight Master Lock would be boasting and inflating the price to match those premium qualities.
But no, despite being one of the lightest locks on the market with a Sold Secure Diamond rating, Master Lock remains quite modest about the Mini U-Lock and its price is surprisingly low.
Naturally, the lock is on the smaller side for U-Locks, but we found that it's still large enough to lock the rear wheel to your bike's frame and go around a standard Sheffield Stand, securing your bike to an immovable object. On review we found that we needed to be a bit more careful about exactly what object we chose to 'lock up' to but this didn't present any real issues.
The plastic coating helps to avoid scratches to your bike and there's a dust cover over the lock mechanism to avoid contamination. After several uses our bikes remained scratch-free. Be careful with your keys though; the four provided are all you'll ever have, as there's no key replacement service.
Finally, a bike mount would have been appreciated. During review we found ourselves popping out and having to bring a rucksack to carry the lock in, even though we didn't otherwise require the bag.
Read more: Master Lock Mini U-Lock full review
Best for lightweight, heavy duty protection
Specifications
Security rating: Diamond
Weight: 1.7kg
Lockable area: 101mm x 196mm
Reasons to buy
+
Lightweight and easy to carry
+
Good range of accessories available
+
Rubber outer layer protects your frame from scratches
Reasons to avoid
-
Three-digit price tag is more expensive than some second-hand bikes
The Litelok X1 isn't cheap. With the premium price, however, comes premium quality. The lock is diamond rated meaning you'll be covered under most insurance schemes, it requires multiple angle grinder discs to penetrate and weighs in at a reasonable 1.7kg, meaning that the lock is easy to carry around.
In use, our reviewer found that: "Due to its locking circumference, it was easy to lock the bike up in all of the different places that I needed to and in general, the Litelok X1 was a pleasure to use".
There are other locks, such as the On Guard Brute, which offer a similar security rating for a much lower price, but the security ratings only provide a lower bound - they don't tell you much a lock passes the test by.
So, for ultimate peace of mind - when it's the bike you care about, rather than insurance provider box ticking - the X1 is an excellent option. It's constructed with 'Barronium', a brand new composite designed to resist angle grinders and lined with an environmentally friendly rubber coating that will not scratch your frame.
Read more: Litelok X1 bike lock full review
3. Kryptonite New York Fahgettaboudit Chain 1410
Best for locking flexibility
Specifications
Security rating: Diamond
Weight: 4.9kg
Lockable area: 100cm chain length
Reasons to buy
+
Chain lock for easier use
+
More portable than a U-lock
+
Robust locking mechanism
If you prefer a chain lock over a U-lock, the Kryptonite New York Fahgettaboudit Chain Lock is an option that's Diamond rated thanks to its high security locking mechanism and a U-lock-like oval steel connector between the lock and the chain.
The chain is made of hardened manganese steel with 14mm hexagonal section links and is covered by a nylon cover to protect your bike.
It's quite a heavy lock at almost 5kg, but the decent length and flexibility makes it more adaptable than a U-lock to fit through your bike's wheel and frame and variable shaped anchors. It's a bit easier to carry than a U-lock too, despite its weight.
4. Onguard Brute
Well priced and three shackle lengths available
Specifications
Security rating: Diamond
Weight: From 2.8kg
Lockable area: From 113cm²
Reasons to buy
+
Three length options
+
Affordable option when compared to similar locks
The Brute is Onguard's highest security lock, which locks the 16.8mm diameter shackle in four places, rather than the more standard two points of engagement. There's plenty of coverage with a flat area at the top of the lock rather than a curved one to increase space and the shackle is coated with thick rubber to help prevent frame damage.
The Brute has a high security locking cylinder, designed to prevent drilling or other assaults and with a rounded shape it helps prevent leverage around its edges. It comes with five keys, one with an LED to help you see what you're doing and unlock your bike after dark.
There are three different lengths of lock, so you can find one to balance portability and lockable area and the Brute comes with a frame mount. Despite its Sold Secure Diamond rating, the Onguard Brute is reasonably priced too.
Maximum security with a reasonable price tag - Diamond rated
Specifications
Security rating: Diamond
Weight: 2,458g
Lockable area: 15cm x 22.5cm | 338cm²
Reasons to buy
+
Very secure
+
Good size to get around bike frame and anchor
+
Three keys supplied
+
Lock barrel dustcover
Reasons to avoid
-
Not designed with portability in mind
Manufactured by Milton Keynes based security brand, Milenco, the Dundrod ++ surpasses the requirements for Gold and is one of the few locks that meet Sold Secure's Diamond standard.
Although most bike insurers will only require a Gold rated lock for cycles worth over £1,000/$1,000, if your bike has sentimental value or is a model that can't be replaced, you'll be wanting something more secure — which is where a Diamond rated lock comes in.
The Dundrod ++ is reassuringly plump with a shackle and crossbar that are visibly beefier than a standard U-lock. The lockable area is on the larger side for this style of lock, making it quite easy to secure the bike through the frame and wheel.
Bear in mind that if you are considering a lock of this application, it is worth using two to lock each wheel to the frame and immovable object, as well as potentially upgrading the locks to wherever you are keeping your bike.
Coming without a bike mount and weighing just under two and a half kilos, the Dundrod ++ isn't intended as a lock for use when out and about—although this certainly isn't ruled out, providing you have somewhere to put it.
Read more: Milenco Dundrod ++ full review
High security
Super secure folding lock - Gold rated
Specifications
Security rating: Gold
Weight: 1,962g
Lockable area: 14cm x 31cm | 434cm²
Reasons to buy
+
Very secure
+
Large lockable area - can secure two bikes if needed
+
Bike mount included
Reasons to avoid
-
Heavy to carry
-
Only two keys included
Folding locks bring a range of benefits over the venerable U-lock design. Not only do they tend to pack down smaller and have a larger lockable area, but their flexible nature greatly increases the range of objects you can lock your bike up to.
The typical downside of a folding lock is that with so many moving parts, they tend to be less secure than a simpler design, such as a U-lock. The hinge areas add a potential point of attack that's not there with U-lock.
As such, the Abus is one of the only Gold rated folding locks currently available, but this superlative security does come with a couple of trade-offs. Tipping the scales at just under two kilos, the Abus lock is over four times as expensive and weighs just over half as much again as the Gold rated Zéfal K-Traz U17.
The Bordo Granit X Plus certainly isn't all things to all people—but then, it isn't trying to be. As a high security folding lock, it performs excellently. In addition to all the general benefits of folding locks, the Abus has a comprehensive rubber coating to protect your paintwork, a bike mount that is simple to set up and to use day-to-day, as well as an integrated weather seal on the lock barrel—adding some very welcome weather protection.
On review we found the bike mount not only straightforward to use but also capable of keeping the lock firmly in place, even when we were cycling on uneven and bumpy roads. Once we'd arrived at our destination the Bordo Granit X Plus' large lockable area made it easy to lock up our bike without any fuss; in fact we even locked up two town bikes using the one lock.
Read more: Abus Bordo Granit X Plus 6500 full review
Best U-lock with an alarm - Gold rated
Specifications
Security rating: Gold
Weight: 1,419g
Lockable area: 10.1cm x 20cm | 202cm²
Reasons to buy
+
Well executed alarm feature
+
Reasonable weight
+
User friendly shackle
Reasons to avoid
-
Rubber cover doesn't extend all the way across the crossbar
As the name would suggest, this Oxford lock comes with an inbuilt alarm that will sound if the internal motion sensors detect any tampering. It's very simple to use, with arming and disarming controlled by just a turn of the key in the lock.
The calibration of the motion sensor was pretty spot on, detecting any suspicious fumbling, but not going off when the bike was just knocked a little when locking another up next to it. With the battery easy to access (when the lock is open), you can quite easily disable the alarm completely if you need it to work simply as a lock for any reason.
But this lock is by no means a novelty, it performs the basics really well. The bent shackle makes it easy to attach the crossbar, three keys are provided with more orderable, the bike mount is easy to set and works well in day-to-day use, plus its weight is pretty middle of the road for this style of lock.
The only reservation I have about this lock is that the rubber bumpers on the crossbar don't extend all the way across, so some care is needed not to scratch your bike on the middle section of exposed metal.
Read more: Oxford Alarm-D Pro full review