Best GPS Bike Trackers: find and follow your stolen bike 2023
Our tech team reviews the best GPS bike trackers to offer you increased peace of mind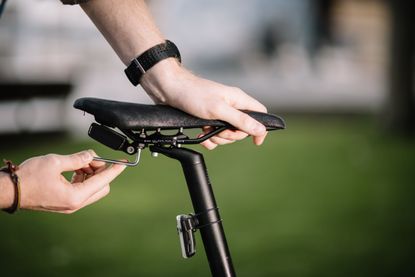 Get The Leadout Newsletter
The latest race content, interviews, features, reviews and expert buying guides, direct to your inbox!
Thank you for signing up to The Pick. You will receive a verification email shortly.
There was a problem. Please refresh the page and try again.
The best GPS bike trackers and their supporting apps are designed to help reduce bike theft by alerting the owner if their bike is tampered with or moves. With a bike stolen every 16 minutes in London alone and only 2 per cent ever recovered, anything you can do to prevent theft or locate your stolen bike will help.
You should start off with prevention though; the best bike locks will go a long way to prevent theft, particularly if you follow our eight tips for how to lock a bike securely.
Most GPS bike trackers consist of an accessory, which is attached to the bike, and a phone app. With the app, the owner is able to trace the bike - even using it to alert the police to where the bike is being kept.
Most of the GPS bike trackers are small and lightweight, so that you'll hardly notice it's there other than the extra peace of mind afforded by its presence.
There's a variety of GPS bike trackers available - we called in a selection and put them to the test.
How we tested the GPS bike trackers
We had a lot of fun with this test. In a low-budget recreation of the Hunted TV show, our tester went on the run with his own bike. His daughter took on the role of hunter. At 10 minute intervals, she would try to locate the bike, using all three security devices.
We made sure that our locations were varied, for example outside a café in a busy highstreet, and in a multistorey car park (where you'd expect a tracker to struggle).
We rated the GPS trackers based upon how easy it was for our hunter to locate the hunted, as well as ease of affixing the device and convenience of use.
Best GPS Bike Trackers
Best inexpensive option for iPhone users
Specifications
Weight: 11g / 0.39 oz
Dimensions: 31.9 mm x 8.0 mm / 1.26" x 0.31"
Network used: Bluetooth
Waterproof?: Water and splash resistant
Reasons to buy
+
Huge number of Apple devices provides a big network to tap into
+
A wide range of third-party bike mounts are available
+
Inexpensive compared with a GPS tracker
Reasons to avoid
-
Needs a recent iPhone to get the best from the app
-
AirTag could accidentally alert a thief to its presence
The AirTag is Apple's answer to Tile and other small trackers. Like Tile tags, the Apple AirTag uses Bluetooth to connect to your phone. So long as the AirTag is within range of your phone, all you need to do is tap on the 'Find My' app and the AirTag's location shows on the screen.
It's certainly an affordable option for a fully blown GPS tracker. However, as it's not designed as a dedicated bike tracker it does mean that you'll find it has a few limitations as well as some benefits.
The AirTag relies on an Apple user being nearby to locate your stolen bike. While there are obviously millions of iPhones in operation it does limit it somewhat.
As for its accuracy, on review we found that it was a little patchy, finding our 'lost' bike in two of the five locations we tried. That's a little better than the Tile tracker and comparable with the far more expensive Vodafone bike light & GPS tracker product.
That said for the price of a cheap bike lock it provides some additional peace of mind when it comes to security of your favourite bike.
Read more: Apple AirTag GPS bike tracker full review
Best low cost option that's easy to install
Specifications
Weight: 10 grams
Dimensions: 27mm x 7.3mm
Network used: Bluetooth only
Waterproof?: Yes
Reasons to buy
+
Low cost
+
Easy installation
+
Waterproof
+
Works with Apple and Android phones
Reasons to avoid
-
Bluetooth only
-
Limited range
-
Relies on other Tile users to find a missing bike
Tile Sticker is a tiny tracking device that's been designed to help you keep tabs on a range of household and outdoor items. As the name suggests, it features an adhesive backing so you can stick the device to your bike frame with ease.
It features a built-in battery with a two-year life and is waterproof. It uses Bluetooth technology and is compatible with Android, Windows and iOS platforms.
The Tile Sticker has a range of around 250 feet so as a bicycle tracker it's somewhat limited in its use. However it will alert you if your bike has been disturbed, which makes it suitable for café stops when you may have to leave your bike unattended. When your bike is out of Bluetooth range, the app will show you its most recent location on a map.
On review we found that the Tile did indeed have limited range and proved to be some what unreliable during our tests. It's an inexpensive option and if you go online there are stories of users who have found their stolen bikes thanks to the device. However, if you're looking for a reliable and effective option day in and day out, this might not be the tracker for you.
Read more: Tile Sticker GPS bike tracker full review
Best tracker for features
Specifications
Weight: 256 grams
Dimensions: 48 x 122mm
Network used: Vodafone Smart SIM
Waterproof?: Yes
Reasons to buy
+
Built in SIM allows for greater range
+
Tracker can be charged via the light
+
Movement alert with siren
Reasons to avoid
-
Subscription needed
-
Short battery life
-
Easy for thief to spot and dispose of
Vodafone's Curve bike light & GPS tracker is an all-in-one safety device that's designed to give you greater peace of mind when you're out riding. It features both a 40 lumens intelligent brake and daylight and a GPS tracker that's activated by simply twisting the light.
Created to mount on your bike's seat post, the Curve device uses a built-in Smart SIM that helps extend the range of the GPS tracker. Via the app you can track your bike's movement in real time as well as benefit from other features such as ride history.
If your bike is moved the tracker will both sound a 107db siren and send you a movement alert. Tracking lasts as long as the battery, which Vodafone says is around 4.5 days on standby mode; cleverly the tracker can be charged using the light and will send you alerts when it's time for a boost.
Similarly the tracker will detect if you've had a fall via the movement sensors and alert a chosen family member via SMS or push notification.
During our testing we found that the Vodafone Curve packed plenty of features into its relatively small size. We particularly liked the option that allows you set 'zones', receiving alerts when your bike enters and leaves. This means that even if you forget to turn on the security and alarm functions (which is done by removing the light function) you'll still get notified when your bike is moved with the light attached.
The alarm is certainly loud and plenty sensitive. Fortunately it can be turned off quickly via the app should you get a false alarm during a café stop. As for its accuracy, during our testing we're able to locate the bike accurately in two out of the five locations. However the Curve did record our rides each and every time so the GPS function was clearly working during the review period.
Read more: Vodafone Curve bike light & GPS bike tracker
4. See.Sense Knowhere
Best tracker combing functionality and battery life
Specifications
Weight: 80 grams
Dimensions: 65 x 50mm
Network used: Multiple
Waterproof?: Yes
Reasons to buy
+
Long battery life
+
Lightweight and discreet - just 80g
+
Water sealed with tamper resistant design
The See.Sense Knowhere is the newest bike tracker to join the market. Launched via a Kickstarter project, the brand hit its funding target in a matter of hours.
The unit weighs in at 80g and sits under the seatpost or the bottle cage. One battery charge lasts three months and the AIR uses the new Narrowband Internet of Things (NB-IoT) low power wide area network (LPWAN) to transmit information.
Should your bike be tampered with or move, the tracker sends an SMS with the precise location of the bike, and can be used to warn the owner of theft, or loved ones in the event of a crash.
Best tracker for road bikes
Specifications
Weight: 50 grams
Dimensions: 159 x 38 x 9mm
Network used: SigiFox / Bluetooth
Waterproof: Yes
Reasons to buy
+
Aerodynamic and lightweight
+
Long battery life
Reasons to avoid
-
Coverage may vary depending on your location
AlterLock is bike-specific anti-theft device that combines an alarm with GPS tracking. It features an aerodynamic design created to work seamlessly with most road bikes.
Designed to attach to your bike via the bottle cage bosses (or to sit underneath the cage) it uses a vibration detection algorithm with various settings that sounds an alarm and sends you notice via the app. If the bike is moved a louder alarm will sound.
If your bike is stolen AlterLock tracks it once a minute to determine its final location. If a GPS signal isn't available the device uses a WiFi signal. AlterLock switches between using Bluetooth for short distances and SigiFox for longer range connectivity.
Unlike some GPS trackers it won't continuously display your bikes location. Specifically designed for theft protection it instead focuses on reducing power consumption to aid long-term tracking. The lightweight device is charged via a USB port, with battery life lasting for around 1.5 - 2 months depending on use.
Read more: Alterlock bike alarm review
Meet the testers
David is a freelance journalist and presenter specialising in motoring and cycling. David's cycling reviews, features and news stories have been published in Cycling Plus, Pro Cycling, Bikeradar.com and in mainstream newspapers such as The Sunday Times and The Telegraph.
Paul started writing for Cycling Weekly in 2015 and since then he's reviewed hundreds of bikes and thousands of other pieces of cycling equipment. He's been cycling for a lot longer than that though and his travels by bike have taken him all around Europe and to California. He's been riding gravel since before gravel bikes existed too, riding a cyclocross bike through the Chilterns and along the South Downs.
GPS Bike Trackers FAQs
You can trust Cycling Weekly. Our team of experts put in hard miles testing cycling tech and will always share honest, unbiased advice to help you choose. Find out more about how we test.
How do I chose a bike tracker?
Once you've determined your budget you'll need to consider both the kind of bike you have and the features you deem important.
A tracker needs to be discreet so matching its mounting options to your bike is advisable.
If you keep your bike locked up outside, or commute year-round, then waterproofing will need consideration. Look for trackers that have an IP (ingress protection) rating of 65 and above.
Connectivity is another feature you'll need to consider. Cheaper options are likely to use Bluetooth to connect to your phone, which means a greatly reduced range compared to those that use GNSS (Global Navigation Satellite System), which are typically far more expensive. Remember trackers that use a SIM card that send's information straight to your phone require a subscription.
Can I put an anti theft tracker on my bike?
There are several available styles of anti-theft tracker. The Apple AirTag uses Bluetooth, and relies upon an Apple user being within close proximity of the device. More expensive options use GPS tracking - this is more effective in remote areas, however, it still relies upon a wireless network covering the location of your missing steed.
Where should I mount a GPS tracker to my bike?
The best location for a GPS tracker is one where it won't be found. Some come with fixings designed to 'blend in' with the bike, they may look like a standard bike light or bottle cage attachment, which will work provided the thief isn't aware of the brand. They may come with tamperproof bolts to make their removal difficult. Others can be hidden inside the frame, such as in the seat tube.
Can bike thieves disable a tracker?
Bike thieves have become adept at disabling trackers. This is why it's vital that you buy a tracker that you can hide discreetly on your bike. If you regularly lock your bike up in areas where bike theft is common then it's worth considering a tracker that's disguised as a component, such as Alterlock, which sits underneath your bottle cage, or Vodafone's Curve, which has the tech built into the bike light.
Get The Leadout Newsletter
The latest race content, interviews, features, reviews and expert buying guides, direct to your inbox!
David Motton is a freelance journalist and presenter specialising in motoring and cycling. David's cycling reviews, features and news stories have been published in Cycling Plus, Pro Cycling, Bikeradar.com and in mainstream newspapers such as The Sunday Times and The Telegraph. As a motoring journalist, he has contributed to Autocar, WhatCar?, Practical Caravan and more.