Having problems with auto-ejecting bidons? Here's our pick of the best water bottle cages for cycling
Want to know where to stick a water bottle? Get a bottle cage!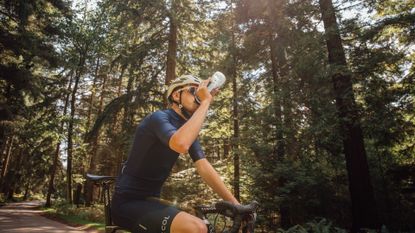 (Image credit: Future)
The humble water bottle cage is often overlooked in favour of more exciting ways to upgrade a bike, but it is without doubt one of the most fundamental accessories every cyclist should fit to their machine.
The best water bottle cages (sometimes referred to as bike bottle holders) do exactly what it says on the tin, they hold a water bottle snugly on your bike. Now this might sound like a simple task but it has to hold it tightly enough to prevent accidental jettisoning over rougher surfaces whilst allowing easy access whenever you want to take a drink - not as easy a task as you might think.
To make things a little easier quite a few years back multiple bottle and bottle cage manufacturers came together and settled on a pretty standardised diameter for water bottles designed around cycling. Having to deal with a single diameter bottle then meant bottle cages could be optimised for use with this measurement.
Bicycle manufacturers also provided the other critical factor in the development of the bottle cage, thanks to in-built mounting eyelets or 'bottle cage bosses' found on the top side of the down tube and also on the seat tube. These threaded eyelets have a standardised distance between them that will fit almost every bike water bottle cage on the market. Some bike frames have more mounting points, some less, dependent upon the style of frame. And don't worry if your bike doesn't have any, there are ways to mount a bottle cage that we will cover later.
But that's not the end of the story. As with any component of a bicycle, bottle cages span the whole breadth of materials, construction methods and budgets. From simple plastic units costing a couple of pounds to ultra-lightweight carbon fibre cages that can cost triple figures - the choice is yours.
Our picks of the best bottle cages
You can trust Cycling Weekly. Our team of experts put in hard miles testing cycling tech and will always share honest, unbiased advice to help you choose. Find out more about how we test.
Specifications
Weight: 41g
Material: Plastic
Colours: Black, Sapphire Blue, Basalt Grey and Petrol Green.
Reasons to buy
+
Secure hold
+
Decent weight - 41g
+
Competitively prices
Reasons to avoid
-
'MTB' styling might not suit all road bikes
The SKS Velocage is reasonably priced plastic bottle cage that does a solid job of holding your bottle securely. On test we found that even riding over potholed lane our bidon stayed put. Fortunately we found this didn't prevent us from inserting and removing the bottle with ease.
At 40g claimed and 41g tested it's comparable in weight to many other plastic cages. It's offered in four colours, so while not as extensive a range as some brands you should still be able to find a decent match for your bike.
Specifications
Weight: 33g
Material: Technopolymer resin and reinforced composite materials
Colours: 10 colour options
Reasons to buy
+
Wide choice of colours
+
Light - just over 30g
Reasons to avoid
-
Doesn't feel as secure as other cages
-
Little adjustment
Zefal's Pulse B2 cage comes in 10 different colours, which certainly gives you plenty of options regardless of the colour of your favourite bike.
Weighing 33 grams on our scales it's at the lighter end of the spectrum when it comes to plastic cages - and actually can compete with some carbon cages. Zefal says the material is a blend of two materials; a reinforced composite structure which is designed to reduce vibrations and aid bottle retention, and a resin which it says adds flexibility.
On test we found that while the bottle is almost too easy to insert and remove it did manage to stay in place over less-than-perfect terrain. However it is less reassuring in its hold when compared to its rivals and if you prefer your cages to come with firmer grip then the Pulse B2 might not be for you.
Specifications
Weight: 48g
Material: Plastic
Colours: Black, Red
Reasons to buy
+
Hold bottle firmly
+
Side entry as well as conventional
+
Will suit 'awkward' frames
Reasons to avoid
-
Not the lightest - over 45g
-
Requires a tug to remove bottle
On test Blackburn's side entry Wayside cage appeared to be very sturdy indeed. In fact it's backed up a lifetime warranty. However the robustness of the cage does come with a weight penalty - the Wayside tips the scales at over 45 grams.
The cage has some notable features. Firstly, you can insert a bottle from the side. In practice this means a 45-degree entry angle and the bottle rotates into the cage arms. We found that this is particularly helpful when using the bottle with smaller frames.
Secondly the cage scan be turned separately to the plate to make it a left-handed or a right-handed entry, as preferred.
As for bottle retention, the Wayside is as solid as it appears. Over rough ground and smooth our bottle remain firmly in place. This does mean that you need to give the bottle a little tug to remove it but it wasn't enough to be problematic.
Specifications
Weight: 40g
Material: Polymer-matrix composite (FRP)
Colours: 17 colour variants
Reasons to buy
+
Holds bottle firmly
+
Adapts to a range of bottle diameters
+
Durable material
+
Huge choice of colours
Reasons to avoid
-
Strong bottle retention means you have to give the bottle a little tug to remove
An update on one of the most popular bottle cages in the world featuring a shape that adapts to hold differing bottle diameters safely. Elite are renowned for making some of the most secure and good looking bottle cages and are used by multiple race teams. The Custom Race Plus is available in more colours than we can easily list here and as it is made from a fibre-reinforced material is lightweight, durable and a great price.
On review we rated it highly, finding that it held the bottle firmly even on fast descents and over uneven terrain. We also noted that Elite's self-adjusting elastomer rubber insert actually works, allowing the cage to adapt to bottles of varying diameters. Perhaps like most cages that do a good job of bottle retention it does means that removing it requires a gentle tug - but not to the extent of affecting the cage's performance.
Specifications
Weight: 35g
Material: Polymer
Colours: Matt black only
Reasons to buy
+
Lightweight - 35g
+
Affordable - RRP £7.99
+
Versatile with tool accessories
Topeak's Ninja Master+ z bottle cage is an affordable cage with added versatility. Simply changing the foot of the cage allows you to attach a range of Ninja tool accessories (available separately), thus helping to free up space in your jersey pockets or saddlebag. The accessories include multi-tools, a CO2 inflation system and a strap to hold an inner tube.
As for the cage itself on review we found that it offered a fairly light grip. However it still did a solid job of bottle retention. We also appreciated how easy it was to 'seat' the bottle, meaning we didn't have to check twice before riding over rougher sections of road.
Specifications
Weight: 48g
Material: Fiber reinforced composite matrix
Colours: Black, White
Reasons to buy
+
Really secure hold with a variety of different bottles
+
Easy to access bottle
+
Side-entry design available
Reasons to avoid
-
A bit heavier than some cages
-
Limited colour range
Easily one of the most secure bottle cages Cycling Weekly has tested, Lezyne's Flow cage has a distinct X-Grip design. A light composite construction doesn't damage water bottles and keeps the price down.
We found that it held a variety of bottle shapes securely, even when riding on less-than-perfect road surfaces. Perhaps the only downsides to this durable cage are the limited colour range - it's only offered in black or white - and the weight. At just shy of 50 grams its one of the heavier plastic cages we've tested.
Specifications
Weight: 32g
Material: polyamide reinforced by carbon, glass fibre shell
Colours: 12 colours available
Reasons to buy
+
Very light - just 32g
+
Choice of 12 colours
+
Competitively priced
+
Strong bottle retention
Reasons to avoid
-
Firm grip maybe too firm for some
Like the Elite cage above, the Tacx Deva is incredibly popular and for good reasons. It works and it comes in a huge variety of colours to match almost any paint scheme.
There are two versions: the £61.99 Deva Carbon or this, the regular Deva. This version is made of polyamide reinforced with carbon and glass fibre. The inner frame of the Deva is black, the outer frame is available in thirteen different colours.
During our testing we found it to be rock solid. It held the bottle with a firm grip over fast sections of road as well as those riddled with potholes. This does however mean that the cage doesn't deliver a light action on removal. We also appreciated it's light weight - at just over 30 grams its one of the lighter plastic cages on the market.
Silca Sicuro Titanium
Specifications
Weight: 30g
Material: 3-2.5 titanium tubing
Colours: Black cerakote coating, raw Ti
Reasons to buy
+
Classic styling
+
Lightweight - 30g
+
Beautifully made
At the top end of the bottle cage market is Silca's elegant and timeless Sicuro Titanium cage. Aerospace quality tubular titanium is hand crafted into this classic bottle cage at Silca's US manufacturing facility, making it a cage to last a lifetime of use.
We tested the cage featuring a black cerekote finish, which Silca says won't scratch or chip, helping to keep your water bottles in good shape.
On review we found that the bottle slid in and out very smoothly with no undue pressure required. The bottle was also held very snuggly in the cage. All in all it's a beautifully made bottle cage that'd both light and functional. It's very expensive, certainly in comparison with plastic cages. However it should outlast these cages and is backed by Silca's 25 year warranty.
Triban 100
Specifications
Weight: N/A
Material: 100% Polyamide
Colours: Black
Reasons to buy
+
Low cost - under £2!
+
Metal cage can be bent to fit bottle
Decathlon has a variety of bike water bottle cages/holders available to cyclists but this Triban 100 stands out for being one of the most budget friendly options. A metal cage helps to hold bottles in place and can be bent a little to accommodate smaller bottles whilst the plastic base keeps things light and doesn't damage bottles.
Fabric Cageless bottle system
Specifications
Weight: 3g
Material: Polyurethane
Colours: 8 colours available
Reasons to buy
+
Cageless system is super lightweight
+
Provides a 'clean' look
Reasons to avoid
-
Have to use Fabric's cageless bottle
A little different to the norm, Fabric's system works by using two shaped studs that screw into the bottle cage bosses of the bike and are then used to attach a specially shaped bottle. It provides a very 'clean' look to your bike with no noticeable bottle cages and of course is very lightweight - just 3 grams claimed. You are, however, stuck to using Fabric's own bottles.
Blackburn Outpost Cage
Specifications
Weight: 164g (with straps)
Material: Alloy
Colours: Outpost Pewter
Reasons to buy
+
Can carry a wide range of bottles
+
Will also carry other luggage items
+
Ideally suited for bikepacking trips
Reasons to avoid
-
Not well-suited to many road bikes
The Blackburn Outpost bottle cage equivalent of a Swiss Army Knife. A large platform and strap system allows it to carry a huge variety of bottles including big 2 litre+ supermarket bottles. It can also be used to carry other luggage when needed.
B'Twin Universal Bottle Cage Mount