Best bike storage solutions: hooks, racks and sheds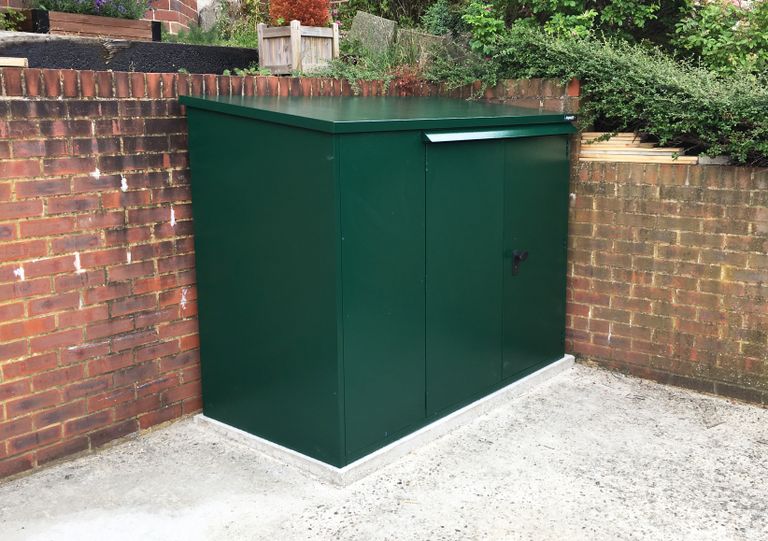 (Image credit: Simon Richardson)
One of the biggest constraints to owning a bike is finding somewhere to keep it when you're not riding. It's normally straightforward if you have a garage or roomy shed, however, not everyone is so lucky.
Bike storage can always be a tricky affair — especially in a multi-cyclist-home — but thankfully there's a wide range of solutions on the market.
We've got more information to help you decide what sort of storage is right for you. But first, here are some of the best solutions.
With each product is a 'Buy Now' or 'Best Deal' link. If you click on this then we may receive a small amount of money from the retailer when you purchase the item. This doesn't affect the amount you pay.
Best bike storage solutions
The Clug is a clever storage device that can be installed pretty much anywhere — because the rear tire is still touching the ground there is no need to find a stud. Once on the wall, the plastic clip simply hugs the front wheel so your bike can hang like an ornate piece of wall art.
The roadie version suits tires of 23 to 28mm, but there are wider versions for those riding gravel bikes, hybrids and mountain bikes, and these retail at just £14.99 / $24.99.
CW'stech editor Michelle Arthurs-Brennan had one (well, four) on test a few years back, to great success - however, it's worth noting that you do need to keep an eye on your tire pressure — particularly in the case of race bikes that may collect dust over the winter and risk falling out as they lose air.
Chol1 Arrimo indoor bike storage furniture
Seamlessly integrating furniture and bike storage, this is probably the prettiest answer out there, killing two birds with one stone thanks to this indoor bike storage. Choosing between tire widths you can pick whether you want one specifically for your road bike or mountain bike — unfortunately you can only store the bike type you specifically bought it for. Keeping your bike clean will have new emphasis to protect your furniture.
Topeak Two Up Indoor Bike Storage Stand
This freestanding storage system uses a large base to support itself and can carry two bikes up to 72kg / 159lbs meaning it can take even the heaviest eBike in your stable. This neat stand can also fold up should you need to move it in the car or on public transport. Topeak also make the Dual Touch stand that pushes up against the floor and the ceiling, allowing it to have a smaller footprint and can snug up closer to the wall, provided you're not storing a mountain bike with 800mm wide handlebars.
Cycloc Endo Wall Mounter indoor bike storage hooks
A simple and elegant option is the Cycloc Endo. After screwing the base into the wall all you have to do is lift up the flap and hook it onto your bike's front wheel. With a variety of colors, there's something to fit every favored palette.
Relaxdays garage indoor pulley bike storage
Perfect for the garage, this unit is simple to install and even easier to use. The claimed weight limit that it can handle is up to 20kg / 44lbs so it can handle almost anything bar some of the heavier eBikes.
Hiplok Airlok indoor wall bike storage lock
Up until recently, most at-home ground anchors designed to lock your bike securely to were quite unattractive — mainly designed for use in garages and out of sight. Hiplok aimed to end that, with the Airlok. Constructed from hardened steel and covered with a plastic shield, these insurance approved locks are desgined created to adorn your walls, turning your bike into a work of art.
A locking pole secures the frame, whilst a rubberized lining prevents it from scratches, and a range of top tubes can be accommodated, including mountain bikes.
Feedback Sports Velo Column 2 bike indoor storage unit
Similar to the Topeak Dual-Touch rack, the Feedback Sports Velo Column uses the tension between the floor and ceiling to securely hold your bikes in place. The column can adjust to 10 feet and can hold up to four bikes with additional hooks, which are sold separately.
Asgard outdoor bike storage sheds
Asgard manufacturers insurance approved bike storage sheds out of heavy-duty metal. Sheds are available in a range of sizes- to suit anything from one to eight bikes — with extra 'police approval' certification on larger versions.
You do need a flat platform in your yard large enough to store one, but if you've got the space they're a great idea.
Read more: Asgard shed review
The Steadyrack allows you to mount your bikes vertically on the wall, with only the tires coming into contact with the rack — meaning there is no risk of damaging those fancy carbon wheels or scratching your frame. But the real genius of these wall-mounted wheel trays is they pivot almost 180-degrees, meaning bikes can be folded out of the way.
The install process is a little more involved than other racks, requiring at least four holes to be drilled into your walls (six if you use the optional wheel guide on the bottom), so they probably aren't the best option for renters.
If you own your home, or just have a really cool landlord that doesn't mind if you drill a few holes in the walls, a bike storage hook is probably the cheapest and simplest way to store bikes. Essentially a rubber-coated hook, bikes can be hung vertically on the wall by the front or rear wheel, and the hooks can be staggered in height to allow them to be snuggled up close to one another without knocking handlebars. That said, they do come into contact with the wheel and can damage hoops that use laminated carbon faring.
Bike storage solutions: decisions to make before you buy
Do you want to keep your bike inside or outside?
If rolling dirty bikes through the house is frowned upon, you may want to go for an outdoor solution. As garage break-ins are not uncommon, some sort of a secure shed may be the ideal solution to your problem. There are a few insurance approved secure outdoor sheds on the market like those from Asgard, but they don't come cheap. Some of their models are also police approved, and can come with handy shelves to store riding gear and spares.
Do you want to put screws in your walls?
If you're opting for indoor storage, you need to decide if you're willing to drill holes in the wall. If you're comfortable using power tools, simple bike hooks or something like a Steadyrack will allow you to make good use of your wall space. If not, a freestanding pole that runs from floor to ceiling might be the ticket. Alternatively, there are some clever looking pieces of furniture which can act as stands as well, but these are anything but compact.
Do you want to make a statement of your bike?
Some options allow you to hang your bike on the wall, or display it in the center of the room atop a purpose-designed piece of furniture. Of course, this needs to be approved by other members of your household and generally requires you to pay adequate attention to your bike cleaning routine.
Do you want to have the bike locked up in position?
If security is a major concern, you can opt for a storage option that's lockable - whilst traditional ground anchors are not the most attractive options to display, there are some more inviting options like Hiplok's Airlok.
What types of bike racks are out there?
Wall mount bike storage
One of the most common types of indoor bike storage, the simple wall mount usually consists of hooks that screwed into the wall. They are either attached to a stud, masonry or a sheet of 3/8in ply across wall — which is bolted to studs.
Wall mounts do come in a variety of shapes though with more elegant options also doubling up as shelves and attractive pieces of wall furniture.
However, tread cautiously if you're renting, and make sure you run this past your landlord so you don't risk losing your security deposit because you wanted to store your bike more fashionably.
Bike storage-specific furniture
If your landlord or member of your household puts the kibosh on drilling, then you'll need something a bit less permanent. More and more people are finding the answer in bike storage-specific furniture.
This wide-ranging term is based around standalone shelving units that have bike slots or hanging spots built-in. These not only store bikes but can store your helmet riding shoes and kit, or books, DVDs and other personal amenities.
Freestanding bike storage stands
If you own more than one bike or you live in a house of cyclists, then buying bike storage-specific furniture may be a tad expensive and not very space-efficient. In this realm, there is everything from freestanding racks that don't touch the walls, to poles that create tension between the floor and ceiling.
>>> Read the latest lock reviews to secure your bike
Pulley and winch systems
If you're poor on floor space but rich with vertical space, a pulley system may be the best choice for you. Directly attached to the ceiling or the wall high up, these allow you to store your bike above your head. Reminiscent of dockyard workers and sailors, you attach your bike to the harness or hook and hoist your bike up towards the ceiling.
These usually come with a secondary attachment to ensure your bike doesn't then swing with any breeze or slight touch. This keeps your floor free without the danger of a free moving bike hanging above your head.
Bike Storage Sheds
If you just want somewhere to store the bike that's not in the house then a small bike shed is a great investment. Usually costing a bit more than the other solutions, these are tidy isolated units that can sit at the end of the garden and shield your bike from the elements effectively without being an eyesore or in the way.