Best bikepacking bags 2023: A buyer's guide for multi-day adventures
We share the best bikepacking bags for multi-day adventures and how to choose the best for you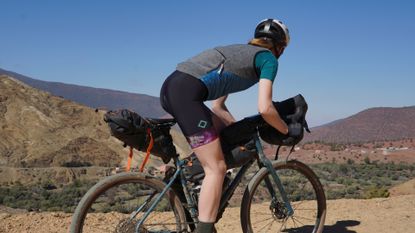 (Image credit: Future)
Get The Leadout Newsletter
The latest race content, interviews, features, reviews and expert buying guides, direct to your inbox!
Thank you for signing up to The Pick. You will receive a verification email shortly.
There was a problem. Please refresh the page and try again.
The best bikepacking bags will let you travel light on your bike while still carrying all the luggage you need for a multi-day trip. While bicycle touring is a long established pursuit, bikepacking is far newer.
Certainly its roots are to be found in traditional touring and audax rides. But whereas touring usually means a specialist touring bike designed for stability and mounting points for a rack and panniers, most of the best bikepacking bags can be attached directly to the bike's frame, giving you much more flexibility in what you ride and where you can go.
The resurgence in self-supported bike racing on both road and mountain bikes coupled with the interest in all things gravel has led to greater exploration of multi-day rides that piece together both on and off-road sections, all in the pursuit of fun and adventure.
Today it appears that bikepacking could well be on its way to becoming as firmly rooted in cycling culture as traditional touring - and the development of specific bikepacking bags that don't require pannier racks has certainly aided its growth.
Coupled with the best bikes for bikepacking these lightweight bikepacking bags, mounted to the frame, handlebars and seatpost, allow you to carry varying loads on both roads and trails. This makes them adaptable for a range of self-supported trips, from mini-adventures to ultra-endurance events and more.
We've got loads of bikepacking advice on site - check out our bikepacking guide that contains everything you need to know to get started and our bikepacking kit list with absolutely everything you need to go bikepacking.
There's a whole array of clothing designed to help you squeeze in that bit more, like the best cargo bib shorts, with pockets for an extra energy gel or bar. And our guides to the best gravel and adventure bikes and the best touring bikes will help you select the perfect steed for your next bikepacking adventure.
Whether you're planning on a quick over-nighter equipped with little more than a camping stove and a bivvy bag or a trip of a longer duration, we've found the best bikepacking bags and multi-day bike bags on the market. And If you're new to bikepacking, at the bottom of the page our buyer's guide gives you more detail on all of the things to consider when buying bike luggage.
Best bikepacking bags
You can trust Cycling Weekly. Our team of experts put in hard miles testing cycling tech and will always share honest, unbiased advice to help you choose. Find out more about how we test.
Saddle packs
Best bikepacking seat pack for carrying large loads
Specifications
Dimensions: 42/ 56 x 15.2 x 20.3 cm
Capacity: 11L
Weight: 475g (claimed)
Colours: Grey
Reasons to buy
+
Large volume
+
Waterproof
+
Simple to fix and fill
+
Keeps muck and spray off your back
Reasons to avoid
-
Fiddly to access contents when in transit
-
Not recommended for carbon seatposts
-
Noticeably increases your centre of gravity
The Blackburn Outpost seat pack is a clever solution to add a lot of capacity and flexibility without bolting anything onto your bike. The bag itself is a rolltop dry sack and sits in a separate carrier that attaches to your bike, so it's easy to remove the bag for access in camp.
However it does recommend not attaching to a carbon seat post (but we have in the past). It provides a great level of waterproofing, and its position does act as a bit of an ass-saver, but the extra weight up high does take a bit of getting used to.
The velcro attachment straps were unfortunately noticeable on the back of the legs when pedalling, something worth considering if you're planning on being in the saddle for multiple days.
Read more: Blackburn Outpost seat pack full review
Best bikepacking seat pack for smaller loads
Specifications
Dimensions: 44 x 16 x 14cm
Capacity: 7L
Weight: 256g (claimed)
Colours: Black
Reasons to buy
+
Doesn't rub against legs
+
Doesn't sway
+
Very waterproof
Reasons to avoid
-
May not be large enough for longer trips
The Cluster bag is the smallest of Italian brand Miss Grape's seat post bags at 7 litres, which means that it works well for shorter seatpost lengths and shorter trips, although webbing loops on top allow stowage of extra items outside the main compartment. The rubber straps help to prevent damage to the bike and ensure a stable fit.
The roll-down top ensures water resistance, which we tested in a storm. Loaded up, the bag can sag a little, although it avoids sway and doesn't rub against the thighs as you pedal.
Read more: Miss Grape Cluster 7 seat pack full review
Best bikepacking seat pack for carrying heavy loads
Specifications
Dimensions: 43 x 16 x 42cm
Capacity: 20L
Weight: From 724g (claimed, incl rack)
Colours: Black
Reasons to buy
+
Rock solid with no impact on riding
+
Great capacity
+
Ease of use
Reasons to avoid
-
Compression straps can slip when wet
-
Expensive
There are several rear bikepacking Tailfin setups, all of which will require the Tailfin rack system. The whole setup with carbon option will set you back over £300 / $400, although there is an alloy rack version that is £70 / $90 cheaper, but a couple of hundred grams more in weight (but you do gain three extra mounts for the ability to add other bottle cages or luggage).
The frame-mounted system boasts to be quick release unlike traditional racks, coming free in a claimed 30 seconds, with either QR or thru-axle compatibility. The seatpost connection is secure and kind to carbon frames, and is designed to wrap around any size or shape of seatpost, including deep aero.
The total maximum load for the racking system is a substantial 9kg. With two Transcontinental Races under its belt, the fully waterproof system has won plenty of fans. On test, we found the system to be ace, with the design simplicity and ease of use making you forget the price on the first ride.
Read more: Tailfin Aeropack S Rigid Seat Pack full review
4. Topeak Backloader Bag
Best bikepacking seat pack for ease of use
Specifications
Dimensions 6 litre: 50 x 16 x 15cm
Dimensions 10 litre: 60 x 20 x 18cm
Dimensions 15 litre: 67 x 28 x 18cm
Capacity: 6/10/15L
Weight: 445g/480g/565g
Colours: Black
Reasons to buy
+
Easy to use 'in the field'
+
Three size options
+
Competitively priced
+
Waterproof
The Backloader from Topeak has been specifically designed for bikepacking as a streamlined way of carrying gear. It is constructed using what Topeak says is a lightweight, highly water-resistant and durable fabric.
The pack has compression straps to help condense its waistline, which should reduce the pendulum effect, and a built-in air release button helps reduce the inner bag further. Available in 6, 10 or 15-litre options, it uses both clips and a velcro mounting system attached to the saddle rails and seat post.
Handlebar bags
Best bikepacking handlebar bag on test
Specifications
Dimensions:: 25 x 24 x variable cm
Capacity:: 10L
Weight:: 585g
Colours:: Black, orange
Reasons to buy
+
Roll top entry
+
Large capacity
+
Bungee cord webbing
+
Easily accessible front pocket
+
Built in compression straps
Reasons to avoid
-
Bar straps only have one position on the bag
Restrap's 10 litre Bar Pack is made from durable, waterproof nylon. It has an easy-to-use roll top that's closed using two buckles, with this main compartment complemented by a smaller secondary compartment that uses a velcro closure. Essentially this means that you can still access items while on the go. On test we loved this combination, with the roll top being a real winner.
The bag's generous 10L capacity allowed us to carry all we'd want to in a bar bag, with the compression straps doing a neat job of keeping everything in place. The additional details of both a D-lock holder and bungee webbing only added to the Bar Pack's functionality and appeal.
Read more: Restrap Bar Pack full review
Best bikepacking handlebar bag for versatility
Specifications
Dimensions: 24.3 x 21.2 x 11.2cm
Capacity: 3-5L
Weight: 240 grams
Colours: Black
Reasons to buy
+
Great roll top design
+
Useful size
+
Includes shoulder strap
+
Easy to mount
Reasons to avoid
-
Bar straps are fixed in one location
The Chrome Urban Ex is both well-designed and well-made. The roll-top closure makes it easy to access your gear and is suitably robust. Likewise the rest of the bag feels equally durable, with a tough waterproof fabric on the bag's exterior and a decent level of padding on the inside of the bag. Its smaller size means that it's great for everyday use while still being practical for longer trips. The inclusion of a shoulder strap only helps to increase the bag's versatility.
Read more: Chrome Urban Ex Handlebar Bag 2.0 full review
Best bikepacking handlebar bag for easy carrying of bulky kit
Specifications
Dimensions: 50 x 15 x 15 cm
Capacity: 8L
Weight: 500 grams
Colours: Black, olive green
Reasons to buy
+
Harness can be left in place when removing bag
+
Air valve to help compress bulky items
+
Easy to fit to most bikes
Reasons to avoid
-
Can interfere with cables
-
No additional pockets for on the go access
With 8 litre capacity, the Topeak Frontloader bag is a good option for light but bulky items like a sleeping bag. There's a harness which can remain attached to the bars and a separate, removeable dry bag that opens at each end. An air valve lets you compress the contents down more. The bag and harness combined weigh 500g and will take a maximum 5kg load.
With one, sealed pocket, the Frontloader isn't the best bag for access while on the go, but it works well to add plenty of extra carrying capacity. It's stable and doesn't affect the bike's handling, although it can interfere with control cables on some bikes.
Read more: Topeak Frontloader bar bag full review
Best bikepacking handlebar bag for large volume
Specifications
Dimensions: 32 x 22 x 18 cm
Capacity: 11L
Weight: 551 grams
Colours: Black
Reasons to buy
+
Capacious
+
Doesn't rub on the frame
Reasons to avoid
-
Takes time to learn how to fit to the bike
-
A little wide for many drop bars
Rather than the more usual straps or permanent bolt-on support, the Ortlieb bag has a plastic bracket on which the bag hangs. This attaches without tools to the bars, making it easy to remove when not required and preventing the bag from rubbing on the frame.
The 11 litres capacity means that you can pack a lot into the bag, although it's a little wide for drop bar bikes, when the side mesh pockets are really only suitable for gel wrappers. You really need a 44cm bar width to take full advantage of the bag's capacity.
Read more: Ortlieb Handlebar Pack QR full review
Top tube bags
Best top tube bag for streamlined space
Specifications
Dimensions: 37 x 11 x 4.5 cm
Capacity: 1.5L
Weight: 187 grams (claimed)
Colours: Black
Reasons to buy
+
Reasonable capacity
+
Reinforced sides
+
Doesn't tend to rub on knees
Reasons to avoid
-
Internal sleeves interfere with stowage
-
No cable port
The 1.5 litre capacity and narrow design of the Restrap Race bag means that it's less likely to interfere with your pedalling, while mesh side pockets let you add extra stowage for items like gels. It is attached to the bike with velcro straps and a bungee cord.
Waterproofing proved fine for moderate rainfall and the bag feels durable. There's plenty of room for a phone, arm warmers and snacks, although we'd have liked better internal compartmentation.
Read more: Restrap Race Top Tube Bag full review
Best top tube bag for smaller capacity
Specifications
Dimensions: 15.5 x 8 x 5.5 cm
Capacity: 0.5L
Weight: 75 grams
Colours: Grey, loam
Reasons to buy
+
Compact and lightweight
+
Rigid sides help to keep the bag's shape
+
Includes a cable port
Reasons to avoid
-
Limited capacity and rigid sides prevent expansion
-
Larger phones may not fit
The Evoc Top Tube Bag provides 0.5 litres of extra carrying capacity for those things you need to get to easily on your ride. Its rigid build means that you can fit heavier items like a (smaller) phone as well as gels and the like. There's a waterproof zip and an internal mesh pocket that helps with organisation.
The bag is easy to attach to the bike via two velcro straps and remains firmly in place. There's adequate space, it's durable and the Evoc bag isn't expensive for a quality build.
Read more: Evoc Top Tube Pack full review
Best bikepacking frame bag for ease of access
Specifications
Dimensions: 10 x 21.5 x 5.5cm
Capacity: 0.8L
Weight: 119g
Colours: Black
Reasons to buy
+
Good size
+
Robust
+
Easy access zip
This useful ride companion is best for those outings where you want to keep heavier items out of your pockets, or simply need to carry more ride essentials. The fabric is robust and water-resistant and the zip is easy to operate on the move.
Attached to the top tube and steerer with velcro, we found that these straps were a little long on our test bike, so the bag would work best on oversized tubing.
Read more: Lezyne Energy Caddy XL full review
Frame bags
Best bikepacking frame bag serious bikepackers
Specifications
Dimensions: 50 x 15 x 6cm
Capacity: 4.5L
Weight: 255g
Colours: Black
Reasons to buy
+
High capacity
+
Zero tendency to wobble
+
Can still fit two bottles in larger bike frame sizes
Reasons to avoid
-
Not quite fully waterproof
Restrap offers the Frame Bag in three sizes, with the Large offering 4.5 litres capacity and its 50cm length fitting a size 56 frame perfectly - it should work for a 54 too.
Attachment is via three rubberised velcro straps on the top tube plus two more on the down tube and a further one on the seat tube, making sure that the bag doesn't move around as you ride. It holds its shape well too and is good for heavier items.
Full length zips on both sides and a central divider, along with internal pockets helps with organisation. It's waterproof, save for some ingress through the cable port on the top of the bag.
Read more: Restrap Frame Bag Large full review
13. Ortlieb Top Tube Frame Pack 4L
Best bikepacking frame bag for durability
Specifications
Dimensions: 13 x 50 x 6cm
Capacity: 4L
Weight: 170g
Colours: Black
Reasons to buy
+
Fully waterproof
+
Simple design that's equally simple to use
+
Solidly built using durable fabrics
+
5-year warranty
Reasons to avoid
-
Fairly expensive
-
May not fit smaller frames
This half frame bag is designed to make the best use of real estate inside the front triangle without compromising water bottle access. Compatible with anything from carbon road frames to full suspension mountain bikes, it's the ideal place to keep smaller items that you need to access easily, including snacks, electric items and toiletries.
Ortlieb says that the bag is fully waterproof and uses sturdy velcro straps to attach to the top, head and seat tubes. There's a 3 litre version available as well.
Buyers guide to how to choose the best bikepacking bags
Do I need a seat pack for bikepacking trips?
Seat packs are the modern alternative to racks and panniers - but some do feature a lightweight supportive rack. These offer great versatility as you can fit them to almost any bike in a matter of minutes (you'll need to look at specific models if you run a dropper post though).
These seat post bags typically mount using straps around the seatpost and through the saddle rails. Check that you have plenty of seatpost available for the size of the bag attachment, and smaller riders may find they'll have to opt for a smaller capacity bag here.
Waterproofing varies between models and also has a noticeable impact on cost. Opting for a fully waterproof seat pack (or any bikepacking bag for that matter) will make your life much easier at the end of a long, wet day in the saddle. Alternatively, invest in some good dry bags to pack inside your bags to keep your kit dry.
Often with a really generous capacity, a seat pack can be a great place to store bulkier items such as your sleeping bag, clothing and bivvy bag. It may take some time to get used to the feeling of riding with a full seat pack, as your centre of gravity will be raised higher which will affect handling.
What should I store in a handlebar bag?
Handlebar bags offer great storage capacity at the front of your set-up, both for drop bar and flat bar bikes. For bikepacking trips, the larger bags offer more space, although they're best suited to large and bulky items just like seat packs, as they can be harder to get in and out of quickly.
Mounting wise, it might take a bit of fiddling to get your dashboard set up just right, especially if you are using a bike computer and lights too. Bar shape will also play a role in system compatibility, although many will work across both straight and dropbar cockpits. However, you will need to consider how they work with the space between the shifters, how much drop there is on your bike from bar to front wheel and your front end cabling before deciding on capacity.
You might find a handlebar harness is a good alternative for you. This allows you to mount anything from a tent or sleeping bag to a drybag or small duffel bag in front of your bars. Again, like any front bag, you'll need to think about cockpit size, shape and braking, with disc brakes being preferable and cantilever the least compatible.
How do I choose a frame bag for bikepacking?
Do I need a full or half-frame bag - and how do I pack it?
Choose between full-frame bags that fit inside the whole front triangle down to the bottom bracket, or smaller half frame bags that run along the top tube and leave space for your water bottles. If you're going for the first option, you'll need to think about how else to store your water, for example using a bladder and hose system in the frame bag or on your back.
Although frame bags can be a really great way to make use of space on the bike for storage, you'll need to carefully check for compatibility. Smaller frames, sloping top tubes and suspension can make fitting tricky, which is why some people opt to go for a custom made frame bag.
The other important point about frame bags is that you'll need to learn to pack them well. This narrow space doesn't lend itself to bulky items, but is better suited to storing flatter kit, thus resulting in the bag bulging less and reducing the possibility of interference with either you and your pedalling or cranks. If using a half frame bag, this is a great option for small items that you like to keep close to hand, including snacks, electricals, and toiletries.
Are there other bags well-suited to bikepacking?
Yes, frame, seat and bar bags aren't the only way for you to carry your gear on a bikepacking trip.
Having a small bag that you can gain easy access to while on the bike can be a game changer in terms of not having to dismount, which is easier said than done when you have a fully laden bike to balance, and you can simply reach in while on the move for food, and electrical items.
Snack pouch bags can be really versatile, often with velcro straps meaning you can fit them to almost any bike. If you don't want to wear anything with pockets on a short blast or you are looking for extra storage on a week-long trip, these little bags can make a big difference.
The obvious alternatives to bags strapped to your frame are to cantilever them over your wheels in the form of panniers. These will significantly increase your carrying capacity, but that in turn will slow your progress.
If you have a bike intended for touring or bikepacking, you might find the forks come with leg mounts for extra bottle cages, and there are also after-market options that allow you to clamp on additional mounts. These immediately give you increased carrying capacity, either for water or an extra bag.
Get The Leadout Newsletter
The latest race content, interviews, features, reviews and expert buying guides, direct to your inbox!