Best bikepacking bags 2023: A buyer's guide for multi-day adventures
We share the best bikepacking bags for multi-day adventures and how to choose the best for you.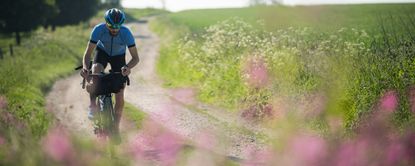 (Image credit: Roo Fowler)
The best bikepacking bags will let you travel light on your bike while still carrying all the luggage you need for a multi-day trip. While bicycle touring is a long established pursuit, bikepacking is far newer.
Certainly its roots are to be found in traditional touring and audax rides. But whereas touring usually means a specialist touring bike designed for stability and mounting points for a rack and panniers, most of the best bikepacking bags can be attached directly to the bike's frame, giving you much more flexibility in what you ride and where you can go.
The resurgence in self-supported bike racing on both road and mountain bikes coupled with the interest in all things gravel has led to greater exploration of multi-day rides that piece together both on and off-road sections, all in the pursuit of fun and adventure.
Today it appears that bikepacking could well be on its way to becoming as firmly rooted in cycling culture as traditional touring - and the development of specific bikepacking bags that don't require pannier racks has certainly aided its growth.
Coupled with the best bikes for bikepacking these lightweight bikepacking bags, mounted to the frame, handlebars and seatpost, allow you to carry varying loads on both roads and trails. This makes them adaptable for a range of self-supported trips, from mini-adventures to ultra-endurance events and more.
We've got loads of bikepacking advice on site - check out our bikepacking guide that contains everything you need to know to get started and our bikepacking kit list with absolutely everything you need to go bikepacking. And our guides to the best gravel and adventure bikes and the best touring bikes will help you select the perfect steed for your next bikepacking adventure.
Whether you're planning on a quick over-nighter equipped with little more than a camping stove and a bivvy bag or a trip of a longer duration, we've found the best bikepacking bags and multi-day bike bags on the market. And If you're new to bikepacking, at the bottom of the page our buyer's guide gives you more detail on all of the things to consider when buying bike luggage.
Best bikepacking bags: seat packs
Why you can trust Cycling Weekly Our expert reviewers spend hours testing and comparing products and services so you can choose the best for you. Find out more about how we test.
Best bikepacking seat pack for carrying large loads
Specifications
Dimensions: 42/ 56 x 15.2 x 20.3 cm (H x W x D)
Capacity: 11L
Reasons to buy
+
Large volume
+
Waterproof
+
Simple to fix and fill
+
Keeps muck and spray off your back
Reasons to avoid
-
Fiddly to access contents when in transit
-
Not recommended for carbon seatposts
-
Noticeably increases your centre of gravity
The Blackburn Outpost seat pack is a clever solution to add a lot of capacity and flexibility without bolting anything onto your bike. The bag itself is a rolltop dry sack and sits in a separate carrier that attaches to your bike, so it's easy to remove the bag for access in camp.
However it does recommend not attaching to a carbon seat post (but we have in the past). It provides a great level of waterproofing, and its position does act as a bit of an ass-saver, but the extra weight up high does take a bit of getting used to.
The velcro attachment straps were unfortunately noticeable on the back of the legs when pedalling, something worth considering if you're planning on being in the saddle for multiple days.
Read more: Blackburn Outpost seat pack review
Topeak Backloader Bag
Best bikepacking seat pack for ease of use
Specifications
Dimensions 6 litre: 50 x 16 x 15cm (H x W X D)
Dimensions 10 litre: 60 x 20 x 18cm (H x W X D)
Reasons to buy
+
Easy to use 'in the field'
+
Competitively priced
+
Waterproof
The Backloader from Topeak has been specifically designed for bikepacking as a streamlined way of carrying gear. It is constructed using what Topeak says is a lightweight, highly water-resistant and durable fabric.
The pack has compression straps to help condense its waistline, which should reduce the pendulum effect, and a built-in air release button helps reduce the inner bag further. Available in 6, 10 or 15-litre options, it uses both clips and a velcro mounting system attached to the saddle rails and seat post.
Best bikepacking seat pack for carrying heavy loads
Reasons to buy
+
Rock solid with no impact on riding
+
Great capacity
+
Ease of use
Reasons to avoid
-
Compression straps can slip when wet
-
Expensive
There are several rear bikepacking Tailfin setups, all of which will require the Tailfin rack system. The whole setup with carbon option will set you back £300 / $390, although there is an alloy rack version that is £70 / $90 cheaper, but a couple of hundred grams more in weight (but you do gain three extra mounts for the ability to add other bottle cages or luggage).
The frame-mounted system boasts to be quick release unlike traditional racks, coming free in a claimed 30 seconds, with either QR or thru-axle compatibility. The seatpost connection is secure and kind to carbon frames, and is designed to wrap around any size or shape of seatpost, including deep aero.
The total maximum load for the racking system is a substantial 9kg. With two Transcontinental Races under its belt, the fully waterproof system has won plenty of fans. On test, we found the system to be ace, with the design simplicity and ease of use making you forget the price on the first ride.
Read more: Tailfin Aeropack S Rigid Seat Pack review
Revelate Designs Vole Dropper Post Seat Bag
Best bikepacking seat pack for dropper posts
Specifications
Dimensions 7 litre: 30.48 x 21.59 x 38.1cm (H x W X D)
Reasons to buy
+
Dropper post compatible
+
Reinforced lower section
Dropper posts are standard fare on just about every mountain bike, except for select XC race bikes, and are beginning to permeate gravel bikes too. With most bikepacking seat packs using one or more velcro straps to stabilize the pack, they render a dropper essentially unusable.
Bag brands are well aware of this fact, and we are beginning to see designs that accommodate dropper posts like the Revelate Designs Vold Dropper Post Seat Bag. The Revelate Designs Vole bag comes with WolfTooth Components Valias Clamp, which attaches to the upper stanchion of the post to allow it to actuate, and the underside of the bag sees a plastic skidplate to protect against dirt and abrasions and provide some structure to the pack.
The bulk of the bag is made from Rhinoktek and lightweight plasticized fabrics that keep the elements at bay.
Best bikepacking bags: handlebar bags
Image 1 of 4
Best bikepacking handlebar bag on test
Specifications
Dimensions:: 250 x 240mm
Capacity:: 10L
Weight:: 585g
Colours:: Black, orange
Reasons to buy
+
Roll top entry
+
Large capacity
+
Bungee cord webbing
+
Easily accessible front pocket
+
Built in compression straps
Reasons to avoid
-
Bar straps only have one position on the bag
Restrap's 10 litre Bar Pack is made from durable, waterproof nylon. It has an easy-to-use roll top that's closed using two buckles, with this main compartment complemented by a smaller secondary compartment that uses a velcro closure. Essentially this means that you can still access items while on the go. On test we loved this combination, with the roll top being a real winner.
The bag's generous 10L capacity allowed us to carry all we'd want to in a bar bag, with the compression straps doing a neat job of keeping everything in place. The additional details of both a D-lock holder and bungee webbing only added to the Bar Pack's functionality and appeal.
Read more: Restrap Bra Pack review
Image 1 of 4
Best bikepacking handlebar bag for versatility
Specifications
Dimensions: 9.75" x 8.5" x 4.5" / 24.3 x 21.2 x 11.2cm
Capacity: 3-5L
Weight: 240 grams
Colours: Black
Reasons to buy
+
Great roll top design
+
Useful size
+
Includes shoulder strap
+
Easy to mount
Reasons to avoid
-
Bar straps are fixed in one location
The Chrome Urban Ex is both well-designed and well-made. The roll-top closure makes it easy to access your gear and is suitably robust. Likewise the rest of the bag feels equally durable, with a tough waterproof fabric on the bag's exterior and a decent level of padding on the inside of the bag. Its smaller size means that it's great for everyday use while still being practical for longer trips. The inclusion of a shoulder strap only helps to increase the bag's versatility.
Read more: Chrome Urban Ex Handlebar Bag 2.0 review
Image 1 of 4