Best backpacks for cycling 2023: robust and durable rucksacks for commuting
The best backpacks for cycling help you carry your belongings, whether for commuting or leisure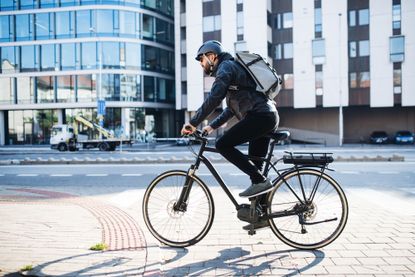 (Image credit: Getty Images / Halfpoint)
The best commuter backpacks for cycling will let you carry your luggage when riding, whether you're using your bike to commute to work or for leisure. Whilst there are other choices available - such as bike panniers and handlebar bags - a specific cycling backpack is often the easiest option.
Whereas pannier bags require a specific rack which needs to be fixed to the bike, this simply isn't a consideration for backpacks, which allow you to easily swap between bikes of various designs.
If you're carrying up to five kilos / 11 lbs of stuff, the straps need to be up to the job and ideally need to be backed up by a waist strap and a chest strap. Venting is important; most manufacturers have designed their own system to channel air and fight sweaty-back syndrome - which is admittedly a downside of backpacks compared to panniers.
The cycling industry has settled on a capacity of 20-30 liters for the commuter bag. Most have an internal organizer with separate compartments including one for a laptop or tablet. A zipped outer valuables pocket is handy so that you don't have to dive to the bottom of the main section in search of your keycard when you arrive at your destination. Here are the best cycling backpacks we've tested...
The quick list
Best commuter backpacks for cycling
Best compact option
Best compact option
Specifications
Volume: 22 liters
Weight: 730g
Reasons to buy
+
Comfortable to wear laden and unladen
+
Good stability when cycling
+
Great selection of pockets
+
Handy strap tidy-aways
Reasons to avoid
-
Helmet carry was fiddly and doesn't suit all helmet strap systems
The CamelBak MULE 22 backpack is a stylish option for those looking to travel light. With its robust weather-resistant fabric, it proved as tough as it looked when we had it on test.
But let's talk pockets. Inside the main compartment, there is a weatherproof roll-top sleeve for a laptop or an A4-sized notebook. Then, over on the lid of the bag, you can find a really useful zipped mesh pocket which we used for small, loose items.
The arm harness of each strap is also lined with useful pockets. The right side can take keys (with a key loop) or train tickets, whilst the other side is generous enough to fit a phone - and is particularly useful as it allows for the phone to be inserted and removed without having to take off the bag. In terms of specific dimensions, our tester was using a 145x70mm phone with the system without a problem.
The back panel has three separate zones which rest on your back and feature an air channel to help with ventilation and reduce the chances of a sweaty back. Another useful touch is that the side pockets can take a D-lock, which makes securing your bike when on the go a little easier.
Read more: CamelBak MULE Commute 22 backpack full review
Best for stylish visibility
Best for stylish visibility
Specifications
Volume: 25 liters
Weight: 976g (claimed)
Reasons to buy
+
Plenty of zip pockets
+
Reflectivity is brilliant
+
Comfortable straps
+
Good overall capacity
+
Clamshell opening for main body
+
Decent waterproofing
Reasons to avoid
-
Not fully waterproof at seams
-
Can feel a bit bulky when full
The Rapha Travel Backpack with reflective coating is made of a waterproof nylon exterior, which provides great weatherproofing in itself. The seams aren't taped, though, and the zips aren't Aquaguard, so in truly biblical downpours there is a stowable fully waterproof cover that you can pull over the bag. Coming back to that reflective coating, it really does light up like a beacon when a light is shone on it in the dark.
Inside, the bag has a total capacity of 25 liters. This is split between the main body of the bag - which has a clamshell opening and fabric splitter for organising luggage more easily and efficiently, a smaller pocket for easy access to valuables with a small zip pocket inside, a padded laptop pocket, and a small pocket for easy access to keys without having to remove the bag at all. The two main pockets also include zips with loops on them so that you can padlock them, or open them easily even while wearing heavy duty gloves.
The straps of the bag also have a reflective coating on them to make visibility from the front better. We found both straps well padded and comfortable to wear for long periods of time, as well as being easily adjustable. A sternum strap with a magnetic clasp is also present for increasing stability.
The Rapha Travel Backpack is expensive when compared to some similar quality and functionality items, but succeeds in being stylish enough to use in any environment, not just for commuting or for travelling, while also being better value than several options available.
Read more: Rapha Travel Backpack full review
Best for ultimate durability
Best for ultimate durability
Specifications
Volume: 22 liters
Weight: 2,330g
Reasons to buy
+
Great external cargo net
+
Useful side pockets
+
Very well constructed
This rugged waterproof backpack is built for all conditions, with its 22 liter capacity and roll top and buckle closure system.
The external cargo net is the best part of this bag our testing found. It has tough, secure netting and four adjustable clips to hold items that don't fit well inside the main compartment, such as helmets or shoes. On the outer, there are also two side pockets which are useful for storing water bottles, as well as one vertical zipped pocket for valuables.
It's expensive and on the heavy side, but the Barrage Freight is an expertly constructed backpack that keeps its contents dry and lasts and lasts.
Read more: Chrome Industries Barrage Freight backpack full review
Best backpack for waterproofing
Best backpack for waterproofing
Specifications
Volume: 27 liters
Weight: 790g
Reasons to buy
+
High quality materials and construction
+
Waterproofing
+
Stable
+
Comfortable
+
Good ventilation
Reasons to avoid
-
Lack of hi-visibility features
-
Only one external pocket
-
Straps can drag when carrying off back
-
Can obscure view and foul helmet
Ortlieb has been making high-quality, rugged and durable bike bags for over 40 years. The Commuter Daypack takes all of this experience and expertise into a 27 liter backpack for the trendy urban rider.
As you'd expect, the Daypack is extremely well-made and completely waterproof so you can be safe in the knowledge that your laptop and clean underpants are well-protected on the way to work.
Despite its minimalistic appearance, our tester found the Daypack comfortable to wear and well-ventilated. There's a large padded pocket for your devices but otherwise the bag is one large space that will swallow all your daily wares and a basket full of shopping.
Read more: Ortlieb Commuter Daypack Urban Line backpack
Best for useful pockets
Best for useful pockets
Specifications
Volume: 30 liters
Weight: 975g
Reasons to buy
+
Comfortable harness
+
Stable while riding
+
Plenty of pockets
Reasons to avoid
-
Helmet straps are fiddly
The HAWG cycling backpack comes with loads of pockets, including a weatherproof backpack sleeve, side pockets that will take a bike lock or a bottle, several reflective areas and a light loop.
The harness system is stable even when not using the waist strap and there's good airflow over your back. The straps are comfortable and come with tidy-aways so the ends don't flap around as you ride, but we found the helmet carry straps a bit fiddly to use.
We weighed the HAWG at 975g - lighter than Camelbak claims. If you don't need quite as much capacity though, it might be better to consider the 22 liter MULE, though.
Read more: Camelbak HAWG Commute 30L backpack full review
Best backpack that doubles up as a pannier bag
Best backpack that doubles up as a pannier bag
Specifications
Volume: 22 liters
Weight: 1,300g
Reasons to buy
+
Double duty ups versatility
+
Comfortable to use as a backpack
+
Plenty of capacity for a laptop plus extras
Reasons to avoid
-
Fiddly rack fixing system
-
Straps need to be removed in pannier mode to stop them from getting wet or dirty
The New Looxs Varo does double duty as a backpack and a pannier thanks to removable shoulder straps and a built-in pannier rack mount. It's made of waterproof polyester with a roll-top closure and the seams are welded. The bag weighs 1.3kg and there's 22 liters capacity. Extras include side pockets and light loops.
The shoulder, chest and waist straps convert the Varo to backpack use. You can use it as a pannier with these attached, although they'll quickly get wet or dirty. As a backpack, we thought it was comfortable and well-padded and there's plenty of capacity.
Read more: New Looxs Varo backpack/pannier full review
What to look for in a cycling backpack for commuting
There's nothing stopping you from using a standard backpack for your cycle commute. However, those created with cycling in mind will tick a few boxes that might be neglected elsewhere. Here are the features to look out for:
Air channels for breathability
Chances are your body temperature will rise as you ride. Therefore, a good cycling-specific backpack will cater for this with channels at the rear or the use of mesh or more breathable fabrics.
Padded straps
You don't want the straps to put pressure on your back when you load up your pack, so look for padded straps that will promote comfort on the bike.
Chest/hip straps
Extra straps at the chest and/or hips will keep the pack in place - without these, you might find the pack swings from side to side or hangs over your shoulder when you get on the drops. These should ideally be adjustable, and some brands - such as Osprey - offer a greater amount of adjustability on female-specific packs so that the chest strap can fasten under or over the bust depending upon preference (as opposed to directly across).
Pockets
Everyone likes to organise their kit into appropriate compartments, right?! A quality cycling backpack will have a selection of pockets so you can keep your lunch away from the rest of your luggage. Sections designed for tyre levers, tubes and a pump will be helpful too, as well as zipped compartments for valuables and side pockets for easy-to-reach access.
If you're cycling to work, you might also want to look for a laptop pocket with padding to keep your tech safe.
Waterproofing
If you cycle commute on a regular basis, it's likely you'll find yourself forced to ride in the rain at some point. Many packs come with waterproof removable covers, whilst some are simply constructed from a waterproof fabric. If you're looking for a fully waterproof option, check for taped seams which will help to keep the droplets out.
Reflective details
Whilst the number one requirement when riding in the dark is a good set of bike lights, reflective details are a good idea and many packs will come with these.
Hydration system
More often a requirement for mountain bikers, a hydration system could come in handy for a roadie who dabbles in off-road riding like cyclocross or gravel bike adventures.
More mountain bike-orientated packs will often come with a bladder, whilst those aimed more at road cyclists may just have a compartment that will fit a bladder and a loop at the shoulder where a drinking tube can be stored if used.
How we test
Whilst there is plenty of crossover with standard walking rucksacks, a cycling-specific backpack will be more comfortable when bent forward in a riding position on a bike. Commuters will often want to carry a tablet or a laptop, which are not usually needed when out hiking, so the ability to keep tech and other things separate from work clothes or your lunch is a desirable attribute for a commuting pack. Last but not least, some form of weatherproofing is vital for a bag that may be used year-round. With these criteria in mind, the bags on test were used and abused on and off the bike to determine their best features and possible weaknesses.