11 tips for cycling in the rain
Riding in the rain is part of life on two wheels - no matter the time of year. Here's how to survive, and maybe even enjoy it...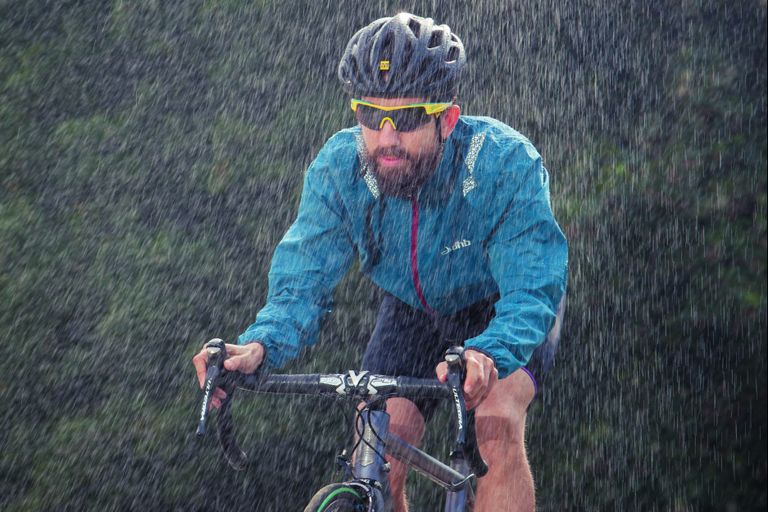 Cycling in the rain is rarely a pastime riders will list as a favourite. But regardless if you're doing it because the rain started unexpectedly, because it was raining during commute time and you just had to get to work, or because the training programme said that's what you had to do - we all find ourselves riding in downpour at some point.
>>> Best Black Friday deals for cyclists
Though wet rides aren't usually something we look forward to, we can certainly take steps to make them more enjoyable - and lessen any negative impact they might have.
Here's a few tips to keep you comfy in the wet...
1. Invest in a good waterproof jacket
The most important item of clothing for battling the rain is a jacket. Not only will a good waterproof jacket keep your torso dry it will help you regulate your body temperature. GoreTex is the best material as it is waterproof and breathable. A breathable material is essential so you don't overheat.
>>> Better than Castelli Gabba? Wet weather racing jackets on test
A thinner rain jacket or 'shell' can also be used with the correct layers underneath, although persistent or very heavy rain will get through eventually.
Learn how to ride when the rain starts
2. Keep splash off with mudguards
They may not look great, and they may rattle, but they are essential. Mudguards will keep all that filthy water on the road off of your feet, lower legs and back (where un-guarded wheels will spray the water with carefree abandon).
>>> Seven tips to get your bike ready for winter
Even if you miss the rain, the roads will remain wet. That (dirty) water then gets flicked up by the wheels and makes you wet and cold. A flap added to the front guard will give you even greater protection.
3. Wear overshoes and gloves
Your extremities are the first parts of your body to be sacrificed in order to maintain a core temperature, and when your hands and feet get wet and cold you will feel disproportionally uncomfortable.
Water resistant overshoes are worth their weight in gold while gloves are a little harder to get right.
Your cycling gloves need to protect you without being so thick as to hamper your bike control as you still need to be able to feel the brakes and gears through all that material. However, many brands produce neoprene gloves which keep rain out and allow you to maintain dexterity.
4. Use chain degreaser
After a ride in the rain you should immediately shower and dry yourself. The same goes for your chain.
>>> How to clean your bike in seven minutes
Cover it in degreaser (WD40 or GT85 are both widely available although there are bike specific degreasers like Muc Off) then vigorously wipe it down with a rag until it's dry. A few drops of lube will then protect it for the next ride. Do this and it can double the chain's lifespan.
It's a good idea to spray the other metallic moving parts too; front and rear gear mechanisms and brake callipers. Try to keep the degreaser away from the hubs, bottom bracket, wheel rims and brake blocks. Ideally your whole bike would get washed down after a wet ride, but we know that's not very realistic
5. Wear a cycling cap
Air vents in helmets are great in the heat, not so much in the rain. A cheap cycling cap worn under your helmet is a good barrier for your head, with the peak giving extra protection for your eyes against the spray.
>>> How to dress for wet weather cycling
Other options include a skull cap (although they don't have peaks) or an aero helmet as many of them have plastic covers or fewer vents.
6. Avoid standing water
Steer clear of it. Standing water not only gets you wet, it can be incredibly dangerous as you never know what's lurking beneath. It might just be a puddle, but then it could be a wheel smashing pothole.
When you see standing water, check over your shoulder before moving safely out to 'ride the lane' (most standing water will gather near the kerb). Only ride through standing water if you can clearly see what's underneath.
7. Check your tyres and reduce the pressure
Rain water washes all sorts of muck on to the roads, and when your tyres are wet they pick up more of it than usual.
After each ride take a quick look over your tyres checking for flints, glass and other debris. Also check for cuts in the tyre that could weaken the carcass or allow the inner tube to bulge through.
It's a good idea to ride a heavier tyre in the winter with a thick tread. Why not try a 25c tyre run a slightly lower pressure too.
Running your rubber at a slightly lower pressure - by 5 to 10 psi - increases your surface area, and thus grip on the road as well as comfort.
8. Utilise plastic bags
If you're riding in very heavy or constant rain there is almost nothing that will keep your feet dry as water runs down your legs or gets in from underneath.
A cheap option to prolong that nice dry feelingin your feet is to slip a plastic bag over your socks, then your tights (if wearing them) pulled down over the bags, then finally your shoes and overshoes. A more permanent, less budget version is Seal Skinz socks that do a good job of protecting your feet.
9. Use lights
Whether it's the droplets of water on wing mirrors or a steamed-up windscreen, driving standards drop drastically in the rain. It is well worth making yourself more visible when it's raining, even in the middle of the day.
>>> Cycling lights: a buyer's guide
There are plenty of good quality, lightweight, LED lights that can be discreetly clipped to your bike. If riding at night, lights that meet legal requirements are needed anyway. Flashing LEDs are a good addition.
10. Just get on the turbo or rollers
This isn't so much as dealing with the rain as avoiding it. Structured sessions of anywhere between 30 minutes and an hour can do amazing things for your fitness. Sat on your bike aimlessly pedalling while watching the TV, less so.
>> Guide to turbo trainers and smart turbo trainers
11. Move to Spain
Not a feasible option to many people we know, but worth putting it out there.
Thank you for reading 5 articles this month* Join now for unlimited access
Enjoy your first month for just £1 / $1 / €1
*Read 5 free articles per month without a subscription
Join now for unlimited access
Try first month for just £1 / $1 / €1
Editor of Cycling Weekly magazine, Simon has been working at the title since 2001. He fell in love with cycling when channel surfing in 1989 and happening across the greatest ever edition of the Tour de France. He's been a Greg LeMond fan ever since. He started racing in 1995 when moving to university in North Wales gave him more time to train and some amazing roads to train on. He raced domestically for several years, riding everything from Surrey leagues to time trials, track and even a few Premier Calendars. In 2000 he spent one season racing in Belgium with the Kingsnorth International Wheelers.
Since working for Cycling Weekly he has written product reviews, fitness features, pro interviews, race coverage and news. He has covered the Tour de France more times than he can remember along with two Olympic Games and many other international and UK domestic races. He can still be seen at his club's evening races through the summer but he still hasn't completed the CW5000 challenge!
SIMON IS CURRENTLY RIDING
Road bike: Pinarello K8S with Shimano Dura Ace
TT bike: Specialized Venge road bike with FFWD wheels and Easton Attack TT bars
Gravel bike: N/A
Training bike: Rourke custom hand made with Reynolds 853 steel