What is Zwift: all you need to know about the online training and racing platform
From Watopia to the Zwift Academy - check out our complete guide to start your virtual cycling experience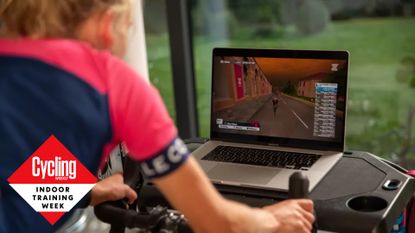 (Image credit: Future)
It's incredibly useful to have a dedicated space set up so you have a place to ride and train indoors – no matter the weather.
One of the best ways of keeping yourself motivated throughout the year is to use an indoor training and racing platform. There are plenty of options out there, but by far the biggest platform out there is Zwift, which has surged in popularity in the last few years.
Here is everything you need to know about Zwift.
Zwift converts sing its praises - but one of the most commonly cited reasons for avoiding stepping over to the 'Zwift side' is simply not knowing where to start.
So if you're thinking of giving it a go, here's everything you need to know about the best smart turbo trainer game that is taking the cycling world by storm.
Of course, there are other options out there, and if you're curious to know what else is on offer, our best indoor training apps page can help you find the perfect indoor cycling motivation.
What is Zwift?
Zwift is a turbo trainer game that enables you to link you turbo trainer up your computer, iPad, iPhone or Apple TV, letting you ride with other cyclists in a virtual environment, therefore helping to alleviate some of the boredom associated with indoor riding.
As well as competing against others riders in Zwift racers, those seeking specific training sessions can access workouts designed by professional coaches, and these can be completed in groups with riders completing efforts at the same intensity based on a percentage of their FTP.
Zwift also says that the game can be better than outdoor riding, where "weather, traffic, time constraints and distance from other cyclists can take the fun out of it." We're not sure about that, but if it's wet or cold outside, then an online world may well be preferable.
There's a range of virtual worlds to choose from - including Watopia, New York and London - and routes for various rides can be found on Strava where there's a leaderboard for each.
Is Zwift free?
In a word, no. Zwift costs around £12.99 or $14.99 a month but you cancel at any time.
You don't need to commit immediately, either - as there is a seven day free trial available to all new members.
What equipment do I need to play Zwift?
The most obvious thing you need to use Zwift is a turbo trainer. If you want immersive gameplay, are going to be using Zwift regularly, and can afford it, then a smart turbo trainer such as the Wahoo Kickr or Tacx Neo 2T could be a good option.
There are a few hacks you can make to help keep the costs down, our page on how to get a cheap Zwift setup: what you need is well worth a look if you have a set budget in mind. And if you want to understand what features you should expect to get at various price points, check out our explainer on the differences between cheap versus expensive turbo trainers.
These turbo trainers generally have a direct drive design, with a built in power meter and variable resistance. These turbos will measure your power output, then send this data to Zwift to power your online avatar.
The variable resistance on these turbos will also allow you to feel as if you're actually riding in the online world, so when you are going uphill on-screen the resistance will increase, and when you are going downhill it will decrease.
However you don't have to splash out on an expensive smart turbo trainer to be able to use Zwift. At the most basic level you can use any old turbo trainer combined with an ANT+ or Bluetooth speed sensor (although the system will work better with a power meter).
Data from the speed sensor (or power meter) is then sent to your computer and transferred into the game.
The best turbo training sessions to get the most out of your indoor training page can massively help you get rolling if your stuck for where to start.
Finally you might need an ANT+ dongle, which is a small USB stick that you can plug in to your computer to allow it to communicate with your ANT+ speed sensor, power meter or smart turbo trainer.
If you're already breaking out in to a cold sweat at the thought of all the technology required or it reads like another language, then have no fear and check out our page dedicated to what is an ANT+ dongle and how do I use one? for everything you need to know.
The only reason you won't need a dongle is if you are a Mac user with a Bluetooth sensor, in which case your computer will be able to communicate with the sensor without the need for a dongle.
What are the computer requirements for Zwift?
Zwift can be run on Windows, iOS, iPhone, iPad or AppleTV, and Google Play.
The most widely used option is iOS, though an iPad does allow for easy transportation and the AppleTV option is the most cost effective way of using Zwift in full HD on a big screen. Out page on the best Zwift screen setup can help you figure out what will work for you at home.
The current minimum requirements in order to run Zwift are:
OS: Windows 7 x64 bit, OSX 10.8
Processor: Intel Core 2 Duo
Memory: 4GB
Graphics: 1GB dedicated GPU, or embedded Intel HD 4000/AMD R5
Hard Drive: 4GB of free space
How do I set up Zwift?
Once you've got all the equipment, it's time to get riding. The first step is to download the Zwift application onto your device.
You are then prompted to set up an account, and give details such as your gender, height, and weight, which will be used to create your avatar and to give an accurate measurement of your speed in the game.
The next step is to set up your avatar to give him or her some nice kit and your dream bike. If you're new to the game then you won't have that many jerseys and bikes to choose from, but as you ride more you will gain achievements and move up through the levels, letting you unlock more outfits, bikes and wheels.
Zwift also recently launched the 'Drop Shop' which is an online marketplace where you buy kit and components (once you've reached a high enough level to unlock each item) using an in-game currency that you acquire by stacking up miles on the platform.
Once that's done you're ready to ride.
Where can I ride in Zwift?
There are nine maps available on Zwift: the huge base map of Watopia, plus smaller maps in London, New York City, Richmond, Yorkshire and Innsbruck. There have also been a few new additions to the list of Zwift worlds recently, with routes now available in France, Paris, and the latest release Makuri Islands.
There are two event-only maps Bologna and Crit City, and new ones popping up now and then.
While the Richmond and Innsbruck courses are copies of the courses from the 2015 and 2018 Road World Championships respectively, and London uses the route of the Prudential RideLondon Classique, Watopia is a made up course which has been plonked down somewhere in the Solomon Islands according the Strava. You might struggle to find it on a 'real' map, if you get us. New York City features roads built mostly within the confines of Central Park. The twist is however, it's 100 years in the future.
The France map was a highly anticipated release on Zwift, as it features a virtual replica of the dreaded Mont Ventoux, while Paris is a recreation of the famous finishing circuit from the final stage of the Tour de France.
Zwift released the new map, called Makuri Islands, in May, with a variety of road types, including tight, flat and winding roads, dirt paths and cobbles, riders can enjoy green fields, and forests, filled with mystical creatures, cherry blossom trees, gushing waterfalls and ancient temples.
Currently 112 of these routes earn you a special achievement badge, and this is one of the ways you can challenge yourself on Zwift without entering a race.
Although there are numerous user-generated Strava segments - yes strava is also ever-present, although you might find that the seven amazing things you didn't know Strava could do aren't all applicable in virtual worlds.
Each course contains three different official segments, each shown by an arch over the course. The orange arch measures your overall lap time, the green arch measures your time over a short sprint, and the polka dot arch measures your time up a hill such on each course as the Alpe du Zwift on the Road to Sky route.
Your time in each segment is compared to the other riders on the course at that time, and if you're the fastest rider out there then you will be awarded the respective jersey for the rest of your ride (unless somebody beats you of course).
Can I use Zwift for structured training?
If you're looking to use Zwift for serious training instead of just riding around then you'll probably be interested in Zwift's workout mode, and group workouts.
In group workout mode, riders all train at the same effort level - based on a percentage of their FTP. That means that they can be producing different power values, and still stay riding together.
There are a large number of workouts to choose from. You've got a functional threshold power test, plenty of other individual workouts based on the amount of time you've got available or the sort of workout you're after, as well as full training plans designed by the likes of Marco Pinotti and Chris Carmichael to help you work towards various goals.
The later is ideal for helping to work out how to resume your training after a break off the bike.
Once you're riding, the workout is very easy to follow. On the left of the screen you have the overall structure of the workout, at the bottom a graph of your power through the whole of the workout, and at the top an indication of your current power, and the power you should be aiming for in that specific interval.
If you're doing those workouts with a smart trainer then it will adjust the resistance to help you stick at the target power, but if you're just using a standard power meter, then you will have to change the power yourself.
Can I race on Zwift?
Yes! Enter: virtual racing.
Races on Zwift are published on listed either on the main menu screen before starting the game or on their companion app To join a race, you fire up your Zwift app, join the race - just as you would any group ride on Zwift - and away you go.
Zwift do ask that you edit your name with your rider category and the abbreviation of the race name.
Yes: there are Zwift categories. These are based upon your FTP (read about training with power here if you don't know what FTP, or functional threshold power, is):
A: 4.0 w/kg FTP or higher
B: 3.2 w/kg to 4.0 w/kg FTP
C: 2.5 w/kg to 3.2 w/kg FTP
D: Under 2.5 w/kg FTP
This is just a guide - you can join a race for any category you like - if you find it's too hard or too easy, you can always drop back or up a cat.
Race results are published on ZwiftPower.com, here. There are even e-bike World Cup events, and for those after a longer event, e-fondo events are starting to crop up. The biggest race organiser is 'KISS' - launched in 2015, they started with the 'Zwift road racing series' and were effectively the promoting organisation behind the Zwift World Championships and Tour de Zwift.
It's an appealing list, but if you're still unsure as to what would work best for you then our Zwift vs Peloton: which is best for your at-home workouts? page could help you find a definitive answer.
Zwift group rides
There's opportunities to stay social, even from the comfort of your home.
There are a few ways you can ride with friends on Zwift - you can agree to meet at a certain point on the map (make sure you choose the same route), you can use the Ride With feature to join someone already riding when you log into Zwift, you can join an organised event, or you can create a MeetUp.
MeetUp is the most effective way of setting up your own group ride - just make sure you're following any riders you want to ride with on Zwift, then find their profile in the Zwift Companion app and tap 'Create MeetUp. You can also visit the Events page and tap the MeetUp icon, then click create.
Choose from the options of a ride or run meetup, and set a date and time. You will then be given a choice between the Watopia map or whichever alternative world is scheduled for that day
Then choose your route, set a total distance or time, and invite anyone else you want to join.
You will also be able to "Customise Your MeetUp", either by choosing "none" for a normal ride or "Keep Everyone Together" to keep your group whole throughout the ride, regardless of everyone's power output. Hit send to create the meetup.
Answer a meetup invitation when you receive notification in the game or on the home screen of the Zwift Companion app – click "Going" or "Not Going."
Log into Zwift before the start and make sure you're on time (you can't join late), then you'll be notified you a few minutes before it starts to take you to the starting point.
While you're in the meetup, you'll still see everyone on the course, but the names of your riding companions will be highlighted in green in the rider list.
Leaderboards will be filtered to show only those in the meetup with you, so you can all contest leader's jerseys, and when you chat, you'll only see each other's messages.
Be aware: you can only invite people to a MeetUp if they're following you, the maximum number of riders you can invite is 50 and you can schedule a ride up to seven days ahead of time.
More on how to set up a Zwift group ride here.
How do I upload Zwift rides to Strava?
All your rides on Zwift are saved onto your computer .fit format, meaning that they can be uploaded onto any training website you care to name.
However, if you just want to upload your rides to Strava then there is an option to connect Zwift with your Strava account on your Zwift dashboard. This will mean that all rides you do on Zwift will be automatically uploaded to Strava.
What is the Zwift Academy?
Ever wondered if your Zwift performances would be enough to keep up with the pros? Well, there's the chance to find out if you have what it takes to win a pro contract through Zwift. This popular feature is the Zwift Academy, an annual series of events that brings together Zwifters for a number of training rides and races.
While recreational riders can enjoy the Zwift Academy and work to improve their fitness, there is also an appeal for the elite riders, as each year there are a number of professional contracts on offer for the best of the best.
Winners of the Zwift Academy talent programme win a pro contract with Canyon-SRAM for the women and Alpecin-Fenix for the men, with former winners including Jay Vine who recently clinched the first win of his professional career on stage six of the 2022 Vuelta a España, and Ella Harris who has had a very successful start to her pro career.
Riders must complete six workouts, two recovery rides and for the first time this year two benchmarking rides, which will show you how your indoor performances translate to the road.
These benchmarking rides - the Baseline Ride and the Finish Line Ride - will be undertaken at the start and end of the event respectively, as riders take on certain segments to test their sprint, anaerobic and aerobic efforts.
For those new to Zwift Academy, there is also an optional Orientation Workouts - a 25-minute, low intensity workout to take you through the basics.
Stephen Gallagher, co-founder of Dig Deep Coaching and designer of the Zwift Academy workout plan, said: "Zwift Academy is known for its successful talent ID program but it's so much more for thousands of riders each year.
'"We've designed the program to offer even more for those looking to take on the challenge of completing a training plan. The program covers many of the basic principles of training and should be a fun and rewarding experience for all abilities. The segment rides offer a new dynamic - everyone knows what it's like to beat their personal best on a climb or sprint, so we've introduced this element to bring a bit of fun to the 'testing'."
Thank you for reading 20 articles this month* Join now for unlimited access
Enjoy your first month for just £1 / $1 / €1
*Read 5 free articles per month without a subscription
Join now for unlimited access
Try first month for just £1 / $1 / €1