Zwift Hub smart trainer review - a 'no brainer' for entry into indoor training
Affordable, easy to set up and with an impressive list of features, is the Hub the best entry-level trainer on the market?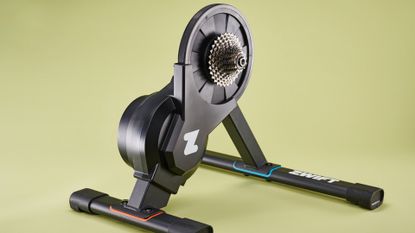 (Image credit: Future)
The Zwift Hub provides a brilliant way for anyone to get into smart training. We were impressed with its range of features, however, it's the value of the product that we feel makes it stand out from the crowd. As one of a few trainers to include a cassette at purchase and come in at the most competitive price, it really does start to look very appealing to those wanting to step into the indoor world of cycling.
Reasons to buy
+

Competitively priced compared to rival trainers

+

Easy to set up and includes a cassette

+

ERG mode is smooth and quick

+
Reasons to avoid
-

No carry handle

-

Lack of folding legs
You can trust Cycling Weekly. Our team of experts put in hard miles testing cycling tech and will always share honest, unbiased advice to help you choose. Find out more about how we test.
The world of the smart trainer has grown increasingly crowded, making it no easy task to choose the best smart bike trainer to match your needs. This is especially the case for those who just getting started cycling indoors. With this end of the market in mind Zwift has released the Hub, a smart trainer that's created to be straightforward to set up and use, and all at an affordable price point.
I tested the Zwift Hub quite intensely as I used the trainer every single day for a month. I completed a myriad of different workouts including many, many interval sessions, some longer Zone two rides, a handful of Zwift races and two very hard Zwift FTP tests. During my time with the Zwift Hub, we became very well acquainted and I learned all the ins and outs of what it was like to use on a daily basis.
Zwift Hub review: construction and set up
When unboxing a smart trainer, usually, you're left to discover a lot of unnamed parts and maybe a manual to aid with assembly. This norm is put into harsh contrast when unboxing the Zwift Hub. The parts are simple, the instructions easy to follow and even the least technically minded will be able to set the trainer up in around 5 -10 minutes. Mounting the bike will also be incredibly simple due to the incorporation of cards designed to help you measure the dropouts of your bike and easy to understand adapters.
Connecting the trainer to Zwift or any other platform for that matter was very easy to do thanks to the ANT+ connection. However, you can also connect via Bluetooth. A real triumph of the unit's connectivity is the ability to use the trainer as a bridge, meaning you can broadcast your heart rate, speed, cadence and power numbers all in one data stream. Especially useful for devices which have limited device connections such as Apple TV. I found the connection to be rock solid and during my time with the trainer and I didn't experience any signal dropout despite the ANT+ protocol being prone to signal interference from other devices.
While this unit was created to bridge the gap between the not so tech savvy consumer and those wanting to just get going on Zwift, the Hub does actually boast some pretty decent numbers for the price tag. It has a claimed accuracy of +/- 2.5%, a maximum resistance of 1800 Watts and it can simulate gradients up to 16%. The flywheel weighs in at 4.7kilos, and the trainer is ANT+, FEC and Bluetooth FTMS controllable.
Zwift Hub review: the ride
The ride sensation was smooth and measured and only occasionally choppy at lower cadences. I found the 4.7 kilo flywheel spun up fairly quickly however, at the other end, I didn't feel as though I was spinning the trainer out at the higher power numbers.
The ERG mode was smooth and very quick to react to in game gradient changes. Currently, you do have to perform a spin down calibration, however, Zwift is working to include a software upgrade which means it'll be automatic.
The handy thing with it being a Zwift product is that all software updates will be downloadable and via Zwift itself, which does make usership very simple. One aspect of the data reporting I did notice was slow to change was the power and cadence numbers. This was compared to other trainers using the same connection method, i.e. ANT+. Stability was always going to be slightly compromised with the layout of the legs, we often find this with trainers that utilise the parallel two bar format, however, I only found it to be an issue when really giving it the beans out the saddle.
The sound of the trainer is relatively quiet and is on par with other trainers in this price bracket. Of course, when you push on, the volume will increase and I found that using ERG mode helped with keeping the vibrations and noise down. ERG mode isn't exclusive to the Hub, but since the Hub's ERG mode was actually rather nice to use, it meant that using it was a viable option compared to other trainers which can send you into somewhat of a death spiral of ever increasing resistance. As I live in a top floor flat, I'm sure my neighbors who live below were unknowingly very grateful for ERG mode.
For those who love to do their research and have been eyeing up all other options in the entry-level price bracket for a smart trainer, you may have come across the JetBlack Volt. You may also be wondering why the trainers look so remarkably familiar. Well, Zwift worked with the Australian brand to bring the Hub to market. Sure, they do share a lot of the same DNA, however, Zwift put the effort into making the trainer compatible with any bike through the use of their adapters and an altered trainer housing. They also upgraded internal components to improve the performance and durability of the trainer.
A couple of other downsides of this trainer are the lack of carry handle, there's no obvious place to pick it up from and thus means it's rather unwieldy when moving around. The weight is definitely better than others in this category which is a positive. However, the lack of folding legs means it's not the most convenient thing to store or transport.
Overall, when you consider the features that are packed into this trainer, along with the simple set up and sheer value the trainer provides, it's a bit of a no-brainer for anyone looking to start training indoors. I would say it's the best bang for buck trainer out there that leaves for wanting very little.
Zwift Hub review: value
When you consider the cost of the Zwift Hub it really does provide best in class value. The aforementioned JetBlack Volt 2 is similarly priced (the price in the US was recently lowered to match the Hub, while many UK retailers have reduced the price too) and while the maximum resistance and gradient simulation are the same, it has a lighter flywheel and on test we found that the ride feel could be distinctly 'choppy' at times.
The Tacx Flux S costs around the same as the Hub but has a slightly lower accuracy, while Wahoo's Kickr Core matches the Hub's maximum resistance numbers but is significantly more expensive at full retail.
Zwift Hub review: Specs
Power accuracy: +/- 2.5%
Max wattage: 1800 watts
Max gradient simulation: 16%
Connectivity: Bluetooth FTMS and ANT+ FE-C
Flywheel weight: 4.7kg / 10.3lbs
Total weight: 15kg / 33lbs
Thank you for reading 20 articles this month* Join now for unlimited access
Enjoy your first month for just £1 / $1 / €1
*Read 5 free articles per month without a subscription
Join now for unlimited access
Try first month for just £1 / $1 / €1