Beginner's guide to indoor cycling: Everything you need to get started
Indoor cycling is a fast, efficient way to get fit, here is all you need to get started and beyond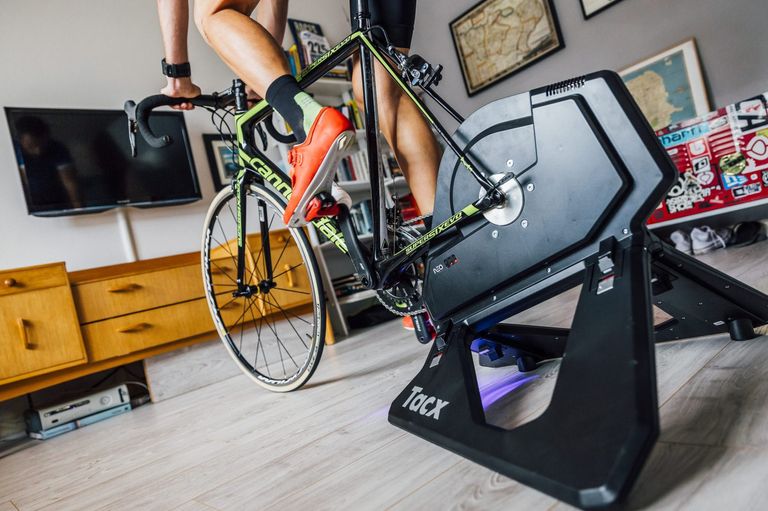 Our lives are taking a rather drastic change at the moment with the ever worsening Coronavirus situation, so, more and more riders are heading back inside but are wanting to take their bikes with them.
Taking your cycling indoors means a lack of freewheeling, thus you're utilising every pedal stroke towards your end goal, be that greater all-over fitness or weight loss.
There are no cars or junctions, which means that intervals can be completed with your full attention placed on the effort, and it's unlikely that you'll be rained on when riding indoors which is a plus for most of us.
>>> How often should you cycle to get fit?
Here is a list of everything you need to get started on riding indoors along with upgrades as you developed and become more confident.
With each product is a 'Buy Now' or 'Best Deal' link. If you click on this then we may receive a small amount of money from the retailer when you purchase the item. This doesn't affect the amount you pay.
Turbo trainers
The logical place to start, turbo trainers can be set up in your own home. You can pick up a basic turbo trainer for as little as £50 (though spending more will give you a more realistic pedal stroke) – you simply clamp your wheel in to one of these and pedal away, using the gears or inbuilt resistance controls to up the effort.
Turbo trainers can cost in excess of £1,000. Smart Turbo Trainers start at around £400 and use Bluetooth (or ANT+) to interact with apps like Zwift, TrainerRoad, The Sufferfest, BKool – either to suit intervals or to replicate hills on a given virtual route. In the case of Zwift, the effect of drafting will also be recreated as you ride with others in the virtual world.
Smart Turbo trainers can be direct drive, meaning the wheel is removed and the bike is attached to a cassette mounted on the turbo. These offer a more realistic ride feel and save your rear tyre from wear – though at present the flywheel means they're quite heavy.
Budget turbo trainers
Bikehut turbo trainer: £50
If you're looking to jump into the world of Zwift straight away then this isn't the turbo for you. But, if you're just getting started and riding the turbo purely for fitness, this is a not hassle, easy to use trainer.
>>> Beginner cyclist: tips and tricks to get you off to the best start
Your back wheel can stay on while connected to the trainer, which means it can wear, but if you get a specialist turbo trainer tyre, you will be able to avoid that.
Also, it is quite useful if you're not great with mechanics of your bike, taking off the back wheel can be quite daunting, so this makes it less stressful.
The maximum wattage that this trainer can stand is 465 Watts, which is more than enough to start with.
Buy now: Bikehut turbo trainer from Halfords or £50
Tacx Blue Matic Folding trainer: £114.49
An immediate hefty jump in price now, but what you get is a neat turbo trainer that can take more power and connect to the top training apps, such as Zwift.
The Tacx Blue Matic Folding trainer is exactly what it says on the tin, it is a turbo trainer that, very usefully, folds away for better storage when not in use, oh, and it is bright blue. In case you hadn't noticed.
Once again, this is with the rear wheel attached and again, you will really want to look into turbo trainer tyres to avoid the wear of your own.
Of course, if you're using your old bike as your indoor bike, you an use your normal wheel with no worries.
It can take up to 600w for a minute and 700w braking power, which are big numbers if you're just starting out. Tacx are one of the big wigs in this game and as a 'budget' trainer, it is a great piece of kit.
Buy now: Tacx Blue Matic Folding trainer from Tredz for £114.49
Elite Novo Force: £159
The top of our budget range we recommend is the Elite Novo Force turbo trainer. This can connect to Zwift and other trainer apps along with Elite's own My E-Training.
With a sensor that measures your speed and cadence to put together data packages for you to look through.
Elite use something they call Elastogel on the front roller to avoid wear and tear of your tyre as you ride by 20 per cent. They also say that, due to this, there is up to 50 per cent less noise from the wheel.
This trainer can also be folded for easy tidying and maximum wattage output is 690w.
Buy now: Elite Novo Force from Amazon for £159
Mid-range turbo trainers
Wahoo Kickr Snap: £429
The first model of Wahoo now, with the Kickr Snap, a brand that is being used more and more by the pro teams, Wahoo is stepping up with what is possible on the turbo trainer stage.
To give an idea, this is the only trainer in our mid-range section that still needs the rear wheel attached.
>>> The best turbo trainers for indoor cycling: smart and standard turbo trainers reviewed
But, this trainer is a lot more stable than the ones before and it can take a lot more power. 1500w to be exact.
With gradient simulation that goes up to 12 per cent, this is a very good piece of kit. You even get an LED indicator, who doesn't want an LED indicator? That just tells you that you're powered up and connected.
Buy now: Wahoo Kickr Snap from Wiggle for £429
Elite Direto OTS 2 Percent: £499
Sticking with Elite, we jump up to mid-range turbo trainers and a large price hike.
The first thing is that you can no longer keep your back wheel on to use this trainer. But, while that may be daunting to some, it does mean you have more stability and you can put more power through the machine.
With wireless connection you can ride all day and night on Zwift and the other apps available. All the trainers from now on will connect to these apps.
This adds something a little bit different compared to the previous trainers. It can realistically simulate gradients of up to 14 per cent.
And in this deal with Halfords, you get a free 12-month subscription to Elite's training app, My E-Training.
This trainer is compatible with Shimano and SRAM cassettes but, if needed, it can be adapted to fit Campagnolo as well.
Buy now: Elite Direto OTS 2 Percent from Halfords for £499
Tacx Flux S Smart: £519
This is a superb turbo trainer. It measures your power accurately within three per cent, which might not be that important to some, but it is a nice thing to have.
Its smooth ride and responsiveness makes the trainer almost feel like you're out on the road.
Along with that, Tacx have put in a lot of work to try and make sure the trainer is as quiet as possible. All that work means that this is the, supposedly, the quietest flywheel equipped bike trainer available.
With better stability the Tacx Flux S Smart Trainer can take up to 1500w, a huge jump in comparison to the ones above.
Buy now: Tacx Flux S Smart Trainer from Tredz for £519
High-end turbo trainers
Wahoo Kickr Smart Turbo Trainer: £1150
The Wahoo range is nothing short of fantastic and this part of the range fits the word perfectly.
The only noise you will hear from this turbo trainer is the sound of your chain when you change gear.
This can also take a massive 2200w of power. Almost 1000w more than the models above, meaning you can ride hard in the confidence than it will hold.
This is designed to take even the most powerful of cyclists. Several pro teams such as Team Ineos use this very trainer.
The Kickr can simulate gradients of up to 20 per cent, more than enough for training.
You can even get a complete ride experience by getting the Kickr Climb and Kickr Headwind.
The Climb is a column where you attached the front forks to, obviously taking the front wheel off first, that simulates gradient like you're really on the road.
Headwind, well, that is exaclty what it sounds like. It is a fan that makes realistic outdoor conditions right there in your living room, shed, bathroom... Wherever you choose to train.
Buy now: Wahoo Kickr Smart Turbo Trainer from Evans Cycles for £1150
Elite Drivo II OTS+: £1379
Bettering the Wahoo Kickr's 2200w limit, the Elite Drivo II OTS+ can withstand 2300w, this is build for power and riding right on the ragged edge.
With realistic slope simulation of up to 24 per cent, this is perfect if you're a bit of a mountain goat.
Integrated OTS (Optical Torque Sensor) power meter measures power throughout the whole pedaling movement via a 24 points system within 0.5 per cent accuracy.
Coming with a compact Shimano free hub, Campagnolo users will need to have the model adapted to their specifications.
This trainer has foldable legs so it can be tidied away easily.
Buy now: Elite Drivo II OTS+ from Evans Cycles for £1379
Tacx Neo 2T smart trainer: £1199
Tacx have put a lot into the Neo 2T to make it feel as much like riding on the road as possible.
Smoother and more stable, the trainer will make you confident enough to really ride hard and push yourself, knowing the trainer will hold. Taking up to 2200w, it is level with the Wahoo Kickr above.
The Neo 2T has the biggest gradient simulation though, at 25 per cent it betters the Elite a whole per cent... Every little helps.
With this, you can even experience the vibrations from cobblestones, gravel and many other road surfaces to really complete the realistic feel.
Buy now: Tacx Neo 2T smart trainer from Tredz for £1199
Exercise bikes
Wahoo Kickr Bike: £2,999.99
The crème de la crème of fitness bikes and riding indoors. While the Wahoo Kickr Bike's price is, what some might say, astronomic, you are really getting it all for the money.
Probably the closest thing you'll get to riding outside inside. The Kickr Bike has an incredible arsenal of perks alongside the feeling of riding outside indoors, the Wahoo has integrated grade changes, customisable gearing, and simulated shifting to create the most powerful, personalised, and realistic indoor training experience.
You're able to adjust gradient up to 20 per cent and, unlike the other's, descent -15 per cent.
>>> Nine best exercise bikes for indoor cycling
The bike is set up so you can adjust it to your specifications using the Wahoo fitness app. You can use the measurements from a pro bike fitting, a picture of your bike or your standard body measurements.
Shimano, SRAM and Campagnolo are all compatible with the Kickr Bike.
The Kickr Bike is compatible with any of the big brands, Shimano, SRAM and Campagnolo. The virtual shifting technology makes sure the smart shifting of the bike works with what you want.
You are able to add your own pedals, saddle and handlebars to make it feels as much like your bike as possible.
Buy now: Wahoo Kickr Bike from Evans Cycles for £3099.99 (opens in new tab)
Ideal accessories
Budget
Wahoo RPM Speed Sensor with Bluetooth 4.0 and ANT+: £29.99
First of all, you might be thinking what on earth is ANT+ when it's at home? Well, ANT+ is the wireless technology that allows your monitoring devices to talk to each other. Leading brands design ANT+ into top products to ensure that you get the data you want - when and where you want it.
So, onto the product. Its pretty much what it says on the tin, which is always good. It is a reps-per-minute sensor that also takes in your speed and puts its all into the vast wads of data we now have after a bike ride.
Track and capture cycling speed data on your i phone, Android, and bike computer it mounts to any bike's wheel hub and connects wirelessly via Bluetooth 4.0 and ANT+ on your iPhone, Android, and/or bike computer and, usefully for this piece, it works with Zwift and trainerroad! capture speed on your favourite indoor cycling platform
Buy now: Wahoo RPM Speed Sensor from Amazon for £29.99
LifeLine ANT+ USB Stick: £19.99
Ideal for accurately measuring your rides and performance and for adding a visual or competitive element to your indoor training. You can also import workout data from ANT+ devices.
Buy now: LifeLine ANT+ USB Stick from Wiggle for £19.99
Pedastal fans: from £17 to £100+
Quite simply, these are normal fans but are a bit taller on a long post. This is close to being an essential as you do get incredibly warm when riding inside.
So, you have plenty to choose from when it comes to this, that's why our buy now link is to the pedestal fans page where you can decide which is best for you.
Buy now: Pedestal fans from Amazon (opens in new tab)
Tacx Sweat cover: £17.99
This is made to just keep you bike clean. It absorbs all the sweat drops that come of you, instead of potentially damaging your bike. It is an odd thought but you'd be surprised how necessary it becomes.
Buy now: Tacx Sweat cover from Amazon for £17.99
B'Twin turbo training mat: £14.99
More essential than you might think, much like the sweat cover, the mat keeps damange off your floors, especially if its carpet. Decathlon do the cheapest option.
Buy now: B'Twin turbo training mat from Decathlon for £14.99
Mid-range
Wahoo RPM Speed and Cadence Cycle Sensors: £54.99
Similar to the ones above but, they give you more for your money with more information. They fit easily to anywhere on your bike and are completely wireless and lightweight.
Buy now: Wahoo RPM Speed and Cadence Cycle Sensors from Rutland Cycling for £54.99
Elite Posa display stand: £99.99
This is great if you're using Zwift on a tablet or you're watching something as it can hold your devise right in front of you as you ride.
You'll see a lot of pros using these sort of stands. They don't take a lot of space at all either.
Buy now: Elite Posa display stand from Rutland Cycling for £99.99
Tacx training mat: £41.99
Foldable for easy storage, the Tacx training mat is the perfect and most necessary accessory when it comes to riding indoors. Preventing damage to your floor from both the bike and your own sweat along with keeping the bike and turbo training in place.
Buy now: Tacx training mat from Wiggle for £41.99
High-end
Wahoo Kickr Headwind: £199 and Kickr Climb: £575
Let's start with the Kickr Climb, as mentioned earlier in this article, the Climb is a column that you fix the front forks to after removing the front wheel.
It moves up and down as if you were riding on real roads and makes it almost exactly like being outside.
Onto the Headwind, this is a superb fan that mimics real wind so it can give you close to the same experience as being outside.
Buy now: Wahoo Kickr Climb from Evans Cycles for £575 and Wahoo Kickr Headwind from Wiggle for £199
Indoor clothing and shoes
There are a few brans starting to come out with indoor specific kit. Shimano, Rapha and Le Col are the first. Here is just a small selection.
Shimano IC5: £79.99
Purpose built to be more durable when walking around, the Shimano IC5's are ideal for riding at home and, when we're allowed to again, spin classes.
This is also available in black, navy and pink.
Buy now: Shimano IC5 from Tweeks Cycles for £79.99
Le Col Wahoo indoor training jersey: £120
Le Col and, what seems like, main feature of this piece, Wahoo have teamed up to make a men's and women's indoor training kit collection that is ideal for rider on the turbo inside.
>>> Le Col and Wahoo launch indoor training kit collab
Not to mention, they're very smart. The men's dark blue jersey and the women's bright blue and pink jerseys are lovely to look at too.
Buy now: Le Col x Wahoo Indoor Training Jersey from Le Col for £120 (opens in new tab)
So now you're set up for your first voyage into your living room and getting onto a turbo trainer, with your sweat cover, mat and purpose made kit. Enjoy!
Thank you for reading 5 articles this month* Join now for unlimited access
Enjoy your first month for just £1 / $1 / €1
*Read 5 free articles per month without a subscription
Join now for unlimited access
Try first month for just £1 / $1 / €1