Best indoor training apps for cycling: virtual riding platforms and training analysis apps
Whether it's virtual racing and riding or training tracking, planning and analysis, there are plenty of options to choose from - here's our top picks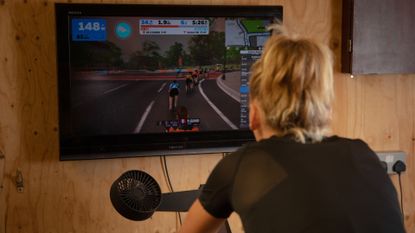 (Image credit: Future)
Get The Leadout Newsletter
The latest race content, interviews, features, reviews and expert buying guides, direct to your inbox!
Thank you for signing up to The Pick. You will receive a verification email shortly.
There was a problem. Please refresh the page and try again.
There is a cornucopia of training apps out there to help cyclists train indoors, plan rides, track progress and analyse their data. Given the wide array of options (of varying quality) it can be difficult to know which ones to choose. Getting to grips with a platform is time consuming - and you don't want to chance paying a subscription fee for something you might find isn't for you.
So, to help you out, we've put the hours in on a wide range of training apps - and rounded up the best of them here. Hopefully, you'll come away with a good idea of which platforms are best for you, before you take the plunge.
To start with we'll run through the best training apps for cycling indoors - both platforms with virtual worlds as well as simpler and more 'paired down' platforms.
Best indoor training apps for cycling
While these platforms keep riders inside, a supposed attack on the nature of cycling, they're becoming increasingly more sophisticated and enjoyable to use. Riders can become immersed in their ride, exploring terrains they would never usually have the opportunity to.
They can offer fierce competition too; Zwift offers the top male and female riders in its annual Zwift Academy competition the chance of a pro contract and some have gone on to successful pro careers with top teams, including Jay Vine, who was leading the KOM competition at the 2022 Vuelta a España until he crashed out.
If you're new to riding at home, our beginner's guide to indoor cycling will help provide you with lots of hints and tips for where to start and what kit you'll need, with one of the best cheap smart trainers a likely starting point.
If you're already a seasoned indoor rider looking for an upgrade on the current equipment you have, then our guide on the best turbo trainers will help you work out what the right set is for you.
Virtual riding apps
1. Zwift indoor cycling app
Key features: A huge community of riders at all fitness and ability levels | Events and races at almost all times of day in all time zones
Best for: Cyclists who like to be immersed in a virtual world while they ride | Virtual racing
Long-term user's view: I started using Zwift during lockdown in 2020 and still use it regularly. The app allows users to follow training plans, track power PBs and, when paired with Zwiftpower, see their virtual rankings from races. The best feature of Zwift is the huge number of other users, which gives the app a real sense of community and competitiveness. There are many events, races and routes available to ride. Racing is not the only way to challenge yourself on Zwift, setting a PB up the Alpe du Zwift is just one of the other cycling goals you could have on the platform. The feature that keeps me on Zwift is the game-like nature of it – being competitive is a big part of what gets me on the turbo.
Verdict: Zwift has been the go-to for indoor training and is the established market leader for virtual riding and racing. The best thing about Zwift is that the events and virtual worlds allow training to go on uninterrupted. A long ride of three or four hours is quite doable on Zwift, partly thanks to the community and game-like nature of the app, which brings some of the features of outdoor riding into your living room.
Cost: $14.99 / £12.99 per month
2. TrainerRoad indoor cycling app
Key features: Huge library of structured workouts | Minimise mode allows users to watch TV| Machine-learning-powered 'adaptive training' algorithm
Best for: Riders looking to add structure to their training sessions | A cheaper alternative to a coach
Long-term user's view: Unlike Zwift, TrainerRoad has no virtual road or in-app community chat function (though the forums are active and the community of users are helpful and friendly). A number of features have been added recently, including the ability to watch TV with the graph on the screen (possible with other apps by opening multiple windows).
The cycling training plans can be rather intense, with a higher proportion of hard interval sessions than other apps, which was the reason that I stopped using it. The ability to include outdoor rides and the app's machine-learning-powered adaptive training plan algorithm goes some way to reducing this overreaching issue.
Verdict: Applying various algorithms to training metrics can appear scientific, but you need to be confident this is being done in the right way to progress your fitness. TrainerRoad provides users with motivation but its plans have led me to overtrain in the past and sessions can feel overly intense. Adaptive training may avoid this, but the feature is relatively new and time will tell if it leads to better results on average.
Cost: $19.99 / ~£16.50 per month
3. Wahoo X - Wahoo SYSTM
Key features: 4DP test | Off-bike training videos
Best for: Riders looking to improve their fitness beyond increasing their FTP
Long-term user's view: The 4DP test is the foundation of Wahoo SYSTM. Originating from the former Sufferfest app, this test has riders complete maximal sprints, and a one-minute, five-minute and 20-minute effort. From this test, riders get a performance profile, around which training sessions are tailored. Recently, Wahoo SYSTM has included outdoor training into their platform. Support for multiple sports is now available too but the platform feels less complete than Sufferfest, though it's still a work in progress.
Verdict: Moving beyond FTP and training based on a more comprehensive performance profile is great for the racing cyclist, but the platform is still slightly less developed than its competitors. That said, the off-bike workout and mental training features are unique and their benefits may come in handy when the going gets tough in a race.
Cost: $14.99 / ~£12.50 per month
4. Wahoo X - RGT
Key features: Magic Roads allows you to ride any road with a GPX file | Realistic breaking, cornering and drafting makes for the most realistic app | Good free version.
Best for: Riders looking for a realistic indoor training experience and the best free option for virtual riding.
Long term user's view: Wahoo acquired RGT Cycling in April 2022 and as a result the Wahoo SYSTM subscription allows premium access. Prior to the Wahoo acquisition, RGT Cycling was one of the best free cycling apps out there. It has much more realistic graphics to its competitors but the route library is limited. One unique feature of Wahoo RGT is the Magic Roads feature which allows you to upload a GPX file and ride any road on the trainer.
Verdict: With many features available on the free version, RGT cycling is the best free option for riders looking for a virtual cycling platform. A weakness of the app is the lack of motivational game features and structured training, but premium subscriptions under the Wahoo X banner come with access to Wahoo SYSTM which goes some way to alleviating that issue. RGT cycling is a great free option, and with Wahoo X coming in at roughly the same price as Zwift it's a solid alternative to the indoor training market leader.
Cost: Free standard version, or $14.99 / ~£12.50 per month for premium
5. MyWhoosh
Key features: E-racing real cash prizes | Training plans developed by WorldTour coaches
Best for: Virtual cycling on a tight budget
User's view: MyWhoosh is another option that provides workouts (over 720) and training programmes. Kevin Poulton, Zwift's former leading coach and previous head coach of Katusha Alpecin, was the man behind these training plans. And these plans don't shy away from the geeky details - the notes for the road racing plan take you through the different phases of periodization and the bodily adaptations which are being targeted for development.
The focus of the platform is on e-sports, though, and it hosts a weekly racing series that it calls the Sunday Race Club. It offers cash prizes too, intended to attract top e-sports pros. Earlier this year, its championships had a record $1 million prize pot.
Verdict: The big plus about MyWhoosh is that it's free to use. Its funding model is based on advertising, with the ads cleverly integrated into the world as little flags on the street - not banners or pop-ups flashing across the screen, it's actually quite unobtrusive. As mentioned, it has a huge library of workouts - and a handy workout builder for creating your own indoor cycling sessions for turbo training, too.
Cost: Free
6. Rouvy
Key features: A more realistic alternative to Zwift | Online racing, real-world courses
Best for: Riders looking for an alternative to Zwift
Long-term user's view: The first iteration of Rouvy was born in 2003, with the app as we know it today having existed since 2013. During the Covid disrupted racing calendar in 2020-21 it proved to be a more serious competitor to Zwift, even hosting a virtual Tour de Suisse. I have used it on and off since then, and the app is great fun as an alternative to Zwift. The Rouvy app itself is easier to use than Zwift and the interface is more intuitive. The major downside is the lack of Rouvy community and events, which can make you feel a little isolated and bored while you ride – despite the well put-together virtual environment.
Verdict: Rouvy is a strong alternative to Zwift, especially for riders who want to ride on 'real' roads. It suffers slightly from the lack of a large community when compared to its main rival but, as their user base grows, expect Rouvy to become a popular training environment.
Cost: $15.00 / ~£13.50 per month
7. BKool
Key features: The most realistic cycling simulator on the market | Custom training plans
Best for: Realistic in-game dynamics | Simulated real-world routes
Long-term user's view: Bkool has a couple of unique features, including virtual velodromes and arguably the most realistic in-game dynamics of any virtual riding platform. The app suffers from a lack of community and socialisation, however, and has no inbuilt ability to make in-app progress, though you are able to purchase jerseys, bikes and rider features. Overall, Bkool is not as advanced as Rouvy or Zwift. It contains more routes than its competitors but often the quality of the graphics is low and does vary significantly across the app. Bkool is lacking on the fitness tracking side of things too, meaning to ride regularly indoors with this requires a great deal of self-willed motivation.
Verdict: Bkool is one of the cheapest cycling simulators but with the lower price comes lower quality and less engaging features. The brand still has a long way to go to reach similar levels of quality as those found on Zwift and Rouvy but its physics engine, the bit of the software that powers the in-game dynamics, gives users a relatively realistic ride feel.
Cost: ~$12.00 / ~£9.50 per month
Training and analysis apps
1. Training Peaks
Key features: A huge library of plans and workouts to choose from | Accompanying educational content to guide training
Best for: Coached athletes | Athletes who enjoy setting their own training
Long-term user's view: I have used TrainingPeaks since I started cycling in 2017. It hasn't changed a great deal in that time, with minimal new features added. TrainingPeaks is essentially a glorified spreadsheet. The app has a reasonable amount of analysis and there are many graphs available but its beauty is in its simplicity. The app is easy to understand, integrates well with almost all devices and allows you to view the information most relevant to you. Many coaches use Training Peaks to manage their coached athletes.
Verdict: Training Peaks was founded on TSS (training stress score) and CTL (chronic training load) but it has progressed far beyond these two metrics. The usefulness of the ATP (annual training plan) feature and TrainingPeaks's metrics is limited, as human physiology is often more complicated – the app rewards more training, but more training does not always equate to better results. That said, it's a good starting point for managing load. There's a reason TP is the market leader, with easy to use data analysis features and a great training session building tool, which allows sessions to be built around a number of metrics depending on the user's preferences.
Cost: $19.95 / ~£16.50 per month
2. Today's Plan
Key features: Workout builder and training plan builder tools | Performance analysis with greater depth than any other app in this list
Best for: Diving into the detail of your training numbers
Long-term user's view: One of the neat things about Today's Plan is that you're able to import your entire TrainingPeaks account in one go – kudos to both companies for making this possible. The analysis available in Today's Plan allows users to go deeper than they can in TrainingPeaks, with the facility to slice and compare data in a more granular fashion. Today's Plan is a very legitimate competitor of TrainingPeaks, especially with the addition of more sports opening it up to triathletes and runners too.
Verdict: It has taken Today's Plan some time to find its feet but the app had enough analysis detail for Team Sky in the marginal gains era. With a series of integration and sport updates in recent years, the platform is a solid alternative for anyone who doesn't get on with Training Peaks.
Cost: $18 / ~£21 per month
3. Strava
Key features: Market-leading route planning | Social network | Strava KOM leaderboards for segments
Best for: Riders who like to compare their performances with others | Interacting with others via kudos and comments
Long-term user's view: It wouldn't be possible to write a piece like this and leave out Strava. With 95 million active users, it is used by cyclists all over the world. The beauty of Strava is that it incorporates almost every feature of every fitness app in this list apart from providing a virtual training world. Price increases in recent years don't seem to have deterred many riders from the platform, and the addition of fitness tracking and performance analysis (provided you're using the desktop version) has been welcome.
Verdict: Strava has something for everyone, training analytics, leaderboards, route planning and recommendations and a social element meaning it's truly a jack of all trades. If you only have enough room in your budget for one app, Strava is definitely the option that gives the most bang for your buck. The downside is that the mobile app is slightly limited, with most of the value of premium features coming from the desktop version.
Cost: $11.99 / £8.99 per month
Read more: Six fitness tools on Strava recommended by a cycling coach, and their 'training value' explained
4. Garmin Connect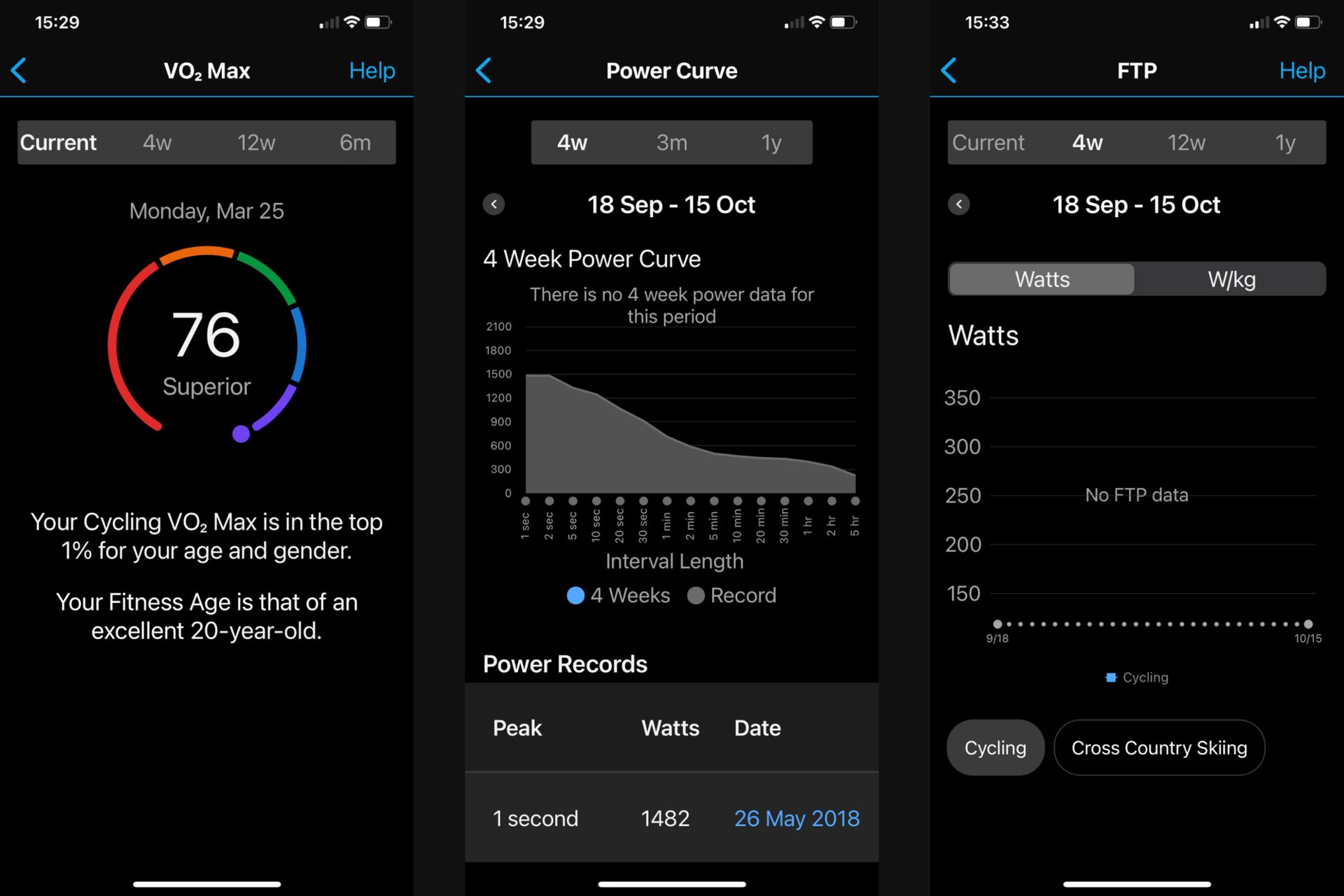 Key features: Free | Physiological estimates including threshold heart rate and VO2 max
Best for: Best free option
Long-term user's view: Garmin Connect will set you back a grand total of zero pounds and zero pence, and for this you get route planning, training plan building and fitness tracking. It's fair to say that for more serious riders, Garmin Connect won't be enough, as the depth of analysis available is relatively limited. The app gives you estimations for VO2 max as well as threshold heart rate, paces and powers. Anyone with a Garmin device will be familiar with being told they're being "unproductive" at seemingly random points in time, and the app's physiological threshold estimates have not proved accurate for me. Specifically, I found that it underestimated the impact of low intensity training.
Verdict: The only free option that offers a host of analysis features. However, the announcements this apps makes about your fitness can be somewhat spurious, and if you don't have a Garmin device you'll have to manually upload each file. That said, if you're looking for a free option, this is your best bet.
Cost: Free
Read more: Five free fitness features on Garmin Connect that cyclists should be taking advantage of
What is the best indoor cycling app?
The perfect indoor training app for your needs will ultimately come down to personal preference, but in order to get the most out of your rides over the long term, then finding an app that keeps you motivated is imperative. It's easy enough to switch platforms if you do want to try something different though and you'll usually get a free trial period before you have to commit to a monthly payment.
Indoor cycling is a brilliant way to perform your rides. Not only does it keep you warm and dry, but it's much easier to control to suit what you're looking to get out of a session.
Completing intervals or tracking progress is much more accurate, plus there's the added bonus of not having to worry about traffic, road surface or other elements that might get in the way.
Alternatives to using indoor cycling apps at home
Cycling indoors might not be the most enjoyable for some people, but during the winter it can be the optimal way to complete rides without needing all of the winter kit, as well as a winter bike to match.
Using a turbo at home to follow a routine but without bothering with an app is obviously another option that you can use, though it might not be the most interesting.
Group cycling classes are another option - either at home with the likes of the Peloton indoor exercise bike or a more social gym class.
Thank you for reading 20 articles this month* Join now for unlimited access
Enjoy your first month for just £1 / $1 / €1
*Read 5 free articles per month without a subscription
Join now for unlimited access
Try first month for just £1 / $1 / €1
Get The Leadout Newsletter
The latest race content, interviews, features, reviews and expert buying guides, direct to your inbox!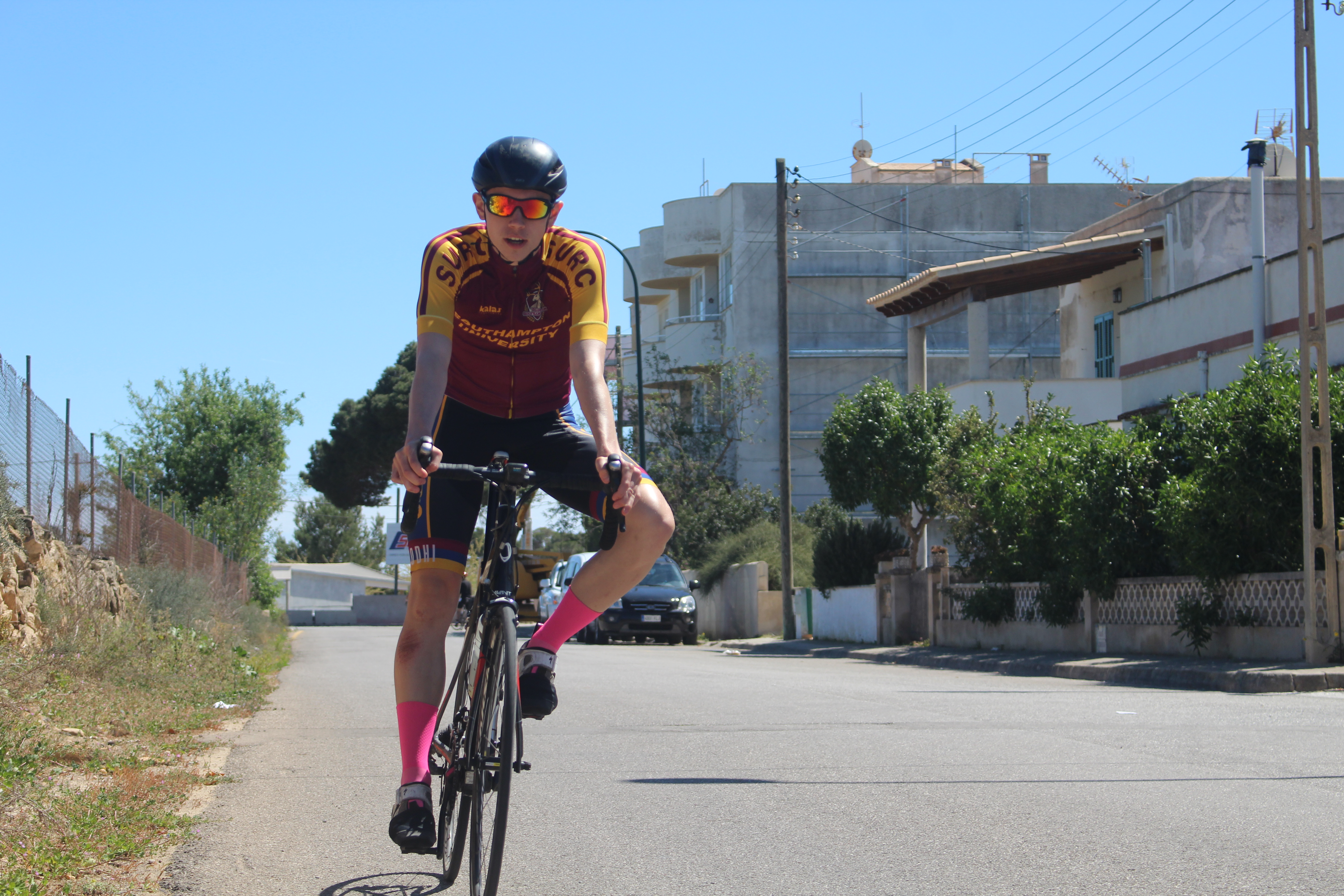 Tom Epton is a freelance writer and data scientist. Originally training as a scientist after completing his studies in physics he realised that cycling was what he wanted to spend his life thinking about. Now he works with manufacturers, athletes and teams using cutting edge data science methods to find performance gains. Tom writes primarily about sport-science and tech!