Best indoor training apps for cycling compared: which is best for you?
Fed up of keeping yourself entertained by counting the tiles on the kitchen floor? Welcome to the best indoor training apps, a fast growing virtual world for cycling at home.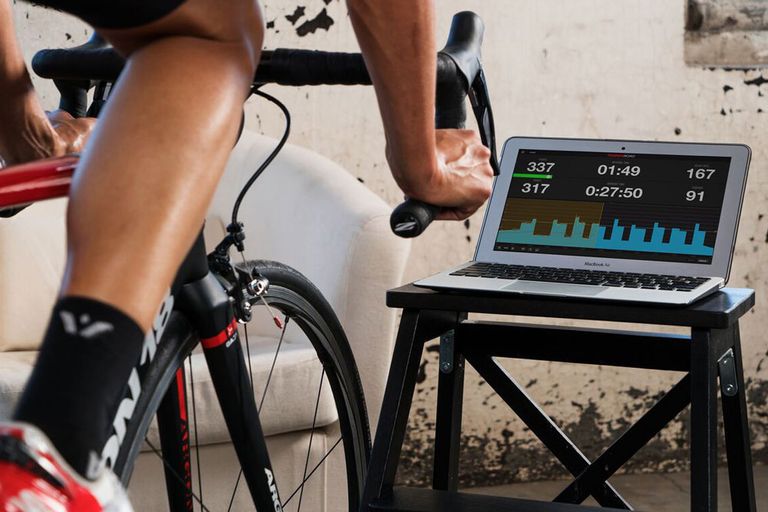 Indoor cycling apps are changing the way many riders view training indoors.
Asked 'why do you cycle?' most riders will respond with wistful references to exploring the great outdoors, freedom, adventure - but all of that seems far, far away when you're sprinkling sweat droplets onto the cold hard marble of the kitchen floor, staring at a narrow space of wall that could do with a re-touch, now you consider it.
When riding out side and maybe taking advantage of one of the best apps for cycling , indoor cycling can initially seem like the poor relation. However, whether it's the weather, set training plan, time or other constraints can mean it's time to take the riding inside.
The good news is that it's never been a better time to take to the static bike.
If you're new to riding at home, check out our beginner's guide to indoor cycling: all you need to know page for lots of hits and tip for where to start and what kit you'll need.
If you're already a seasoned indoor rider, and are thinking of upgrading then our guide on the best turbo trainers will help you work out what the right set is for you.
If you're lucky enough to have a dedicated indoor cycling space, then take a look at the best exercise bikes and best smart bikes on the market. You'll be surprised with how advanced they are and can provide the totally immersive ride from the comfort of your own home.
What is the best indoor cycling app?
The perfect indoor training app will ultimately be one that keeps you motivated to ride.
Indoor cycling has great benefits - these are pretty well documented but in case you needed reminding:
It's controllable, so completing set intervals and tracking progress is accurate
It's possible to push harder since there's no need to worry about traffic
It's warm and dry - you can't slip on ice on the turbo trainer (without great difficulty)
The downside? Well, you're pedalling away indoors. But there's now a wide selection of training apps and services to keep you entertained.
Zwift indoor cycling app
Available for: iOS, Mac, Windows
Read more: Zwift training app in detail
Best indoor training app for: Riding and racing with (or against) others
The key feature of Zwift is that it allows indoor cyclists to join group rides where they can measure themselves against others in the comfort of their own homes.
Join a group ride, and if you put more power through the pedals you'll ride away from people, struggle to hold the watts steady and you could drop off the back. You can even message other riders in the virtual world (most recommended during warm-ups/cool downs).
Rides take place over a series of courses in a variety of 'worlds' - Watopia (which also includes the challenging Mayan Jungle), London and Richmond plus more recently, New York.
You can chat to others or give them a thumbs up as they ride, too - and the Zwift companion app that allows this really effective.
If the cost of getting going is a concern, it's good to know that there is such a thing as a cheap Zwift setup, or any of the best indoor training apps for that matter, that will get you connected to the virtual world for a fraction of the price you'd expect.
If you're a dilemma for what would motivate you more, head over to Zwift v Peloton: which is best for your at-home workouts?
Racing and community
One of Zwift's many unique features is that it makes indoor racing possible, with the likes of the National E-Racing Championships and 2020's inaugural UCI E-Racing World Champs held on the platform.
Races are organised by various groups, but 'KISS' launched in 2015 is the largest. They started the 'Zwift road racing series' and promote the 'Zwift World Championships' and 'Tour de Zwift'. The results of races are published on Zwiftpower.com and there's everything from the e-bike World Cup events to e-fondo rides which are becoming more and more popular.
Chris Snook, PR man at Zwift told us: "Zwift has two major USPs; our virtual cycling environment and our community.
"The virtual world of Watopia allows riders to tackle all kinds of terrain and surfaces from flat circuits to epic mountain climbs and from smooth tarmac through to gravel roads and cobbles. You can even defy reality and ride through volcanoes!
"The community however, is really what makes Zwift unique. We are lucky to have a highly engaged community on Zwift and it's this community that brings the virtual environment to life.
"Our community runs the majority of events on Zwift including social rides, training rides, races and even fondo events.
"Indeed it's largely thanks to our community informally organising these events in game during the early stages of our development that we now have official events pages."
There is still structured training
For those who want to train with others, without direct competition, there are 'group workouts' - during which all riders will complete intervals at the same percentage of their FTP, which means no one gets dropped from the group session.
It's not all about indoor bike enabled socialising either - there are solo workouts for those looking to increase their fitness without the distraction of peers.
"Zwift undoubtedly makes indoor training more fun. Fun however, doesn't necessarily mean less structured," Snook told us.
"Structured workouts form a big part of Zwift - whether performing one of our many pre-designed workouts, importing workouts from a coaching program, designing custom workouts or taking part in our unique group workouts. This is a big part of Zwift's appeal for serious riders from club level to WorldTour Pro."
"Who is Zwift for? It's for anyone with a goal - whether that's to loose weight, maintain fitness over winter, train for a sportive or, if you're Mat Hayman; win Paris-Roubaix!"
What do you need to run Zwift?
Zwift is available on iPhone, iPad, Mac, Apple TV, Windows and Android, it's compatible with ANT+ and Bluetooth.
Wondering what device to use for your setup? Our best screen setup for Zwift page takes you through the pros and cons of the different screens you can use.
You can ride with a speed/cadence sensor, which will calculate your virtual power. For more accurate results, you can use one of the best power meter on a standard set up but for the full experience a smart turbo trainer will replicate climbs, descents and the effect of drafting.
For absolutely accurate data then it's worth investing in the best heart rate monitors
Zwift costs £12.99 or $14.99 a month - and there is a free seven day trial. Alternatively, buy a smart turbo trainer direct with a 30-day home trail and 30 days of free Zwift.
Trainer Road indoor cycling app
Available for:Windows, Mac, iOS, Android
Best indoor training app for: focused training and progression
Trainer Road offers a wealth of specific training plans that are built around rider's goals. The plans are written by Trainer Road's Head Coach Chad Timmerman, who has over 25 years of experience.
There are over 100 different plans, which are very specific - for climbing road racers, criterium riders, time trialists, rolling road racers, century riders, triathletes (sprint to full distance), XC Olympic, XC marathon, short track XC, cyclocross, gravity and general fitness riders.
Trainer Road has over 1000 workouts in its system, if that's not enough, there's a workout creator for coaches and riders to use.
Once signed up, you can choose a cycling training plan, log your sessions, as well as your fitness and progress - all inside the app.
Keep it up, and you'll be able to look over your 'cycling career' - with software tracking your fitness over time.
Very specific training plans
CEO and co-founder Nate Pearson told us: "TrainerRoad focuses on just one thing; making cyclists faster. The core of the product takes cyclists through structured, power based workouts and training plans.
"TrainerRoad's advantage comes from the fact that they get very specific in your training depending on what your cycling goals are and where you are in your season.
"To get faster, riders need to work through progressions of different energy systems depending on the time of year.
"Short-term and long-term training stress needs to be taken into account, and a proper taper needs to be involved if the rider is targeting an A-race."
All sessions are based off FTP, which is measured in an initial assessment - and all plans concentrate on three specific phases - a Base, Build and Speciality. Base builds initial endurance and skill, Build focuses on improving FTP, then the Speciality phase is a fine tuning process focused on specific goals.
Each plan totals 28 weeks and comes with low, medium and high volume options – and riders can modify them according to their needs as their target events loom closer.
"There's a lot of science behind cycling training, and it can get very confusing very quickly. The beauty behind TrainerRoad is that they make this whole process simple," Pearson explains.
Entertainment isn't build in
Trainer Road is not top of the list if you're after entertainment over specificity. Workouts don't come with accompanying music - but then that might be a plus for some, making it the best indoor training app for focused riders.
Pearson adds: "TrainerRoad spends 100 per cent of their time trying to make cyclists faster. We are unique in the fact that they ask riders to bring their own entertainment with them while they use the app.
"Rider's tastes vary, and we feel that products like Netflix, Spotify, Youtube, and HBO GO do a fantastic job of entertaining people. We just focuses on making cyclists faster."
What do you need to run Trainer Road?
Trainer Road runs on Windows, Mac, iOS and Android.
You can use Virtual Power, riding with a speed/cadence sensor on a standard turbo trainer, a bike with a power meter, or a smart turbo for auto adjusted resistance.
It costs $19.95 (£15.30) a month or $189(£144.95) a year. There's no free trial, but if you don't like it after 30 days you can get your money back.
The Sufferfest
Available for: iOS, Windows, MacOS
Read more: The Sufferfest training app in detail
Best indoor training app for: entertaining sessions and very well tailored training zones
The Sufferfest has progressed from offering videos for individual purchase to a full workout app in the last couple of years. In January 2019 it released a brand new app which lets you watch your own videos and select whichever metric overlays you want on screen. In July 2019, The Sufferfest was acquired by Wahoo, which has made it great for some aspects of trainer connectivity, but frustratingly the brand is still working on an Android based app.
Sign up and download the app and you'll discover a host of cycling training videos, as well as running sessions, yoga and mental training. There are training plans, devised by APEX coach Neal Henderson, that can be downloaded in PDF form and The Sufferfest is now working with Training Peaks to provide integration so that athletes can access data and sessions all in one place.
Effort levels can be based on perceived effort, virtual power (using a speed/cadence sensor) or if you're using a power meter the app will tell you what how many watts you should be producing during intervals and recoveries.
With the new app, there's more workouts too under the 'no vid' section - these don't have music and sounds but will provide more structured training options.
Base power numbers on 4DP - because 'FTP is dead'?
Power numbers can be based on a percentage of your FTP, or you can use Sufferfest's own '4 Dimensional Power' (4DP) test. With the new app, you can adjust the 'levels' for each of the 4DP elements to suit your goal.
The 4DP test and algorithm was designed by Henderson - coach to riders such as Evelyn Stevens, Taylor Phinney and Rohan Dennis.
The test itself, called 'Full Frontal', assesses your Neuromuscular Power, Anaerobic Capacity, Maximal Aerobic Power and Functional Threshold Power performance over five second, five minute and 20 minute efforts as well and your ability to recover after them, tested via a one minute interval after fatigue.
Dylan Robbins, 'Senior Minister for External Affairs' at The Sufferfest told us: "4DP is something Henderson has refined after ten years of testing and training athletes - not just elite athletes but amateurs too.
"He would see two athletes with the exact same FTP - based on a fitness test in the lab during a controlled situation - then get them out somewhere else and find their abilities above threshold were vastly different. So the types of training that you would assign to them would be vastly different in order to develop them as athletes.
"The feedback that we've had from our test group and Facebook communities has been huge - especially people who are more anaerobically inclined, who have a peak 5 second power much higher than their FTP - they're seeing that the sprint workouts [like Violator] are much more effective and tailored for them which means better training adaptation. Even the endurance athletes are able to use maximal efforts more, so it's effective for them too.
"It's like bringing power to the people. The principles behind 4DP aren't new, or revolutionary - but we've made it accessible to a broader group of people who can't or don't want to delve into the sports science of it themselves."
Sufferfest have also launched a whole library of free training sessions that are accessible via Training Peaks. It currently includes 50 cycling workouts designed by elite coaches, 30 yoga-for-cyclists sessions. a 10 week mental toughness programme, and 27 strength-training-for-cyclists sessions.
Own brand of humour
The Sufferfest has its own brand of humour - sessions are set in 'Sufferlandria', and there's often a story line in which you're representing the Sufferlandrian team. You're probably going to lose the whole race and be flogged if you don't smash the last interval - of course you will win at which point everyone will do a chamois dance. You have to try it to get it.
"David McQuillen the founder has been really successful in creating an intensely loyal but inclusively tribal community. I think that sets it apart - there are lots of tight knit communities that don't let people in - but we are inclusively tribal. You go on the Sufferfest Facebook page and there are riders of all different types, and everyone is helpful and supportive. We've built the science on top of it, but it was really the community that made The Sufferfest what it is today," says Robbins.
What do you need to run The Sufferfest?
The Sufferfest App works on Windows computers, iPhone, iPad or Mac. It's compatible with ANT+ and Bluetooth devices.
Sessions can be ridden on a standard turbo trainer with no power, in which case you simply ramp it up when the instructions tell you to - based on perceived exertion or heart rate.
You can add a speed/cadence sensor, and the app can work out 'virtual power' based on your turbo trainer type and wheel size. Or, for greater accuracy, you can invest in a power meter or smart turbo trainer. The latter options means that resistance can be increased for you by the app.
The Sufferfest app costs $10 a month/£7.48, or $99 a year/£74 - and there's a 14 day free trail.
Road Grand Tours (RGT)
Available for: iOS, Mac, Windows, Android, Apple TV
Read more: Road Grand Tours, all you need to know
Best indoor training app for: Realistic virtual world riding with/against people around the world.
RGT is without a doubt developed by experienced gamers who ride bikes making it the ideal indoor training app for riders who are easily bored. There are currently only eight real world iconic rides to choose from but it's super realistic.
There are around 10,000 users of RGT already, helped by much of the current software being free to access, including official RGT organised rides, joining a public ride or a private ride organised by a friend.
To get the full experience, there is a monthly subscription, but this significantly increases user experience, with Magic Roads, structured workouts and well as organise rides and events reserved for paid users.
The real feel deal
Considered by some as a true rival for Strava, RGT believe that it's attention to detail in regards to ride experience realism that sets it apart, with rider movement, drafting, braking and resistance realistically replicated on the smart trainer/ indoor bike. The biggest stand out feature is the cornering feature, existing users say it's the currently the best on the market, ideal for honing crit sprints and real life pedal power requirements.
Gaming level graphics
Graphics in both real and virtual worlds are impressive, as you would expect from folk with a gaming industry background. Uploading you own GPX file automatically gets converted to a virtual route, with the climbs, descents and corners all in the right places and instant feedback to your smart trainer.
The Real Roads currently features two crits, Canary Wharf London and 8Bar Berlin, both with corners aplenty, a classic lap race course of 7.7km loops located in Borrego Springs, San Diego California, Cap De Formentor Majorca, Mont Ventoux France, Paterberg Flanders, Pienza Italy and the Stelvio Italy.
Specific Training
For those wanting more specific data, RGT links directly with Training Peaks. Free membership does limit this to uploads only, where as premium enables full integration, with your Workout of the Day library automatically sync'ed or the ability to take advantage of access to either stock workouts or training plans, created by a fully accredited coaching team.
What do you need to run RGT?
As with anything that has a significant amount of graphics and functionality, there is a requirement to run current processing systems and while all BLE and ANT+ compatible trainers, cadence, heart rate and generic power meters are supported (check website for a full list of compatibility) speed sensors aren't, and older turbo trainers only work with a power meter.
Road Grand Tours is either free or a monthly premium subscription for $14.99/ €14.99/ £12.99 for the UK – and there's a 14 day free trial offer too.
Rouvy
Available for: iOS, Mac, Windows, Android, Apple TV
Read more: Rouvy app in detail
Best indoor training app for: Simulating outdoor riding indoors
The standout feature for Rouvy is their Augmented Routes software. It combines high quality GPS based road videos with animated 3D riders on the road for a realistic outdoor indoor experience.
The Platform includes over 3000 geolocated routes with synchronized videos, workouts, multi-rider mode for group rides and online races allowing you to both see and feel the routes .
Rouvy also mixes the virtual cycling world with being able to gather in-depth data in order to improve your cycling. Advanced Pedal Analytics (check for pedal compatibility), along with your daily workout automatically uploaded from your TrainingPeaks account to Rouvy.
One click to ride
Along with the existing system, the Rouvy App (currently only available on iSO/ Apple) provides a one click to ride feature, making it on of the swiftest sets ups on the indoor training market. Features on the app include unlimited virtual bots or real ride partners, 4k ready video quality for big screens, custom fit look avatars and new Augmented Routes.
UK specific riding
With all the geolocated routes, there's almost a ride in every continent allowing riders to take on legendary cols and famous race stages.
However, having recently purchased UK-based CyclingRecon, Rouvy has released multiple UK routes, such as the UK hosted stages 1 and 2 of the Tour de France 2014 around Yorkshire, classic sportives such as the Fred Witton Challenge, and some of the hill climbs from Simon Warren's 100 Climbs series.
Ride the Tour de Suisse
A new collaboration with Tortour will enable a virtual 1:1 stage simulation of the Tour de Suisse routes. Rouvy say that with the ability to rehearse the entire course profiles, it's a feature that will appeal to both amateur and professional riders.
Or replicate your own
It is also possible to replicate a GPX recorded ride of of your own. So if you recorded a ride via your phone, watch, GPS unit or other, you can also convert it to a virtual route and ride it whenever you like.
Group rides
Rouvy allows you to add both virtual bots and and real riders, allowing for group training rides from the comfort of your own home. Depending on your subscription, this could even be up to two of your own family members who can also benefit from the Premium membership for free.
As part of the colab with TorTour, Rouvy has also confirmed that regular group rides and training sessions lead by a former Swiss professional will also be taking place.
You can also track you virtual power and make your riding realistic by tracking either watts per kilogram or FTP percentage data – which allows for direct rider comparisons as well as helping you track performance improvements.
More motivation
And if non of the above is enough to motivate you to ride your bike, Rouvy have set up 'Challenges' and a point gathering 'Career' with winnings of up to a nominal value of $10k for each, prizes include high end smart trainers and PowerTap Wheelsets.
What do you need to run Rouvy?
There are four basic components to get riding with Rouvy: a bike; a smart trainer or turbo trainer with an ANT+ or BLE power meter/ speed and cadence sensor; a device, such as an iPhone, iPad, Mac, Apple TV, Windows and Android; and a bridge receiver for the ANT+/ BLE signal. Obviously some Smart trainers/ indoor bikes will have the required features built in, in which case it's simply log on and start riding.
Rouvy costs $10.99 a month, which includes two free family/ household members- and there is a free 14 day trial.
BKool
Available for: iOS, Mac, Windows, Android
Best indoor training app for: Challenges and setting personal goals.
Having recently announced that they will be stepping away from the manufacturing of actual smart trainers, BKool is now 100% a cycling simulator software developer.
With over 100,000 active users, the brand says it will now solely focus on providing the best indoor training app experience, no matter what trainer you own.
BKool already has a large pool of riding experiences to dip in to, with both group challenges or personal training goals to choose from.
Let them entertain you
There are four types of sessions to choose from; 'Route', which are road rides such as grand tour stages, ' Workouts' by a personally set powerzone, 'Velodrome', including events such as the Keirin, elimination and pursuit races, and the all important FTP test, with both five and twenty minute options.
Depending on the session you opt for, there are several different views available, which can be toggled between during the ride. In 3D world you have the choice between third-person, first-person, or automatic (which changes between birds-eye and spectator like) views.
Video based experiences superimpose riders on to a real-time video of the route, while selecting a workout session would give you a graph like graphic showing specific power data.
Choosing a velodrome ride gives you the choice of global (birds-eye), 3D or real-time video, for realistic race situations, with you selecting the number of laps to ride, or time (you know that hour record is calling!).
Opting for you own pre-ridden geolocated ride in map view would give you a SatNav like screen, with the rider's location highlighted on a contoured map.
Finally, there's even a spectator mode, which allows you to look in on a session. This is great for coaches, perhaps slightly voyeuristic if just dropping in to watch you friend in the pain cave and send direct instant 'motivational' messages.
With all of the views, you can personalise your on screen data with 10 options to select from, which include all the usual figures such as time elapsed and distance, route profile, current gradient and the all important rider stats.
Motivate me
As well as a plethora of ride and rider view options, there are also various motivational events, competitive leagues, challenges and group rides (some led by professional riders) to jump on too. You can even upload your own route for the Bkool community to enjoy by recording the GPX data and video.
What do you need to run Bkool?
The basics are a bike/ indoor trainer, a smart trainer, a device and a ANT+/ BLE bridge receiver. A Bkool specific trainer will obviously have an element of advantage in terms of technical support, but as the brand has always support all of the main players in terms of smart trainer compatibility, and many more besides. The brand's move away from hardware manufacturing also highlights is user experience focus over pledging allegiance to one of it's own smart trainers.
There are two types of subscription, Free and Premium. Free is great to get you going, but is pretty limited in terms of features with only 12 live routes to choose from, and only the last eight sessions saved on it's platform.
Premium costs €9.99 a month – with a months' free trail.
Alternatives to using indoor cycling apps at home
Not everyone wants to complete all of their bike riding lit up by the glow of an iPad - but unless you have all the gear, including a winter bike means plenty of us have to find options away from the fresh air.
Of course, you can turbo at home using some of our turbo training sessions - though we'd suggest tuning in to some music as well - this can help keep you motivated and studies have shown listening to your favourite tracks can boost performance.
Spin classes are another option - either at home with the likes of the Peloton indoor exercise bike or a more social gyms class.
Spin bikes aren't like the standard indoor training bikes - they usually have a heavy weighted flywheel that is linked to the pedals - so riding one is much like using a fixed gear bike - your legs won't stop moving and every second is put to good use.
Spin classes vary greatly - some include weights and upper body training - whilst others will have a more traditional focus on working the muscles used for cycling - so quiz the instructor before you sign up or be prepared to shop around.
There are also more cycle racing orientated sessions - these are often completed on smart bikes as with more data available. All in all ensuring that whatever your choice of indoor cycling, there's no need to be bored.
Michelle Arthurs-Brennan is Cycling Weekly's Tech Editor, and is responsible for managing the tech news and reviews both on the website and in Cycling Weekly magazine.
A traditional journalist by trade, Arthurs-Brennan began her career working for a local newspaper, before spending a few years at Evans Cycles, then combining writing and her love of bicycles first at Total Women's Cycling and then Cycling Weekly.
When not typing up reviews, news, and interviews Arthurs-Brennan is a road racer who also enjoys track riding and the occasional time trial, though dabbles in off-road riding too (either on a mountain bike, or a 'gravel bike'). She is passionate about supporting grassroots women's racing and founded the women's road race team 190rt.
She rides bikes of all kinds, but favourites include a custom carbon Werking road bike as well as the Specialized Tarmac SL6.
Height: 166cm
Weight: 56kg
Michelle Arthurs-Brennan on Instagram
Michelle Arthurs-Brennan on Twitter