Winter kit checklist: what you need to keep riding
The essentials you need to check off to get through your winter rides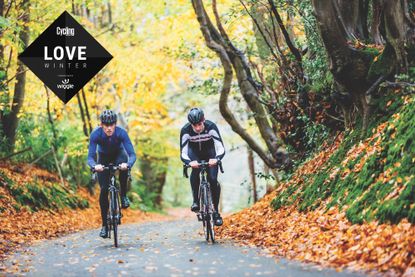 This article is part of Cycling Weekly's Love Winter week, guiding you through setting up your bike and yourself for riding through the winter months. There's plenty to enjoy about riding in winter, and we'll show you how to get the most out of it. For more Love Winter articles, click here.
Where would you rather be? A) Pounding away in the shed dripping with sweat while staring at a digital rendering of the Champs-Élysées or B) in the open countryside on a crisp winter morning pedalling along a quiet lane with a couple of ride mates under a clear blue sky?
Yes we know indoor training has its place and can be one of the most time-efficient ways to get fit, but nothing beats the great outdoors – the freedom, the adventure, the friendships that form on a long winter ride… this is the real essence of cycling, even of life itself.
But let's not forget the challenge. The sky isn't always clear and blue, so if you're going to ride through winter you'll need some kit that's up to the job or you'll soon be sloping off back to the shed. Here's our guide to the best clothing to keep you warm, dry and happy through the winter.
Merino wool base layer
In all but the coldest conditions, a good base layer underneath a good jacket will be all you need on your top half.
It's all about insulation, so a winter base layer will have long sleeves, a higher neck and will be made of a fabric that traps the air as well as letting sweat through for higher-intensity riding.
Merino wool is a popular choice for the winter base layer since it is both insulating and breathable, is soft against the skin and doesn't get smelly as quickly as manmade materials.
A close fit avoids bunching, rubbing, lumpiness and potential cold spots.
Versatile winter jacket
It's not always easy to work out what the weather is going to do, especially as British winters are milder than they used to be.
A versatile jacket that allows you to stay warm but not overcook on the climbs or freeze to death on a more moderately paced ride should take out some of the guesswork.
Manufacturers are recognising that windproofing, water repellency and breathability are important along with insulation and are using more technical fabrics, and DWR coatings are also common.
Comfortable bib tights with a high front
From November onwards leg warmers are not enough: you need a more substantial garment to keep out the weather.
The simplest bib tights are made from a fleecy-backed Roubaix-style material and are neither windproof nor waterproof. With manufacturers such as Gore now involved, however, more technical fabrics that are breathable but with water-repellent coatings are appearing.
The most sophisticated tights locate different types of fabric and different numbers of layers in the specific areas where they will be most effective against cold, wind and rain.
There are various ankle closure methods – some rely on stretchy cuffs, others on zips – and for female-specific bib tights its worth checking out the comfort break mechanism.
Snug-fitting neoprene overshoes
Overshoes' primary job is to cover up the ventilation holes in your shoes, providing a barrier against wind and water.
Neoprene, a lightweight, stretchy, dense, foam-rubbery fabric that is commonly used for wetsuits and which has great insulating properties, is what most brands use for winter overshoes. Neoprene is water resistant but does become waterlogged.
However, even if your feet get wet – as they inevitably will in persistent rain – the neoprene will keep the water next to them warm.
Gloves that are warm but not too bulky
Winter cycling gloves have to perform a balancing act between keeping the wearer's hands warm and retaining sensitivity for brake levers, gear shifters and Di2 buttons. Ideally we also need to be able to operate touchscreens without taking them off.
Gloves need to be able trap warmth, keep out wind and sometimes rain, and stay breathable too.
Different glove models often focus on a particular type of winter riding condition, so it's probably unrealistic to expect one glove to over all types of weather.
Casquette under your helmet
In order to avoid brain freeze you need to shore up the vents in your helmet and the traditional casquette is great for that, plus it has a peak that keeps sun, rain and mud out of your eyes. It also makes you look like you're riding Paris-Roubaix.
There are under-helmet caps made from technical fabrics and merino skullcaps if you don't want cotton, or if you don't wear a helmet, a Belgian-style hat with a peak can top off your winter kit in classic style.
Emergency gilet
The gilet is ideal for autumn and spring, but it can be a useful extra layer in winter too. The windproof type packs down really small, so if you're heading out for a long ride it's always a good idea to take one with you just in in case.
Yes, it gets trotted out each time anyone writes about winter clothing, but it's a fact that there's no such thing as bad weather; just bad clothing. So get yourself kitted out with decent winter gear and ride like it's summer.
Thank you for reading 20 articles this month* Join now for unlimited access
Enjoy your first month for just £1 / $1 / €1
*Read 5 free articles per month without a subscription
Join now for unlimited access
Try first month for just £1 / $1 / €1