Best winter cycling gloves 2023, and how to keep hands warm in the coldest months
The best winter cycling gloves are an essential piece of cycling kit once the thermometer heads south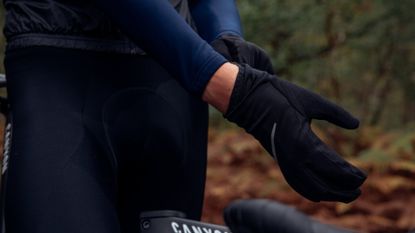 (Image credit: Future)
Get The Leadout Newsletter
The latest race content, interviews, features, reviews and expert buying guides, direct to your inbox!
Thank you for signing up to The Pick. You will receive a verification email shortly.
There was a problem. Please refresh the page and try again.
Wearing a pair of the best winter cycling gloves to keep your fingers functioning, will make a world of difference in the colder months. As all cyclists know, in winter it's the extremities that get chilly first. No matter how warm the rest of your body, if your hands become too cold, it's very difficult to continue enjoying your ride.
Much like owning one of the best winter cycling jackets, once you've made the investment, you'll wonder how you survived for so long without a pair of perfect handwarmers.
There are many winter gloves to choose from. There are plenty with a particular quality. This does invariably mean that some will favor one feature, or weather condition, over another. So we've tested a variety of gloves and broken this guide down in to sections, which allows you to navigate quickly to the best winter cycling gloves for you.
Deep winter gloves are for the coldest temperatures and are designed to keep your hands warm even when it's freezing. They typically feature plenty of insulation and longer cuffs but can be a little more bulky than your regular full fingered cycling glove.
All-rounders are winter gloves that will work across a range of temperatures and conditions, attempting to strike a good warmth-to-weight ratio to deliver plenty of protection but without too much bulk.
Waterproof gloves are winter-ready mitts that place a premium on keeping your hands dry, while windproof gloves excel at protecting you against cold winds, but typically offer some waterproofing too.
We've tested several pairs across all four sections, wearing them across a range of winter temperatures as well as varying weather conditions to assess whether they're as breathable, waterproof and windproof as the brands claim. And while protection against the cold is vital for any winter glove, we've also taken into consideration build quality and comfort, too.
The Estremo is Castelli's warmest glove, with a double lining and windproof Gore-Tex shell. There's also a long cuff, to make sure there are no cold spots at the wrist.
The Endura Strike gloves mix windproofing and insulation with a reasonable level of waterproofing, making them a great choice for cold, wet rides.
The ET in the DeFeet Duragloves ET stands for e-touch, meaning that you can now work your electronics while wearing DeFeet's evergreen item.
Giro's waterproof gloves are far less bulky than neoprene, but still provide high waterproofing. They're muuch more breathable than neoprene too.
Rapha manages to provide plenty of warmth without the bulk with its Pro Team Winter gloves. They're also water resistant, adding another plus.
6. Gore C3 Gore-Tex Infinium
The Gore C3 Infinium gloves combine impressive windproofing with grip from their silicone print on the well-padded palms for great winter protection.
Best winter cycling gloves for deep winter riding
Best deep winter gloves overall
Specifications
Temperature range: >32ºF/ >0ºC
Material : Stretch outer fabrics with eco-friendly PFC free DWR finish
Colors : Black, yellow, red/brown
Sizes : S - XXL
Reasons to buy
+
Water and wind proofing
+
Surprising levels of dexterity and radial grip
+
Reflective details
+
Good size nose wipe
+
Great price point
Reasons to avoid
-
Short cuffs can create gaps to jacket or jersey sleeve
-
Lack of effective touch screen compatibility.
We couldn't help but highly rate these brilliant winter cycling gloves from Endura. They aren't quite as finessed as the higher end brands, but with both impressive wind and water proof characteristics, they could easily fit in to both categories.
The Endura Strike gloves have a gel palm as well as silicone making them great at grip on the bars and controls in all weather, although this time loosing out on the tall cuff, which longer armed riders might find creates a glove to jacket/ jersey gap.
The stretch windproof panel across the back of the gloves managed the tightrope balance of providing bitter wind protection without loosing breathability. While they wouldn't keep your hands dry indefinitely in a downpour, the waterproofing also punched well above the price bracket assumption, and we found that as long as you didn't remove your gloves, even when they are wet, will keep your hands warm, again thanks to their impressive wind blocking qualities.
Having a test of the e-touch features, we found that in low temperatures they really didn't work well with swiping and some touch screen navigations, with their bulk didn't allow for the finesse required for typing.
Read more: Endura Strike gloves full review
Best deep winter gloves for durability
Specifications
Temperature range: >21ºF/ >-6ºC
Material: Polartec 100g insulation
Colors: Black
Sizes: XS-XXL
Reasons to buy
+
Impressive blend of technical fabrics
+
Good movement despite bulk
+
High build quality
+
Uses some recycled materials
The Giro Proof is the five-fingered sibling of the previous Giro Proof 100 lobster mitts. Here you get the same level of warmth but with increased dexterity thanks to the traditional glove shape.
The build quality is high, with fabrics that provide plenty of protection against the elements as well as being durable. As with the Proof 100s, we found that one of the only drawbacks is the gloves' nose wipe. It's made from a lovely soft fleece material but is far too narrow to really do its job. Otherwise, this is a sturdy glove that kept us nicely warm through the coldest winter days.
Read more: Giro Proof winter gloves full review
Best deep winter gloves in very low temperatures
Specifications
Temperature range: >23ºF/ >-5ºC
Material: Gore-Tex Infinium windproof fabric
Colors: Black
Sizes: XS-XXL
Reasons to buy
+
Super warm in freezing temps
+
Lightweight - 63g actual for M
+
Long adjustable cuff seals in heat
+
Generous nose wipe on thumb
+
Very grippy palm
Reasons to avoid
-
Lack of reflective detailing
Castelli Estremo gloves are billed as the Italian's brand 'warmest cold weather glove'. After testing we found this to be accurate. The Estremo's kept our hands warm in below freezing temperatures, while still allowing us to maintain plenty of bar feel.
The blend of fabrics is spot on. The Gore-Tex windstopper material on the top of the glove and the cuff keeps out the worst of the weather, while that long adjustable cuff does a stellar job of sealing the heat in. Inside the fleece material feels luxurious, as do the gloves as a whole. Detailing is high, with regards to the silicone palm grippers and the padding, although a tad more reflectivity would be appreciated.
The Estremo gloves may be expensive but it's hard to put a price on keeping your hands truly warm. If you intend on cycling through the winter then you could do far worse then invest in a pair of these gloves.
Read more: Castelli Estremo winter gloves full review
Best deep winter gloves for warmth without the bulk
Specifications
Temperature range: >23+ºF/ >-5ºC
Materials: 60g PrimaLoft insulation, Shoftshell, fleece lining
Colors: Black, Blue Sea, Red
Sizes: XS-XXL
Reasons to buy
+
Very warm without the bulk
+
Grippy palms
+
Well proportioned cuff
+
Good reflective detailing
Reasons to avoid
-
Not waterproof
-
Ineffective touchscreen finger
Sportful's Sottozero gloves offer exceptional warmth in an impressively low bulk package - they weigh in at just over 50 grams per glove yet still kept our hands warm on test in low single digits.
The palms are grippy and not too padded, while the back of the hands feature a large reflective logo for better visibility when signalling at night.
With a generous nose-wipe and a well proportioned cuff, the only things holding these gloves back from receiving a full five stars is the lack of full waterproofing (they are only water resistant) and the touchscreen finger being a little cumbersome in use.
The Sottozero gloves aren't cheap but we feel they do represent good value, considering the quality of materials, the level of detail and, vitally, their solid performance in cold temperatures.
Read more: Sportful Sottozero winter gloves full review
Best all-rounder winter cycling gloves
Best all-rounders overall
Specifications
Temperature range : 42 - 50ºF/ 6-10ºC
Fabric : Gore Windstopper
Colors : Black only
Sizes : XS - XXL
Reasons to buy
+
Great close fit
+
Lack of bulk allows good levels of dexterity
+
Wind and water protection
+
Breathability prevents sweaty hands
Reasons to avoid
-
Will eventually let in water
On test we absolutely loved the Castelli Perfetto RoS gloves, finding them so close to being the best winter cycling gloves that we gave them a coveted Cycling Weekly Editor's Choice award.
Using the latest Gore Infinium Windstopper fabric, the Castelli Perfetto RoS gloves manage that difficult balance between adequate insulation, water repellence and windproofing on the one hand and bar feel and ride comfort on the other. It's something that the Altura Firestorm Reflective Gloves and Santini 365 Origine Long Finger Gloves also do well, but when on and riding, it's clear that these are the elite winter cycling gloves.
With a light fleece lining, there's enough warmth to keep the hands warm and even after hours of light rain, they stay dry. Once the water does make it in, your hands stay warm and there's enough dexterity to work the controls and keep yourself fed as you ride.
Read more: Castelli Perfetto RoS Glove full review
Best waterproof winter cycling gloves
Best waterproof winter gloves overall
Specifications
Temperature range: >40ºF/ 5ºC
Materials: One-piece Xnetic knit shell with waterproof membrane and hypoallergenic lining
Colors: Black, Highlighter Yellow
Sizes: S-XL
Reasons to buy
+
Lightweight and minimal - just over 60g a pair
+
Great breathability without compromising waterproof element
+
High level of stretch and comfort
Reasons to avoid
-
Reflective details are somewhat minimal
Giro's Xnetic H20 gloves are billed as waterproof, and they are. But they are also more than just something to reach for when the skies threaten rain. Thanks to their lightweight, minimal design they work well as a go-to-glove for cool conditions, whether you're heading out on a long road ride or popping to the shops on your bike. At just 62g for the pair, they store away easily.
The Xnetic's low weight also means that once on you barely notice that you're wearing them. This can also be attributed to the high level of stretch, which sees the glove forming to your hand shape with ease. It also creates a good seal at the wrist, stopping any unwanted drafts from entering.
Unlike traditional neoprene gloves the Xnetic gloves offer far greater breathability. On test, our hands never got overly sweaty. Surprisingly for a glove that allows this degree of moisture management they also did a stellar job of keeping our hands warm, working well in temperatures in the low single digits celsius, and keeping them dry through persistent showers and the occasional heavier downpour.
The technology at work here is well disguised. This is a simple looking glove that will be appreciated by any minimalist. However the three-layered fabric, which almost has the look and feel of a knit glove, blends an durable outer with a waterproof membrane and a hypoallergenic lining. And it works very well indeed.
Read more: Giro Xnetic H20 gloves full review
Best water-resistant winter gloves for those on a budget
Specifications
Temperature range: "mild to cold"
Material: Breathable waterproof membrane with fleece lining
Colors: Black
Sizes: XS-XXL
Reasons to buy
+
Great value for money
+
Decent level of water resistance
+
Lightweight - just 48g per glove
+
Warm in single digits
+
Good reflective detailing
Reasons to avoid
-
Cuff is a little short with no adjustability
The dhb Waterproof gloves are included here due to their water-resistant properties but could also be included as a solid all-rounder too.
They blend a comfortable fleece lining with a durable water and wind proof outer that on test kept our hands warm and dry in heavy drizzle and temperatures down in the low single digits. On slightly milder days we found that the gloves lack of bulk also made them a good choice and highlighted their versatility.
The major gripe was the gloves short cuff, with no adjustment possible. However, at this price point its hard to grumble too much and the dhb gloves do have plenty of details that work well, including the thumb nose wipe, the palm pad and the reflective details. In general, a solid winter glove for those on something of a budget.
Read more: dhb Waterproof gloves full review
Best windproof winter cycling gloves
Best lightweight winter cycling glove for low bulk fit
Specifications
Temperature range : >32ºF/ >0ºC
Material : Windproof, DWR-coated. synthetic suede
Colors : Black only
Sizes : XS - XL
Reasons to buy
+
A really comfortable fit
+
Low bulk and low profile design
+
Grippy, unpadded palm
+
Good dexterity/lever feel
Reasons to avoid
-
High price
-
Suede palm lets water in
-
Shortish cuffs require long jacket sleeves
The Rapha Pro Team Winter Gloves stand out feature is their lack of bulk. On test we were really impressed at how this low profile package was capable of keeping hands warm, performing exceptionally well at really low temperatures.
We loved the minimal padding on these, and found them the perfect winter cycling glove for it's excellent grip in all weather. with zero dexterity compromises, including both navigating a touch screen and unwrapping a mid ride energy bar. They're certainly a performance pair and we found them to be the best winter cycling glove to pull on for winter league racing.
The windproof back of the gloves does a really good at blocking the cold, but it's worth noting that these are water resistant, not proof. So in the rain, the backs of the gloves does keep out the water thanks to a DWR coating (which will need reapplying at some point) that makes raindrops bead off, but we did find that the synthetic suede palms absorb it.
There is no denying the high price tag that the Rapha Pro Team Winter Gloves command, more than both the other 'elite' brands winter offerings, such as the Castelli Perfetto RoS gloves. However, if you want the perfect winter cycling glove for racing, then these are spot on.
Read more: Rapha Pro Team Winter Gloves full review
Best winter cycling glove for milder weather
Specifications
Temperature range : >41ºF/ >5ºC
Material : Polartec® Neoshell® /hydrophobic AX Suede palm
Colors: Black
Sizes: S - XXL
Reasons to buy
+
Windproof with low bulk
+
Comfortable fit
+
Lightweight for winter glove
+
Accurate sizing with a good cuff design
Reasons to avoid
-
For under 41+ºF/ 5°C you may need a heavier glove
We really rated these Specialized Prime Series Thermal gloves for a more of a mild winter option, ideal for the late autumn and early spring riding in changeable conditions.
The Polartec Neoshell backs are as totally waterproof as Polartec claims, the AX suede palms are 'hydrophobic', they're not waterproof, so badged as water resistant. On test we found them one of the best winter cycling glove to happily withstand a light shower or drizzle no problem, but as we've said with the likes of the Rapha Pro Team Winter Gloves, this style of microfiber it will always get wet, so it's a matter of when not if.
On test we found the cuff really well done, with it's Velcro adjustable closure a break from the current trend of just stretchy. It allows you to fine tune the fit, without adding additional bulk, allowing the cuff to be over or under your jacket/ jersey sleeve.
Their lightweight nature affords great breathability, especially on the days when it's a colder start and then warms up (or vice versa), although if your hands do get hot the Specialized Prime Series Thermal Gloves are light and packable enough to stash in a pocket.
The only real down side is their lower temperature range limitation, meaning that it's likely that you'll have to invest in something like the Rapha Pro Team Winter Gloves, or even the Rapha Deep Winter gloves for real freezing rides.
Read more: Specialized Prime Series Thermal Gloves full review
Best winter cycing glove for grip and protection
Specifications
Temperature range : >46ºF/ >8ºC
Material : GORE-TEX INFINIUM™
Colors : Black, Black/Yellow, Black/ Red
Sizes: XS - 3XL
Reasons to buy
+
Excellent wind protection
+
Palm balances grip and Ulnar nerve protection
As the purveyors of the gold standard weather protection fabrics, no best winter cycling glove round up would be complete without the inclusion of Gore itself.
The Gore C3 Gore-Tex Infinium glove utilises a couple of variations of this material for its construction in order to provide protection without packing on the bulk of a 'typical' winter glove.
The all-encompassing 'Gore-Tex Infinium' is a direct replacement for Gore's venerable Windstopper range of fabrics, creating a weather proof and breathable technical kit.
On test we found there was no denying that the Gore C3 Gore-Tex Infinium glove is completely windproof, with its fleece backing able to help your hands cope with even the most biting winter winds, giving even the wind blocking kings Assos Assosoires Winter Gloves a run for their money.
Specifically designed for Ulnar nerve protection, we found these one of the best winter cycling glove pairing to balance secure grip, thanks to silicone strips across the base of all fingers and, hand protection, due to the small gel pad close to the heel of your palm. A nice touch finish of adding the silicon to the thumb and index fingers also assist in gear and brake control in the wet, along with the usual touch screen navigation requirements.
The only downer for us was that the fit wasn't perfect, finding it too tight across the knuckles, but that is a pretty subjective complaint and these might fit you like a glove.
Read more: Gore C3 Gore-Tex Infinium glove full review
The Best Winter Gloves Buyers Guide
You can trust Cycling Weekly. Our team of experts put in hard miles testing cycling tech and will always share honest, unbiased advice to help you choose. Find out more about how we test.
Does owning a pair of winter cycling gloves make a difference?
In short, yes.
You could decide to just ride in a pair of general winter gloves when it gets cold but you'll find that they lack several cycling specific details. Unlike ski gloves, for example, the best winter cycling gloves cannot depend on super-thick padding because we need to retain sensitivity so that brakes, shifters or any electronic road bike groupsets can be operated efficiently.
Instead they use a blend of fabrics that keep the weight down and dexterity levels up while still offering protection against the elements. Keeping out the wind is crucial: fabrics such as Gore Windstopper and similar will do this, and feature on the best winter cycling gloves, as well as offering water repellence and breathability. The inner padding and/or membrane varies from glove to glove and on what sort of temperature the glove is aimed at, whether deep winter or chilly and wet.
With more cyclists using one of the best cycling computers, or even just even one of the best cycling apps, the best cycling winter gloves will also have touch screen sensitivity integrated in to the fingers, preventing you from having to remove one in order to swipe the screen or navigate controls.
What makes a winter cycling glove windproof?
The first layer of protection on the best winter cycling gloves should be an impermeable windproof layer designed, as you can guess from the name, to keep cold air and wind away from your hands.
One of the most popular fabrics for this is Gore's Windstopper fabric, or Infinium as it's also known as. It's used in lots of the best winter cycling gloves across many brands aside from Gore itself. There are other options made by different manufactures too that can work just as well.
Regardless of the brand, the fabrics should work to keep the elements out while still being breathable enough to prevent your hands from overheating and getting sweaty.
How do winter cycling gloves retain heat?
The second line of protection in the best winter cycling gloves is a thermal layer designed not only to keep the cold air away from your skin, but also to make sure that any warm air generated by your hands is maintained and not allowed to escape.
What's important with the thermal layer is that, unlike with skiing gloves for example, it can't be too thick, as you need to maintain your dexterity to be able to feel which lever your finger is on to change gear and to be able to manipulate the brake lever.
How do winter cycling gloves fare in the rain?
Not many people enjoy riding in the rain, but if you're going to keep your training up through the winter, then you're going to want the best winter cycling glove to handle even the wettest weather.
In milder weather it's not actually necessary to have completely waterproof gloves. Your skin is waterproof after all, so as long as you have gloves that keep your hands warm, they don't necessarily need to keep you dry. Options such as a wet weather neoprene glove can work well in cool not cold conditions. They're often basic in style, with no padding or additional features, such as cuff adjustment.
However when the temperature drops further still, and the rain (and even snow) begins to fall, then you're going to want some more serious winter cycling gloves with an outer layer that will keep the precipitation at bay.
Like any windproof outer layer, a waterproof layer on the best winter cycling gloves should be impermeable to the outside elements to keep your hands dry, but should also be breathable to prevent your hands overheating, particularly over the course of long rides.
It's also important not to forget about your extremities at the other end by prioritising a pair of the best cycling overshoes to protect your feet against the elements too.
What makes for a good cuff on a winter cycling glove?
If you're heading out in breezy conditions, the best winter cycling gloves will have long cuffs to help keep that chilly north easterly out of your sleeves.
However it's not always just a case of the longer the better. Your gloves, and the cuffs attached, need to work well in unison with your choice of jersey or jacket. Sealing in the heat, and keeping out the drafts, is crucial if you're going to stay nice and cosy while putting in those long winter miles.
This means you've got a decision to make as to whether you wear the cuff of the gloves over the top or underneath the cuff of your jacket.
If your jacket has loose sleeves then it's worth getting a pair of gloves with a tight cuff, over which you can pull the sleeves of your jacket. This is also the case when it's raining. If your jacket is waterproof, then the rain beads off the arms and will end up filling the gloves from the top like a bucket. Velcro straps or zips will help mitigate this slightly, but tucking in is the best form of rain defense.
When the weather is dry, then running cuffs over sleeves is by far an easier option, especially if you have to remove your gloves to use a touchscreen.
If you do find yourself running hot in the middle of a winter club run, pulling down cuffs can be a good way to cool off. Your blood runs so close to the skin at the wrist, this can be an excellent place to control your body temperature.
What are the best palm materials for a winter cycling glove?
Riding on wet or even icy roads can be treacherous, so being completely in control of your bike is more essential than ever. Even holding on to the handlebars in the wet can be difficult, particularly if you're using smooth bar tape.
With this in mind the best winter cycling glove will have a slightly tacky surfaces on the palm to make sure you can maintain a secure grip on both the bars and the brake levers. These can vary from silicone grippers applied directly to the palm or additional textured material that can prove to be a more durable yet less flexible option.
If you feel the need to upload a gritty Instagram selfie to show your mates just how hard you are for heading out when it's blowing a gale and hammering it down with rain, then you're going to need to be able to prod away at your smartphone screen.
With this in mind some of the best winter cycling gloves now come with fingertips specially designed to be used with touchscreens.
What's a nose wipe and do I need one?
A nose wipe is an absorbent patch, usually located on the thumb with which to wipe a running nose. Most of the best winter gloves for cycling will have one. However they aren't all created equal. If you suffer from a runny nose when cycling in cold weather it's worth looking for a glove with a generously sized wipe. It's also vital that it's made using a soft material, such as a fleece-like material that feels pleasant against the skin. This area is also useful for wiping rain and road grime off your cycling glasses.
Get The Leadout Newsletter
The latest race content, interviews, features, reviews and expert buying guides, direct to your inbox!
Luke Friend has worked as a writer, editor and copywriter for twenty five years. Across books, magazines and websites, he's covered a broad range of topics for a range of clients including Major League Baseball, the National Trust and the NHS. He has an MA in Professional Writing from Falmouth University and is a qualified bicycle mechanic. He has been a cycling enthusiast from an early age, partly due to watching the Tour de France on TV. He's a keen follower of bike racing to this day as well as a regular road and gravel rider.