Best cycling shoes 2023 rated and reviewed
The best cycling shoes can make a big difference to your riding, helping you go faster while being more comfortable and looking great at the same time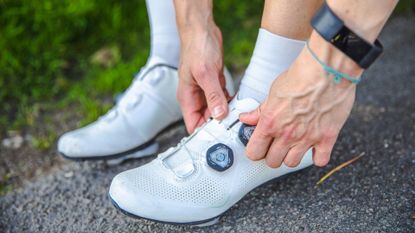 (Image credit: Future)
Best cycling shoes 2023: Jump Menu
This year Black Friday is running from November 24th - 27th. We've rounded up all the best Black Friday bike deals - spanning fully built bikes, components and tech - in our main hub page. You're guaranteed to find a bargain.
The best cycling shoes are an essential piece of kit for anyone who is serious about their riding - but which is best for you will vary depending upon the type of cycling that you do.
Here at Cycling Weekly, we review and test shoes from all the top cycling shoe brands across their ranges from the top of the line to their more affordable models. All the shoes here have been ridden and rated by our experienced testers.
If you're riding one of the best road bikes, you'll want a pair of top spec shoes to get the best out of it. If your riding is more on a gravel bike, you'll want a pair of the best gravel bike shoes, while commuter bike users will look to the best cycling shoes for commuting.
We only pick out the products we know and trust – often the biggest discounts aren't the best buy. Quality shoes on modest reductions always trump overpriced and underperforming ones at half price.
What you'll find on this page
We've broken our guide into sections: best entry level cycling shoes, best performance cycling shoes, and best cycling shoes for wide feet. At the bottom of the page, you'll find a guide to help you choose the best cycling shoes for you.
Our pick of the best cycling shoes
You can trust Cycling Weekly. Our team of experts put in hard miles testing cycling tech and will always share honest, unbiased advice to help you choose. Find out more about how we test.
Best budget cycling shoe
Best cycling shoes on a budget
Specifications
Sizes: EUR 39-48
Colors: 1
Weight: 255g (size 44)
Fastening system: Laces
Reasons to buy
+
Carbon sole
+
Lace closure for exacting fit
+
Comfortable for long rides
+
Lightweight shoe
Reasons to avoid
-
Heel cup needs tightening
-
Color choice limited
We were really impressed with the retro race shoe blend of laces and carbon sole, especially at the price point that these dhb Dorica road bike shoes come in at.
On test we found the power transfer to be excellent, and on a par with other shoes found at three times the price. The heel cup wasn't as snug as more expensive options, but heel slip wasn't too noticeable when out of the saddle climbing.
The insoles are on the thin side, and the fit of the overall shoe is relatively wide and flat, so riders with stability issues might want to consider aftermarket footbeds or insoles.
At this price point there is some stiff competition in the form of the Shimano RC3 shoes and the Specialized Torch (see below), but the carbon sole, light weight and overall looks make the dhb Dorica shoes hard to beat and a perfect cycling shoe for anyone no matter the size of their budget.
Read more: dhb Dorica Carbon full review
For more low-cost models, check out our best budget cycling shoes guide.
Best mid-range cycling shoe
Best mid-range cycling shoe
Specifications
Sizes: EUR 35-50
Colors: 4
Weight: 275g (size 45)
Fastening system: BOA dial and velcro strap
Reasons to buy
+
Adequate stiffness for multi-hour rides
+
Simple, single BOA retention
+
Good looking aesthetics
+
Broad size range including wide fit
Reasons to avoid
-
Fiddly to get tongue to sit comfortably
Shimano has trickled down the tech of its range topping S-Phyre, featured below as another, if pricier, great cycling shoe, to give a happy equilibrium of low cost and high performance.
To reduce the price, one of the BOA dials has been swapped out for a Velcro strap and the dials are the L6 model which only ratchets tighter, unlike the IP1 dials on the S-Phyre which allow you to loosen the tension in 1mm increments.
However, this has not been at the sacrifice of functionality. The comfort of these shoes was impeccable, with no hotspots forming on long rides outdoors or indoors. The cooling effect of the many perforations that pepper the upper is certainly palpable; you can really feel the air flowing in.
Just whether the extreme breathability of these shoes counts as a good or a bad thing will, of course, depend on when and where you are riding.
There are multiple sizes available and men's and women's fit options as well as wider fit versions, but colors are limited to just two in each range, white or Shimano blue (as pictured) for the men's and white or navy blue for women's.
Read more: Shimano RC5 cycling shoe full review
Best value high-performance cycling shoe
Best value high-performance cycling shoe
Specifications
Sizes: EUR 39 to 49 (half sizes from 39 to 46)
Colors: 3
Weight: 242g (size 45)
Fastening system: Laces
Reasons to buy
+
Lightweight
+
Highly adjustable
+
Super stiff
+
Looks great
Reasons to avoid
-
Material can rub on ankle
-
Difficult to really tighten the fit for sprinting
The lace model of the S-Works line is the most affordable in the range - and also notably comfortable.
Laces are excellent for distributing pressure evenly for achieving a comfy fit for all day rides. Plus the shoes also benefit from the superb FACT Powerline carbon sole, which is one of the stiffest platforms on the market.
That said, the S-Works 7 Lace do also suffer from the same problem as all lace up shoes - there's no scope for adjustment on the fly and it is difficult to get them really tightened down for sprint efforts. Our tester found that his feet would still end up moving a little inside the shoes, no matter what. But for long rides and anything that doesn't involve maximal sprints, the 7 Lace are even more comfortable than the regular S-Works 7, and make an excellent choice.
Overall, these are stylish, supportive and lightweight shoes that combine a stiff sole with all-day comfort. They're comparatively good value, too, being cheaper than both the Giro Empire SLX and the DMT KRSL.
Read more: Specialized S-Works Lace road cycling shoes
Best high-performance cycling shoe
Best high-performance cycling shoe
Specifications
Sizes : EUR 38-48, half sizes 41.5 - 46.5; wide fit 40-46
Colors: 4
Weight: 225g (size 42, claimed), 252g (size 45, measured)
Fastening system: BOA dials
Reasons to buy
+
Firm heel retention
+
Quality instep support
+
Plenty of sizes and wide fit options
Reasons to avoid
-
Standard fit might be too narrow
Shimano's top-of-range S-Phyre RC 903 is an upgrade to the RC902 that has reduced the weight a little, altered the lower Boa Li2 dial's lacing, integrated the heel cup more and increased ventilation.
Shimano makes the shoes in two widths. We found the standard width a little narrow, but the wide fit, although only 3 to 4mm wider, worked well for us. The arch support is adjustable and supports the foot well and the quite narrow toe box and secure heel cup mean that feet feel planted when sprinting.
Read more: Shimano S-Phyre RC903 cycling shoes full review
Best heat mouldable shoe
Best for getting a perfect fit
Specifications
Sizes: EUR 36-50 (in half sizes), 4 standard and 2 special order widths
Colors: 4
Weight: 230g claimed size 42
Reasons to buy
+
Huge range of sizes
+
Incredibly stiff
+
Low stack height
+
Mouldable to improve fit
Reasons to avoid
-
Sizing process is difficult
-
Only slight changes in fit possible through moulding
Bont use a bathtub design for the unidirectional sole of its Vaypor S road shoe, meaning that it slightly cradles your foot rather than just being underneath. This adds increased stiffness to the shoe which is then continued in the anti-stretch fabric of the upper. Reliable and hugely adjustable fastening is provided by two BOA Li2 fastenings. Despite their stiffness we found that they're incredibly comfortable on the bike.
The Bont Vaypor S is available in a massive range of sizes, half sizes from 36-50 and then four standard and two special order widths. On top of that they are heat mouldable in your home oven so you can tweak the fit for comfort (that being said, we found this process only allows small changes to fit).
Read more: Bont Vaypor S road cycling shoes full review
Best for wide feet
Best for wide feet
Specifications
Sizes : EUR 39-50
Colors: 4
Weight: 315g (size 39.5)
Fastening system: BOA dials
Reasons to buy
+
Heat mouldable
+
Very stiff
+
Wide fit options available
Reasons to avoid
-
Can be uncomfortable if you make changes
-
Not as light as other shoes at this price
The Lake CX403 shoes are heat mouldable, a popular feature on many cycling shoes. They're designed as a race shoe rather than an all-rounder and we found them a bit stiff and with a low volume for everyday use.
A mix of soft leather and stiff carbon fibre in the uppers aims to provide comfort along with support. They're easy to mould both at a dealer and at home and you can repeat the process multiple times, making them a good option if your feet are an awkward shape for off-the-peg cycling shoes.
Read more: Lake CX403 shoes cycling shoes full review
Best for cooling
Best for cooling
Specifications
Size: EUR 36 - 49
Colors: 2
Weight: 273g (size 45)
Fastening system: Dials and velcro strap
Reasons to buy
+
Lightweight
+
Supremely comfortable
+
Stiff
+
Well ventilated
Reasons to avoid
-
Some of the ventilation is lost with an arch support fitted
Excellently ventilated and wonderfully comfortable to wear, the Specialized S-Works 7 Vent build upon the very popular S-Works 7 shoes which have been ever present at the top of the world tour podiums, and among the amateur peloton.
The shoes lose some weight compared to the regular 7s and although they also lose a little bit of stiffness this is not noticeable.
The upper is the same non-stretch Dyneema but with mesh panels that not only deliver on better ventilation but also provide additional give in the upper for increased comfort around areas prone to hotspots.
The additional ventilation is noticeable, and so expect to get cold feet on chillier rides. However the big game changer is the mesh panelling which allows for foot expansion in heat and improved comfort when riding hard!
Although they come at a very premium price, they are readily available online at a discount which makes them very good value.
Read more: Specialized S-Works 7 Vent road cycling shoes full review
Best for arch support