Best cycling shoes 2022
The best cycling shoes can make a big difference to your riding, helping you go faster while being more comfortable and looking great at the same time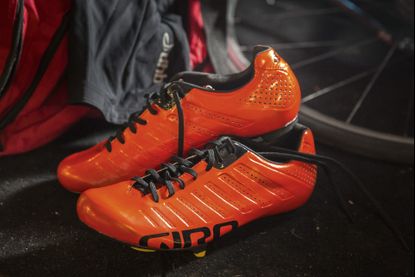 (Image credit: Daniel Gould)
The best cycling shoes are an essential piece of kit for anyone who is serious about their riding - but which is best for you will vary depending upon the type of cycling that you do.
Cycling is a forefoot sport. Whilst the foot itself doesn't generate any power, all of the watts produced elsewhere pass through your digits. So not only do poorly fitting shoes create pain, they can also limit performance.
Former British Cycling physiotherapist and bike fitter at the eponymous Phil Burt Innovation, Phil Burt told us: "If you're in a wrongly fitted shoe it would manifest as rubbing around the little toe, pain underneath the first and second toe where a lot of people get numbness or pins and needles."
Touching on the performance element, he added: "The foot and ankle don't generate any power. All the power comes from your quad and your glute. But you can lose a hell of a lot through badly fitting shoes – for example, if your foot is moving around or over pronating, you can waste a lot of energy."
The key variables when it comes to cycling shoes are the fastening system, the sole, the cleat style, and of course the fit, although that does depend on whether you've teamed with a pair of good cycling socks (opens in new tab).
We only pick out the products we know and trust – often the biggest discounts aren't the best buy. Quality shoes on modest reductions always trump overpriced and underperforming ones at half price.
What you'll find on this page
We've broken our guide into sections: best entry level cycling shoes, best performance cycling shoes, and best cycling shoes for wide feet. At the bottom of the page, you'll find a guide to help you choose the best cycling shoes for you.
Best cycling shoes: three top picks
Top 3 picks | Entry level | High performance | Wide feet
We were really impressed with the retro race shoe blend of laces and carbon sole, especially at the price point that these dhb Dorica road bike shoes come in at.
On test we found the power transfer to be excellent, and on a par with other shoes found at three times the price. The heel cup wasn't as snug as more expensive options, but heel slip wasn't too noticeable when out of the saddle climbing.
The insoles are on the thin side, and the fit of the overall shoe is relatively wide and flat, so riders with stability issues might want to consider aftermarket footbeds or insoles.
At this price point there is some stiff competition in the form of the Shimano RC3 shoes and the Specialized Torch (see below), but the carbon sole, light weight and overall looks make the dhb Dorica shoes hard to beat and a perfect cycling shoe for anyone no matter the size of their budget.
Read our full review of the dhb Dorica road cycling shoes.
Shimano has trickled down the tech of its range topping S-Phyre, featured below as another, if pricier, great cycling shoe, to give a happy equilibrium of low cost and high performance.
To reduce the price, one of the BOA dials has been swapped out for a Velcro strap and the dials are the L6 model which only ratchets tighter, unlike the IP1 dials on the S-Phyre which allow you to loosen the tension in 1mm increments.
However, this has not been at the sacrifice of functionality. The comfort of these shoes was impeccable, with no hotspots forming on long rides outdoors or indoors. The cooling effect of the many perforations that pepper the upper is certainly palpable; you can really feel the air flowing in.
Just whether the extreme breathability of these shoes counts as a good or a bad thing will, of course, depend on when and where you are riding.
There are multiple sizes available and men's and women's fit options as well as wider fit versions, but colours are limited to just two in each range, white or Shimano blue (as pictured) for the men's and white or navy blue for women's.
Read our full review of the Shimano RC5 road cycling shoes.
We reviewed the women's Regime, although there's a men's version too and there are half sizes in the middle of each range, so you can get your perfect fit.
The Regime shares many of the features of Giro's top spec Imperial shoe, such as twin Boa dials and a non-stretch Synchwire upper, despite its lower price tag. You get plenty of ventilation as well.
We rated the sole's combination of stiffness, durability and light weight, as well as the grippy heel and toe pads. The footbed is swappable to suit the height of your arch.
We found the Giro Regime shoes mixed great foot comfort with the right level of support for fast riding.
Read our full review of the Giro Regime women's cycling shoe.
Best cycling shoes: entry level
Top 3 picks | Entry level | High performance | Wide feet
In spring 2021, the Cycling Weekly tech team tested five pairs of entry level shoes, head-to-head.
The shoes on test were the dhb Dorica Carbon, Specialized Torch 1.0 (both below), Shimano RC3, Bontrager Starvos, and Giro Stylus.
Of the five, the dhb and Specialized shoes got the highest scores - taking our 'most recommended' spots within this category.
During testing, we did notice that these lower-priced shoes were consistently wider, something we explored in this interview with a podiatrist.
Rating 9 out of 10 on Cube's stiffness index, we found the RD Sydrix Pro's soles plenty stiff enough despite being fortified with glass fibre rather than carbon fibre.
There's a single Atop dial closure up top, which works in a manner akin to a Boa dial. We rated the comfortable but supportive fit and the unstructured footbeds. There's a slight lack of venting in the uppers, but we found that great to avoid chilly tootsies on late summer rides.
Read our full review of the Cube RD Sydrix Pro road cycling shoes.
Specialized is best known for its much loved S-Works shoes, but the Torch 1.0 model boasts many of the benefits, with a few corners cut to decrease the price tag.
Strikingly similar to the S-Works 7 shoes, we loved the sleek aesthetics, with the Boa L6 dial not only adding to the visual appeal, but also offering an impressive closure system on a pair of shoes at this price point.
As with most shoes at around this price, the Torch 1.0 shoes feature a nylon sole (the above dhb Dorica Carbon (above) and Van Rysel RCR520 (below) the main exceptions) which comes in at around the middle of Specialized's own stiffness index ranking. For comparison's sake the S-Works range is top of the list at 15.
The Torch 1.0 is probably not a race shoe, but more than adequate for most riders who put comfort above performance, but still want to maximise pedal propulsion.
The supplied insole isn't the best, and on test we found that swapping this out for a Specialized Body Geometry pair made a huge difference and was well worth the additional investment to make these a near-perfect cycling shoe for the price.
Read our full review of the Specialized Torch 1.0 road cycling shoes.
Best cycling shoes: performance
Top 3 picks | Entry level | High performance | Wide feet
Shoes for those looking for a competitive edge will usually have a carbon sole, and a lightweight, breathable upper. Closure can vary from laces to Boa dials as well as proprietary systems. We've tested plenty of race and sportive worthy shoes - here are our most recommended...
Like other pairs in the range, the Vaypor S model boasts the brand's unique shoe last which promises better anatomical support.
The sole is of course carbon. We found it very stiff, without becoming uncomfortable after hours of riding.
The toe box in our 'wide fit' shoes was more roomy than most and, like other Bont shoes, the sole is made to be heat moulded for a bespoke fit - though our tester found them just fine straight out of the box.
Two UP1 Boa dials make up the closure system, with a Durolite upper across the top of the foot. We discovered a secure fit that was easy to adjust.
The reinforced toe and heel was durable, and though the looks can be divisive we rate these for offering excellent power transfer and comfort all rolled into one.
We did give these the best score when we saw them, although this was a while ago, but they still stand out as more comfortable than the likes of the Specialized S-Works 7 shoes and because they have the ability to deliver a truly unique bespoke shoe they really do stand out amongst other similar priced options, such as the Shimano S-Phyre SH-RC 902. You just have to be open hearted to the looks, thinking of the beauty within.
Read our full review of the Bont Vaypor S road cycling shoes.
There's no doubting the racing credentials of the Shimano S-Phyre SH-RC902, with its low profile design and sole stiffness rating at the top of Shimano's own ranking.
While this level of rigidity might put some folk off and they might question the comfort, rest assured that while you gain maximum reward on sprinting and climbing, this isn't at the total sacrifice of comfort.
Shoe stiffness rankings are far from standardised, with the top-of-the-line Bontrager shoe 14 out of 14, and Fizik's 10 out of 10 for stiffness within their own respective internal rankings. Shimano calls the RC9 carbon sole "rigid and responsive" and rates it level 12. However it's the shoe's ability to be comfortable as well as harnessing pedal power that is important - and this is an area where they excel.
The double Li2 Boa dial system is the newest and smallest from the highly regarded closure brand, and nestles as close as possible to the side of the shoe. This does help to minimise the overall profile of these performance shoes, a clever design when you factor in the wide toe box. However the wrap over design can be tricky to get just right when putting them on and takes a while to get the knack of.
There's no doubt that at this price point they are a considered purchase, but when compared to their peers at a similar price they stand out with impressive details such as the undersole venting. One of the best cycling shoes you can get, if you're willing to pay for it.
Read our full review of the Shimano S-Phyre SH-RC 902 road cycling shoes.
At the top of Giro's cycling shoe range, the Giro Imperial shoes are the brand's first to include Boa dials, with the wires for the twin dials crossing the uppers a total of six times, for excellent pressure distribution and easy on-the-fly adjustment.
Giro's lightweight uppers have wide areas of venting mesh, making for a cool ride, but supported by non-stretch fabric, so that fit doesn't suffer.
The shoes sit on Easton EC90 carbon soles. Rather than going for ultimate lightness, Giro has included a replaceable heel protector, to up the shoes' longevity.
Read our full review of the Giro Imperial road cycling shoes.
Once limited to the, no pun intended, sole use of the professional peloton, lightweight shoes are becoming more popular for any riders looking to shave a healthy few grams off their overall cycling set up.
While the crazy nano weight of the Specialized S-Works EXOS 99 was limited to just 500 pairs of the sub-100 gram shoe, the Pearl Izumi PRO Air shoes are available to purchase for anyone and weigh just 51g per shoe more.
The ultra featherweight shoes feature a full carbon sole, a laminate-coated mesh upper and a lace-up closure which all add up, or should that be down, to a minimal score on the scales.
The end result is not only low weight, but ultra-stiff and highly breathable footwear.
While the construction of the Pro Air shoes has been kept to the fundamentals, this hasn't reduced the performance. On test we found them to offer an incredible ride feel, balancing stiffness, support and comfort, although while we totally appreciate the laces assist in keeping weight to a minimum, they did prevent on the move adjustment.
If you want the crème de la crème of cycling shoes, these are it, but expect the high price tag to go with the performance.
Read our full review of the Pearl Izumi PRO Air road cycling shoes.
The Lake CX403 shoes are heat mouldable, a popular feature on many cycling shoes. They're designed as a race shoe rather than an all-rounder and we found them a bit stiff and with a low volume for everyday use.
A mix of soft leather and stiff carbon fibre in the uppers aims to provide comfort along with support. They're easy to mould both at a dealer and at home and you can repeat the process multiple times, making them a good option if your feet are an awkward shape for off-the-peg cycling shoes.
You can read our full impressions of the Lake CX403 shoes here.
These shoes from the Italian brand Gaerne are the top of their range with a price tag to match. Stiffness is right up there too and there's a rigid heel cup with a cat's tongue inner surface to help prevent heel lift.
The uppers are punched extensively, but there are no mesh sections so they run a bit hotter than shoes which include mesh.
You can read our full ride impressions of the Gaerne Carbon G.STL shoes here.
We feel like this shoe needs to have a warning beacon from the start. These disco slippers won't suit all feet (including those of our tester), and most recreational riders will find they wreck their feet, but they're so famously popular with a lot of riders, especially if you are looking for out and out performance, so any best cycling shoe guide without a pair would be left wanting.
This iteration of the S-Works shoes features an even stiffer sole (rated 15 of Spesh's own scale), and though there's no industry-wide standard these are seriously unmalleable. The result is they won't be to everyone's taste, but if you want rock-hard race-ready soles, they could be for you.
The outgoing shoe received complaints of pinching at the ankle and heel, so Specialized has added additional cushioning. We found they still rubbed initially, just below the ankle, but this dissipated with time.
The shoes use aluminium Boa dials, which offer minute adjustment, with a Velcro strap across the forefoot while vents on the soles and Dyneema mesh provide ventilation.
Read our full review of the Specialized S-Works 7 road cycling shoes.
If you're heading into the money-no-object realm of cycling shoes, the Specialized S-Works Ares shoe is designed for the pro level sprinter. It sits on the same footbed as the S-Works 7 shoe, but comes with an upper that includes a deep, rigid heel cup. There's no separate tongue either, the upper fitting like a sock to avoid overlaps and shave a little weight.
The Ares shoes don't work for everyone though - your feet need to be the right shape and they work best if your arches are high.
You can read our full review of the Specialized S-Works Ares shoes here.
Best cycling shoes for wide feet
Top 3 picks | Entry level | High performance | Wide feet
When brands create cycling shoes, they will typically cater for the "average" individual in order to accommodate the largest segment of the market. However, with cycling shoes being both incredibly rigid and fixed in place via cleats and pedals, those who fall outside the norm can struggle to find shoes that fit.
Several brands do offer 'wide fit' options - these include Sidi, Bont, Shimano and Lake. The latter provide wide toe boxes as well as custom moulded heel cups to ensure a good fit all round for those with a wide forefoot and narrow ankle.
We've had one wide-footed tester - Cycling Weekly's Owen Rogers, put three pairs of the best cycling shoes for wide feet through their paces. However, former British Cycling physio Phil Burt advised that those looking to solve foot pain ensure they're solving the correct problem before purchasing.
"You may not have wide feet. It could be that your foot is collapsing, and therefore splaying. A lot of people think they have wide feet, but given an off-the-shelf corrective insole, the problem goes away because they have the support their foot needs."
You can buy arch supporting insoles in your local chemist, and of course there are many brands out there who will create you a custom version should you want something more bespoke.
If you're sure you do have wide feet, and not a need for an insole, then read on.
The entire Lake road shoe range has wide fit options, with extra wide available in some models, making the company's shoes essential for this test. Despite the name, the CX332 is definitely a road shoe, sitting third from top of the range.
They are beautifully made, with Lake's Klite kangaroo leather upper both strong and supple, however, the plain black pair I was sent look more like a school shoe than one made for speed. Luckily they come in three other colour schemes, including a striking chameleon blue and a black-white graphic fade.
There's a natty patch of shiny carbon weave on either side of the heel, which is heat mouldable to minimise any chance of slip. The moulding process is simple enough on your own, though the instructions in the box recommend having help, preferably from a Lake dealer.
If you do it yourself follow the instructions closely, do not tighten the shoes too much immediately after heating or risk disfiguring the toe box, reducing the space available for your feet and detracting from the look. Do it right and the process works well, and I experienced no heel slip out on the road.
The sole is a thing of beauty, its glossy carbon weave glints in the sun and is drilled for ventilation. Chris Reid, the Retül fitter at Rutland Cycling (opens in new tab) even noted how the graphics struck the perfect balance between simplicity and detail for cleat positioning.
On the bike is where the sole really shows its colours though. It's hugely stiff, directing all your effort into the pedal, and while the stiff sole of the Bont can cause discomfort, the Lakes are so comfortable they feel like slippers.
Initially I experienced a little bit of tightness on my wider, right foot, but this eased and though there is plenty of room in the toe box, there is no unwanted movement on the upstroke.
This is helped by the shoe's Boa IP1 dials, which make tightening and loosening easy at any time, even through overshoes.
They not be the most radical looking shoes, but these CX332s are meant for racing and are even sold with a two year crash replacement guarantee, with a 50% discount on a new pair in the first year of ownership and 25% in the second.
Read our full review of the Lake CX332 road cycling shoes.
Straight out of the box and these are classiest shoes on test. There is nothing wrong with the others, but every seam and stitch on the Bonts is perfect, the join between the upper and the matt finish carbon weave sole a beautiful, gentle curve.
Even the inner appears luxurious, but make no mistake, these are pure bred race shoes, the company boasting, "the Vaypor S once again redefines the standards of pro level road shoes."
They're nearly 60g lighter per shoe than the Lakes, and with a dimpled Durolite upper apparently helping aerodynamics, the deep, carbon heel cup and high tech construction they are a shoe many of us lust after.
When I opened the parcel I felt like a kid on Christmas morning, but, with a few rides in the shoes, the gloss has been very slightly tarnished, as I occasionally found them uncomfortable.
They are brilliant shoes though. The rigid sole is extraordinarily direct, allowing flawless power transfer. Shaped like a boat, it holds your foot in place laterally, that deep heel cup grips you solidly, and while the upper looks soft, it is rigid on all but the top of the shoe, where memory foam makes for a cosseting feel.
This though makes them feel a little loose and it's easy to over tighten, and that, combined with the rigidity of the sole caused me some numbness and hot spots not apparent with the other shoes here. I found myself constantly fiddling with the dual Boa IP1 fasteners to get the right balance between tightness and comfort.
Bont boasts its top end shoe is the most heat mouldable on the market, and while its website says remoulding was unnecessary if the shoes fitted, I found a session in the oven enhanced the fit. Not only did I manage to make the heel even more secure, but a bit of toe waggling increased the space in the forefoot.
The perforated upper and replaceable, protective bumper round the front make these extremely well ventilated shoes. In action they even made me want to pedal faster, and if it weren't for the discomfort I experienced they may well be perfect.
Read our full review of the Bont Vaypor S road cycling shoes.
The best cycling shoes: buyer's guide
What are the best cycling shoe fastening systems?
There are basically four different systems used to tighten cycling shoes: Velcro, ratchets, laces, and dials.
Almost all budget cycling shoes use Velcro straps for fastening, basically because it's a cheaper option. For the rider, Velcro straps do a good job of holding the shoe firmly in place but can be difficult to adjust on the move and it can also be a little tricky to get the precise fit you might want.
The other benefit of Velcro straps is that they are light. This means that they can also be found on very expensive lightweight shoes designed specifically for climbers. Over time, the Velcro can lose its effectiveness though, so that the hold on your foot can diminish.
The next step up in the fastening system food chain is ratchets, so look out for some of the great cycling shoes that offer these at a lower price point. A ratchet offers more precise adjustability than Velcro straps, gives a really secure fit, and can also easily be tightened while riding. However, loosening a ratchet is not quite as easily, often requiring two hands. Ratchets are generally found on mid-price shoes, and usually combined with a Velcro strap or two further down the shoe.
At the top of the tree you have dial closures, the fastening system used on most high-end shoes. In general, these are very secure, are easy to adjust, and can be dialled in (excuse the pun) to give a very precise hold. However, there are differences between different brands of dials. Boa dials offer the current gold standard with higher-end Boas providing incremental tightening and loosening, while those from other brands and lower spec Boas can't always be loosened quite so easily.
The other option on a few other high-end shoes such as the Giro Empires and Specialized S-Works Sub 6 shoes (as well as a few retro-style shoes) is laces. For those interested in marginal gains, laces are very aerodynamic but are also generally very comfy as there's wider distribution of pressure across the top of the foot and the laces self-adjust to help even it out. However, of course, laces are nigh-on impossible to adjust on the move.
What are the best cycling shoe soles made from?
As with the fastening systems, there are various different types of soles that come on different cycling shoes, and of course the more you pay, the more you get.
The main thing that you are looking for with the soles of your cycling shoes is for them to be stiff. This means that when you press down the sole won't bend, meaning that all of the power that you generate is transferred through the sole and into the pedal. The second consideration is weight, with more expensive shoes coming with lighter soles.
Entry-level cycling shoes will generally come with nylon soles, but if you pay a bit more you will get shoes with carbon composite soles (i.e. a mixture of carbon and plastic), while at the top of the scale you will find carbon-soled shoes. The only thing with some really high-end shoes is that some people will find that the ultra-stiff sole may cause discomfort on longer rides, so it's worth reading some reviews before parting with your cash.
As ever, weight is also important, with top of the range carbon shoes often being much lighter than entry level models.
Which cycling shoe cleats are best for me?
While you're looking at the material of the soles of your prospective new cycling shoes, it's worth looking at the type of cleats that they will accommodate, as some will take two-bolt cleats while others will take three-bolt cleats. Some, particularly lower priced models, let you fit either. Your choice really depends on what type of riding you're doing.
If you're riding off-road or want to have a pair of shoes that are easy to walk in, then go for a pedal system that uses two-bolt cleats such as Shimano SPDs or Crankbrothers Eggbeaters.
However, for road riding, you really want three-bolt cleats which will give you a wider platform for improved power transfer through the pedals. For that reason, mid and high-end shoes will only come with three bolts patterns.
What should I do to look after my cycling shoes?
Even if you're riding in warm, dry conditions, your cycling shoes are likely to get sweaty inside. Once you take them off, don't just leave them sitting in a plastic bag, but put them somewhere dry where they can air and dry out. It's a good idea to pull out your insoles too, to make sure that the inside of the sole unit dries out. Many more expensive cycling shoes will come with a net storage bag to keep them in.
If your shoes get wet, you should take out the insoles and pack the inside of the shoes with scrunched up newspaper to help soak up the moisture.
Most cycling shoes can be wiped down with a damp cloth, but don't try anything more aggressive to clean them unless the maker's care instructions advise this.
If you're regularly riding in poor conditions, a pair of the best cycling overshoes will help keep your shoes clean. Overshoes tend to wear quickly though; a dedicated pair of winter cycling shoes like the Gaerne Icestorm boots might be a better bet. They will have a fully enclosed, waterproof upper and sole, usually with a breathable membrane and insulation, to help keep your feet dry and warm.
Heel support and heel lift are often an issue with this type of winter boot though, so make sure that the fit is good if you go this route. Also consider swapping to winter boots and pedals for two bolt cleats for their better walkability in the wet or when it's icy - you're less likely to take a spill on a tile floor at the coffee stop.
Do I need custom insoles in my cycling shoes?
Cycling shoes, even pricey ones, often come with fairly basic flat insoles. Since your feet are held in a static position, this can cause discomfort over time. It's worth considering an insole upgrade. Some aftermarket insoles will have an adjustable level of arch support, most will be made of more substantial material than the insoles that come with your shoes and often there will be other extra features like a less flat profile and a midfoot bump to help support your feet better. You can also buy bespoke insoles made to match your feet.
There are a number of different shoes on the market such as the Bont Riots and the Lake CX402s that can be customized through heat moulding to fit the shape of your feet. This means that the shoes should perfectly support the arch of your foot, ensuring that you should be very comfortable and power transfer should be improved too as your foot won't move around at all. If you have flat feet or arch-related problems, heat mouldable shoes could be the solution.
How do triathlon cycling shoes differ from road cycling shoes?
Triathlon shoes are different from road shoes. If you fancy the idea of doing some triathlons, it might be worth getting a triathlon-specific pair.
Tri shoes are designed to be put on and off quickly while cycling and consequently use an easy to open retention system. They often feature a loop on the heel that you can grab for easier access. However, if you ride in cold weather, be aware that tri-shoes often also feature drainage holes for wet feet. If you definitely want road shoes and not triathlon shoes, be sure to check with the retailer that you're getting what you want.
Should I try cycling shoes on before I buy them?
The best way to check the fit of a shoe is to try it on in your local bike shop before purchasing (hopefully you'll make the purchase in the shop too!). It is better to do this in the afternoon or evening as your feet can expand slightly during the day.
Shoe sizing is pretty consistent across brands, particularly when compared to other pieces of cycling clothing – but just because your old and worn-out size 46 shoes were comfortable, it doesn't necessarily mean you can jump straight into a different brand in the same size.
Arch heights, shoe widths, and different fastening systems can all mean that you may find yourself going a size up or down when buying new cycling shoes. Flashier shoes usually come in half sizes, so you can get a good match for your feet. Lower priced shoes, however, tend to be sold in whole sizes only - they are usually more roomy to start with as well. If your feet are between sizes, that can make choosing the right size tricky. IF you're not sure, we'd suggest sizing down.
How we score stars
5 - Superb, best in its class and we couldn't fault it
4 - Solid product, could be improved
3 - Fine, but a few niggles let this down
2 - Acceptable, needs improvement
1 - Extremely poor, barely worked