Bont Riot + road cycling shoes review
Top end technology that would be at home on shoes with a much heftier price tag - these Bont Riot+ plus booties from Bont perform well above their price tag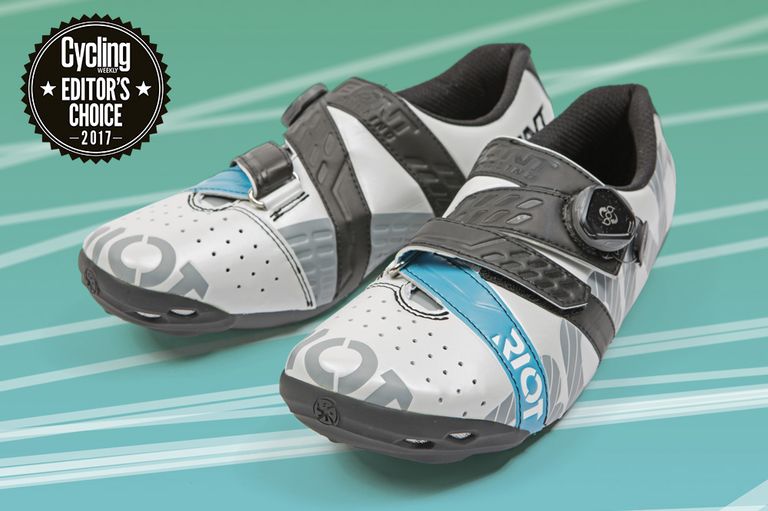 We've always been a big fan of Bont shoes, but we had limited experience with the Bont Riot + shoes. However, their technical performance has us wishing we'd grabbed a pair sooner.
With performance that dwarfs their price tag, the Bont Riot + shoes have landed themselves a spot on the Cycling Weekly Editor's Choice list for 2017.
The £149.99 price tag might have many disputing the entry level claim from Bont. But, in defence of the Aussie company, for the money you'll be getting as much technology and performance as many rivals offer at a much higher price point.
Being able to heat mould the Bonts makes fine tuning the fit of the shoes nice and easy, and you can do it as many times as you need if you feel like you can't get it spot on. However, we've been very happy with them straight out of the box and that continues with the Bont Riot Road+'s.
The trickle down effect of technology is evident, as not only do the Bont Riot Road+ do away with the ratchet system for a Boa tightening system - that allows for a better overall secure fit - it also sees it incorporate a 'power transfer platform and anatomical shaping with competition grade materials'.
The sole is a mixture of carbon and fibreglass which offers up a massive amount of stiffness which can match high end full carbon models. Better still, compared with the original Vaypor shoes they allow for a little less stiffness and touch more comfort, meaning more feet should suit these booties.
Sticking with the sole - that base on these cycling shoes does scratch quiet easily, which is annoying, and those scratches really do show. Our only other small gripe is that the material on the top of the shoe can bunch if not set right.
You do get an option of five colours; lime/charcoal, matt black/black, mega crimson/khaki, midnight/mega crimson and pearl white/black and they also come in all sizes from 39 to 50 not including half sizes.
For a penny under £150, the Bont Riot+ shoes offer technical performance that could rival shoes well over their price tag.