Specialized S-Works Torch shoes long-term review - extraordinary comfort and performance for a wider audience
Specialized went wide with the sole of its flagship road shoe with the aim of offering better comfort and uncompromised performance - and it works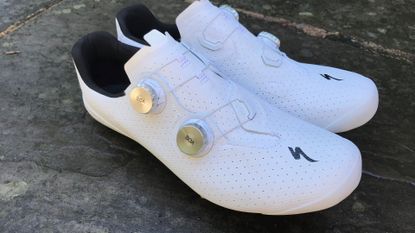 (Image credit: Simon Smythe)
It's as if Specialized read my mind. Or at least my review of the S-Works Ares. I struggled with the narrowness and rigidity of the previous generation of S-Works shoes even though I don't have wide feet - so the Torch has been the answer to my prayers. I've never experienced such a comfortable pair of cycling shoes. There's no weight penalty for the wider shoe and I haven't been able to find any performance compromises, either. Plus they look fabulously elegant. Yes they're expensive but they're Specialized's flagship shoes, as worn in the WorldTour, and they're actually not the most expensive flagship shoes out there.
Reasons to buy
+

Incredibly comfortable

+

Super light (despite wider sole)

+

Sleek looks

+

Easy to clean
Reasons to avoid
-

Reportedly too wide for some
Like the latest wheels and tires, Specialized decided that the best cycling shoes needed to be wider if they're to be both comfortable and fast - so it created the S-Works Torch, launched in May 2022.
The Torch is a ground-up design based on a brand new, wider carbon sole that's 4mm wider than the outgoing S-Works 7's and also comes in a wide fitting that's 7mm wider. Despite being wider, the sole is 20g lighter with the size 42 shoe weighing a claimed 225g, the same overall as the old S-Works 7.
The size 45s I tested were a measured 249g per shoe.
The new Torch also has a softer, more comfortable upper with "zonal reinforcement" and an asymmetric heel cup that supplies more targeted foot support.
The three Body Geometry pillars of wisdom - varus wedge, longitudinal arch and metatarsal button - are still at the heart of the shoe.
Specialized S-Works Torch: construction
Specialized says it refined every detail of the S-Works Torch's upper for improved fit and performance. The lower Velcro toe strap of the S-Works 7 has gone and the lower BOA cable has been shifted down and angled, preventing lift on the ball of the foot, negating the need for a strap while supplying a power-enhancing structure and eliminating unwanted pressure or pinching, according to Specialized.
There's more space between the two dials as well as a relief zone in the tongue that is designed to avoid that 'red spot' on top of the foot when you take your shoe off after a long ride.
As with the Specialized S-Works Ares, the placement of the top BOA dial is more central in order to make room for the tendons coming from the front of the ankle, but the Torch allows the toes to wiggle whereas the Ares is more about forefoot lookdown and anchoring the foot all the way down in order to squeeze out the last few watts in a sprint.
New, more supple materials for the upper are used, with layers of material sandwiched together to create a mix of adaptive stretch zones with no one or two-week break-in period necessary. Over the top is a layer of TPU that is intended to preserve the clean look and performance for a longer time - and it does.
As for the BOA S3 dials themselves, Specialized has carried them over from the S-Works 7. These are all metal with a metal spring on a metal post on a clutch. They look high end, and are durable, but they don't pop up - to remove the shoe the cable has to be slackened off and the cable unhooked.
Specialized says the S-Works 7's heel hold worked for some riders but not all, especially those who had an inflamed or a wider Achilles attachment, so taking out the hard plastic from the outer heel cup left more room for more expansion, and Specialized says it was able to lower the shoe's lateral collar by 4mm, meaning at the bottom of the pedal stroke with maximum flexion it's less likely to interfere with the ankle bone and tendons underneath it.
The ride
The last S-Works shoes I reviewed, the S-Works Ares, as worn by Remco Evenepoel, were anything but my favorites. I tried really hard to like them: the right shoe felt amazing, locked in, powerful and comfortable but my left foot felt like it was treading on a hard lump towards the rear of the arch.
They just didn't suit the shape of my feet - or the left one at least - whereas the new S-Works Torch feels like it was made for my feet. Not just one but both.
I was fortunate enough to go to Specialized HQ in Dorking for a Retül custom footbed fitting. I learnt a lot from the session and came away with custom footbeds that I wish I'd had 20 years ago.
I've always sized down for cycling shoes and accepted the shoe touching the end of my big toe. Having been into rock climbing and skiing in my younger years I thought putting up with the discomfort of slightly too-small shoes was the sacrifice you had to make for good power transfer and a locked-in feel.
The S-Works Torches have shown me I was wrong. The Retül fitting said I needed a 45 instead of a 44 - the cycling shoe size I've always worn - and the moment I tried the 45s on I was sold. You can have comfortable toes and good power transfer with no heel lift at the rear.
Just to check that it wasn't all down to the custom footbeds I've tried them with the standard insoles and, although of course not quite as glove-like, they're still the most comfortable and simultaneously efficient cycling shoes I've ever worn by a very long chalk.
I'm coming up to a year of riding in them now and I haven't changed my mind. I've used them for everything - time trials, chain gangs, clubruns, solo training and Zwifting. Every time I put my feet into them I still marvel at how amazing they feel, and it's never a relief to get them off at the end of a ride.
Of course what works for one person doesn't work for everyone. Remco, for example, clearly loves the S-Works Ares while I was in agony after five miles. CW's North American editor, Anne-Marije Rook, found the S-Works Torches perfect for long endurance rides, but said the front of the heel cup and the toe box were a tad too wide for her, finding that she ratcheted down the lower BOA because she missed the "locked-in and secure feeling that I'd want for more explosive efforts and maximum power transfer."
As for aesthetics - that's another thing that's personal or subjective. I'm not keen on the Ares's cutaway straps and mesh, but I love the sleeker, more elegant look of the Torches, and the lack of mesh means they stay looking new for much longer. If you spent this much, you don't want your shoes to look secondhand after one ride.
To make doubly sure, I've been wearing overshoes if the road isn't absolutely bone dry - but on the rare occasions when I have misjudged the state of the lanes and got them mud spattered, they've come back to pristine surprisingly easily with just a few passes of the kitchen sponge (don't tell anyone).
The little fabric BOA loop guides and the stitching underneath are the only bits that have discolored slightly, but apart from those the Torches look boxfresh after a whole year.
If I was being ultra picky about their aesthetics, there is a small crease just below the bottom BOA when they're cranked up. I can't feel it but I can see it. This is probably unavoidable if you make a wider shoe, you want to achieve a locked-in forefoot and wiggle room for toes at the same time, and you want to use a supple material for the upper. However, I have no doubt that somebody with a wider foot than mine wouldn't get the same crease.
Value and conclusion
Priced at $450 / £385, these are very expensive shoes. They're $25 / £10 more than the S-Works Ares and a lot more than the older derivations of the S-Works 7 (Exos and Vent) which are now being discounted - though to be fair those two were originally more expensive at their full price.
The latest Shimano S-Phyre RC903s are the same price in the US ($449.95), but undercut them at £349.00 in the UK. But the Sidi Shot 2s are even more expensive at $524.95 / £395.00 and the Lake CX403 are even pricier at $549.99 / £450.00.
So the S-Works Torches are at the upper end of high end but for a flagship shoe from one of the top shoe brands it's what you have to expect.
Thank you for reading 10 articles this month* Join now for unlimited access
Enjoy your first month for just £1 / $1 / €1
*Read 5 free articles per month without a subscription
Join now for unlimited access
Try first month for just £1 / $1 / €1
Simon Smythe is a hugely experienced cycling tech writer, who has been writing for Cycling Weekly since 2003. Until recently he was our senior tech writer. In his cycling career Simon has mostly focused on time trialling with a national medal, a few open wins and his club's 30-mile record in his palmares. These days he spends most of his time testing road bikes, or on a tandem doing the school run with his younger son.