Lake CX403 road shoes: long term review
Excellent race day shoes for optimum power transfer. Just don't wait for a bus in them.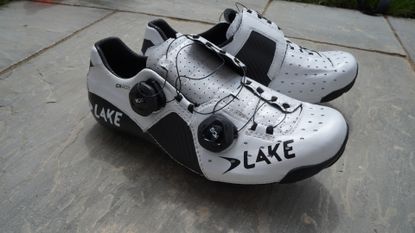 (Image credit: Future)
Lake's CX403 road shoes have seemingly made it impossible for me to want to wear any other cycling shoes. They provide a firm hold of the foot, and that results in a feeling of seamless power transfer like no other. I did find them painful when off the bike, but then, they're not meant for standing still in.
Reasons to buy
+

Heat moulding really does work

+

Foot stays planted during efforts

+

Stiff sole for power transfer
You can trust Cycling Weekly. Our team of experts put in hard miles testing cycling tech and will always share honest, unbiased advice to help you choose. Find out more about how we test.
After over a year of wearing the Lake CX403s as my go-to cycling shoes, I have decided it is high time I update this review (first published September 2021). You see, after concerted use, I've come to the conclusion that my initial rating of 4/5 was simply unfair.
Current opinion: the Lake CX403 road shoes are the best cycling shoes I've ever worn.
Shoes are an oft overlooked component of the performance puzzle. Whilst the foot and ankle don't produce any power themselves - it all comes from the quad and the glute - "you can lose a hell of a lot through badly fitting shoes," according to British Cycling physio, Phil Burt.
Lake is a brand that understands this. Many of its shoes are available in regular, wide and extra-wide widths, and its party trick is heat-mouldable carbon inserts to create, in theory, the perfect cocoon. The CX403s are no exception.
Lake CX403 shoes: construction
The CX race shoes are designed for racing, evidently. Therefore, the last (which forms the shape of the shoe) used has a narrower toe box and tighter heel than that which you'd find on the 'competition' shoes, and overall volume is lower than that of the 'sport' shoes. This creates a more strapped-in feel that is suited to high-cadence and high-power riding.
The CX403, unlike other shoes by Lake, doesn't come in an extra-wide last, but it does come with a wide fit. There are women's models, from size 36 to 43, which come with a wider toe box and narrower heel.
I have difficult feet - like spades - which are wide at the front and narrow at the ankle. I opted for a men's wide, but in hindsight the women's standard might have been (even) better.
The upper is constructed from 'Klite Kangaroo leather', which is very soft. This contrasts heavily with the CX6 carbon-fibre stabilizer support panels at the midfoot and ankle.
The outsole is a custom fit carbon-fibre sole, and it comes with a standard three-hole cleat mount, but there is also the option to request a four-hole Speedplay/Wahoo pedal specific pattern which you can use without adapters.
The outer features perforations and there are vents along the sole, with perforated Kangaroo leather across the lining. The heel pad is replaceable, there's also a rubberised toe protector to help guard against scuffs.
The closure on the shoes I have on test is controlled via two side-mounted push/pull IP1-S Boa dials. However, Lake says that these are being replaced by the more up-to-date Li2 dials in a "running change", though the company website still shows the former in its specification. If the shoes you're buying do come with the older IP1-S Boa, they are a bit behind the curve of progress as most brands have swapped over at this point.
These also aren't particularly lightweight shoes, either. Mine (with the IP1-S dials) came in at 315g per shoe, which is 630g a pair in a size 39.5 (wide). Competitors are closer to 400g but Lake is more about fit than being featherweight.
Lake CX403 shoes: moulding the shoes
These shoes are not designed to be ridden without being moulded. Trust me, I tried it, and it hurt - a lot. Happily, moulding the shoes is really easy. It's best to have this done at a dealer, but I completed the process at home using a standard oven and thermometer.
The recipe is easy: heat the oven to 90 degrees, place the shoes inside for four to five minutes, then place them onto your feet and gently press the mouldable areas. If that sounds scary considering the price tag, it's not: Lake says you can mould the shoes as many times as you like without doing any damage.
Lake CX403 shoes: the ride
As mentioned, I do not recommend you ride these shoes pre-moulding. I went for a one-hour spin before moulding them, and felt ready to trade in the shoes - and my feet - within 10 minutes. The mid-section dug in agonisingly.
I tentatively heat moulded the shoes the next morning, and the experience was entirely different. It's remained so ever since.
From the first ride, the moulded shoes have fitted perfectly - the mid-section hugs my foot, allowing total stillness through the pedal stroke, whilst the ankle section clings on well too, even in high-cadence efforts.
I've used the shoes for track league events and road races. And, I've continued to wear them over the past 39 weeks of cycling through pregnancy (some women's feet increase by a size or so, I was lucky in that mine did not), where my riding has been much more relaxed and lower in intensity.
It did take me a little while to get used to the sensation of riding in the CX403 shoes. The hold on the foot is much firmer, and initially, I found them to be overly harsh on casual rides. However, now that I'm used to them, anything less feels insufficient.
The difference was most apparent when I swapped back to my S-Works 7 road shoes for a sprint session (pre-pregnancy, when sprinting was a thing I did!).
The Specialized shoes which had always felt perfectly adequate, all of a sudden, left me wanting. That's not to throw shade on the Specialized creation, they're a very well-reviewed and respected option - but they just couldn't offer the personalisation and resulting excellent power transfer of the Lake shoes.
When I'm wearing the Lake CX403 shoes, everything from the ankle below feels completely planted, and anything less feels like lost watts.
These aren't necessarily the lightest or most breathable shoes. However, I've never found my feet overheating in them.
My only riding - or, more specifically, not riding - criticism of the Lake CX403 shoes is they can pinch a bit when standing. Since they're moulded to fit the foot perfectly in the riding position, when I was forced to stand in them for 20-30 minutes ahead of a delayed road race, I wasn't a happy cyclist. However, the frequency with which you'll find yourself standing stationary for half an hour in cycling shoes probably renders this point inconsequential for most.
Lake CX403 shoes: value and conclusions
At $549.99/£425, these are extremely expensive cycling shoes. However, mine are still in perfect condition after a year of use, and the riding experience is like no other I've had the pleasure of testing.
Lake does not score well in terms of weight, or competitive specification - but if fit and power transfer are your number one concerns, they come highly recommended.
Sizes 39-46.5, standard and wide
Weight 315g per shoe (size 39.5, wide)
Thank you for reading 20 articles this month* Join now for unlimited access
Enjoy your first month for just £1 / $1 / €1
*Read 5 free articles per month without a subscription
Join now for unlimited access
Try first month for just £1 / $1 / €1