Shimano S-Phyre RC903 - the brand's new range-topping road shoes reviewed
The standard last is a little narrow but with a wide fit option the Shimano S-Phyre RC903 accommodates a wide variety of riders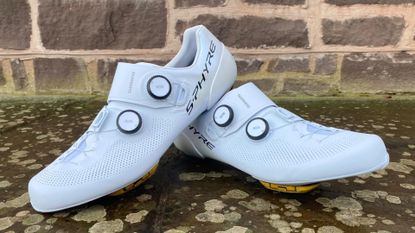 (Image credit: Andy Turner)
The Shimano S-Phyre RC903 builds upon the RC902 to improve the fit, retention and ventilation - whilst also dropping some weight, improving aesthetics and maintaining stiffness. The result is a super stiff shoe for maximal efforts, which almost manages to be comfortable enough for all day riding. Ventilation is 'so, so' in hotter environments, and the fit is a tiny bit too narrow at the toes (for me, personally). But if this shoe fits your feet - which with wide and regular fit options is more likely - they do perform brilliantly.
Reasons to buy
+

Brilliant heel retention

+

BOA dials are the best yet

+

Incredibly stiff sole

+

Loads of sizes available

+

Fit works pretty well for endurance and maximal efforts
Reasons to avoid
-

A little narrow on my feet

-

Did get warm on the turbo over an hour
You can trust Cycling Weekly. Our team of experts put in hard miles testing cycling tech and will always share honest, unbiased advice to help you choose. Find out more about how we test.
Get The Leadout Newsletter
The latest race content, interviews, features, reviews and expert buying guides, direct to your inbox!
Thank you for signing up to The Pick. You will receive a verification email shortly.
There was a problem. Please refresh the page and try again.
The Shimano S-Phyre RC903 is the latest iteration of the Japanese brand's top end race shoe model. They are designed for ultimate performance but comfort is still a key priority - just consider the cumulative hours the riders rack up in a Grand Tour.
Like a number of the best road cycling shoes, the S-Phyre RC903 is available in different widths, to better suit cyclists of different shaped feet.
Shimano S-Phyre RC903: construction
The Shimano S-Phyre RC903 builds upon the highly popular S-Phyre line which tops Shimano's shoe range. The main differences between this and the previous RC902 are that weight has been reduced slightly, the bottom BOA dial retention cord now goes through fabric rather than plastic - and has been adjusted slightly in terms of tension delivery - and that the heel cup of the shoe now blends in better with the rest of the shoe.
There are also more perforations in the upper of the shoe to better aid heat dissipation.
The sole of the S-Phyre RC903 is still made up of the same carbon sole, which is rated 12 out of 12 on Shimano's stiffness index . The upper is a flexible microfibre synthetic leather that is pin-pricked with perforations to ensure good fit as well as improved comfort and reduced hot spots.
The tongue of the shoe now also includes a mesh lower portion to aid ventilation, whilst the seamless midsole is designed to significantly reduce the stack height and boost power transfer. Cleats are fitted to the standard 3-bolt system, with some additional fore and aft adjustment available to make use of as required.
Further ventilation is supplied with an opening at the front and the rear of the sole to promote airflow underneath your feet and through the shoe. A replaceable heel tread is also included to help improve longevity of the shoe.
A neat feature is the wrapping of the synthetic upper underneath the shoe, this means you're unlikely to scuff the carbon sole when walking over gravel to the café - which is something that has happened to every pair of cycling shoes I own! There is also a plastic protection plate at the front in case of any toe rub with the tire.
Adjustment is done via two Boa Li2 dials which are lower profile, and offer micro-adjustments when tightening and loosening to help you find the sweet-spot between security and comfort. When it's time to remove your shoes, the dials can be released fully by pulling them up. The first dial locks your ankle in place, while the second bolts down your forefoot to prevent any movement there when sprinting. Claimed weight for a size 42 is 225g, with my size 45 wide fit coming in at 252g per shoe.
The ride
Fitting cleats was easy as the position when slammed back as far as possible for a more mid-foot fit is nearly identical to the Specialized S-Works 7 platform, which I've been using since 2019.
Initially I had gone for the deep metallic red shoes in a size 45, however these were too narrow and compressed my little toe, so I had to get a 45 wide instead. The wides are only available in white - which look great - but the deep metallic red is my personal favourite (even if an Instagram poll disagreed 86 – 14!)
The wide fit looks nearly identical in shape to the standard fit - it's only 3-4mm wider. But that slightly wider fit turns out to make a whole world of difference, at least for me. Personally, I prefer the S-Works 7 shape at the front with its wider toe box, but the Shimano S-Phyre RC903 does have some benefits over them that I'll get into later.
The arch support is particularly good in the S-Phyre RC903, with Shimano having a changeable insert for different foot arches. I love a high arch support and the placement of Shimano's one was near enough spot on for what I like in a shoe.
Without that support my knees knock in and I end up getting IT-band issues, which wasn't a problem with these. Giro offers a similar arch support system, but theirs I found too squishy and deformed under load. The Shimano one is stiff so it actually supports your foot well.
For my first ride with the shoes, I chose a route with some hills and some sprints to have a little fun with them. For fit, I just cranked the upper dial down to its tightest so my heel didn't move at all, while the lower dial I left fairly loose to allow more wiggle room for my toes.
The synthetic upper was actually great for having some give for my feet and keeping them comfy - whilst also not stretching around the top of the shoe so that my foot always felt very planted and secure. For just standard riding, the Shimano S-Phyre RC903 were very comfortable and not at all harsh, something I have experienced with super stiff shoes previously when riding.
When it came to efforts, I cranked down the front dial so that my whole foot was completely locked in. When doing efforts up climbs in the saddle, or sprinting full gas, the shoes really come alive! There is not a millimetre of give anywhere in them - if anything they are so stiff that they exposed that my cleats need replacing, as I could feel the tiny bit of movement in them.
It's a common hyperbole, but you really do feel planted and one with the bike with these, and like every ounce of effort goes into propelling you forwards. This is where that reduced volume in the toe box is actually preferable to Specialized, with their wider design. A wider toe box is more comfy for super long endurance rides, but your feet can move a bit during efforts.
The RC903s are an out and out race shoe when you really tighten them down. I found I had to release the lower dial a bit after an effort or it became a tad uncomfortable - but that was very easy to do with the Li2 dials. The heel cup is also very secure, more akin to the S-Works 6 shoes, but a bit wider whilst being just as secure. Again, this suits me perfectly with my narrow ankles.
For the next test, I wanted to test the ventilation of the shoes, which given it was the depths of the winter freeze, meant some turbo rides. I did a few hour long sessions, some easier and some with effort thrown in. Again, the shoes performed amazingly for whatever efforts I was doing, with adjustments made on the lower dial with it being looser for endurance rides, and tightened for efforts.
However, even with a Wahoo Headwind fan directing a lot of air towards my feet, I found that my feet did get quite warm after the session. Part of this may be due to the fit being very secure, so airflow through the shoe and the vents on the sole probably aren't being optimised.
Another factor is my turbo is based in a cellar which remains about 17 degrees all year round. Fine in general, but throw in the industrial heater that is me doing efforts, and my turbo room ends up getting very warm. I think the Shimano S-Phyre RC903 would be manageable in hot weather, but if hot feet are a real issue for you or if you live in a tropical climate, these are not the best vented shoes. For the majority of Northern Hemisphere weather though, I can't see that being an issue.
Value and conclusion
In terms of value, this is obviously a high end race shoe, so premium prices are to be expected. At $450.00 / £349.00 that makes the RC903 comparable in price to the Specialized S-Works Torch ($450.00 / £385.00), the Fizik Vento Stabilita Carbon ($399.99 / £375.00), the Sidi Shot 2 ($524.99 / £395.00), Giant Surge Pro ($399.00 / £299.99), and Bont Vaypor S ($415.00 / £325.00).
All these shoe options offer a top spec carbon race shoe with minimal weight, improved ventilation, and a secure fit that should be comfortable enough for riding all day - given that most of these are used by riders during grand tours!
In terms of price, the RC903 actually comes up well against the competition and undercuts quite a few of the other options available. The big thing with cycling shoes, though, is that all of them fit a little bit differently. This means that you really need to try them on and ideally move around on a carpeted floor in them before committing to fitting cleats.
For me, I like a wide fit, so Specialized and Bont works for me. That said, I do get hotspots on the outside of my feet, so the bathtub sole of Bont doesn't actually work for me long term. I also have a narrow heel so the new S-Works Torch doesn't actually fit as well as the old S-Works 7 did for me.
Essentially, try before you buy. But for the RC903, I would say that if you don't have particularly wide feet, have narrow ankles, and want the ability to have a super locked in and secure fit while also having the option for enough movement that longer rides are comfortable, then the RC903 shoes are great and also superb value for a top performance road shoe.
These shoes really are superb. The performance for race type efforts where you want maximum power transfer is the best that I have ever used with no give whatsoever. The Boa Li2 dials offer great adjustment and easy release, with the upper dial securing your foot nicely and comfortably, and the lower dial allowing for a locked-in feeling that makes these shoes super stiff and secure. Fit is great around the ankle while even wide fit is a little tight for my toes, but manageable for even longer rides.
For such a stiff shoe, they also don't generate any road buzz and don't leave your feet feeling battered after a ride. Ventilation is the only area where these shoes don't excel, but they still perform decently. Shimano's S-Phyre RC903 is a genuine super shoe, and one that is priced competitively against other super shoes.
Thank you for reading 20 articles this month* Join now for unlimited access
Enjoy your first month for just £1 / $1 / €1
*Read 5 free articles per month without a subscription
Join now for unlimited access
Try first month for just £1 / $1 / €1