Specialized S-Works Exos review
The Specialized S-Works Exos represent the cutting edge of cycling shoe technology but have a price tag to match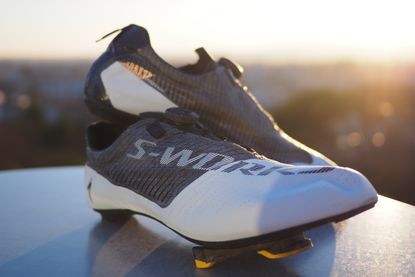 The Specialized S-Works Exos shoes are some of the most comfortable I've worn, but it's what you'd expect from a pair of shoes with such an exclusionary price tag
Reasons to buy
+

Very comfortable upper

+

158g per shoe!

+

A good fit at the heel without any rubbing
Reasons to avoid
-

The padded tongue stops the Exos being a pair of fit-and-forget shoes

-
The Specialized S-Works Exos are brand new, lightweight climbing shoes from the American brand, boasting some big claims.
Firstly, there's the weight: each shoe only weighs 158g in a size 43, making it one of the lightest dial equipped pair of cycling shoes on the market. Then there's the price tag, an eye-watering £450 which is enough to leave your mouth agape and securely puts them in the 'money no object' category.
So yes, on paper the Specialized S-Works Exos are every bit the statement piece that the brand wanted them to be, but what is that makes them so different, and more importantly, has it worked?
For starters, the upper is constructed of the same Dyneema material as used on the Specialized S-Works 7s, but this time Specialized hasn't reinforced it with a backing material, which has allowed the brand to cut the weight down.
It's now so wafer thin that if you hold it up to the light you can clearly see through it and it's much more flexible and, as you can imagine, much cooler. I was fortunate enough to take these shoes to Girona, the perfect testing ground for a lightweight vented shoe and they were plenty cool enough for the 25 degree day.
The toe area is also different and, for me, is what's key to the shoe's success. It is now covered by a soft, stretchy material that is very easy to move, to the extent that the upper of the shoe now folds completely down to the sole when squished and you can even see the shape of your toes through it. Of course, such a thin and flexible material raises questions of durability, but so far we've had no problems.
Such a flexible upper also really puts the stiffness of the sole into perspective, which feels completely inflexible compared to the adaptive material used above it. Interestingly, it's rated two lower on the stiffness index than the S-Works 7s, scoring a 13.
Of course, it's difficult to notice any substantial difference but I have found the S-Works Exos shoes substantially more comfortable than I found the S-Works 7s, which suggests that the adaptive upper and slightly less stiff sole are a good combination, although they're certainly not flexible – I've worn these on multiple Zwift sessions with no noticable flex.
I can attest to the shoes long distance comfort, too. Wearing them back-to-back on both a 75km and a 115km ride, they gave my feet very little grief, and nothing that couldn't be fixed by a tweak of the Boa dial.
When taking the shoes off, I've also been impressed by how resistant they are to give up the hold of my heel, and the Exos shoes definitely get points for a snug fit without any rubbing.
Placing the Boa dial centrally on the tongue of the shoes has achieved a more even tension across the top of the top of the foot than other, one dial shoes I've used. However, the shoes don't completely escape hotspot issues, and the heavily padded tongue - itself a featured designed to prevent discomfort - is quite strange at first and thick enough to sit proud of the top of your foot.
Ultimately, they're not the fit-and-forget comfort that Specialized suggests they are, and I've had to do quite a bit of Boa dial adjusting, but in over 300kms the shoes have been far easier going on my feet than other high-end models.
In terms of fit, my size 43s have been spot on, and there's no need to size differently although they do work best with thin socks, but honestly, I can't imagine the £450 shoes seeing much use in winter anyway.
Ultimately, there's no way of making the £450 price tag more palatable, and it is a staggering some of money to spend on a pair of shoes, but these are up their with Giro Empire SLX as some of the most comfortable high-end shoes I've worn, and they're a whole lot lighter, too.
Thank you for reading 10 articles this month* Join now for unlimited access
Enjoy your first month for just £1 / $1 / €1
*Read 5 free articles per month without a subscription
Join now for unlimited access
Try first month for just £1 / $1 / €1