Specialized bikes range: which model is right for you?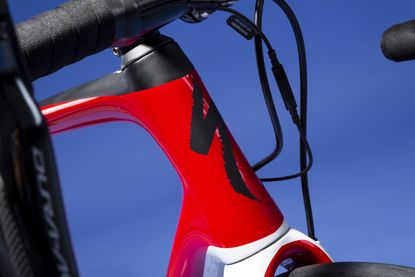 Get The Leadout Newsletter
The latest race content, interviews, features, reviews and expert buying guides, direct to your inbox!
Thank you for signing up to The Pick. You will receive a verification email shortly.
There was a problem. Please refresh the page and try again.
The big red 'S' of Specialized is hard to miss - go to any cycling event and you'd need to be somewhere pretty obscure to dodge the sighting of at least a few of the brand's bike creations in their range.
Specialized didn't emerge on the scene as a bike manufacturer. The brand was founded by Mike Sinyard in 1974, who initially imported Italian-made components and sold them in the US. The first bikes arrived in 1981 in the shape of the Specialized Allez road bike, Sequoia touring bike and Stumpjumper mountain bike.
>>>Specialized's jaw-dropping Sagan 'Deconstructivism' collection
The brand grew steadily from there, though a decision to move into lower-end, affordable bikes under the title 'Full Force' in 1995 saw it lose the support of distributors and suffer financially. In 2001, it sold 49 per cent of the business to Merida bikes, whilst Sinyard maintained his majority stake and position as CEO.
Specialized bikes have a heavy presence in the pro peloton, and are ridden by teams such asBora-Hansgroheand Boels-Dolmans.
>>> Specialized Mountain Bikes: which model is right for you?
The brand's collection is expansive - ranging from aero road bikes to full-suspension mountain bikes, and covering off pretty much everything in between. We've taken a good look at the key road models, differences between the models to help you choose the best for you.
Useful links for road bike shoppers…
Swipe to scroll horizontally
| | |
| --- | --- |
| Brands/topics | Model overviews and reviews |
| BMC bikes | BMC bike reviews |
| Boardman | Boardman bike reviews |
| Cannondale | Bike reviews,SuperSix Evo,CAAD12,Synapse |
| Canyon bikes | Canyon bike reviews |
| Carrera bikes | Carerra bike reviews |
| Cervelo bikes | Cervelo bike reviews |
| Cube bikes | Cube bike reviews |
| Focus bikes | Focus bike reviews |
| Genesis bikes | Genesis bike reviews |
| Giant bikes | Giant bike reviews,Giant Defy,Giant Propel,Giant TCR |
| Pinarello | Pinarello bike reviews |
| Raleigh bikes | Raleigh bike reviews |
| Ribble bikes | Ribble bike reviews |
| Scott bikes | Scott bike reviews |
| Specialized | Bike reviews,Allez,Tarmac,Diverge |
| Trek bikes | Bike reviews,Domane,Emonda,Madone |
| Price points | Bikes under £500,under £1000,under £1500,under £2000 |
| Road bike styles | Aero road bikes,Endurance road bikes,Women's road bikes,Commuting bikes,Touring bikes,Singlespeed bikes,Track bikes,Time trial bikes |
| Other bike styles | Adventure and gravel bikes,Cyclocross bikes,Electric bikes,Hybrid bikes |
With each product is a 'Buy Now' or 'Best Deal' link. If you click on this then we may receive a small amount of money from the retailer when you purchase the item. This doesn't affect the amount you pay.
Specialized Tarmac
The best for road racing
Reasons to buy
+
Aero
+
Light
+
Punchy
+
Great handling
Reasons to avoid
-
More clattery than the SL6
-
Price tag
The Specialized Tarmac was designed to be a complete race bike. It's the GC leader of the Specialized squad, putting the rider in an aggressive position and offering quick handling, whilst being light enough to climb well with a level of compliance that means the rider gets ample feedback from the road without witnessing every crease in the tarmac from the cockpit.
If it sounds like we're gushing that this is a genuine do-it-all, then we are, because it is - there's no longer the need to make sacrifices between an aero bike and a lightweight bike.
Specialized has recently given the Tarmac an aero facelift in the SL7, by optimising the forks, seatpost, cockpit and seatstays, and delivering more rear-end stiffness. Complete with the Aerofly II bars and Roval Rapide CLX wheels, Specialized says the Tarmac SL7 is 45 seconds faster over 40 kilometers at 50kph compared to the old Tarmac SL6 thanks to its aero advancements.
It still ticks the lightweight box, with the top of the range SL7 S-works frame, which features FACT 12R carbon, coming in at an impressive 800g, while the complete bike is a reported 6.7kg. The SL7 Pro and Expert models are a slightly heavier 920g as these are made with FACT 10R carbon - and when specced up these weigh 7.3kg and 7.65kg respectively for Ultegra Di2 builds.
In the past, Specialized offered the Amira as a race bike for women - but it concluded from Retul geometry data from over 40,000 bike fits that the separate geometries were not required and thus now offer a men's and women's Tarmac with identical frames and components to suit.
Read our Specialized S-Works Tarmac SL7 review
Specialized Venge
The best for aero
The lightweight and aero combined Tarmac SL7 replaced the aero specific Venge in the summer of 2020 but it's still available from many retailers in store.
In response to criticisms of the initial version, updates in 2019 and 2020 have seen the Venge lose some weight and gained compliance, dropping the 'Vias' name given to the original Venge Vias.The Venge proved 8 seconds faster than the Vias in a 40km wind tunnel test, and its reduced weight to only 7.1kg means climbing is far from an issue.
Though most models have seen updates since, when we directly compared a host of aero road bikes, the Venge came a very close, almost negligible, second to the Trek Madone.
"[The] results are so close they are potentially within the realm of experimental error with both bikes representing the fastest available." we concluded, noting also that the time the Venge was somewhat heavier.
Designed around a focus on speed and speed alone, the Venge features entirely integrated cables and hidden brakes where rim versions are used, whilst the disc version is said to offer slightly improved aerodynamics thanks to the less bulbous fork rear and seat stay.
Read our Specialized S-Works Venge review
Specialized Allez
The best aluminium entry level bike fit for racing
Reasons to buy
+
Superb quality frame
+
Confident and stable ride
+
Shimano Claris hoods are comfortable
+
Full carbon fork
Reasons to avoid
-
Wide ratio cassette means clunky shifting
-
Budget brakes
-
Sluggish wheels
The aluminium Specialized Allez has been a firm favourite for decades. It's an all-rounder that pitches at an affordable price range, with models starting with Shimano Claris and rim brakes, topping out with Shimano 105 and disc brakes. It is perfectly capable of race start lines and club runs alike.
>>> Explained: Specialized Allez range and everything you need to know about the iconic bike
In the past, the Allez was more racey in its geo, but recent updates have seen this relaxed slightly under the title 'wide-ranging geometry' which makes it more accessible and comfortable for those after a slightly more relaxed position. The stem can still be slammed, however, to give a position not that far off the Tarmac.
The newer Allez has a full carbon fork which previously featured on S-Works Tarmac models and substantially reduces the weight. Mudguard and pannier eyelets are included to make commuting an option, too.
For those who want an aluminium frame for smashy crit races, there's the Allez Sprint model - this boasts a racier geo and comes specced out ready to race.
Read our Specialized Allez review
Specialized Roubaix
The best endurance machine
The defining feature of the Specialized Roubaix is the 'future shock' front suspension which promises a smoother, more comfortable ride. It comes with 20mm of travel, which can be adjusted with a dial above the stem on the higher-end options.
>>> New Specialized Roubaix unveiled
This initial future shock was released in 2016 as part of the 2017 lineup, and the newest version has an improved system that is more aesthetically pleasing. The chassis has become more aerodynamic - even more so than the Tarmac SL6 (by 8-10 seconds), and it's lighter than the Venge. As well as having room for 33mm tyres for added comfort.
All models now come with a D-shaped 'Pave' seatpost that aims to reducing vibration whilst also being aerodynamic. You could say that it was designed with the cobbles of the spring classics in mind.
>>> Specialized Roubaix revamp: launch and first ride review
Models start with Shimano 105 and hydraulic disc brakes and shoot up to the Roubaix S-Works SRAM Red eTap AXS model which also comes in a Sagan Collection paint job.
Specialized Diverge
The best for the adventurer
Reasons to buy
+
Handles well both on and off road
+
Hydraulic disc brakes
+
Future Shock equipped
+
Capable of more than just gravel roads
+
Rolls reasonably well on the road
+
Multiple tyre size choices
+
Multiple wheel size options
+
Mudguard and rack compatible
Reasons to avoid
-
Price
-
External cable display
-
Looks
-
No quick-release wheel axle
Initially, a do-it-all endurance road bike, the Specialized Diverge has evolved to sit more comfortably in the rapidly popularised adventure road/gravel bike category.
Like the Roubaix, the Diverge comes with a 'future shock' suspension spring at the front with 20mm of axial compliance and a hydraulic damper. The brand made some additional alterations to further prepare the Diverge for off-road terrain, notably adding the capability to spec 650b wheels (the bikes come with 700c wheels which can be swapped out) and a dropper seat post on the most expensive versions.
The Diverge has the brand's most progressive geometry for a drop-bar bike by keeping a low bottom bracket but increasing the frame's reach. They've also introduced a slacker head tube and a longer offset fork, while speccing the bike with shorter stems for snapping steering - all together this creates a more stable ride off-road.
For gravel riding the 700c wheels are best fitted with 38c tyres (use lower volume for the road) - according to the brand - but 650b wheels are best suited to 45c tyres, making them a better option for someone who wants the additional suspension effect afforded by wider volume tyres. The dropper seat post means the rider can drop the post to get low and further back on to help control on descents.
>>> The very best gravel bikes: top models reviewed
The top end versions come with a single chainring, again aligning it closer to off-road duties by cutting down on maintenance.Borrowing SWAT internal storage from the Specialized Stumpy the Diverge has space in its down tube to load up with tools, spare inner tubes and nutrition. It also has plenty of rack mounts on the fork and top tube for longer adventures.
But for those after a mixed terrain bike that's more appropriately designed for touring, there's the Specialized Sequoia (review here) with plenty of capacity for bike packing equipment, whilst the Specialized AWOL comes with mounts and racks just as suited to city rides as long distance adventures.
Diverge models start with an aluminium frame and Shimano Claris, and top out with an S-Works carbon frame with SRAM Red eTap AXS.
Read our Specialized Diverge Comp review
Specialized CruX
The best for cyclocross racing
Reasons to buy
+
Well-balanced handling
+
Modern cyclocross spec
+
Single ring groupset has excellent chain retention
Reasons to avoid
-
Expensive
-
Limited options to extend the gear range
The Specialized CruX is a fully-fledged cyclocross race bike. It's a brightly coloured rig set up for one-hour threshold+ efforts, and the Crux features disc brakes throughout and 33c tyres with 8mm of clearance on all sides for riding in muddy conditions.
Rider First engineering means the layup is adjusted to suit the requirements of average rider weight at each size whilst the bridgeless rear stay remains, aiding mud clearance.
To help fling the bike onto your shoulder when hopping off to clear barriers, the frame design features a large opening at the front triangle and the top tube has a flat bottom. For stability in corners, the geometry has a low bottom bracket.
All models feature a single chainring with wide ratio rear cassettes - ideal for 'cross as maintenance is lower and mud build-up becomes less of an issue. The CruX is the lowest spec model with a SRAM Apex groupset, the CruX Comp sits in the middle with SRAM Force groupset and the CruX Pro is the top of the range model with SRAM Force eTap AXS.
Thank you for reading 20 articles this month* Join now for unlimited access
Enjoy your first month for just £1 / $1 / €1
*Read 5 free articles per month without a subscription
Join now for unlimited access
Try first month for just £1 / $1 / €1