Best road bikes under £1000: our pick of the bunch in 2023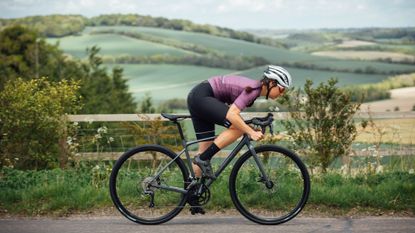 (Image credit: Dan Gould/Future)
The best £1000 road bike competition is the heavyweight championships of bicycle manufacturing.
When price hikes need to happen, most brands will apply them at the upper end of the ladder just to keep this number round. Arguably, therefore, this monetary milestone represents the best value for money with margins often kept tight in a bid to beat the competition
On this page, you'll find our four-up £1000 test, as well as a selection of bikes we've tested individually, and recommend.
£1000 grouptest
Braking: cable discs v rim brakes
There are two distinct styles of disc brake - hydraulic and cable-actuated, or mechanical. All three disc brake models on test use a caliper design in which the cable is activated to pull one piston, much like a rim brake, and the rotor itself flexes to meet the other piston. This style is slower to react than a hydraulic system which you'll find on bikes usually over £1,500.
To test the braking power of all the bikes being reviewed, we completed a brake test. One rider sped up to 30kph, before slamming the brakes on and measuring stopping distance. We found that - when tested on a dry road - the rim brake Boardman had the best stopping power.
Whilst elsewhere in the industry, specification sheets read a little more like a game of price point bingo, in the £1000 classification the choice of componentry varies dramatically.
Our group test includes four options, one with a carbon frame, three opting for aluminium. Groupsets range from Shimano Claris, to Shimano Tiagra, right up to Shimano 105 and whilst three bikes use cable-actuated disc brakes, one forgoes these for the more traditional rim. All of these factors affect the weight - with these ranging from 8.75 kilograms to 10.85kg.
We tested all of the bikes with the tyres specced as standard, since that's the rubber most consumers will use for the first year or so, as well as a control tyre. But, since tyres are the interface between the rider and the road, and do significantly affect ride quality, we've tested each bike with a pair of Schwalbe Pro One TLE tyres in a 25mm tyre size, too.
Test winner
Specifications
Frame/fork: Carbon
Weight: 8.75kg
Groupset: Shimano 105, FSA chainset
Brakes: Tektro rim
RRP: £1100
Reasons to buy
+
Lightweight
+
Rim brakes have plenty of bite
The Boardman SLR 8.9 was our test winner. It's available in men's and women's builds, the difference being the handlebar width, stem length and choice of saddle.
Yes, it is £100 over budget. But the SLR 8.9 was the only carbon bike on test. It comes with rim brakes, but we found these to be more effective than the cable-actuated discs elsewhere. The use of Shimano 105 shifters and derailleurs brings 11-speed gearing, which represents a huge improvement over the 8-speed elsewhere.
At 8.75kg, the Boardman SLR 8.9 was significantly lighter than the other three bikes on test, which were all over 10kg. Not only that, thanks to Boardman's decision to build a wind tunnel (which it has since sold), the frame has been aero optimised.
The geometry is more aggressive than most at this price point, with a shorter headtube, though the reach isn't back achingly long at all. This is a bike you could easily upgrade over time, add a deep carbon wheelset and it would look at home on the start line of a race.
Our size small has a slack head angle, at 70.5 degrees. This is to avoid toe overlap, larger sizes come with angles closer to 72 degrees. It's a shame that this isn't possible on the smaller bikes, but the handling didn't feel slow on test at all.
The max tyre width is 28mm, which could put off those looking for more squish.
Second place
Specifications
Frame/fork: Aluminium/Steel
Groupset: Shimano Tiagra/GRX mix
Brakes: ProMax mechanical disc
Weight: 10.8kg
RRP: £999.99
Reasons to buy
+
Extremely comfortable
+
Versatile
The Genesis CDA is the aluminium version of the British brand's steel Croix de Fer, the bike Vin Cox rode to the round-the-world record in 2020. This bike is all about versatility, it promises to carry you comfortably on the road, gravel, and with 24 mounts is well set up to be a competent tourer or bikepacking bike.
With its steel fork, the Genesis is not lightweight at all, but it bombs along extremely comfortably. Whilst it might not be a race winner, if you want to disappear on an all-day adventure and enjoy every pedal stroke, this is one to consider.
The groupset is a mixture of Shimano Tiagra and GRX, it's 10-speed and uses a Shimano Hollowtech II bottom bracket. The bars are flared and as standard the tyres are 37c WTB Riddler Comp, they'll provide plenty of assurance off-road, though if you plan to stick to tarmac we'd recommend swapping them.
The skewers are quick release, instead of thru-axles often adopted on disc brake bikes, but we didn't notice any excessive flex as a result.
The wheelbase is long, creating a stable ride. The only major downside to this bike is the brakes - this was the slowest stopping bike. A brake pad upgrade could help, but if at all possible we recommend saving up for a hydraulic disc brake version, especially if you plan to load the bike up with bikepacking gear.
Forme Monyash 2
Third on test
Specifications
Frame/Fork: Aluminium/Carbon
Groupset: Shimano Claris
Brakes: Tektro mechanical disc
Weight: 10.4kg
RRP: £889
Reasons to avoid
-
Weight
-
Braking performance
Our full review of the Monyash 2 from Forme is yet to be published - this is a brand new addition to the market, but rest assured it's been thoroughly tested.
The Monyash was previously Forme's gravel bike, but this version has been redesigned to focus more on the road, though with clearance for 32mm tyres it's still a machine you could convert for the trails if you want to. The standard tyres are 28mm Schwalbe One.
The Monyash has been given a geometry update, with a longer and lower stack and reach, and a 74 degree seat angle to bring the rider over the bottom bracket. Whilst it's more relaxed than a race bike, with a long wheelbase to aid stability, our tester had no issues getting into a position which suited a fast paced club run.
At £899, this is the cheapest bike on test. It comes with Shimano Claris 8-speed shifting, but unlike the Giant (also Claris) uses a matching crankset and Shimano Hollowtech II bottom bracket - representing a stiffness boost on the more expensive competition.
The Tektro mechanical discs didn't impress us much but were in line with disc brake performance at this price point.
Fourth place
Specifications
Frame/Fork: Aluminium/Carbon
Groupset: Shimano Claris/FSA chainset
Brakes: Tektro Mechanical Disc
Weight: 10.28kg
RRP: £999
Reasons to buy
+
All-rounder appeal
+
Maintenance friendly
Reasons to avoid
-
Weight
-
Braking performance
Giant produces the Contend at many different price points, in this case with have an aluminium frame, carbon fork and cable disc brakes for £999.
The frame can accommodate tyres as wide as 40mm, and in this case it comes specced with Giant's own 32mm rubber. These tyres could easily handle rutted roads, gravel and light off-road tracks.
The Giant's ride is harsher than that of the Boardman, by nature of being aluminium. It does use a d-shaped seatpost, which aims to disrupt vibration, and whilst we're sure this has some effect it's still not a plush ride.
The groupset is Claris, which is 8-speed, and in this case Giant has specced an FSA chainset and a square taper bottom bracket, these are easier to maintain but can feel a bit flexy when getting out of the saddle.
The geometry is upright and relaxed, though a 71.8 degree head angle yields snappy enough handling. Being cable-actuated Tektro brakes, the stopping power is much the same as on the Forme.
Verdict
Why you can trust Cycling Weekly Our expert reviewers spend hours testing and comparing products and services so you can choose the best for you. Find out more about how we test.
There can be absolutely no doubt as to the winner of this test: with its significantly lower weight, 11-speed shifting and, according to our experiments, more responsive braking the Boardman SLR 8.9 is a clear champion.
The carbon frame creates a ride that's both stiffer and more compliant than the competition. Compared to the other bikes on test, the Boardman puts the rider in a more aggressive position, with a lower stack and a reach that could be racy with a longer stem. It's pleasing to see that Boardman specs this frame with both touch points suited to men and women, too, so female riders who more often than not require narrower bars won't have to swap these straight out of the box.
The Boardman SLR 8.9 is race proven, and with a few upgrades here and there - a deep set of carbon wheels and a carbon seat post, for example, it could journey with a cyclist from their first ride, to their first sportive, and on to their first number pinning experience.
Of course, not everyone is seeking a bike that would fit in well at the start line of a criterium race as well as a club run or sportive. If you're seeking all-day comfort, we thoroughly recommend the Genesis CDA 30 for the bomb-along ride quality and comfort of that steel fork. This is a bike that promotes the joy of just pedalling, all day if rider inclination calls for it. The carrying capacity is impressive, too, though we worry about loading up the weight based upon the performance of the brakes. A brake pad upgrade could make all the difference.
The Forme Monyash 2 and Giant Contend AR 4 are similar to each other in specification, though the Monyash comes in £100 cheaper and also has the benefit of a matching chainset and stiffer bottom bracket. They're both versatile and fun to ride machines, but there are better value alternatives out there, so neither is a winner.
All three cable actuated disc brakes came in significantly heavier when compared with the rim brake Boardman, by virtue of the choice of frame material as well as the braking components themselves. Whilst we thoroughly rate high quality hydraulic brakes for their modulation and performance in the wet, at this price point, our overarching conclusion is that it's better to opt for a lower weight rim brake choice - or save up the £1,500 to £2,000 required for hydraulic stoppers. In the mountain biking side of the market, hydraulic systems come specced on much cheaper builds, and perhaps if manufacturers want to make discs appealing, it's high time the road technology caught up.
Individual tests: best bikes under £1000
Reasons to buy
+
Price
+
Ride quality
+
Handling
A big favourite of ours at Cycling Weekly, so much so that it made our 2019 Editor's Choice round up of the very best equipment on the market. Coming with a fresh frame and full carbon fork, we loved the Giant Contend SL1 for its superb handling and exceptional value for money.
Designed as an endurance style bike the Contend SL1, has a higher front end and shorter reach than the same size traditional race bike, making it a very comfortable and ideal for long rides in the saddle.
Exceptionally fun to ride, the Contend SL 1 has the ability to maintain its predictable handling at high speeds, remaining steady and controlled, although it is slightly portly when compared to some of its peers weighing around the 10kg mark. But with all but the chainset Shimano 105, and finished with highly rated in-house Giant components it's a great sub £1k bike.
Reasons to buy
+
Ride quality of the aluminium frame
+
Full Shimano 105 groupset
+
Value
Reasons to avoid
-
Braking performance
-
Mavic tyres
Verging on faultless, the VanRysel RR 900 AF is another firm favourite of ours at Cycling Weekly, and another 2019 Editor's Choice model.
Nailing a ride quality that both beginners and experienced riders will appreciate, the aluminium frame of the VanRysel RR 900 AF comes with a relatively tall head tube, great for comfort and all day in the saddle. The carbon fork does feature an aluminium steerer, which although probably adds a little to the weight, the ride is by no means worse for it.
The real standout feature for the VanRysel RR 900 AF is the complete Shimano 105 groupset and Mavic wheel system. For the £850 swing tag, it's way above expectations, leaves you with enough money to upgrade the tyres and still have change in your back pocket.
Reasons to buy
+
Comfortable ride
+
Good handling
+
Lightweight
+
A frame worthy of future upgrades
+
Value
It's been around for a couple of years now, but the Ribble R872 is still up there with the best of them. Excellent value for money, great handling and a good balance of stiffness and weight were all pulled out as star attributes.
A carbon frame, whose geometry is designed to offer a comfortable fit for all-day rides, and is a rare find in this price bracket. We called the tapered head tube, press-fit bottom bracket and chainstays all 'rock solid', whilst the skinny 27.2 seatpost ensures road buzz is kept at bay.
Our review model was specced with Shimano 105, and weighed just 8.17kg, but came in at £1299 – you can use Ribble's bike builder to select a more affordable groupset to reduce the cost to £999.
Reasons to buy
+
Superb quality frame
+
Confidence and stable ride
+
Shimano Claris hoods are very comfortable
+
Full carbon fork
Reasons to avoid
-
Wide ratio cassette means clunky shifting
-
Budget brakes
-
Sluggish wheels
The long standing Specialized Allez model was tweaked for 2018, and the changes run through into the 2021 version. The Allez has had its geometry tweaked to a 'wide range' approach, which means it's slightly more relaxed than previous models. However, you can adjust it by moving all the spacers above the stem to create a more aggressive ride.
The frame, as always in the Allez range, is aluminium but the all-carbon fork is light at just 350g. The seatstays have also been dropped – this means they meet the seat tube much lower down – creating a more comfortable ride and there's internal cable routing.
The build features Shimano Claris shifters, chainset and mechs. But the weak Tektro brakes and heavy Axis Sport wheels let it down a bit. The gearing provides a compact chainset (50/34) with wide (11-32) ratio cassette which gives you plenty of options, although we found the jumps between ratios a bit large.
What to look for in a bike under £1000
At this price point you can just about pick up a carbon frame if you go with a value retailer - such as those that sell direct only (like Ribble)
Don't overlook aluminium frames with great spec, a lot can be done with alloy to keep the weight low, such as triple butting (where tubing is varied to three different widths to save weight where possible)
The groupset will often be Shimano Tiagra, but shop around a bit and you could find a dream boat with Shimano 105, which is considered the entry level race option
The bike will likely come with entry level wheels, so look to upgrade these when you can as it'll make a big difference
If you want to commute, look for mudguard and pannier rack mounts
Choosing the best bike under £1000 for you
With so much choice available, your first step is to eliminate options that don't fit into your dream bike criteria.
One of the greatest differentiating factors between road bikes is the geometry. If you're looking for relaxed rides, perhaps planning endurance adventures or just don't want to put extra strain on your lower back then you probably want a bike with a relaxed geometry - these are often called endurance or sportive bikes.
If you think there's a chance you'll be disappearing down gravel paths or venturing into parks, then you'll want an even more relaxed stance and wide tyres along with disc brakes. These requirements take you into the gravel road or adventure bike category.
If however you think you might be looking at dipping a toe into racing - triathlon, road races - or want to hit a high average speed on your next sportive then a bike with a more aggressive geometry, or even an aero bike, will be on your shopping list.
Commuters will be looking for a model that comes with eyelets for mudguards and perhaps pannier racks - the same goes if you're considering taking your bike touring.
Disc brakes have become increasingly popular over the last few years. These very slightly increase the weight of the bike, but offer far superior stopping power, especially in the wet. However, they're out of the question if you plan on entering crit or road races run under the rule of British Cycling as they're currently not permitted.
Finally, women may want to look at female specific bikes. It's not essential that you do so, but women's bikes will come with narrower handlebars, a women's saddle and will be available in smaller size ranges. Bikes on the smaller end of the scale usually have shorter cranks too.
Having these components adjusted will generally make riding more enjoyable, and buying a ready built female specific bike does save you money spent buying these components after market. However, there's nothing stopping you buying a unisex frame and changing the handlebars and saddle yourself, so unisex models shouldn't be discounted.
Invest in the frame, or components, when spending under £1000?
This incredibly busy price point tends to contain two clearly distinct approaches. Some brands invest heavily in frame development, and spec the bike with 'ok' components, whilst others cover a cheaper frame dressed in higher end accessories.
The former provides you with a frame you can steadily upgrade as you go, but in the meantime you'll be stuck with slightly clunkier shifting and squishier brakes. The latter means that if you develop as a cyclist and want something a bit higher end, you're going to need to buy a whole new bike.
There is no right or wrong answer. However, if you're at the start of what you hope to be a flourishing cycling career, plan to become more and more expert, AND have a bit of mechanical know how, a higher end frame with lower spec components will last you longer.
To help inspire you, here's a look at some of the best sub £1k bikes we've tested...
What to expect: bikes between £500 and £750
Once you go over £500, two things happen. First, the big household name brands such as Giant, Specialized, Trek, Scott and Cannondale enter the market with their entry-level aluminium road bikes, which normally offer slightly less exotic groupsets and components, but tend to feature very well-engineered frames.
The second thing is that smaller specialist brands, such as Ribble, Verenti or Planet X, begin to offer very capable all-year bikes or winter training bikes, sometimes made of steel with excellent ride qualities. These machines may not have all the luxuries and speed of top-end models but do provide enough ride comfort and performance to satisfy even hardened, experienced road riders.
What to look for in road bikes between £500 and £750…
A total weight of 9-10kg
An aluminium frame with some design niceties such as internal cable routing, or even a mass-produced steel frame
On big brand models expect Shimano Tiagra components; with specialist value brands expect anything up to Shimano 105 or SRAM Apex (opens in new tab) parts
Possibly Shimano groupset brakes, or more likely Tektro calipers
Own-brand wheels or Alex rims on aluminium hubs
Own brand bar, stem and saddle
Carbon fork
What to expect: bikes from £750 to £1,000
As we head towards the magic £1,000 mark, all bets are off. The dedicated bargain hunter can find almost any product in this price range, including carbon-fibre frames.
Be careful with carbon bikes sub-£1k, though — there are some good composite frames available, but there are also some shockers. Conversely, aluminium bikes at this price can be extraordinarily good, and may also come fitted with mid to upper-range gears and brakes. There is also a growing trend among manufacturers to fit mechanical disc brakes at this price point, too.
We'd recommend you really do your homework and read our tests. It's not a case of general product quality — at this area of the market most bikes are very decent. However, there is the matter of specialisation. By the £1,000 point manufacturers have started to tailor their bikes to fulfil certain specific abilities. So whether you want an all-day comfort machine, or a speedy rocketship, almost any requirements can be filled. Just make sure you know what you want and pick wisely.
What to look for in a road bike between £750 and £1,000…
A total weight of 9kg or possibly less
A degree of model specialisation for particular ride criteria
A top-quality aluminium frame with details such as internal cable routing, general tube manipulation, specific elements designed for comfort, strengthened bottom bracket for power delivery, tapered head tube for better handling
Possibly even low-end carbon-fibre frame from specialist value brands (but be discerning when it comes to value carbon!)
Mainly Shimano Tiagraor105components, although the occasional piece of super-plush Shimano Ultegra also appears. SRAM Apex (opens in new tab) or Rival, and even Campagnolo Veloce (opens in new tab) have also been spotted below £1,000
Matching groupset caliper brakes or mechanical disc brakes
Lighter, own-brand wheels or respected third-party wheelsets
Mainly own-brand bar, stem and saddle — occasionally a third-party saddle
Carbon fork
Michelle Arthurs-Brennan is a traditional journalist by trade, having begun her career working for a local newspaper, where highlights included interviewing a very irate Freddie Star (and an even more irate theatre owner), as well as 'the one about the stolen chickens'.
Previous to joining the Cycling Weekly team, Michelle was Editor at Total Women's Cycling. She joined CW as an 'SEO Analyst', but couldn't keep her nose out of journalism and in the spreadsheets, eventually taking on the role of Tech Editor before her latest appointment as Digital Editor.
Michelle is a road racer who also enjoys track riding and the occasional time trial, though dabbles in off-road riding too (either on a mountain bike, or a 'gravel bike'). She is passionate about supporting grassroots women's racing and founded the women's road race team 1904rt.
Michelle is on maternity leave from July 8 2022, until April 2023.