New Specialized Allez first ride review: Is it still one of the best bargains around?
The brand's entry level road bike aims to appeal to a wide audience, with a split personality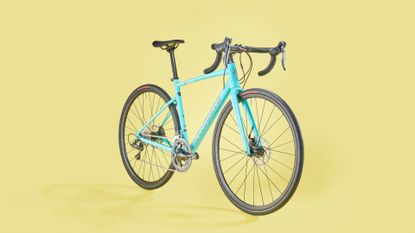 (Image credit: Richard Butcher)
The new Specialized Allez plays host to a handful of changes that well and truly usher in a new future for one of the longest standing models in the brand's range. Disc brakes, big tyre clearance, mudguard and rack mounts mean versatility is the order of the day. Don't be mistaken, though, this bike has a split personality and is certainly no slouch when shown some power. However, all this ability doesn't come as cheap as it once did, and you may have a tough time justifying the cost.
Reasons to buy
+

Ride quality

+

Ease of set up

+

Versatility

+

Ability to change ride characteristics

+
Reasons to avoid
-

Price

-

Performance of mechanical disc brakes

-
The roads where I lay claim to - humblebrag alert - a handful of Strava 'Local Legend' titles played host to the majority of the rides on which I took the new Specialized Allez - a long time fixture in any best cheap road bike list - for my initial review.
It's a varying landscape of fast flats, flowing descents and 20% ramps which meant that I got to understand how the bike performs in a multitude of parcours. 20-mile lunchtime blasts and 50-mile ventures into the hills meant that I got to see different sides to the bike. So, does this new Allez live up to what now amounts to more than four decades of heritage?
Specialized Allez : Construction
For 2023, Specialized has slimmed down the Allez line to just two two models. The base model, which is the one I had on test, and the Allez Sport which features a 10 speed Shimano Tiagra groupset, as well as hydraulic disc brakes.
Back to the base model - or simply the Allez . This comes equipped with 8-speed Shimano Claris and Tektro MD-550 mechanical disc brakes. Getting the bike set up was a really straightforward process. The 27.2 mm seatpost was easy to adjust to my height, and the standard 31.8 mm Specialzid Shallow Drop alloy bars were easy to pivot to the angle that best suited me. The steerer tube had around 50 mm of spacers under the stem, so out of the box, a pretty relaxed setup which is great for a wide range of riders.
Both the Allez and the Allez Sport ship with the brand's Roadsport 30mm tyres - showing a clear emphasis on comfort and confidence, which Specialized has made clear with the new Allez.
The frame geometry takes a leaf out of the Roubaix's book - slightly more relaxed, with longer chainstays and a slacker head angle, and in combination with 35mm tyre clearance, Specialized is clearly trying to increase the versatility of the new Allez.
For a deeper dive into both the specs, and new geometric personality of the new Specialized Allez, check out our release story.
New Specialized Allez : The ride
The aforementioned 50mm of stack under the stem meant that my first ride was quite upright and relaxed. However, on some of my shorter rides, I did drop the stem down to fully slam it, and this really changed the personality of the bike.
No longer was it a relaxed endurance thoroughbred, but instead it came alive with a more direct feeling front end and something which urged me to push that little bit harder. Perhaps the feeling of a lower front end was all that I needed to goad me into pushing a bit harder, but the change in feel was tangible. What was a mile muncher, had turned into a playful yet planted road bike.
The bright blue frame is certainly eye-catching and cuts a clean yet bold look. Paired with the Claris groupset, which has been the recipient of many years worth of trickle-down technology, it has made for a pairing which means the bikes' appearance almost matches its price tag. We'll talk about Claris later on.
The standard Axis Sport Disc wheels are to be expected on this model, and they do a good job of playing host to the 30c Specialized Roadsport tyres, which, despite their slightly harder casing compared to rivals, do well to provide grip, iron out the road defects and inspire confidence in the corners.
The choice to fit 30mm wide tyres from stock is a good one as it's an even balance between comfort and performance, and it did leave me thinking about what the bike would be like when harnessing the full extent of the new 35mm wide clearance. For commuters, the clearance will be fantastic, however, for riders who want the bike for road riding, it'll be a little much.
Aside from the tyre clearance expansion compared to the old Allez, the other big change to this bike was its disc-brake only nature. Since the bike I was riding had the mechanical Tektro calipers, the bike had its work cut out to impress, and it went as well as you may expect.
My first ride was more about getting the pads to bed in and allowing the cables to stretch ever so slightly. Once the initial break-in process was complete and a small tune up on the cable tension was carried out, the brakes did bite much better than initially. The delivery of power is still lower than its hydraulic counterparts, but, this is the trade-off for the lower price.
When navigating the city streets, the bike was easy to handle, it felt predictable and unsurprising. The big tyres softened rough tarmac and made pedalling from A to B perfectly pleasurable.
Once I escaped the built-up areas, the bike possessed similar qualities out on the open roads, but with the model I was riding , there was one issue which kept on cropping up.
The eight speed gearing left me between gears on so many occasions. I was left searching for that non-existent perfect gear. Clearly, this problem can be rectified by opting for the Allez Sport model which has the 10-speed Tiagra groupset, meaning you have more progressive jumps between the gears.
Specialized Allez : Value
This was my main gripe with the base Allez - at £1100 / $1200 you can can find an alternative from a different brand and get a groupset which doesn't have this problem. Also, the Tektro mechanical brakes will never be quite as good as hydraulic alternatives, however much tweaking and tinkering you do.
The versatility of the bike is unquestionable. The rack and mudguard/fender mounts along with the tyre clearance are a clear win. This generation of Allez will be sure to serve an incredibly wide audience, and I really enjoy how you can play with the bike's personality just by adjusting the height of the stem.
However, when considering the price, my choice would be to opt for the Allez Sport - it costs more but it won't leave you wanting for much other than maybe a wheel upgrade in the future.
Specialized Allez : Specs
Pricing: Allez (base) $1,200/(£1,100), Allez Sport $1,750/(£1,600)
Sizes available : 44,49,52,54,56,58,61
Frame : Specialized E5 Premium Aluminum, flat mount disc, fully manipulatedtubing w/ SmoothWelds, internal cable routing, threaded BB,12x142mm thru-axle
Fork : Specialized FACT full carbon, flat mount disc, 1-1/8" to 1-3/8" taper,fender eyelets, 12x100mm thru-axle
Handlebars : Specalized Shallow Drop, 6061, 70x125mm, 31.8mm clamp
Stem : 3D-forged alloy, 31.8mm, 7-degree rise
Saddle : Body Geometry Bridge Saddle, steel rails
Wheelset : Axis Sport Disc (tubeless ready on Sport model only)
Tires : Specialized Roadsport 700x30c
Thank you for reading 10 articles this month* Join now for unlimited access
Enjoy your first month for just £1 / $1 / €1
*Read 5 free articles per month without a subscription
Join now for unlimited access
Try first month for just £1 / $1 / €1
After discovering his love of cycling in college, Sam has always kept two wheels very close. Having spent over five years working in a couple of local bike shops, it's fair to say he enjoys getting hands on. He also loves to push himself to ride ever longer distances and to explore as many new places as possible.
Sam has been Cycling Weekly's video manager since January 2022. You'll find him on our YouTube channel where he brings you the latest cycling tech news, rides, reviews and all of the most important new launches while taking in some incredible cycling adventures too.