Cannondale CAAD Optimo 4 review - an entry-level racer for a good price
A value-oriented aluminum road bike with predictable handling on flat and level roads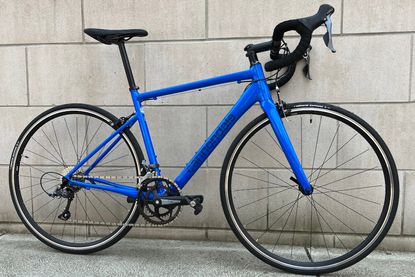 (Image credit: Greg Kaplan)
The Cannondale CAAD Optimo 4 is a good value and behaves much like an expensive road bike does, with the caveat that it's not an agile climber.
Reasons to buy
+

Good value

+

Stable, predictable handling

+

Reliable components
Reasons to avoid
-

No sizes for riders taller than six feet

-

Not enough gearing range

-

Heavy
You can trust Cycling Weekly. Our team of experts put in hard miles testing cycling tech and will always share honest, unbiased advice to help you choose. Find out more about how we test.
Although the new Cannondale Lab71 bikes look stunning when ridden in the mountains of the Tour de France, the five-digit price tag is higher than the peak of the Col du Tourmalet. But you don't have to spend a massive chunk of change to get good value road bike.
The Cannondale CAAD Optimo 4, with an aluminum frame and carbon fork, leans on all the lessons the American bike maker learned since launching the CAAD line of road bikes in 1997. The Optimo 4 is an entry level aluminum road bike that offers a good value for those making their first foray into drop bar bikes without committing thousands of dollars up front.
Cannondale CAAD Optimo 4: construction
Aluminum frames are less forgiving than carbon, and I was acutely aware of this during my first few outings on this bike. The ride quality is firm and the bike offers feedback from all but the smoothest road surfaces. Cannondale uses a fabrication process it calls SmartForm, which the American brand claims accounts for tube wall thickness and shape yielding optimal strength without additional weight.
The dropped seat stays that join below the junction of the top- and seat tubes may offer some ride-smoothing benefit, and might take the edge off what is a stiff and responsive ride. A stock carbon fork (on a $1,025 / £900 bike) may also add a modest amount of comfort by minimizing chatter. Tire clearance at the fork is tight, and fitting tires that are larger than 27mm for additional comfort might be a no-go. Both the frame and fork have eyelets that accommodate bolt-on accessories like fenders and racks.
The aesthetics of the Cannondale CAAD Optimo 4 are middle-of-the-road. There's nothing flashy about this bike compared with the bikes used by EF-Education-EasyPost, however the welds are clean and uniform and the blue paint is, in my opinion, more attractive than the gray paint option.
The CAAD Optimo geometry for size 54cm is ever so slightly more slack at the front end (72.6 degrees), but has a marginally shorter wheelbase (99.4cm) and less fork rake (4.8cm) than the brand's top-tier aluminum Cannondale CAAD 13 (71.2 degrees, 100.8cm, and 5.5cm respectively). Both CAAD models share the same stack and reach coordinates (55.5 and 38.4cm) for the size 54cm bike. The pro level all carbon Cannondale SuperSix EVO also has similar stack and reach coordinates, but weighs nearly 4kg less and costs nearly 15 times as much as the entry level aluminum bike.
Riders taller than 182cm or with long legs take note: The Cannondale CAAD Optimo size range stops at 58cm. So if you're taller than about six feet, you'll need to look at the CAAD13 line, which is available in sizes 44cm - 62cm.
Cannondale fits this bike with a mix of entry-level components from Shimano, FSA, and others. ProMax rim brakes get the job done, but notably they lack the power of Shimano rim-brake calipers; they don't feel squishy but require more squeeze to slow the bike.
The aluminum RS rims laced to Formula hubs can take small curbs and medium potholes while staying true, but add to the overall heft of the bike. Vittoria's Zaffiro tires prevent punctures on dirt roads and debris-strewn city streets, but lack the suppleness of the Italian brand's Corsa tire. The combination of not-so-supple tires wrapped around relatively heavy aluminum wheels that sit beneath an 6069 aluminum frame make this a 10.8kg (24lb) bike.
I'm accustomed to a short-nose saddle with a cutout, but for rides less than two hours, the stock Cannondale Stage CX saddle was adequate, and does not draw my attention.
The stock Cannondale aluminum stem and handlebars are perfectly adequate, but do transmit some vibration. For a bike fit that's correct for my body, I need a longer stem and narrower bars than the provided stock components.
A compact 50/34 FSA Tempo crank paired with a 8-speed Shimano Claris cassette and shifters never miss a shift, and provide a satisfying mechanical feel when clicking through the gears. But one of my frustrations with this bike is that eight speeds are not enough in many situations; jumps between gears have me either spinning too much or too little most of the time when not riding on anything but flat, level, and smooth roads.
The lack of middle gears between the largest and smallest cogs on the cassette does not offer enough options for finding a just-right feeling that I want and expect. But the Cannondale Optimo CAAD 4 is not alone in this regard; wallet-friendly components are fitted to other bikes costing similar amounts include the Trek Emonda AL2 and the mechanical disc-brake-equipped Giant Contend AR4, while the Specialized Allez has a 9-speed Shimano drivetrain.
Cannondale CAAD Optimo 4: the ride
On my very first ride aboard the Optimo I sat up with both hands off the bars and never thought about balance or steering. This aluminum bike responds predictably to input from my hands and hips as I expect it to. It's stable even in light crosswinds and when riding on rough roads.
While I don't describe the handling as playful, there is some peppiness while cornering on level roads, and it's fun when darting in and out of corners and off-camber turns.
But tackling a few local punchy and steep climbs that have 1,000s of Strava attempts was frustrating; even with compact gearing, climbing feels like a chore and I frequently stare at the crank and wonder: Why does it feel like I'm riding in mud?
The Optimo 4 never flexes under my 72kg (158 lbs) load, even when climbing out of the saddle, but, I feel the overall bike's weight, less-than-supple tires, and lack of middle-range gears make it better suited to flat-land riding.
Cannondale CAAD Optimo 4: Value and Conclusion
Priced at $1,025 / £900, the Cannondale CAAD Optimo 4 is a good value, and a good choice for those not wanting to spend thousands on a drop-bar road bike. But it's hard to overlook the absence of disc brakes – which offer better stopping in any conditions — on this bike. For comparison, Specialized equips the Allez with a setup that's nearly identical to the Cannondale but the Trek Domane AL 2 comes with the same 8-speed Shimano drivetrain and also mechanical disc brakes. The similarly-priced Giant Contend AL 4 has disc brakes and the same crank as the Cannondale.
But overall, this entry-level road bike delivers stable and predictable handling, and reliable components for a wallet-friendly price. The Optimo 4 behaves much like an expensive road bike does, with the caveat that it's not an agile climber, and omits disc brakes. So if you're price conscious and shopping for a drop-bar road bike to ride on flat and level paved surfaces, the Cannondale CAAD Optimo 4 is worth a look.
Cannondale Caad Optimo 4: Specs
Pricing: $1,025 USD / £900
Sizes available: 44, 48, 51, 54, 56, 58
Frame: SmartForm C2 alloy aluminum,
Fork: CAAD Optimo full carbon with 1⅛ -1¼ tapered steerer
Drivetrain: Shimano Claris, 8-speed
Handlebars: 6061 aluminum alloy, compact drop
Stem: 6061 aluminum alloy, 7° for round 31.8mm bar
Saddle: Cannondale Stage CX
Seatpost: Cannondale 4 6061 alloy, 27.2 diameter, 350mm length
Wheelset: Formula hubs with stainless steel spokes laced (24f, 28r) to RS aluminum rims
Tires: Vittoria Zaffiro 26mm
Thank you for reading 20 articles this month* Join now for unlimited access
Enjoy your first month for just £1 / $1 / €1
*Read 5 free articles per month without a subscription
Join now for unlimited access
Try first month for just £1 / $1 / €1