Best aero bikes 2023: fastest speed weapons ridden and rated
We've ridden and rated the best aero bikes and these are our favourites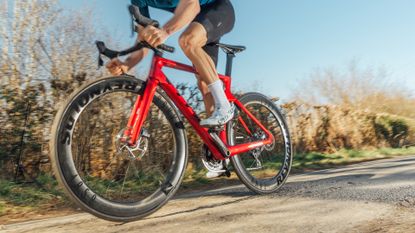 (Image credit: Future)
The best aero bikes can save you watts and help you to ride faster. Nearly every bike company has an aero bike somewhere in its range. And for good reason. Our independent testing shows that the difference between the best aero bikes and a lightweight bike with conventional round tube profiles could be as much as 25 watts at 45kph. It'd take a lot of training to gain 25 watts.
What makes a bike an aero bike? They're characterized by deep section tube shapes designed to reduce drag, integrated cockpits, disc brakes, and hidden seat post clamps. Often they'll have dropped seatstays and they will come with deep section aero wheels.
While it's all well and good having the fastest possible aero bike, you won't want to ride it very far if it's uncomfortable or too heavy. Happily, the latest generation of aero bikes boast impressively low weights and deliver a ride quality that's both comfortable enough for a long day in the saddle, as well as a sprint finish.
Increasingly, all-rounder race bikes are becoming more aero as well, with almost all of the best road bikes including many or all of the features mentioned above. The aerodynamic tuning may not be as extreme as the best aero bikes, but they'll be significantly faster than their round tubed predecessors and may be lighter and easier to live with than a full-on aero bike, although even that's not a given.
Aero bikes aren't just for the road either and you'll increasingly find aero features in the best gravel bikes, particularly those designed for gravel racing.
We've tested a variety of the best aero bikes across a range of prices. Our picks are below, while towards the bottom of this page you'll find our buyer's guide to the best aero bikes and how to choose.
Best aero bikes: Our favourites
You can trust Cycling Weekly. Our team of experts put in hard miles testing cycling tech and will always share honest, unbiased advice to help you choose. Find out more about how we test.
Best all-rounder
Specifications
Frame: Tarmac SL7 carbon
Groupset: Shimano Dura-AceDi2
Wheels: Roval Rapide CLX carbon
Weight: 6.6kg / 14.6lb
Reasons to buy
+
Fast and responsive
+
Very light - 6.6kg
+
Increased tire clearance
Reasons to avoid
-
S-Works price tag
-
Not as compliant as the SL6
-
Wheelset favours speed over comfort
The Tarmac SL7 epitomises the aero all-rounder bike, with a design that's more aero than Specialized's previous generation aero bike, the Venge, but still very lightweight, so pro riders don't have to ditch aerodynamics when they hit the hills.
And this S-Works version is very much a pro bike, with the essentially-unmodified bike ridden by 2022 world champion Remco Evenepoel. It comes with a pro-level price tag as well, although we've also reviewed the Tarmac SL7 Expert if you're looking for a more real world price.
We rated the bike's fast, responsive ride, although the pro ride position won't suit everyone and it's not such a coddling, comfortable perch as the previous generation Tarmac SL6.
Read more: Specialized S-Works Tarmac SL7 full review
Best for comfort
Specifications
Frame: Foil Disc HMX carbon
Groupset: SRAM Red eTap
Wheels: Zipp 454 NSW
Weight: 7.3kg / 16.0bs
Reasons to buy
+
Aero properties make for a rapid ride
+
Added comfort features
Reasons to avoid
-
Adjusting the stack can prove tricky
-
Still a little on the heavy side
The latest iteration of the Scott Foil has new, deeper tube profiles that Scott says improve the bike's aerodynamics, delivering a ride that's 1m 18s faster over 40k at 40kph. The curved seat tube hugs the rear wheel, although Scott says that the geometry is unchanged from its past Foil models.
Scott has reduced the number of joints in the frame as well, which it says reduces weight, although this - very expensive - Ultimate spec still weighs 7.3kg, which is a little more than its rivals.
Comfort is also said to have increased, in particular thanks to the large cut-out in the rear of the seatpost, which adds a significant amount of flex at the saddle.
Fast on the flat and on gently descending roads and with good vibration damping on coarse tarmac, the Foil does show its weight on steep ascents, although that's mitigated by reassuring handling on descents.
Read more: Scott Foil Ultimate RC full review
Best for on-the-bike storage
Specifications
Frame: Timemachine Road 01 carbon
Groupset: Shimano Ultregra Di2
Wheels: DT Swiss ERC 1650 carbon
Weight: Not specified
Reasons to buy
+
Clean Aesthetics
+
All day comfort
+
Rider Adjustability
+
Raw Speed
Reasons to avoid
-
Narrow tire clearance
-
Price
Since its introduction in 2012, the BMC Timemachine has always been a head-turner, but there was no doubting its purely functional credentials, sacrificing comfort for ultimate speed.
The platform has come a long way since then, and the Timemachine Road iteration is far more rider friendly, and while it retains its rapidness, the latest design manages to also shoehorn in an element of compliance, with the end result being pretty close to perfect.
Equipped with a Shimano Ultegra Di2 disc brake set up, semi-integrated cockpit, 62mm deep section DT Swiss Arc 1400 Dicut 62 wheels and fast rolling Vittoria Corsa Control tires it leaves you with no question as to the bike's ambition, but with the added comfort factor, it now means it's a lot more than just a one trick pony. Our only grumble is with the limited 25mm tire clearance.
Read more: BMC Timemachine 01 Road full review
The winningest bike of the Tour de France
Specifications
Frame: Dogma F carbon
Groupset: SRAM Red
Wheels: DT Swiss ARC 1400
Weight: 6.8kg /15.0lbs
Pinarello's superbike is still the winningest Tour de France bike of the last decade, even if the Dogma F is yet to chalk up an overall win. There are several build options, including an increasingly rare a direct mount rim brake option.
Pinarello says that the F is the lightest version of the Dogma yet, thanks to parts like a 3D printed titanium saddle clamp and redesigned bar/stem rather than a drop in frame weight. It's marginally faster than its predecessor as well. There are 352 different frame and component size options available, so there's plenty of scope to fine-tune your fit.
It's a dream of a bike, a rapid, nimble ride, and of course, with the price tag, a rather expensive one at that.
Read more: Pinarello Dogma F first ride review
Best for handling
Specifications
Frame: SuperSix carbon
Groupset: Shimano Ultegra Di2 11-speed
Wheels: HollowGram 64 SL KNØT carbon
Weight: 7.6kg / 16.8lbs
Reasons to buy
+
Compliant frame
+
Fast wheels
+
Handling
The SystemSix is Cannondale's first ever dedicated aero road bike, and the brand has come out swinging. It looks exactly the way you'd expect an aero bike to look: it's all stark angles and chunky tubes and you'd be forgiven for thinking it'd be uncomfortable, but actually the SystemSix has comfort at odds with its chunky looks.
It's also a very fine handling bike, with a geometry that almost matches the Cannondale SuperSix Evo and hydraulic brakes that instil confidence on descents.
The SystemSix rolls on the Cannondale's Knot 64 wheels which are tubeless ready, very stiff and spin along like a freight train. Teaming it with the much rated Shimano Ultegra Di2 for rapid electronic shifting is the ultimate partnership.
With two back to back years as a Cycling Weekly Editor's Choice award winner, we can't speak highly enough of Cannondale's aero offering.
Read more: Cannondale SystemSix full review
Specifications
Frame: Madone 6th Gen carbon
Groupset: SRAM Red eTap
Wheels: Bontrager Aeolus XXX 6
Weight: 7.5kg / 16.5lbs
Reasons to buy
+
Ride quality
+
Performance
+
Comfort
+
Stiffness
One of the fastest bikes on the market, the Madone is now in its seventh iteration. We've not tested the new bike, with its radical seat tube design, but the sixth generation reviewed here is still available.
Ok so the price for this baby is totally bonkers, but never fear, it won't be a surprise to learn that there are some more modest-priced versions available, all of which no doubt will be sublime to ride.
The Trek Madone SLR 9 Disc eTap specifically, however, is a technical masterpiece. It recently gained new geometry fit, and the result is a blisteringly fast bike that offers a dialled-in stiffness specifically for your comfort, thanks to Trek's IsoSpeed Decoupler, the same system that's found on its Domane endurance bike.
At 7.5kg / 16.5lbs it's an average weight for the latest aero bikes, but the performance and stiffness of the frame help it feel agile.
Read more: Trek Madone SLR (sixth generation) full review
Buyer's guide to the best aero bikes: what to look for
There are a few things to consider before opting for an out-and-out aero bike, particularly since you can get many of the benefits of a full-on aero bike from an aero optimised all-rounder road bike.
Why would you buy an aero bike?
Well that's a very good question that. With the Cycling Weekly wind tunnel still seeking funding from the powers that be, we can't answer with complete scientific accuracy. However, we have conducted a couple of experiments in the past that have compared the performances of aero bikes with non-aero bikes.
In the first of these, we took two bikes to a velodrome to test how much faster is an aero bike. We rode each bike (a now superseded Cervélo S5 and Canyon Ultimate CF SLX) for 10 minutes at 200W and 10 minutes at 300W, with the aero bike being 275m ahead and 1.7kph faster when ridden at 200W, and 435m ahead and 2.6kph faster when ridden at 300W.
In the second experiment we pitched an aero bike (again the Cervélo S5) against a lightweight bike (a Focus Izalco Max) on a climb, tackling Box Hill in Surrey twice on each bike, again at 200W and 300W, to see which climbs faster, despite the Cervélo S5 being 800g heavier.
However, this time it was the lightweight bike that came out on top. At 200W, it took our test rider 9:24 to tackle the 2.5km climb on the aero bike at an average speed of 15kph, while the lightweight bike was 18 seconds faster with an average speed of 16kph.
At 300W, the lightweight bike was still faster, but the gap between the two was reduced, with the aero bike only being seven seconds slower with a 0.4kph difference in speed. This shows how much more important aerodynamics become at higher speeds, while weight is more of a factor at lower speeds.
The take home message then, is that for most riders over most terrain, an aero bike will be faster than a lightweight bike. The only case where weight begins to become more of a factor is on steeper climbs where you're travelling more slowly, and even then any time gains could well be balanced out on the descent, where the high speeds are going to make aerodynamics a factor again.
What features should I look out for in an aero bike?
At a most basic level, all aero bikes should come with tubes that have been shaped to smooth airflow, meaning that they will have a slender front profile but elongated rearwards.
However, manufacturers can't go crazy if they want to see their bikes used in races, with the UCI's rules still restricting how deep tube profiles can be. The latest iteration of the rules has relaxed those governing tube shapes though, so the latest crop of aero road bikes has significantly more aero tuning than its predecessors.
Whereas the first aero road bike, the original Cervelo Soloist, had teardrop shaped tube sections, all now use kammtail tube profiles. This means that the tube retains an aerofoil shape at the front, but with the back half lopped off to give it a flat back.
A lot of people say that aero bikes now all look the same and a possible reason is because of the use of popular dropped rear stays, which the industry has collectively decided is the most aerodynamic shape. Helpfully, it's also comfortable, too.
Many aero bikes include a chunky bottom bracket shell. Again, this enhances aerodynamics as the air flows more smoothly over the bottom bracket area. It also adds stiffness and improves pedalling efficiency.
What is integration and what's its benefit?
Integration is also a big feature of aero bikes, with almost all aero bikes aiming to hide as much hardware as possible within the frame.
The key to this is cable routing. The sleekest aero bikes keep the gear cables and brake hoses hidden, routing them through the handlebars, stem, and frame before they emerge close to their partner components, usually on the rear side of the tubes to keep them out of the wind.
It's a feature that's now common on the best all-rounder road bikes too and that's made easier by the switch of high-end road bike groupsets to wireless electronic shifting.
You can also expect an aero profile seatpost with a hidden clamp, which will reduce turbulence. Many aero road bikes also include features to shield the bottles and bottle cages from the airflow and reduce turbulence around them.
Now, however, the market has moved a long way from integrated brakes, and disc brakes are the most common stoppers that you'll find on aero bikes, with some models even being disc brake specific. The bike brand's argue that they've managed to design the latest models around the rotors, or generate more aero savings across the frame.
However, possibly the most important part (or parts) of a seriously sleek aero bike are the wheels. Again, there's been a lot of development in the best road bike wheels with wheel makers typically wind tunnel testing them to enhance their aerodynamic performance in a headwind and stability and aero gains in crosswinds.
How easy is an aero bike to live with?
Yes, for most people on most terrain, an aero bike will be faster, but if you're considering buying one, you also have to weigh up what day-to-day life will be like with your new pride and joy.
It used to be the case that the more aerodynamic the bike, the more difficult it was to live with, mostly because of complicated internal cable routing. This can make altering cable and brake hose length or raising and lowering stack height a bit of a pain because it involves cutting cables and bleeding brake hoses to do so. However, many modern aero bikes now come with split spacers, which makes this process a lot easier.
Finally, if you're going to get the most out of your aero bike, then you might want to fit a rear light to up your road presence or you may occasionally find yourself riding in the dark. In this case, aerodynamic seatposts and handlebars can make it a little tricky to fit bike lights,
A standard cycling computer mount probably won't fit to aero handlebars, so you'll often need an out-front mount that's specific to your bike. It may be included with the bike or in some cases it's an extra.
Some makes allow you to fit an integrated rear light into the seatpost, so that it doesn't interfere with aerodynamics. The shape of the seatpost and an integrated light may also limit the saddlebags you can use - but you didn't really want to wreck your bike's aerodynamics with a bag on the rear did you?
How else can I be more aero?
Before you rush, wallet open, to your local bike shop in search of the latest aero bike, it's worth considering that there are plenty of other much cheaper ways to make some aerodynamic gains.
The vast majority of the wind resistance that you have to overcome while cycling is caused by you, so your position and clothing choice can make a big difference to your speed and there's a lot of aero optimisation you can do.
Riding in a low, crouched position with your hands on the hoods, elbows bent, is roughly 20 per cent more aerodynamic than riding upright with your hands on the tops.
Similarly, tight-fitting aerodynamic clothing and an aero cycling helmet can also make a significant difference. The benefits might not be as pronounced as with changing your position, but if you're riding along with a baggy rain jacket unzipped and flapping in the wind, even if it is one of the best waterproof cycling jackets, then you can wave goodbye to any gains that you might have got from your expensive aero bike and flash deep sections wheels.
How much should I pay for an aero bike?
With aero bikes now being available at almost all price points, it's more a case of how much can you afford to pay rather than how much do you need to pay.
At the top-end of the scale, it's not unusual to see aero bikes costing over £10,000 / $10,000, which should be enough to get you a cutting-edge frame matched with some pretty tasty components and deep section wheels for a seriously aero machine that's similar to a bike ridden by the pros.
However, for a lot less you will often be able to pick up a bike with a frame that might not have the same premium quality carbon fibre (and so may be less stiff and will usually be heavier) but will have the same shaped tubes which will still be subject to the same laws of physics, at least on the flat and downhill.
Wheel choice is also important when considering how much to pay for an aero bike. If you already have aerodynamic, deep section wheels, then there's no point in paying more money for an aero bike that comes with similarly posh wheels.
Instead, buy the bike with the cheaper wheels, take these off to use as training wheels, then put on the deep section wheels that you already own for race days.
Paul started writing for Cycling Weekly in 2015, covering cycling tech, new bikes and product testing. Since then, he's reviewed hundreds of bikes and thousands of other pieces of cycling equipment for the magazine and the Cycling Weekly website.
He's been cycling for a lot longer than that though and his travels by bike have taken him all around Europe and to California. He's been riding gravel since before gravel bikes existed too, riding a cyclocross bike through the Chilterns and along the South Downs.