How much faster is an aero bike? (video)
We tested an aero bike versus a lightweight road bike to establish which is faster and by how much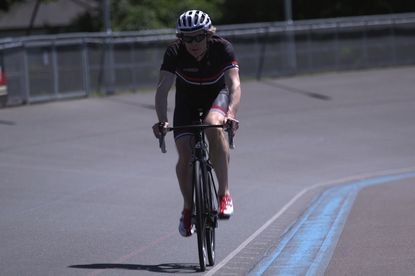 Get The Leadout Newsletter
The latest race content, interviews, features, reviews and expert buying guides, direct to your inbox!
Thank you for signing up to The Pick. You will receive a verification email shortly.
There was a problem. Please refresh the page and try again.
Top end road bikes can be broadly split into two categories, aero bikes and lightweight climbing bikes. Aero bikes such as the Giant Propel, Merida Reacto and Cervelo S5 are often heavier than their climbing counterparts.
In addition, they can be less stiff and less comfortable. Considering this we wanted to see if an aerobike is actually faster and if so, by how much? Is the slight increase in weight worth it?
>>> Lighter vs aero, which is better?
To do this we headed down to Herne Hill Velodrome in South London, to put two bikes to the test. The bikes we chose for this experiment were the wind cheating Cervelo S5 as the aero bike and the svelte but stiff Canyon Ultimate CF SLX.
The Cervelo S5 is often considered to be amongst the most aerodynamic road bikes, featuring aero handlebars, Hed Jet 6 wheels, aero tube profiles and Shimano Dura Ace Di2 groupset. It is currently ridden by British Cycling, One Pro Cycling and MTN-Qhubeka. The weight of our S5 is 7.25kg without pedals.
>>> The lightest production bike in the world (video)
The Canyon Ultimate CF SLX is the same type of frame as ridden by Movistar and Katusha. It is a race proven winner, that Nairo Quintana rode to victory in the 2014 Giro d'Italia. Our test bike is fitted with Campagnolo Super Record and Mavic Kysrium R-SYS wheels. The Ultimate is roughly a kilogram lighter than the S5.
>>> Buyer's guide to road bike wheels
Our Experiment
Each bike was ridden for 10 minutes at 200W and 10 minutes at 300W. The reason for this is that we felt that 200W represents a power output sustainable by a decent club or sportive rider and that 300W is typical of a time trialist or racer. From this we wanted to establish if it is still worth getting an aerobike if you don't ride at race pace.
Both bikes were ridden by Dr Hutch and both bikes were set up with the same position, so that the rider remained constant and that only the bike changed. Hutch rode exclusively on the hoods and maintained the same position throughout all the test runs.
It may be of benefit to Mark Cavendish in a 60kph sprint, but what about us mortals? Is there a measurable aero benefit at 200W and is the benefit greater at higher wattages? We chose Herne Hill because for all the marketing claims and wind tunnel data that exist, this isn't the real world. You don't ride your bike in a wind tunnel, you ride outside and Herne Hill represents the almost as much of a controlled outside environment you can get.
>>> We tested an altitude tent. Click here for the results
The Results
Before I get onto the numbers, I need to point some things out. Firstly we are aware that this is not the most scientific experiment in the history of aerodynamic research and there are variables that are out of our control. Things to note are that it was an unusually still day at Herne Hill, the wind was low and consistent throughout the runs we did on both bikes.
Dr Hutch, a veteran of both the track and time trialling was an excellent human guinea pig, as his pacing was very smooth and ensured metronomic power output on each of the runs. Each run began with a rolling start, to ensure that Hutch was already up to the required power output.
For power measurement we used Garmin Vector pedals and a Garmin Edge 1000 head unit. The reason for this is that we wanted to use the same power meter for consistency and that Vectors are easily swappable between bikes. To ensure accuracy, we used a torque wrench to tighten the pedals to 25 lbs/ft, where upon they were calibrated using the Garmin Edge 1000.
The Canyon Ultimate CF SLX
At 200W the Canyon travelled 5150m at an average speed of 30.9kph
At 300W the Canyon travelled 6055m at an average speed of 36.3kph
The Cervelo S5
At 200W the Cervelo travelled 5425m at an average speed of 32.6kph
At 300W the Cervelo travelled 6490m at an average speed of 38.9kph
This result is significant, as even after just 10 minutes at 300W the Cervelo S5 was 435m ahead of the Canyon (nearly half a kilometre!). If we extrapolate this to 20 minutes or an hour the difference could be massive and hugely significant in a race situation such as a breakaway.
But for mortals just hoping to achieve a personal best on their favourite sportive, the potential savings appear huge too. After just 10 minutes at 200W the Cervelo S5 was 275m ahead. Over four hours this could 6.6km if you extrapolate.
>>> Power meters, everything you need to know
Before we all go out and buy aero bikes it is worth considering a few things. Firstly, some aero bikes may not be as efficient as others, and deep wheels on a lightweight bike could make a significant aero improvement. The Cervelo S5 is also substantially less compliant and comfortable than the Canyon too. We would also expect the Canyon to be quicker up hill as it is roughly 1kg lighter, so an aero bike may lose some ground here. To find out if an aero bike is demonstrably slower up hill, we will aim to do a further experiment in the future...
Thank you for reading 20 articles this month* Join now for unlimited access
Enjoy your first month for just £1 / $1 / €1
*Read 5 free articles per month without a subscription
Join now for unlimited access
Try first month for just £1 / $1 / €1
Get The Leadout Newsletter
The latest race content, interviews, features, reviews and expert buying guides, direct to your inbox!
Oliver Bridgewood - no, Doctor Oliver Bridgewood - is a PhD Chemist who discovered a love of cycling. He enjoys racing time trials, hill climbs, road races and criteriums. During his time at Cycling Weekly, he worked predominantly within the tech team, also utilising his science background to produce insightful fitness articles, before moving to an entirely video-focused role heading up the Cycling Weekly YouTube channel, where his feature-length documentary 'Project 49' was his crowning glory.