Best bike helmets for road cyclists 2022
Find the best bike helmets with our helpful buyer's guide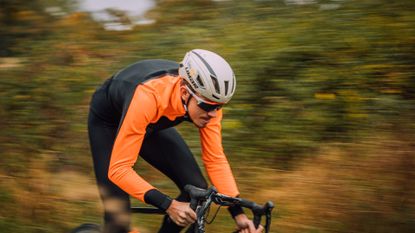 (Image credit: Future)
Brands are constantly competing to create the best bike helmets. With the competition so hot, the drive to create the best road helmet, best commuting helmet, or best aero helmet for racing is constantly pushing innovation.
Factors like comfort, aerodynamics, and breathability are all part of your considerations when it comes to making a decision on what to buy.
Our guide will help you understand all the important aspects of buying the most suitable road bike helmet for you.
Lower down the page we have detailed all you need to know when making your purchase, including how to ensure you are getting the perfect road bike helmet in terms of fit, form, and comfort.
But before all the how-to details, here are our top picks of the best road bike helmets broken down into all the different helmet categories.
If at any time you want to quickly navigate to a specific helmet or buyer's guide information, you can use the handy quick links above to take you directly to each one.
If you need to stick to a lower price bracket, then it's worth visiting our page dedicated to the best budget bike helmets (opens in new tab), for low priced head protection, which still ranks high in safety features.
Our top pick of the best bike helmets
Why you can trust Cycling Weekly Our expert reviewers spend hours testing and comparing products and services so you can choose the best for you. Find out more about how we test.
For all cyclists, aerodynamics versus weight and breathability will need to be balanced according to their priorities.
We've hand picked our favourite helmets and highlighted what makes them stand out from the crowd to help you work out what feature is most important for you. If that's still too hard to filter through, we've also included the standout helmet, that we found faultless, so if you're unsure what to buy, buy that.
It's worth bearing in mind that we've listed the weight of the helmet size that was reviewed, so just do a quick double check of the listed helmet size as it will vary between sizes making the weights not always a comparable factor.
The ultimate road bike helmet
CW's top pick | Lightweight helmets | Aero helmets | Commuter helmets | TT helmets
If you buy one road bike helmet, buy this. Here at Cycling Weekly we get to test lots of different helmets across lots of different categories, but if we had to pick just one, this would be our absolute favourite road bike helmet.
Best road bike helmet for all round riding.
Specifications
Safety features: MIPS
Sizes: S/M/L
Colours: 13
Weight: 269g (small)
Reasons to buy
+
Very light weight
+
Super breathable
+
Really good looking
+
Lots of air channels give it a cooling effect
Reasons to avoid
-
Slightly bulbous appearance
An absolute favourite road bike helmet for us is the Giro Aether MIPS. On test we called it a game-changer of a road bike helmet due to its unrivalled all-around performance.
During the review period, we found this helmet to be exceptional in its ventilation ability and at the cutting edge for safety features. While there are slightly lighter helmets, such as the Kask Protone helmet, it was still an impressively low weight at just 269g (for a size small).
The Aether features the gold standard MIPS Spherical technology, which sits between the two shells to make the added safety feature a really comfortable option. Teaming this with the added reinforcement construction gives the rider lots of reassurance on how safe and strong this helmet really is.
Packaged in a really sleek looking design, with lots of colours to choose from, it's really easy to wear for any style of riding making it all-round the best road bike helmet out there.
In fact, we loved the Giro Aether MIPS so much, that we gave it a five out of five stars and a Cycling Weekly Editor's Choice Award. The only reason why you wouldn't want to buy it is if your head fundamentally didn't fit any of the size options.
Read more: Giro Aether MIPS helmet full review
Best lightweight helmets
CW's top pick | Lightweight helmets | Aero helmets | Commuter helmets | TT helmets
Lightweight helmets will obviously save weight, and often provide plenty of breathability, something that will appeal when riding in summer and warmer climates.
Best road bike helmet for a super Lightweight ride
Specifications
Safety features: WG11 Passed
Sizes: S/M/L
Colours: 11
Weight: 220g (medium)
Reasons to buy
+
Super lightweight helmet
+
Breathable to help reduce head heat build up
+
Good aerodynamic properties considering it's design
Reasons to avoid
-
Not the best ventilation on the hottest of rides
Weighing just an incredibly 220g/ 7.7oz for a size medium, the Kask Protone helmet offers, according to the brand, one of the lowest drag and fastest heat dissipation options on the market.
We found the Protone to be one of the most comfortable helmets we'd ever tested, and indeed one of the lightest, beating the Giro Synthe by 20g (0.7oz).
The semi-aero lid did suffer a little with breathability however, and while the ventilation was very good, on the hottest of riding days it could have done with the ability to suck even more cool air in. or exhaust more heat out. That said, on the sweatiest of days in the saddle, we found that the Protone's water irrigation design is top notch, managing to avoid channelling sweat down on to sunglasses or into eyes.
The Protone features a reinforced internal plastic sub-structure, which has been certified in passing the WG11 standard, a European testing standard on rotational impact, which is considered to have one of the most robust testing protocol standards, so you can rest assured that while it lacks weight, it doesn't lack head impact protection.
Read more: Kask Protone Helmet full review
Best lightweight road bike all-rounder helmet
Specifications
Safety features: MIPS
Sizes: S - L
Colours: 5
Weight: 260g (medium)
Reasons to buy
+
MIPS featured for a high safety standard
+
lightweight and comfortable when riding on smooth or rough terrain
+
Aerodynamic properties akin to much more expensive helmets
+
A great looking option
Reasons to avoid
-
No eyewear doc for stowing sunglasses
We absolutely loved the Giro Helios Spherical MIPS helmet finding it to be the best do all helmet out there.
Bridging the gap between road and off road adventures the Helios is also featured under the brand's women's helmet categories as its wide size and colour options, along with exceptionally comfortable fit gives it broad appeal.
The lightweight helmet uses the same Spherical MIPS protection as the Giro Aether, which isn't the only way this lower price offering challenges its more expensive sibling.
There's also a 10 gram weight, saving to be had on a like for like size, with the brand putting this weight saving is down to the Helios Spherical helmet having less technical ventilation structure than the Aether. Personally found it a barely noticeable difference having ridden both helmets, with the two equally as comfortable.
The only thing it does lack is an eyewear doc feature, with our tester struggling to find suitable holes to pop sunglasses arms through. But if you're looking for a great value all-rounder option, then this is one of the best road bike helmets out there.
Read more: Giro Helios Spherical MIPS cycling helmet full review
Lightweight but with option for aero cover
Specifications
Safety features: MIPS (higher spec version)
Sizes: S/M/L
Colours: 6
Weight: 205g (Medium) 247g (+aeroshell)
Reasons to buy
+
Lightweight option
+
Comfortable fit
+
Secure feel when on
Reasons to avoid
-
Requires aftermarket aeroshell to gain aero advantages.
The featherlight and comfortable Lazer G1 Genesis helmet feels secure when on and boasts a simple, stylish look. To fit to your individual head shape the rear barrel retention cradle has a large amount of vertical adjustment, but as with the Lazer Blade+ MIPS Helmet, this doesn't provide much in the way of horizontal adjustment, so not as fine tuneable as any of the Giro helmet offerings.
That said, it's still a comfortable road bike helmet and one that is very lightweight, in fact at 205g for a sized medium on our test scales, one of the lightest helmets we've seen, and around 55g lighter than the Giro Helios Spherical MIPS Helmet.
You do need to "shell" out for the additional after market aero layer, it's not a big outlay, and if you want to harness the helmets go faster properties, it's a minimal weight penalty, and would make it a really lightweight aero specific road bike helmet too.
Read more: Lazer G1 Genesis cycling helmet full review
Superior ventilation with top safety features
Specifications
Safety features: MIPS AirNode
Sizes: S,M,L
Colours: 7
Weight: 280g
Reasons to buy
+
Great ventilation
+
Highly ranked for safety
Reasons to avoid
-
Expensive
-
Large vents can attract bugs!
Specialized's updated S-Works Prevail 3 helmet is designed to be both airer and safer than the outgoing model. Given that the previous Prevail was the US brand's most heavily vented lid, it was quite the challenge. However, after riding the helmet, we believe that Specialized has succeeded.
By using its Air Cage design, its been able to strip down the usual foam bridges to help increase ventilation by almost 25% when compared the Prevail 2. But despite the minimal look of the Air Cage, safety isn't compromised. Essentially the cage design acts like a suspension bridge, distributing the forces of an impact across the entire helmet.
The Prevail 3 also uses MIPS AirNode, which integrates the MIPS system, designed to protect against rotational forces during a crash, directly into the helmet padding. The result is not only a reduction in weight but also an aid to improved ventilation, as the air has one less layer to move through.
When riding, the large vents do their job with great success. Even when temperatures hit 32 degrees C the air flow through the helmet kept our head cool.
At 280 grams, the S-Works Prevail 3 is light but certainly not lightest in class. But for those who ride often in hot climates the supreme ventilation is likely to make it worthy of consideration.
Read more: Specialized S-Works Prevail 3 full review
Do-it-all helmet at home on tarmac and gravel
Specifications
Safety features: Spherical MIPS
Sizes: S,M,L
Colours: 7
Weight: 285g (medium, claimed)
Reasons to buy
+
Well ventilated
+
Comfortable and easy to adjust
+
MIPS protection
Reasons to avoid
-
Expensive
-
A little on the heavy side
Bell's XR helmet is aimed at cyclists who like to ride both on and off-road and require a helmet to cover both terrains.
To achieve this the XR uses a compact shape that's well-vented, using 14 vents large vents that allow for plenty of airflow. The inner shell extends further down the back of the head than regular road lids, something which gravel riders will appreciate.
Other safety features include the Spherical MIPS system, with the outer and inner shell capable of moving independently during an impact. The idea here to better protect against rotational impacts, while the outer shell can absorb glancing blows.
The XR uses Bell's Float Fit system, that's simple to use and is paired with a comfortable strap and magnetic buckle. Combined they allow for a stable fit that adds to the helmet's high level of comfort - the great ventilation and Iconic+ padding alone make it plenty comfy.
Perhaps due to the extra protection, the Bell XR isn't the lightest in class - a medium has a claimed weight of 285g while our large test helmet tipped that scales at 317g.
Read more: Bell XR Spherical MIPS cycling helmet full review
Best Aero helmets
CW's top pick | Lightweight helmets | Aero helmets | Commuter helmets | TT helmets
Aero helmets will be wind tunnel tested, and will often provide a watt-saving figure as to how much energy can be retained thanks to the improved aerodynamics of the helmet. If you are wondering if you even need an aero lid, our page on Can an aero road helmet make you faster? is well worth a visit.
Our favourite aerodynamic lids you can buy right now.
Best aero road bike helmet for MIPS Spherical protection
Specifications
Safety features: MIPS Spherical
Sizes: S/M/L
Colours: 6
Weight: 270g (small)
Reasons to buy
+
Very fast
+
Comfortable fit
+
Impressive ventilation for an aero helmet
+
Flap-free straps
Reasons to avoid
-
Mushroom head look
-
Pricey
The Giro Eclipse Spherical helmet uses Giro's MIPS Spherical tech, where MIPS forms the filling in a sandwich between two EPS foam layers. We found the helmet fit comfortable and unrestrictive. Airflow was impressive and kept us comfortable even in 35C-plus heat, the straps fit well without flapping and there's space to insert sunnies in the front vents.
Giro claims that the Eclipse is the fastest ever aero helmet - which we aren't able to verify, although our tester did achieve his fastest ever downhill speed and upped his average overall while wearing it.
Read more: Giro Eclipse Spherical cycling helmet full review
Best aero road bike helmet for watt saving without compromise
Specifications
Safety features: SPIN
Sizes: S/M/L
Colours: 12
Weight: 251g (medium)
Reasons to buy
+
Tested aerodynamic qualities
+
Lightweight for an aero helmet
+
Breathable when compared to other aero helmet options.
+
Excellent sunglasses-retaining feature
+
Comfortable and secure fit
The POC Ventral SPIN helmet could probably sit in a few of the best road bike helmet categories due to its crossover credentials.
On test we absolutely loved the Ventral Spin, finding it the best road bike helmet for aerodynamic features without sacrificing breathability.
Its large air ports mean that it also doesn't take the usual guise of an aero helmet, which tend to have a more solid appearance. POC say the unique design used optimised CFD (computational fluid dynamic) testing which enhances aerodynamics performance by reducing drag and minimalizing air turbulence with the goal of helping you ride as fast as possible.
The aero lid uses POC's own SPIN (Shearing Pad INside) safety feature, which combines silicone bladders and pads for helping to dissipate rotation impacts, which are the most likely impacts to suffer in a bike crash, absorbing crash energy away, with the aim of reducing head trauma.
While seemingly superficial, anyone who has ridden with an aero lid will know the challenge of trying to stow sunglasses when they're not on your face. The fully wrapped EPS POC Ventral SPIN however includes sunglass grippers. They're meant to be best compatible with POC own brand sunnies, but we teamed the helmet with a whole host of brands and found them to hold tight to every single pair.
Price wise, it's probably most in competition with the Giro Aether MIPS, but you do get full on aero features with the POC.
Read more: POC Ventral SPIN cycling helmet full review
Best aero road bike helmet for airflow
Specifications
Safety features: MIPS Air Node
Sizes: S/M/L
Colours: 6
Weight: 290g (small)